Today we are sharing our favorite Camping Apps that we use to find camping sites as we travel from state to state.
One of the most common questions that we get is "How do you find the campgrounds where you are going to stay?"
And with over 150 days of being on the road, we have found our 3 favorite camping apps to help us do just that.
Campendium
This free app was created by campers for campers. It lists tens of thousands of places to camp and it is easy to search by location.
It includes a variety of camping sites. There are resort style RV parks to free and remote destinations listed. It also includes information about dump sites in the area as well.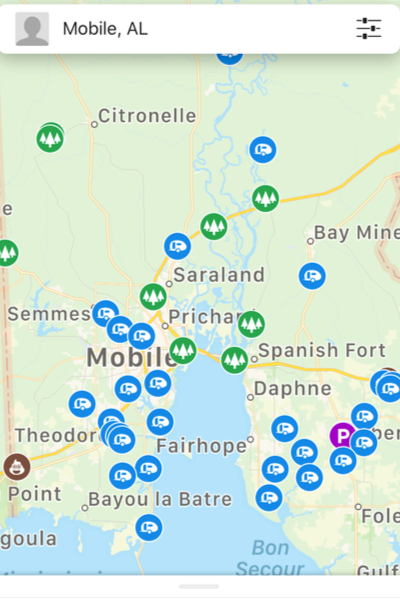 Just pull up the app and enter in the location where you will be traveling. Click on the icons and you are likely to see a plethora of information that pops up about that specific site.
To us, the most helpful part about this app is that it includes reviews from campers that have stayed there.
We find this extremely helpful because sometimes a good website with stock pictures can be misleading. Although, we are also careful about interpreting the personal reviews as well.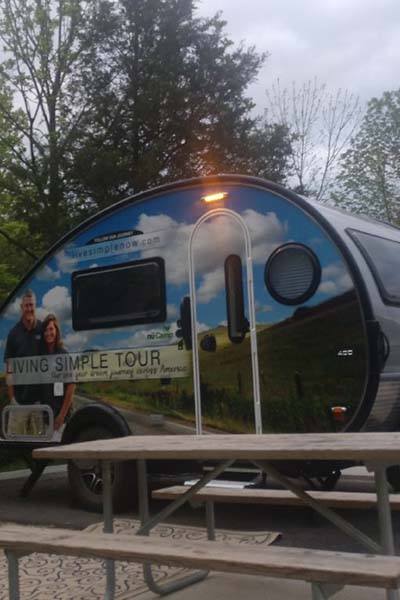 But this camping app also gives two other important pieces of information as well. It includes the cost of camping provided by the last reviewer and also the cell phone coverage at that location.
Because we sometimes rely on our phones as a hot spot to write remotely, cell phone coverage is important to us. And of course the cost of camping is also good to know. This helps save time because we can eliminate certain sites before doing unnecessary research about them.
Good Sam Club
As a member of the Good Sam Club, we often us the Good Sam Camping App.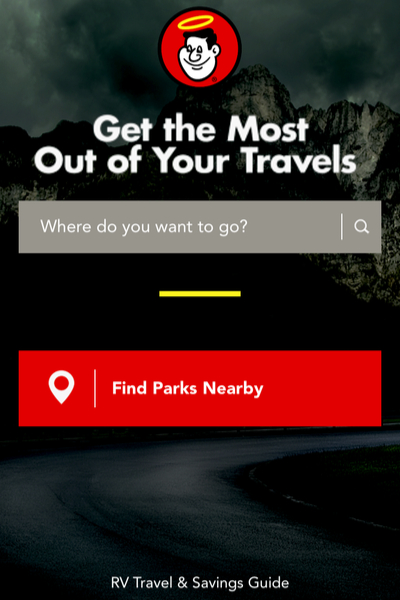 You can search for a variety of paid camping sites, dumping locations, free stays and even popular photo opportunities using the Good Sam app.
When you search for a location, you can look at the locations in a list or in a map view. The campgrounds that offer the Good Sam discount are highlighted.
This discount allows you to save 10% off of your stay at over 2,400 campgrounds around the country. Also you can save 10% off camping supplies at Camping World & Gander Outdoors Retail store.
Not to mention, free dump sites at select Camping World locations.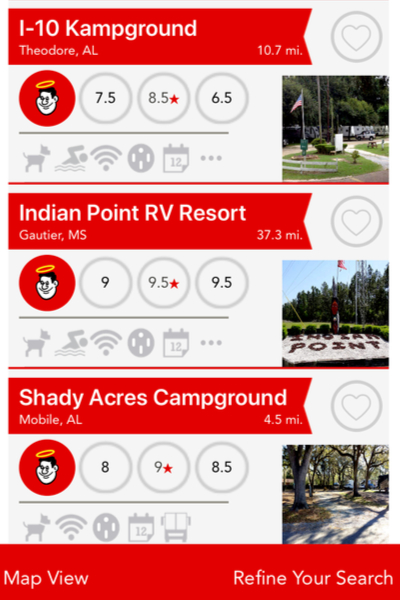 Pilot Flying J discounts include: 5¢ per gallon off of gas, 8¢ off diesel, 5¢ off per gallon of propane, and a discount to use their dump station.
And if you are lucky, sometimes there are additional offers at campgrounds for Good Sam members.
In fact, we just used a special discount in Mississippi where you got the 4th night free if you stayed 3 nights at the Cajun RV Park in Biloxi.
Harvest Hosts
We love being members of Harvest Hosts. (See : Harvest Host Membership) This membership allows you to stay at a variety of locations including farms, wineries, breweries, museums, and golf courses for free. However, this is only for self-contained travel trailers or RVs.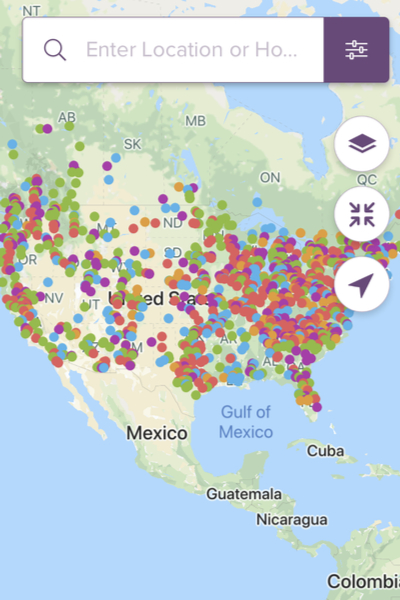 They only ask that you support the business, in some form, where you are staying. For instance, if we are staying at a golf course for the night, we will go into the restaurant for a drink or a meal.
It is a great option when you are traveling from point A to point B and need a stop along the way.
Their camping app is extremely easy to use and allows you search the map for available hosts. And most often there are reviews from other members that will describe the accommodations.
But what we love most of all is the people (and alpacas) that we have met while staying at Harvest Host locations!
OTHER POPULAR CAMPING APPS
There are many other camping apps that can help you find your next overnight destination.
And depending on your style of travel, these may be helpful to you as well.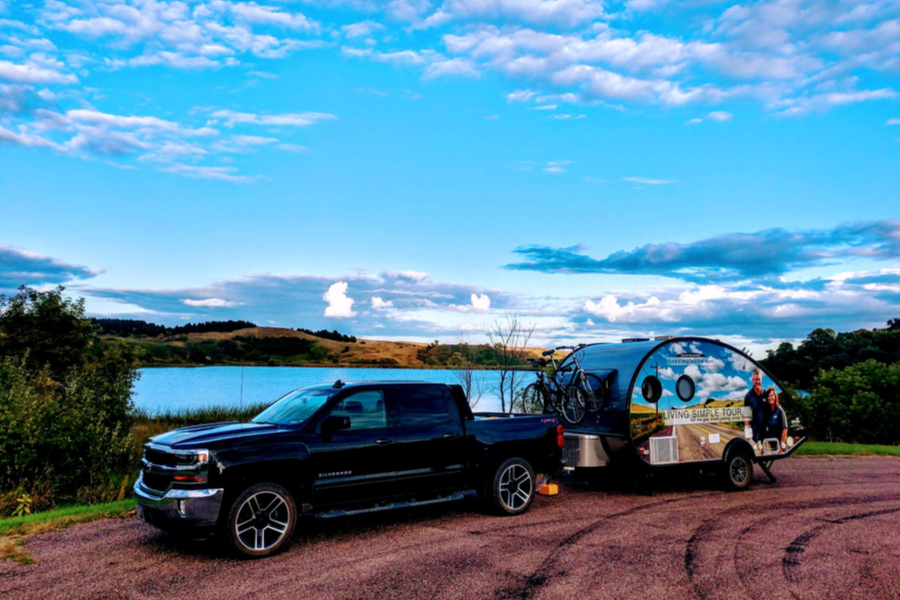 Reserve America is a fantastic app to book reservations at private, state and federal campgrounds. They even allow you to make the reservation right in the app itself. It is a great app for those that like to plan far in advance.
All Stays is another popular app that many campers use. Although this app will give you hundreds of options, the app does have a cost to download.
And for those that like the more adventurous camping opportunities, you might enjoy these camping apps: Boondocking, Boondockers Welcome, and Hipcamp.
Whichever Camping Apps work for you the key is to do a little research before you go!
Happy Traveling! Jim and Mary
CURRENT TRIP STATUS TO DATE:
Day 154 of 365
States : 20/50
National Parks / Monuments : 20
Stayed In : Mobile, Alabama
Miles Driven : 19.9
Total Trip Miles To Date : 16,709.3
Total Gallons Used : 1,202.11
Biking Miles : 0.0
Biking Miles To Date : 158.4
Hiking Miles : 4.8
Hiking Miles To Date : 345.9
On September 9th, 2019, we set out in our NuCamp T@B 400 Teardrop Camper to travel to every state. You can check out all of our dates here : Dates for the States

You can follow along by signing up for our twice weekly email updates at the bottom of the page. You can also follow us on Facebook : Live Simple Tour Facebook and Instagram : Live Simple Now Instagram Page.