When in Austin, you must take the time out of your day and go to a coffee shop.
And by coffee shop, I don't want you to picture the traditional Starbucks store that you see on every corner in almost every city.
Just like almost all things in Austin, their coffee shops are unique. And we have totally fallen in love with them!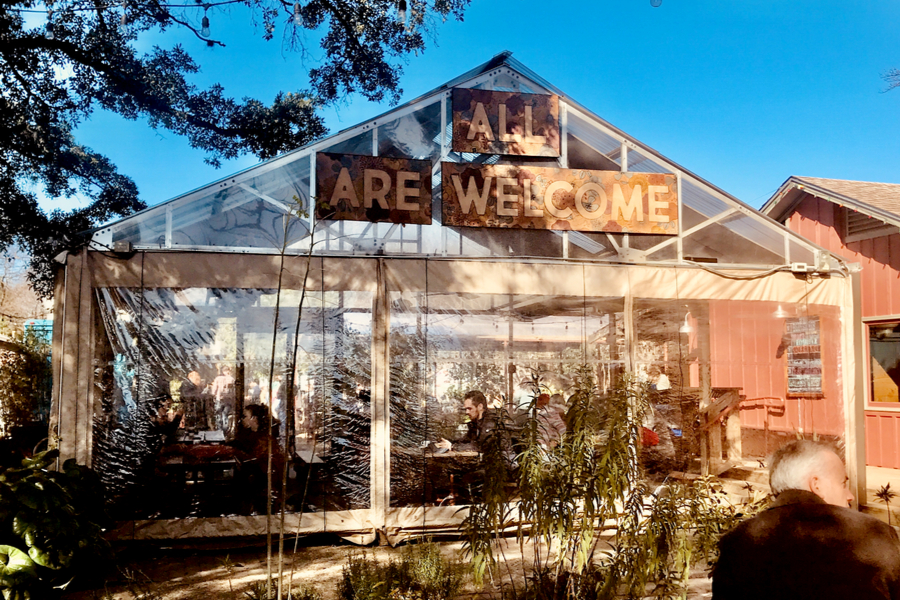 Picture a small building nestled in the middle of a community with a large, outdoor courtyard. Tables scattered throughout the property, filled with guests from all different ethnicities.
The ages range from infant to older adults. And there aren't just people that frequent the Austin Coffee Shops. Dogs are welcomed to join in the atmosphere as well.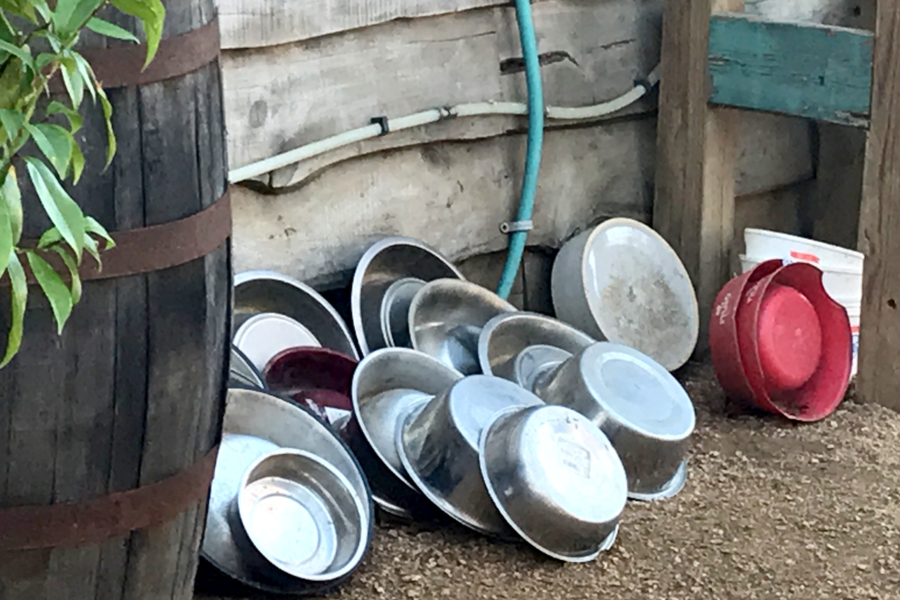 In fact, every coffee shop that we have ever been to in Austin is dog friendly. They even have stacks of water bowls ready for the dogs so that they can have their own complimentary drinks.
Our Two Favorite Austin Coffee Shops
So when we headed to Austin today, we decided to take our computers and hang out at a couple of coffee shops this morning.
Radio Coffee & Beer
On the southern edge of Austin proper, we arrived at Radio Coffee & Beer. It is nestled in a small business/residential district right off of highway 290.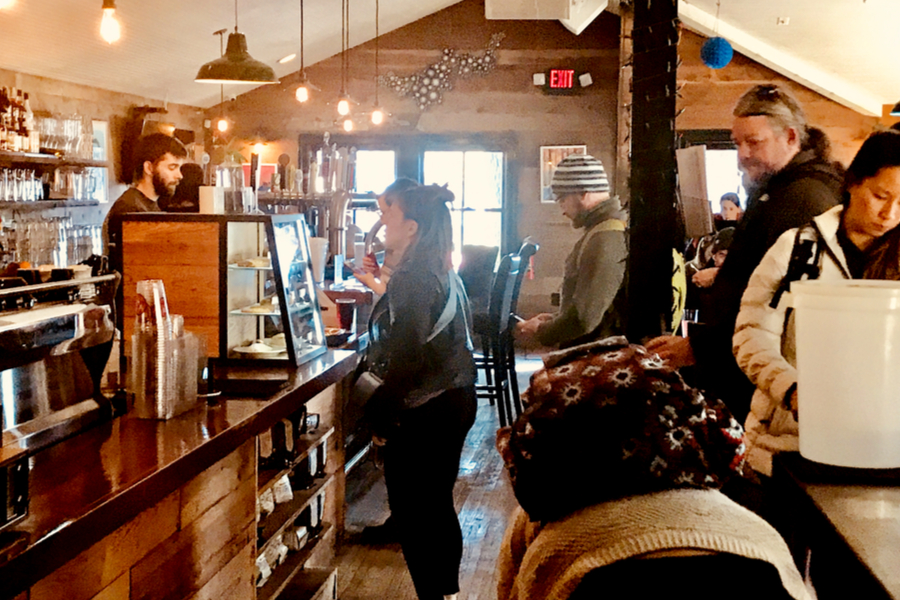 No matter what time of the day that you arrive, you are lucky if you can find a parking space on either side of the building. However, even if you had to park down the street, the extra few steps are well worth it!
In the middle of the property is a small building that has indoor seating and a bar. Here is where you can order your coffee, beer, or spirited drink, even first thing in the morning.
Austin Coffee Shops Outdoor Seating Areas
Right outside of the front doors are 3 different seating areas. Towards the front of the street are several patio tables that line the front lawn and edge of the parking lot.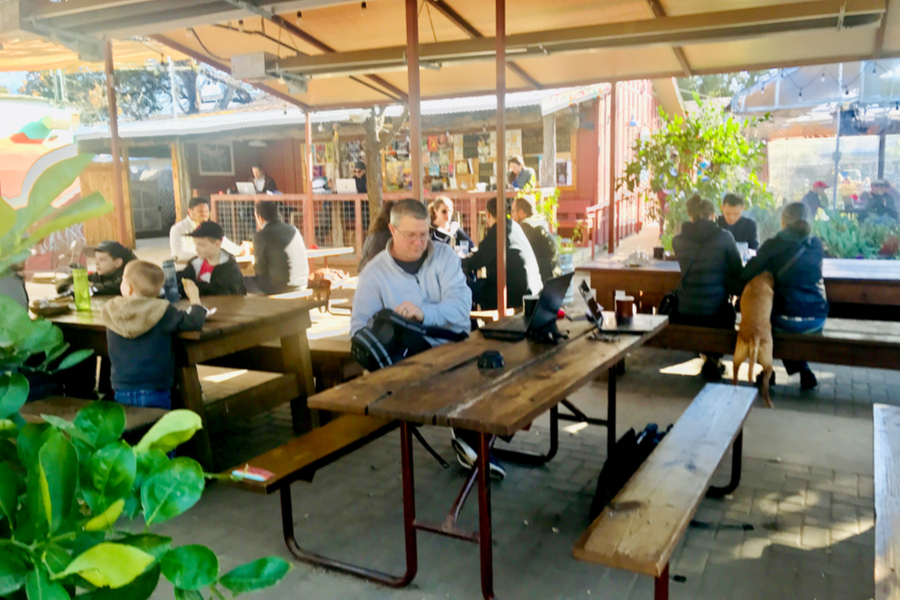 Then in the center of the courtyard is a covered, outdoor area that is lined with plastic side walls. Here you can enjoy the outdoors without the threat of wind or rain.
And finally, in the 'backyard' you will find another covered seating area. However, this time, there are no side walls. Instead, there are electric heaters hanging from ceiling to keep you warm on chilly days.
But the best part of all, is that there are food trucks available to feed your hunger from breakfast to dinner time.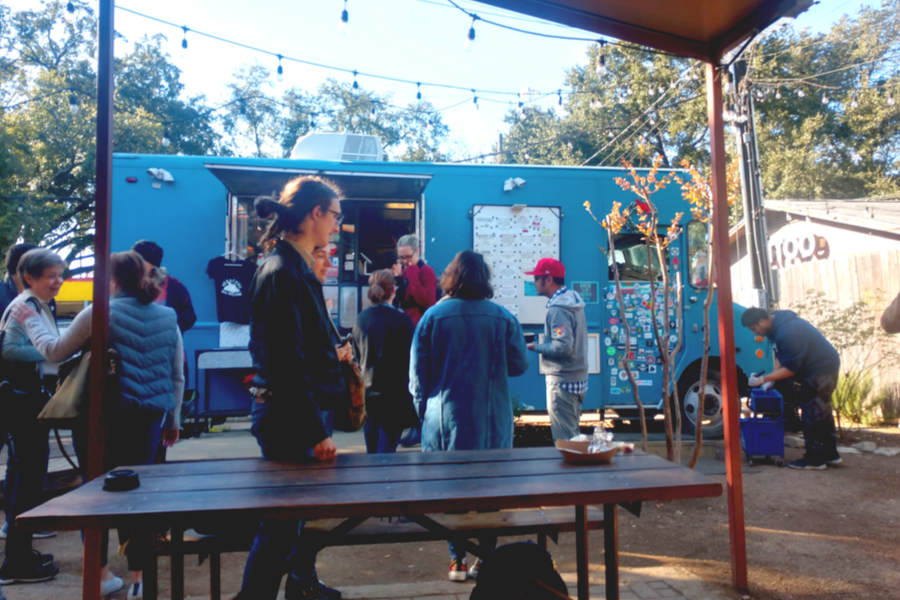 And yes, we did enjoy a cup of coffee and a couple breakfast burritos while we worked here!
By 11:00am we decided to pack up and find one more Austin Coffee Shop to enjoy before we explored the rest of the city.
And that is how we ended up at Cosmic Coffee.
Cosmic Coffee + Beer Garden
Just a short mile and half away from Radio Coffee, we arrived at another amazing, indoor/outdoor coffee shop.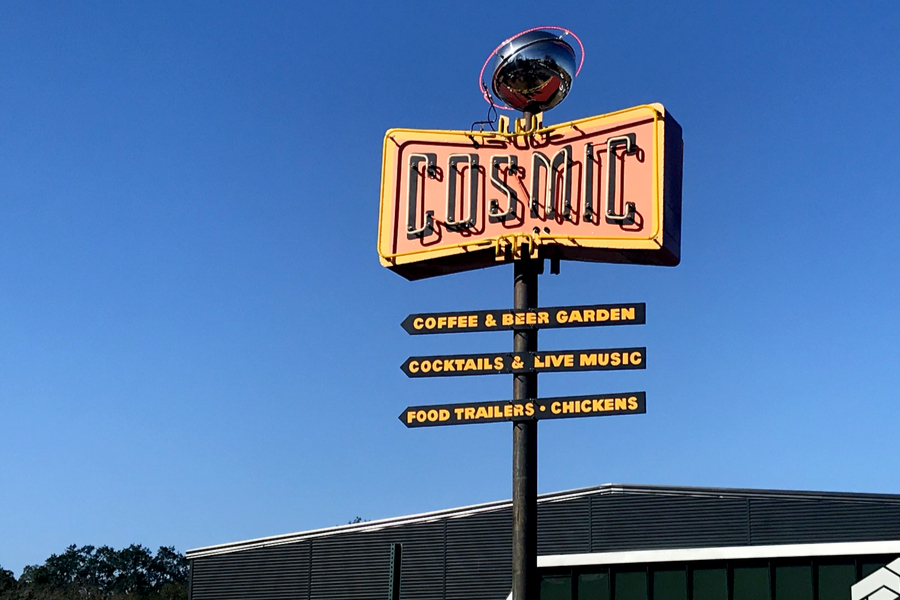 Cosmic Coffee sits just off the main road and shares a parking lot with an indoor climbing facility.
It has a large outdoor, open courtyard filled with outdoor heaters and food trucks.
The area is large enough for groups, families and all to enjoy comfortably. There is also covered outdoor seating and fire pits in the front lawn area.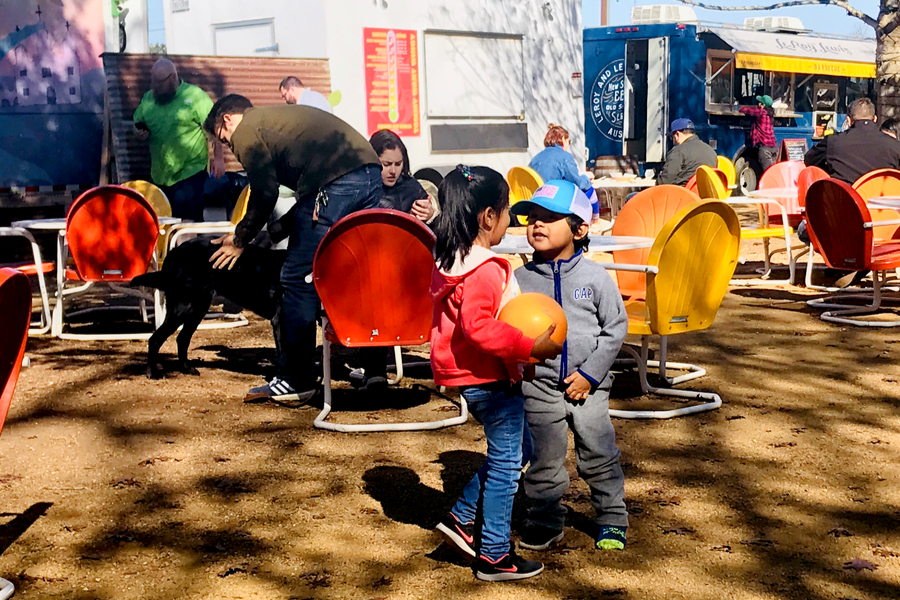 And just like Radio Coffee, it has a fully covered, outdoor room for those that might get a little colder, but still want to enjoy the outdoor seating area.
But this Austin Coffee Shop has something else that is unique – composting piles and a large chicken coop!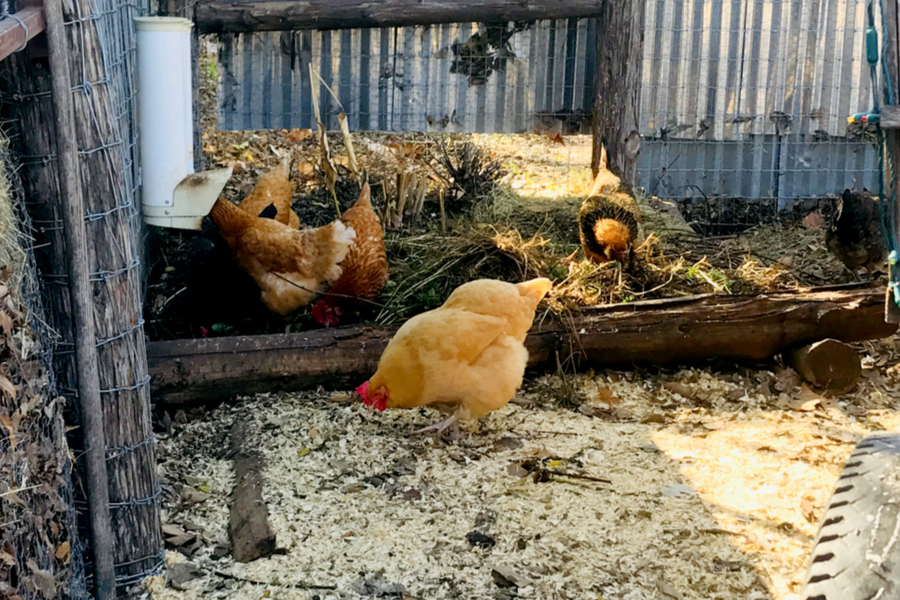 Talk about our kind of place!
We could have stayed here all day, but we decided to move on and check out downtown Austin and the famous 6th Street!
To read all of our adventures from day one, check out all of our Daily Blog Posts.
Happy Traveling! Jim and Mary
CURRENT TRIP STATUS TO DATE:
Day 118 of 365
States : 15/50
National Parks / Monuments : 18
Stayed In : Katy, TX
Miles Driven : 145.0
Total Trip Miles To Date : 13,303.9
Total Gallons Used : 964.05
Biking Miles : 0.0
Biking Miles To Date : 152.8
Hiking Miles : 0.0
Hiking Miles To Date : 273.0
On September 9th, 2019, we set out in our NuCamp T@B 400 Teardrop Camper to travel to every state. You can check out all of our dates here : Dates for the States
Follow along by signing up for our twice weekly email updates at the bottom of the page. You can also follow us on Facebook : Live Simple Tour Facebook and Instagram : Live Simple Now Instagram Page.