I don't think we could have picked a better place to celebrate New Year's Day than with our visit to historic Gruene, Texas.
This incredibly quaint town was absolutely overflowing with activity!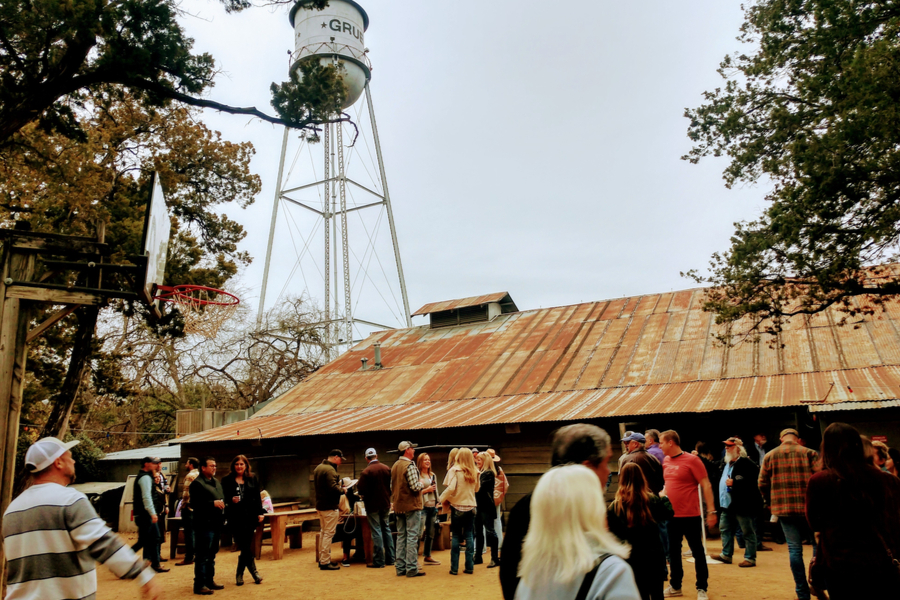 From enjoying the many shops along the main drag and an incredible meal at the Gristmill River restaurant, to watching the overflowing crowd at Gruene Hall dance away to live country music, it was a day we won't soon forget.
New Years Day In Gruene, Texas
This actually isn't our first visit to this charming little Texas town.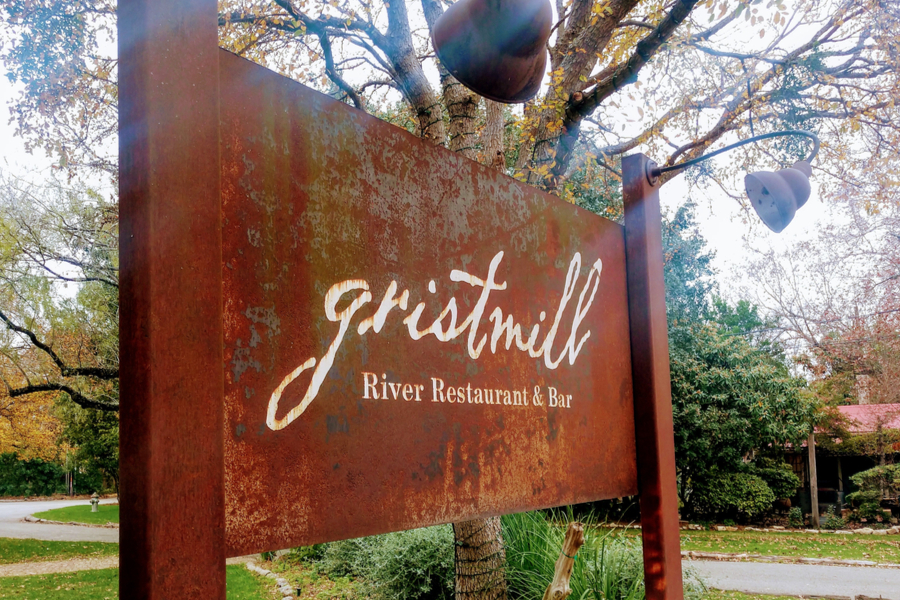 We "discovered" it a year or so ago on the recommendation of a friend. At the time, we happened to be visiting Austin on a 3 day trip, and were told that stopping in Gruene was a must-do activity.
Was she ever right – we fell in love with it immediately! And knew then and there we would be coming back as part of our big trip as well.
The History
Gruene, Texas was settled in the early 1840's by German immigrants. And for years, cotton was the big crop that kept the city going. But as farming and technology progressed, and the boll weevil hit in the 1920's, the town became all but deserted.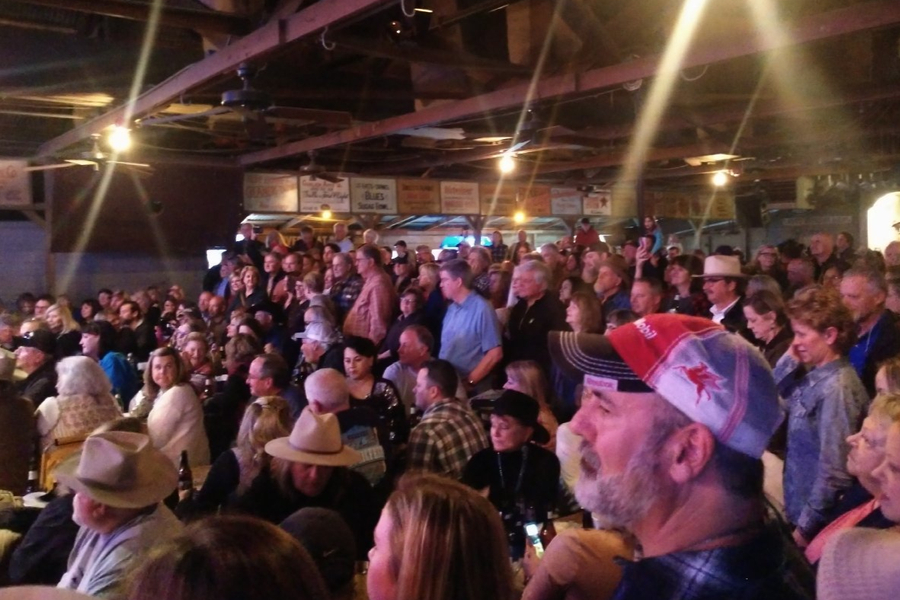 But in the mid 1970's that all changed with a revitalization effort to save some of the historic buildings. And it worked like a charm!
The old mill is now a thriving restaurant. And Gruene Hall remains a huge destination for dancing and singing. The hall is actually one of the oldest operating dance halls in the entire state of Texas!
Being inside the dance hall is almost surreal. It is a thrill to walk on those old wooden boards, and take in the music and dancing!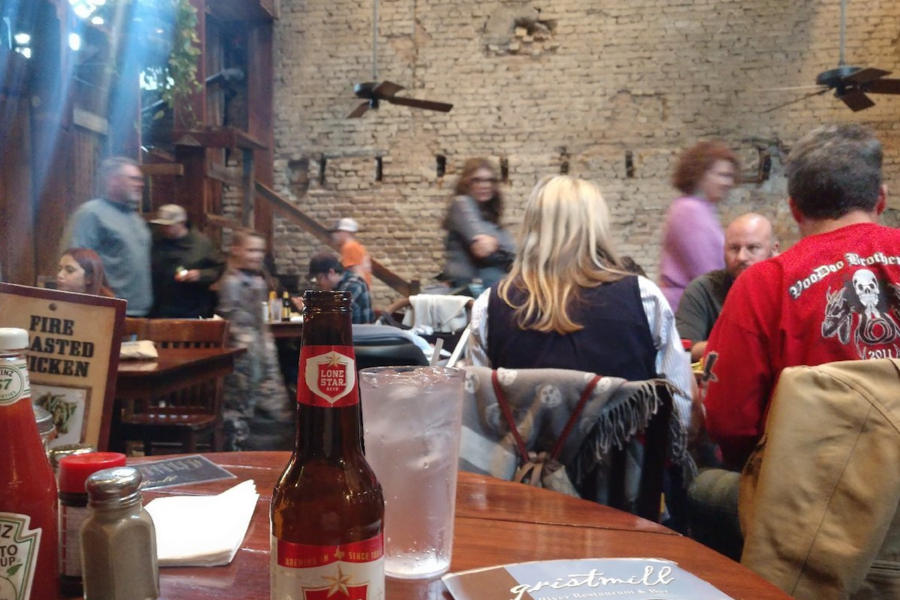 We didn't know it at the time, but it is a huge tradition for many Texans to come to Gruene on New Year's Day. And the hustle and bustle of activity made it even more thrilling to visit this time around.
The Gristmill Restaurant in Gruene, Texas
Just the experience of taking a meal at the Gristmill Restaurant is more than enough to make your day. You can dine indoors in the old mill, or out on their patio overlooking the Guadeloupe river.
It gets so busy that they use a huge chalkboard for the waiting list. And no having to listen to hear you name called, just enjoy some music out in the courtyard and watch for your name to go up on the board.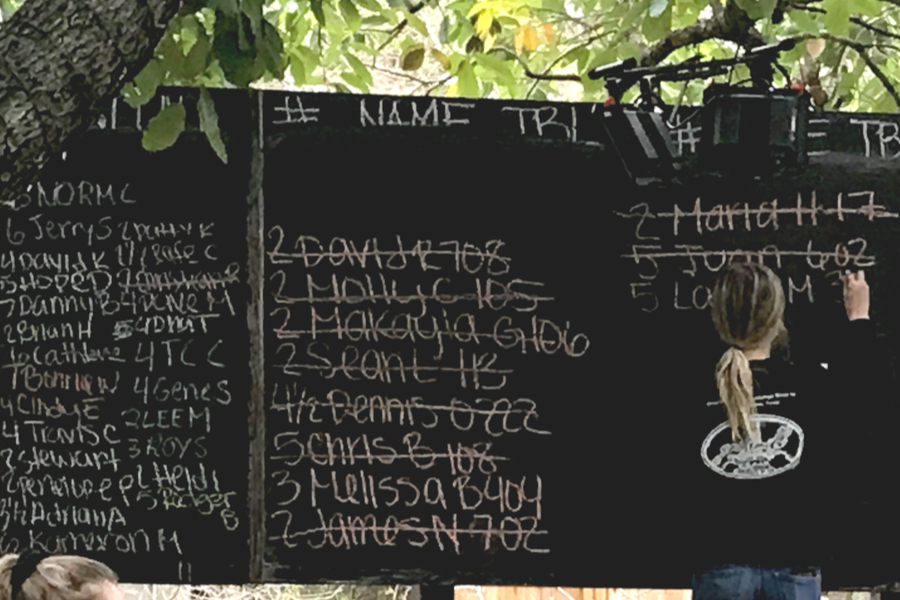 And the meal? Two amazing fire-roasted chicken dinners with green beans, mashed potatoes and garlic bread for a grand total of $24. Now that's a deal!
One thing is for sure – if you are ever near Gruene, Texas – you have to make a stop. Take it from us, you won't regret it! Here is to continuing on with our Texas travels.
Happy New Year and Happy Traveling – Jim and Mary
CURRENT TRIP STATUS TO DATE:
Day 115 of 365
States : 15/50
National Parks / Monuments : 18
Stayed In : San Marcos, TX
Miles Driven : 52.7
Total Trip Miles To Date : 12,962.7
Total Gallons Used : 939.32
Biking Miles : 0.0
Biking Miles To Date : 152.8
Hiking Miles : 2.5
Hiking Miles To Date : 269.9
About Our Living Simple Tour
On September 9th, 2019, we set out in our NuCamp T@B 400 Teardrop Camper to travel to every state. You can check out all of our dates here : Dates for the States

You can follow along by signing up for our twice weekly email updates at the bottom of the page. You can also follow us on Facebook : Live Simple Tour Facebook and Instagram : Live Simple Now Instagram Page.