Now that we are in central Texas, it is time to try out some Texas Barbecue!
As many of you know, we are huge fans of both cooking and eating. And whenever we are in a new region, we try out the local cuisine.
Although, on a rare occasion, the results are less than preferable. For instance when we ordered lunch in Chinatown while we were in San Fransisco.
However, the majority of the time we have fallen in love with the food that we have tried.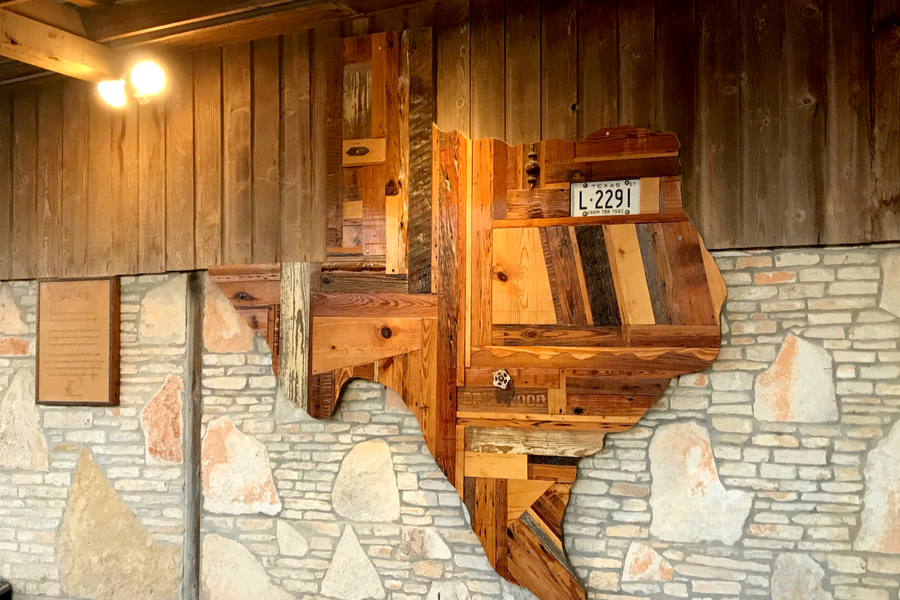 And we already knew that we would be drooling over authentic Texas Barbecue before we would even take our first bite!
What is Texas Barbecue?
But first we must take a minute to explain what we mean when we use the term Texas Barbecue.
Texas is known for smoking their meat using a slow and low, wood-burning technique. And depending where you are in Texas, you will see it being done using a dry rub or sauce.
But no matter where you are at in Texas, you can guarantee that brisket will be on the menu!
The Salt Lick Smoker…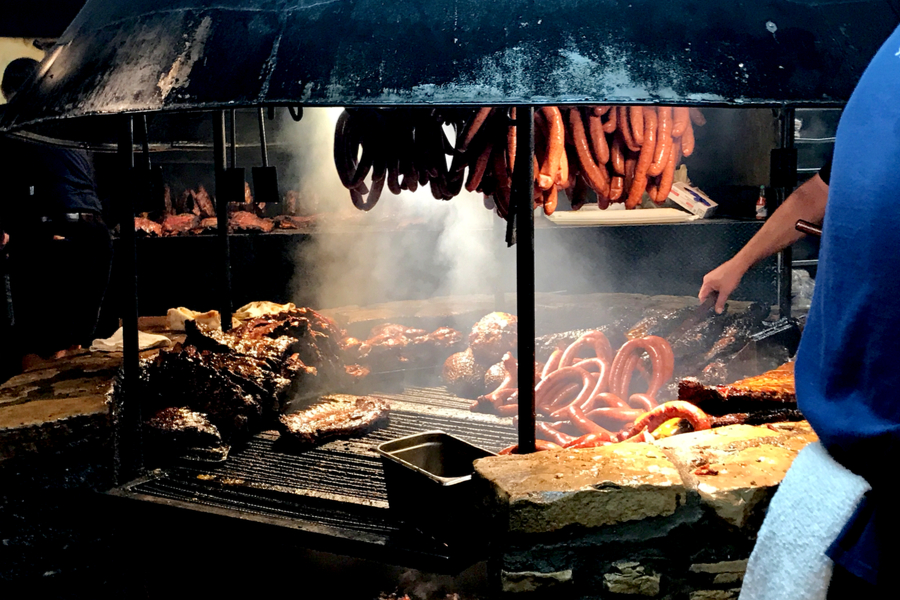 And that was exactly what we were looking for when we arrived at Salt Lick Barbecue in Driftwood, Texas today.
As soon as we pulled in the parking lot, we knew that we had made the right choice.
The parking lot was packed and there were guests all around the outdoor entertainment area.
We approached the check in booth and were told that it would be over an hour before we would most likely be seated.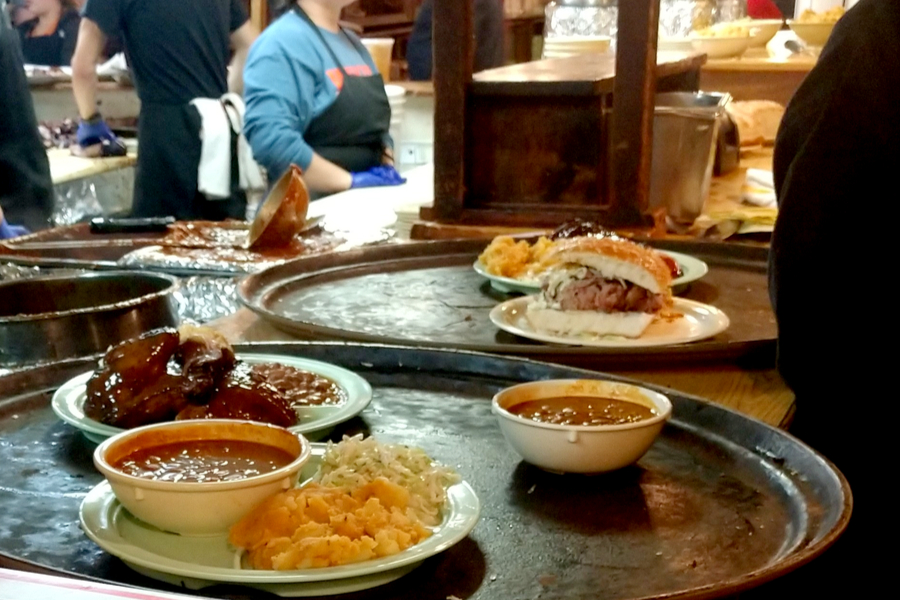 No problem! There was plenty of space to walk around and plenty of things to do while we waited.
From the musician playing at the outdoor pavilion to a bocce ball court, there was something for everyone to pass the time.
So we ordered a drink at the adjacent Salt Lick Cellars and began to walk around.
While we were marveling at the food menu, our mouths began to water as we watched and smelled the trays and trays of delicious Texas Barbecue pass by us.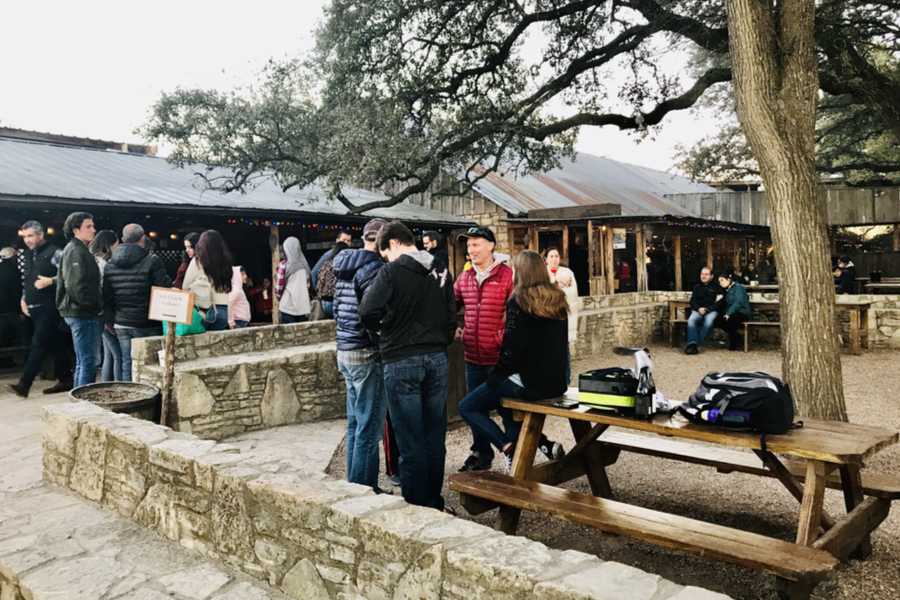 Lucky for us, our buzzer went off. And with less than a 30 minute wait we were being escorted to the dining room.
Our Salt Lick Barbecue Dinner
We were sat at a large table with long benches on either side. We imagined that in the peak of the season, you are most likely sat with others in a family-style seating arrangement.
And because we had already had a chance to look at the menu and see the food that was being served to others, we knew right away what we were going to order.
Both of us wanted brisket. It is a must if you are eating Texas Barbecue.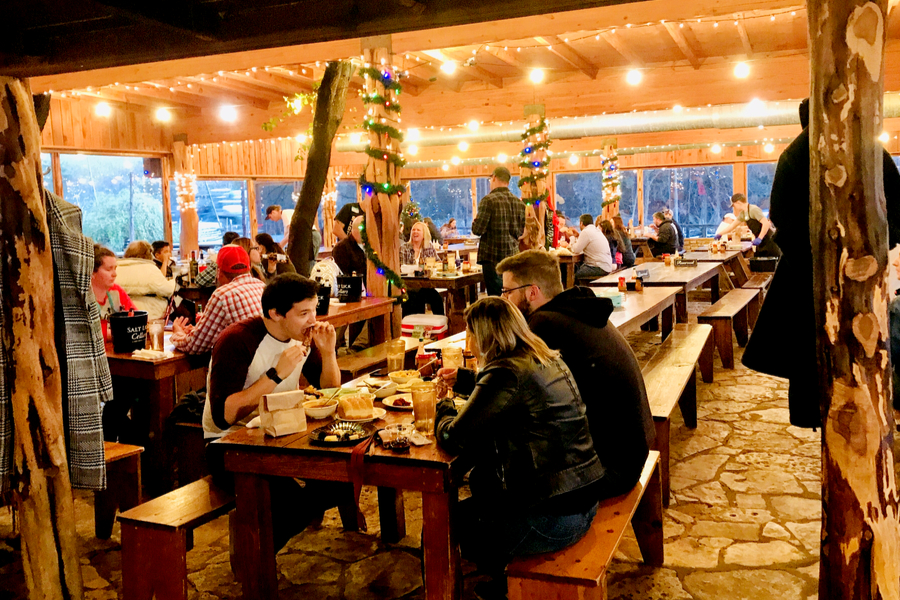 However, we wanted to try a couple of other things as well. So we also ordered pork ribs and smoked chicken.
If you think that is a lot of food, it is! Plus it comes with a side of coleslaw, mac and cheese, and baked beans. Oh, and don't forget the bread, smoked jalapenos, onions and pickles that are complementary as well!
To say that we ate like a King and Queen is an understatement! And it wasn't until the end of the meal that we realized that we didn't even try the homemade barbecue sauce!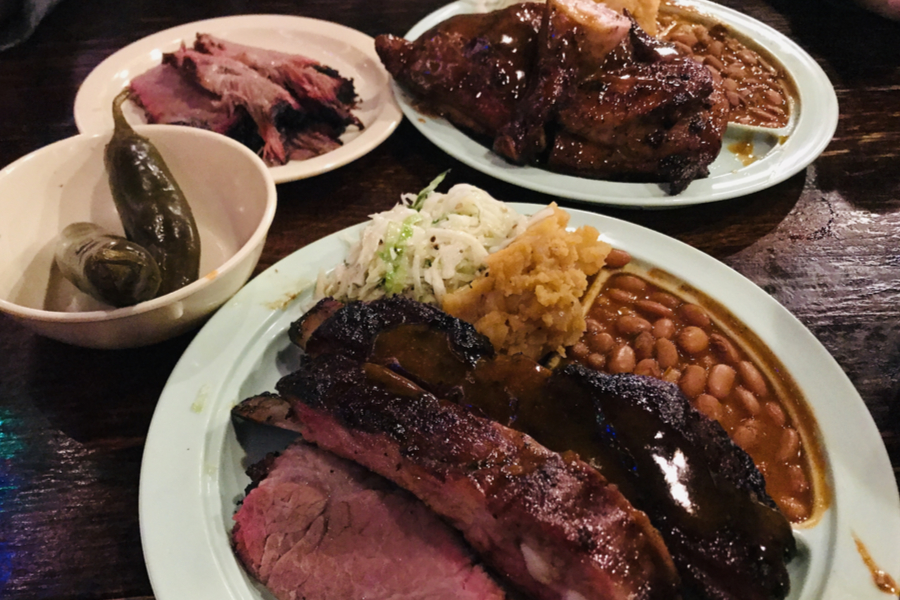 The meat had so much flavor, that we didn't even give it a second thought.
For us, our first taste of Texas barbecue did not disappoint!
Although we walked out of there feeling full and satisfied, we couldn't help but talk about trying other barbecue meals when we are in North Carolina, Memphis and Kansas City.
And we are both curious on which one that we will enjoy the most! I am betting on all of them!
HAPPY TRAVELING! Jim and Mary
CURRENT TRIP STATUS TO DATE:
Day 114 of 365
States : 15/50
National Parks / Monuments : 18
Stayed In : San Marcos, TX
Miles Driven : 74.5
Total Trip Miles To Date : 12,910.0
Total Gallons Used : 935.51
Biking Miles : 0.0
Biking Miles To Date : 152.8
Hiking Miles : 3.7
Hiking Miles To Date : 267.4
About Our Living Simple Tour
On September 9th, 2019, we set out in our NuCamp T@B 400 Teardrop Camper to travel to every state. You can check out all of our dates here : Dates for the States

Follow along by signing up for our twice weekly email updates at the bottom of the page. You can also follow us on Facebook : Live Simple Tour Facebook and Instagram : Live Simple Now Instagram Page.