After such a wonderful evening spent at Bottega Napa Valley last night, we decided that today we would put everything else aside and spend the day in San Francisco.
Although the weather has been on the rainy side, we knew that we could dedicate an entire day of our trip to experience the sights, sounds, and taste of one of the cities in the Bay Area.
And what better city to choose than San Francisco.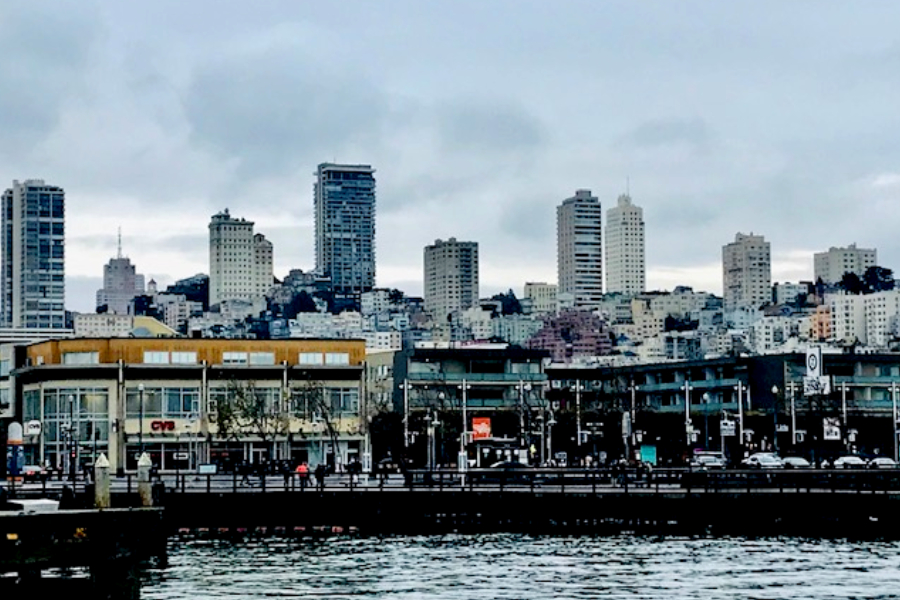 There are so many things to see and do in this iconic city. But to avoid sitting in traffic and wasting precious time, we waited until the morning rush hour was over to head back to Highway 101.
This was a little longer route from where our camper was stationed in American Canyon. GPS wanted to take us through Oakland, however, I knew that we wanted to actually drive over the Golden Gate Bridge as we entered the San Francisco area.
Golden Gate Bridge
Once we finally got to the bridge, we realized there was a toll road to drive over the bridge. We didn't care – this was a once in a lifetime opportunity.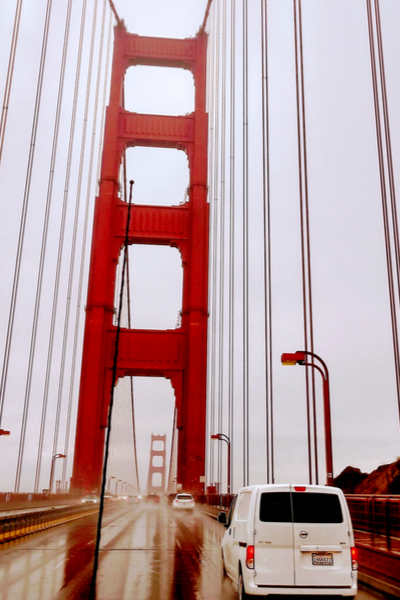 But it wasn't like every other toll where you give money to an attendant or put money in a machine. There were HUGE signs in the toll booth area warning you not to stop at the unmanned toll booths.
I am guessing that they just mail everyone that doesn't have a Toll Pass a ticket for the fee. I guess we will just have to wait and see!
So we passed over the bridge and continued straight down 101. Once you get into the city the highway turns into Lombard street. This is where you can find the crookedest street in the world.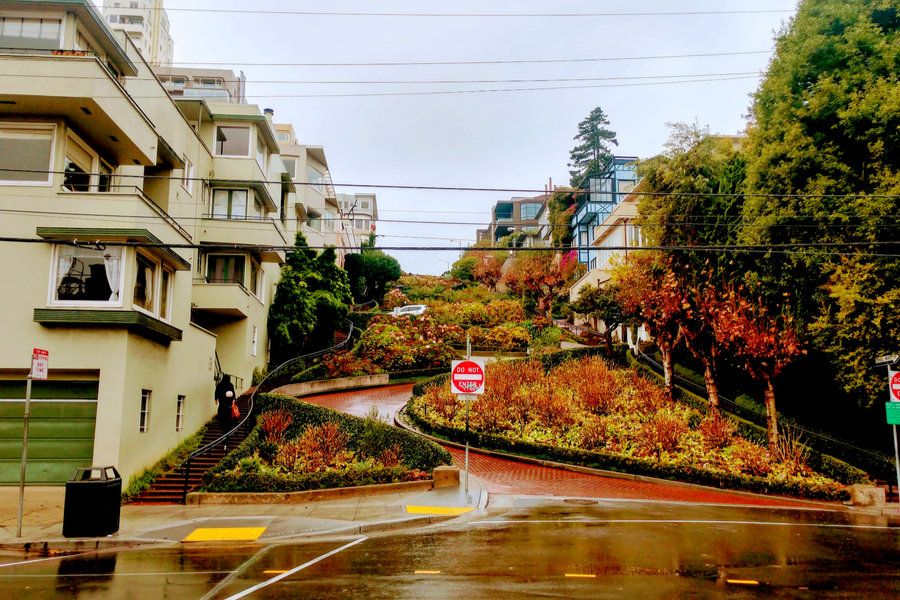 We braved the winding and narrow streets and took the truck down the steep, one block road.
Although it was tight, we successfully navigated down the incline to the bottom of the brick street.
Since that was the last part of San Francisco that we wanted to drive over and down, we headed straight to Fisherman's Wharf.
Fisherman's Wharf
Our directions took us right to the main pier where the parking was $65 per day. We decided that since it was the off-season that we would look for more reasonable parking.
And that brought us to one block west of the wharf where we found ample parking for less than half of the price for the full day.
We walked to the Navy pier and around Fisherman's wharf for awhile taking in the sights of all the restaurants and shops.
There are several piers in the area, but one of the most popular ones is Pier 39.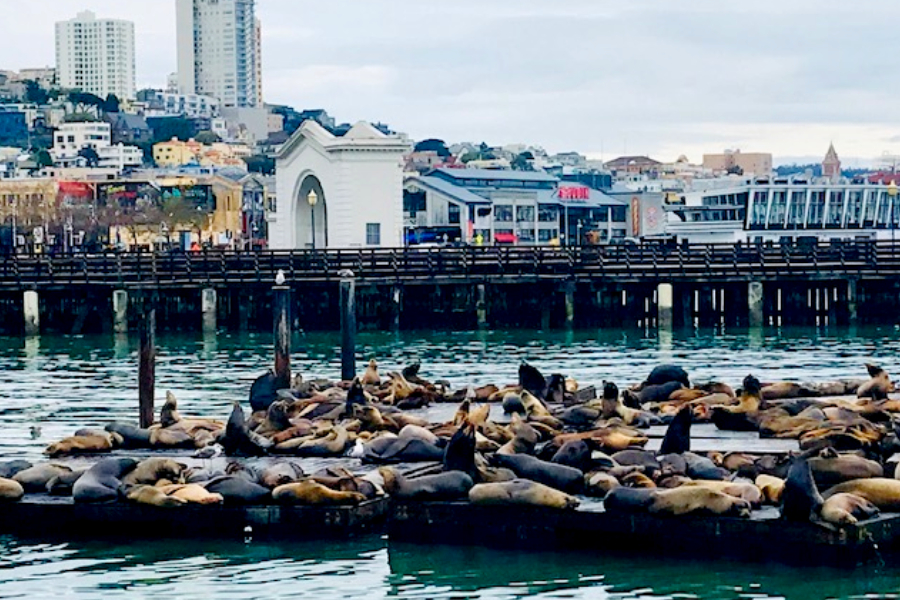 Here is the home to not only popular restaurants, but to the Sea Lion docks. They are extremely entertaining to watch. And even though we enjoyed their constant barking sounds, I am sure that it gets quite annoying for the employees that work in the area.
And if you look in the distance while standing on Pier 39 you can see Alcatraz Island. Although it is no longer an active prison, it was once home to some of the most dangerous inmates.
Although, we decided not to take the 3 hour tour to the island. We figured that we only had one day to explore San Francisco and we didn't want to miss out on other opportunities on our limited visit.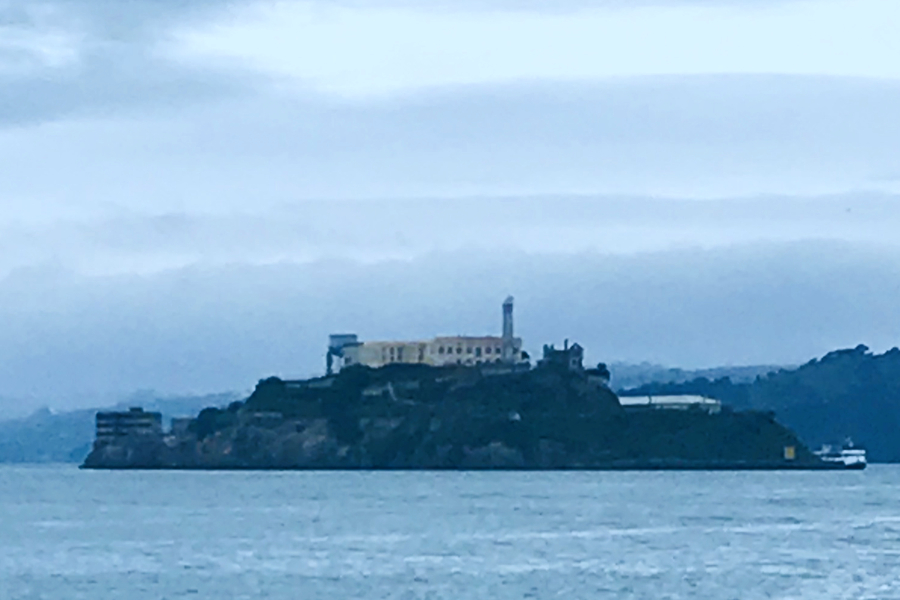 However, Mary did have the opportunity to take the night tour many years ago.
So instead, we decided to make better use of our time and hop on the Cable Cars to experience more of the city.
The San Francisco Cable Cars
We bought a public transportation day pass and began our journey traveling the streets of San Francisco.
We had no idea where we were headed, or what we were going to see. But we absolutely enjoyed the fact that we were finally on the historic cable cars.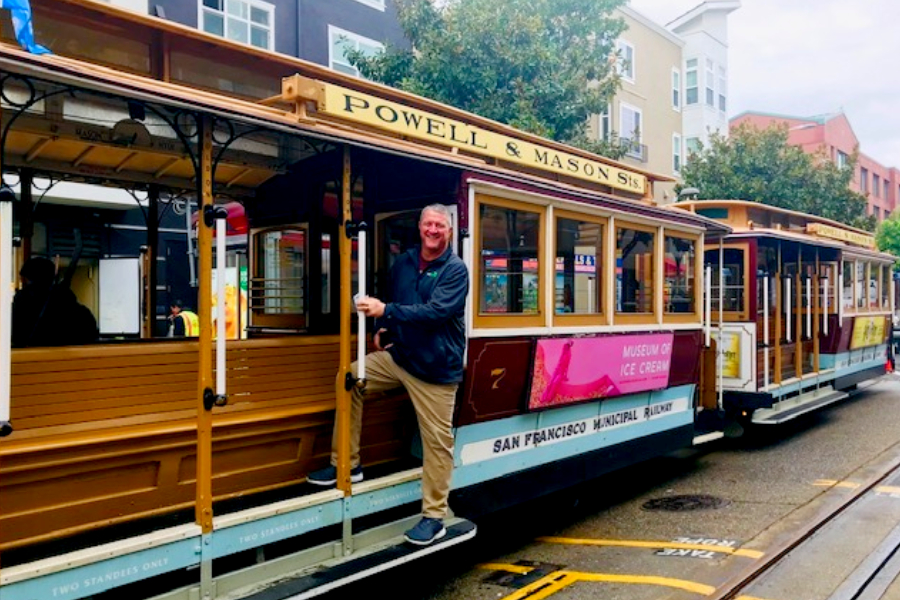 Our first stop took us to Chinatown. It was well past lunch time and both of us were hungry.
Chinatown
Being fans of Asian cuisine, we decided to find an authentic Chinese restaurant for lunch. Which of course, was easy to do.
Although we couldn't read the words on the street signs, we decided that we would head to a restaurant that was filled with patrons.
So we ended up at a restaurant that was full and even had short waiting list. This was a great indication to us that the food must be good.
Once it was time to order, we were both a little uneasy. We had a limited knowledge of the menu, and as you can imagine, many of the menu items were out of our comfort zone.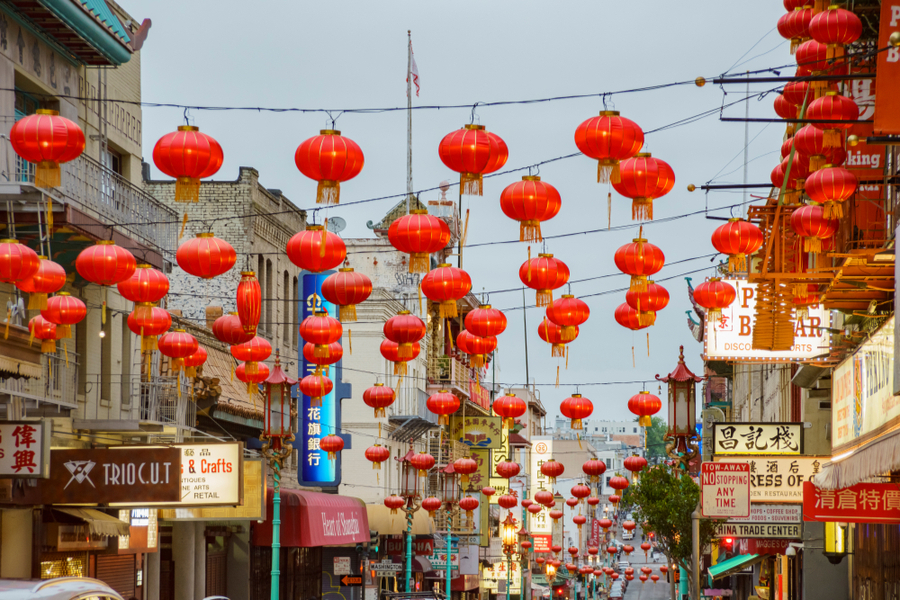 Ordering Lunch
But we finally decided on Hot and Sour soup and Szechuan chicken. We both love hot and spicy food and we have had Szechuan chicken and rice many times before.
But when our meal showed up, we were a little puzzled. The soup looked amazing. However, the chicken looked like large bites of poached chicken with the skin and bone still attached. And there was no rice.
After we got over the looks of the dish, we decided to take a bite. Within one second of putting the chicken in my mouth, I literally was in shock.
My mouth was full, yet I was trying to tell Jim, before he took a bite, that the chicken pieces were cold. And not in a lukewarm way. The chicken dish was served as a cold meal – absolutely no warmth to it at all.
Although we were in complete shock we decided that "When in Rome"…
So we continued to eat as much of the dish as we could handle. Once we left the restaurant we both decided to chalk this adventure up to one that we would never forget!
The Streets of San Francisco
After our lunch experience we decided to continue to explore the less popular streets of San Francisco.
We walked mile after mile as we looked at the row houses that were built on steep inclines.
Every street was lined with parallel parked cars with their tires turned toward the curb. The every day scenery was beautiful in it's own sense.
But as we passed down the streets of San Francisco we found even more treasures. There were several magnificent structures among us including this beautiful cathedral.
St. Dominic's Catholic Church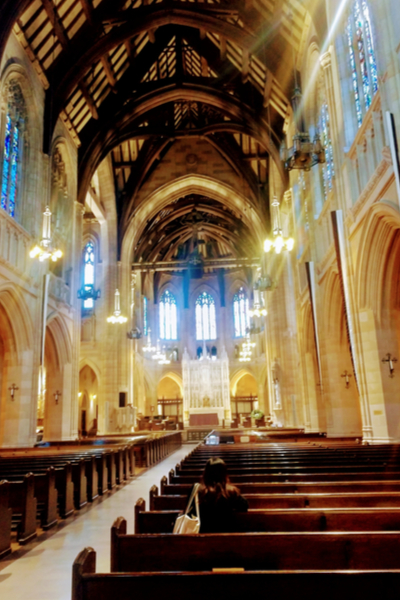 St. Dominic's Catholic Church sat in the middle of a neighborhood and the doors were open as we passed by.
We took the rare opportunity to take a peak inside and it was absolutely breath taking.
The history and architecture that encompassed this building was incredible. And to see it still standing today and that the doors remained opened to the public was unbelievable.
After a brief visit indoors, we continued walking around town pointing out to each other every amazing house and building that we could see.
Then we came across a familiar looking house. Our kids grew up in the era that the television show Full House aired almost daily as reruns.
We had to watch show after show, and this is the house where the family lived, at least in t.v. terms.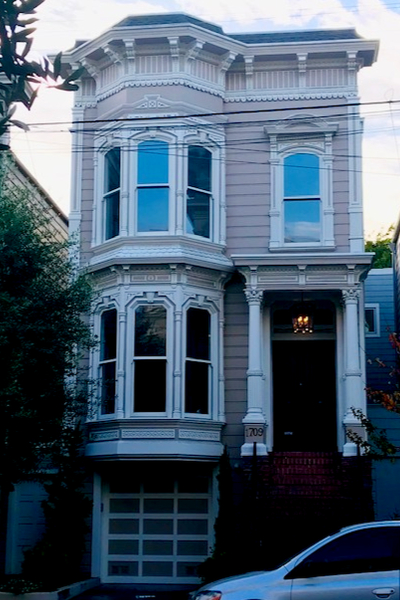 So as good tourists do, we took our obligatory picture and shared it with our family. Yes, we are true tourists sometimes!
So we finished our time spent in San Francisco picking out our California Christmas ornament and post cards and called it a wonderful day!
Happy Traveling – Jim and Mary
CURRENT TRIP STATS
Day 87 of 365
States : 11 / 50
National Parks / Monuments : 11
Stayed In : American Canyon, California
Miles Driven : 76.9
Total Trip Miles To Date : 8850.3
Total Gallons Used : 660.47
Biking Miles : 0.0
Biking Miles To Date : 142.5
Hiking Miles : 6.2
Hiking Miles To Date : 189.5
About Our Living Simple Tour
On September 9th, 2019, we set out in our NuCamp T@B 400 Teardrop Camper to travel to every state. You can check out all of our dates here : Dates for the States

Follow along by signing up for our twice weekly email updates at the bottom of the page. You can also follow us on Facebook : Live Simple Tour Facebook and Instagram : Live Simple Now Instagram Page.