As we plan our year long adventure across the country one of the things that we have considered is camping with an Instant Pot.
We use our 6 quart Instant Pot Pressure Cooker several times a week when we are at home.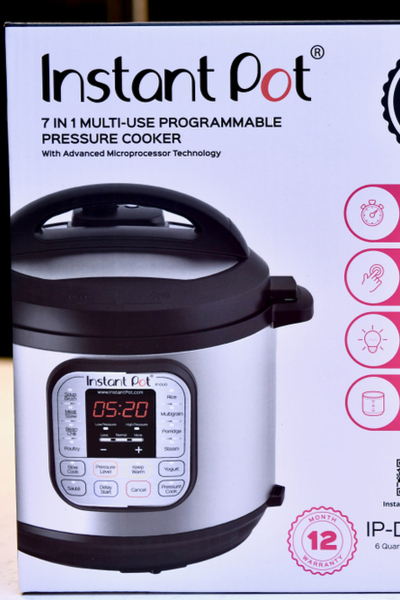 This method of cooking saves us a ton of time. In fact, we are able to make meals that typically take hours to prepare in a fraction of the time.
For instance, we can cook dried beans and have them on the table and ready to eat in just over an hour. And the best part of all, there is no pre-soaking required!
And we no longer have to wait hours for our pot roast to cook all day in a slow cooker.
Not to mention that we can make easy weeknight meals like Chicken and Rice and Fettuccine Alfredo in under 30 minutes.
So as we try to plan on how we are going to cook meals while we are in our T@B 400 camper, the Instant Pot has taken center stage.
What Size Instant Pot?
Our teardrop camper has significant storage space inside. However, we knew we would have to pair down some kitchen items while we are on the road.
Because we use our 6 quart Instant Pot so often, it is something that we really wanted to take camping.
But we decided that the 6 quart was just too big for our camper. We needed to conserve space in the cabinets for other essentials.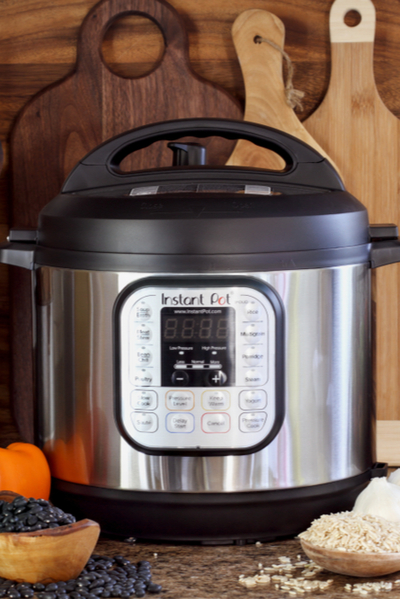 That is when we looked into other options.
With just the two of us traveling and having little room to store leftovers, we knew that it wasn't practical camping with our current Instant Pot.
But lucky for us, Instant Pot also has a smaller counterpart. After looking at the size of the 3 quart Instant Pot, we knew we had the perfect match for our trip!
Not only is the perfect size for cooking for two people. It also securely fits on the bottom shelf of the lower kitchen cabinet.
Now we can continue to use an Instant Pot while we are camping!
Power Required
Because we won't be in the same camping location for more than 2 days at a time the Instant Pot will be our main source of meal preparation.
We will often be staying at Harvest Host locations which isn't always conducive to outside grilling.
And of course, we won't have a fire pit to cook over a campfire.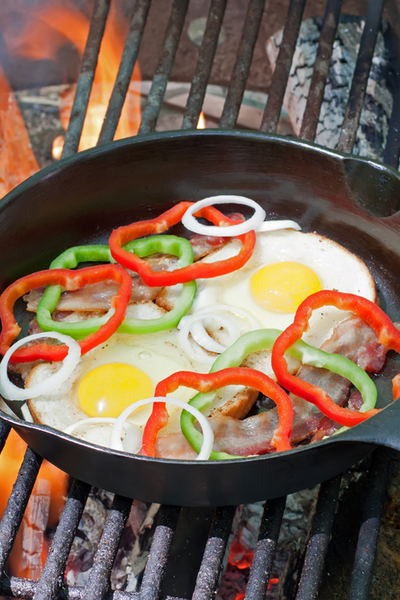 Yes, we have our stove top, propane burners inside the camper. But we needed an external source of cooking to help conserve the gas.
Therefore, our Instant Pot will be used for the majority of our meals.
Because it requires 110 power, we will either have to be plugged in to shore power or use our external Inergy solar generator for it to work.
We knew that it would work fine as long as the camper was plugged in to 30 amp service. However, we weren't 'sure how the Instant Pot would work when plugged into the solar generator.
So last week we gave it a trial run. And we are happy to report it worked!
And best of all, it didn't drain the generator power at all!
Instant Pot Camping Meals
So now the fun begins to plan meals while we begin camping with an Instant Pot.
We know that we will be making oatmeal and egg bites for breakfast.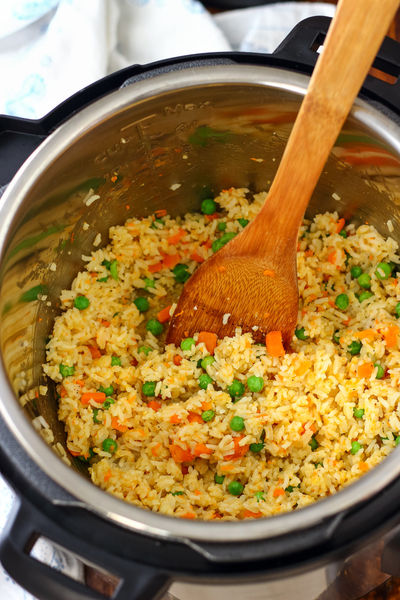 Lunches will consist of chicken breasts that we make to top our garden salads. And we can make a quick soup in it as well for a complete soup and salad meal.
As for dinner, the possibilities are endless. From rice dishes, macaroni and cheese, and pulled pork, there are many delicious options that we can choose from.
And to satisfy Jim's sweet tooth, we can even make cheesecake, brownies, sweet breads and cakes!
If you have any experience camping with an Instant Pot and have tips or recipes to share, feel free to email them at livesimple@livesimplenow.com.
Jim and Mary
To view all of our articles click on the BLOG button