We get the question often: What has been your favorite meal or favorite place to eat at so far on the trip?
Let's face it, one of the best things about traveling to all 50 states is having the opportunity to try local food and flavors everywhere. And we have certainly enjoyed that portion of the trip for sure!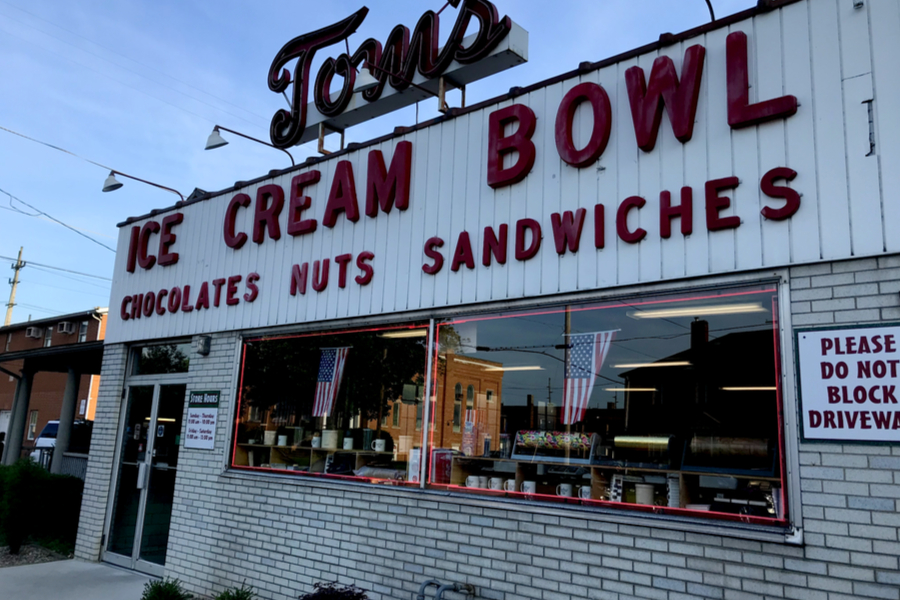 So for today's daily update, we thought we would share our three favorites along the route so far! One each for our favorite breakfast, lunch & dinner.
It was tough narrowing them down, but here we go!
Favorite Meals, Breakfast: Palace Hotel Cafe – Webo, Montana
Breakfast may be the hardest one to pick of all, because we have had the good fortune to take in some amazing little breakfast joints and coffee shops. In fact, as we talked about which was our favorite, we started to realize just how many we have tried!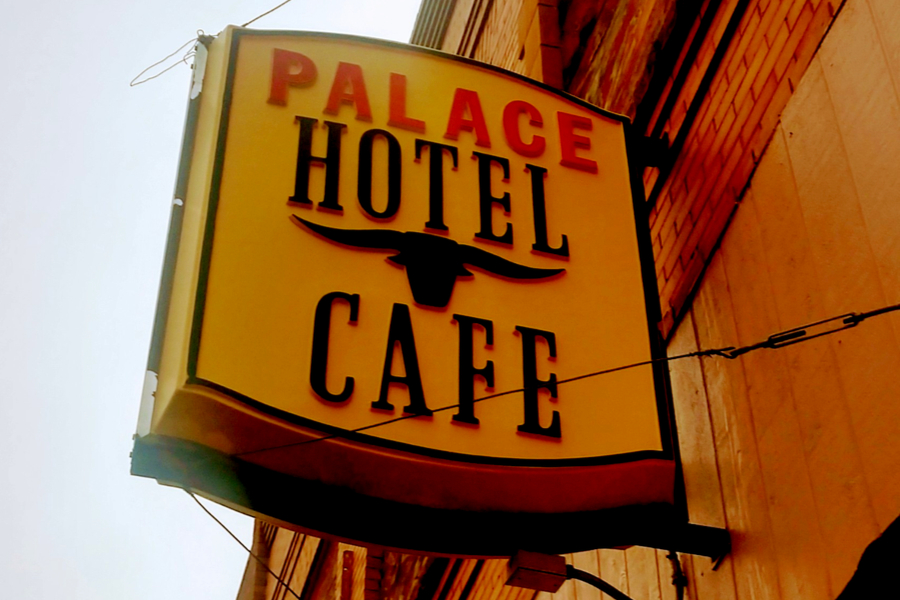 This little cafe nestled in the tiny town of Wibaux, Montana is simply awesome! From the amazing service, the locals friendliness, and the over-the-top down home breakfast, it was a sensational morning event.
It is what small town diners should be all about. The made from scratch portions were more than generous, and it was a treat to meet such a wonderful owner. (Breakfast At Wibaux)
Adding to this favorite meals selection, she told us to make sure to visit her brother's Kolache shop when we went through Texas. We did exactly that, and loved it as well!
And speaking of those Kolaches – way too good, and way to dangerous for the diet!
Favorite Meals, Lunch: D'Jangos Rough Bar & Grill – Fort Bragg, California
Don't let the name fool you, there is nothing rough at all about this incredible seaside diner in Fort Brag, California.
But our lunch of fresh caught, prepared and lightly fried fish, house made chips and coleslaw was out of this world. And I mean the best of the best as one of our favorite meals!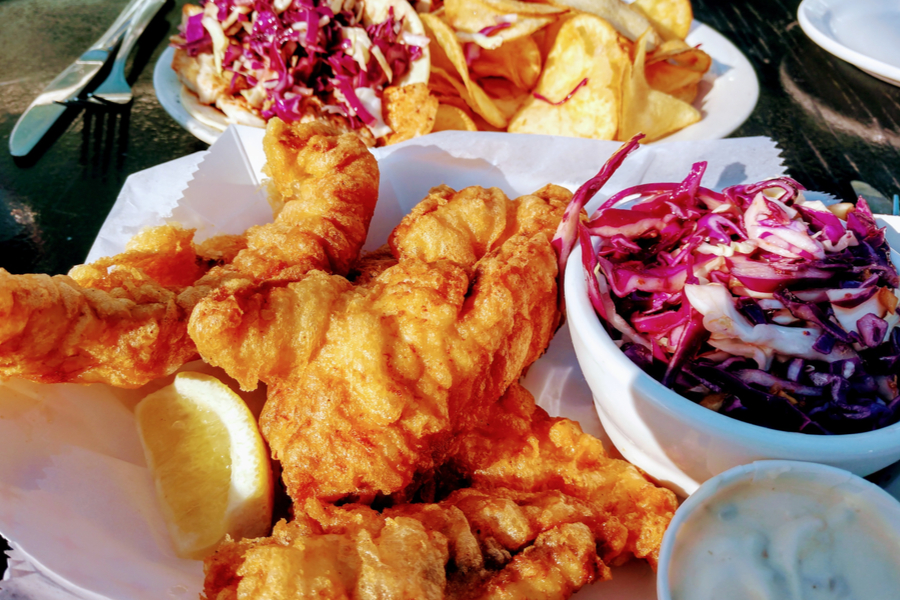 This pick is almost unfair due to the ambiance of eating outdoors while overlooking the waters that lead to the Pacific.
But when you add in the generous portions, a great staff and the best fish and chips we have ever tasted – it is a winner, winner fish dinner!
Favorite Meals, Dinner – Salt Lick Barbecue – Driftwood, Texas
Always, always, always ask locals where to eat! It is the best advice we can ever give to someone looking for a good spot to eat when traveling. And it never seems to fail!
Especially when it came to us finding Salt Lick Barbecue in Driftwood, Texas.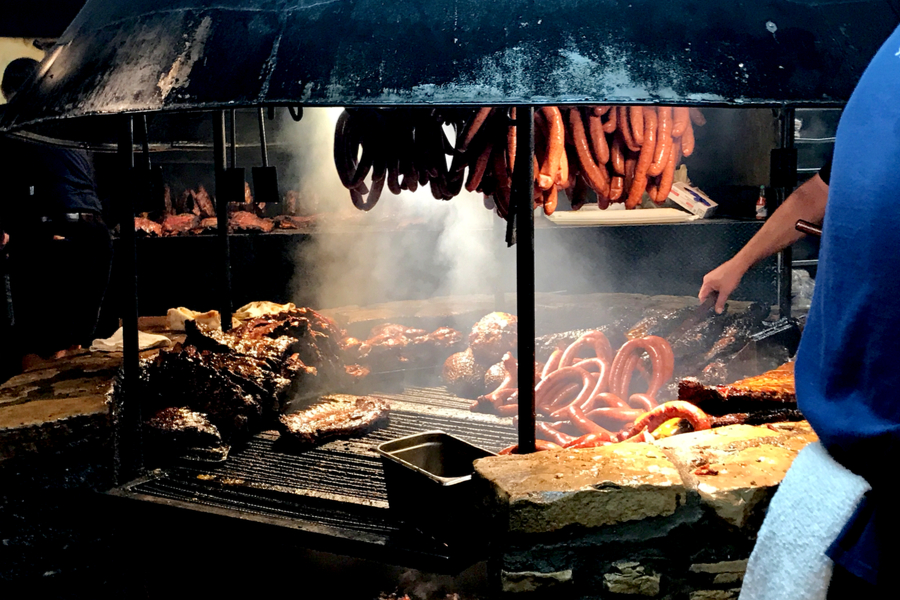 When you ask about barbecue in Texas, you will get a thousand suggestions. Maybe 10,000! But one name kept coming up for a place that had the best barbecue and atmosphere – Salt Lick BBQ in Driftwood.
Between the atmosphere, the scattered pits in the various buildings, live music, and a winery with an outdoor garden area attached, it is already a home run before you ever sit down to eat.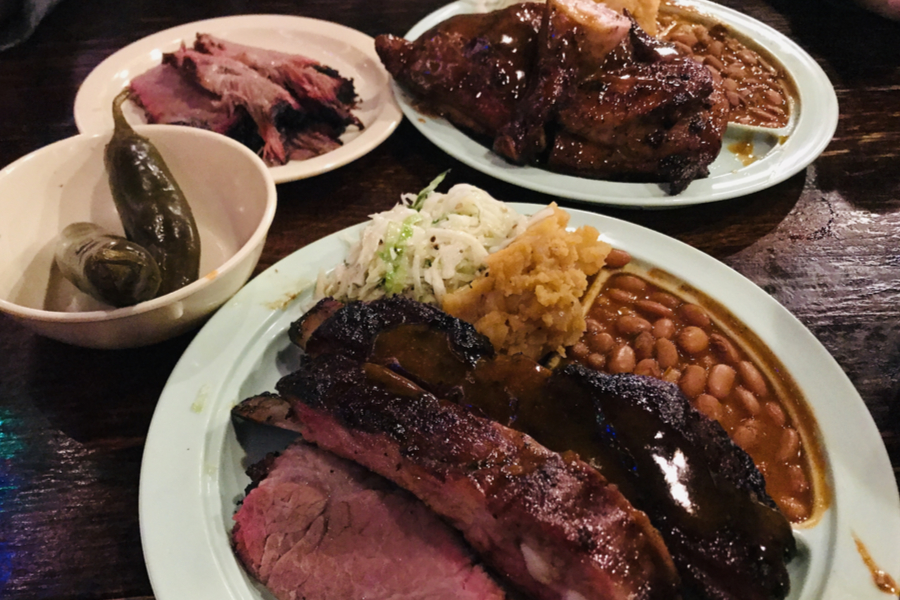 But the BBQ – there is no doubt it had to be on our favorite meals list today! We have had some outstanding brisket, smoked chicken and ribs along the way – but this took the cake! See : Eating At Saltlick BBQ
More To Come…
With 200+ days still left to go, we may have to update this along the way as needed. I mean, we certainly have to be willing to not give up and keep trying! 🙂
But one thing is for sure, there are some incredible eats to be found all over this country. And wonderful people to meet there as well. Here is to finding and enjoying some more favorite meals along the way!
Happy Traveling – And Dining, Jim and Mary
CURRENT TRIP STATUS TO DATE:
Day 137 of 365
States : 17/50
National Parks / Monuments : 20
Stayed In : Texarkana, Arkansas
Miles Driven : 199.7
Total Trip Miles To Date : 15,427.0
Total Gallons Used : 1,109.86
Biking Miles : 0.0
Biking Miles To Date : 158.4
Hiking Miles : 0.0
Hiking Miles To Date : 306.4