If you have ever driven in the state of Texas, then you probably know of the ginormous convenience stores that go by the name of Buc-ee's. (pronounced bucky's)
If you talk to anyone from Texas about spending time in Texas, they will almost always ask if you stopped at a Buc-ee's. In fact, several folks mentioned it to us as a must-see stop on our Texas page before we ever left for the trip.
The cult-like following the store has garnered since it opened its first store in 1982 is simply unbelievable. Especially when you consider that it is not a 5-star restaurant, or a high-end shopping mecca – but instead, a convenience store!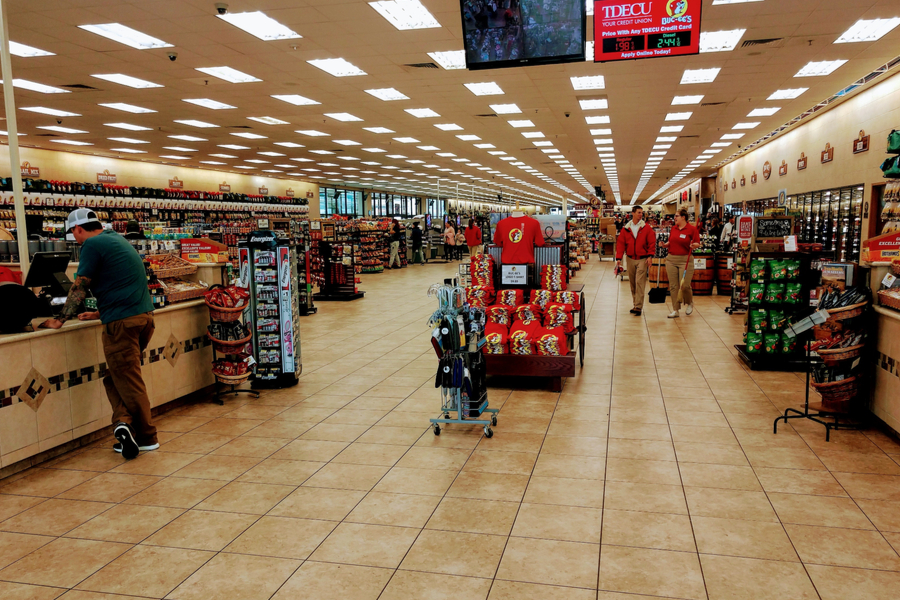 And it is not just famous among Texans. Food & Wine Magazine just recently named it 2019's top convenience store for the entire nation.
The Buc-ee's Experience
So what makes Buc-ee's so special?
Well, for starters, their stores are a living testament to the saying that "Everything Is Bigger In Texas."
They are certainly easy to spot as you drive along the highways of the state. There is nothing small or diminutive about Buc-ee's stores – inside or out.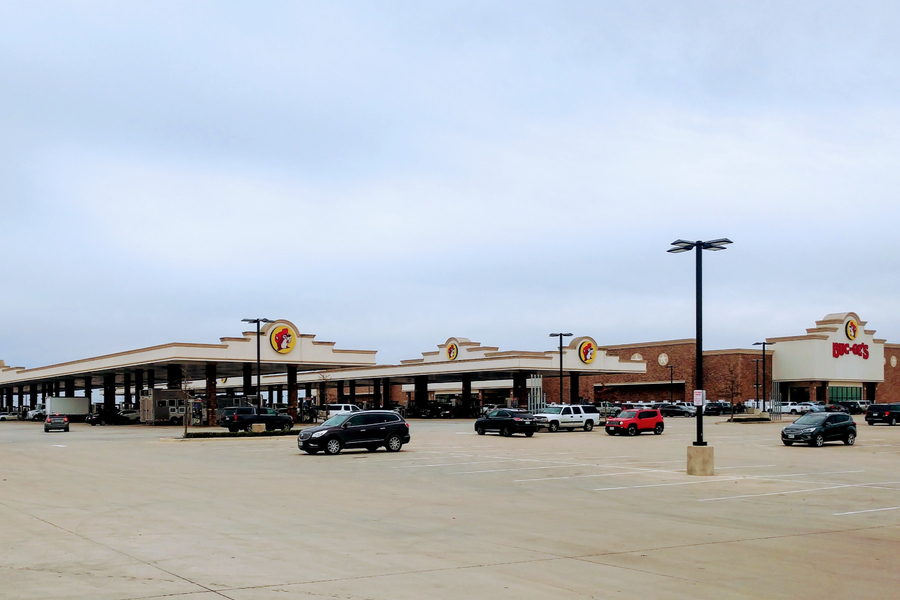 As we pulled into the Buc-ee's New Braunfels location, which by the way is considered to be the largest convenience store in the world, the "bigness" was apparent right away.
The store sits on 18 acres of land, with a 60,000 square foot building smack in the middle! And then there are the fuel islands.
One massive island certainly wouldn't be enough. So instead there are two gigantic ones, one in front of the other. And together, they hold an almost unfathomable 120 fueling spots.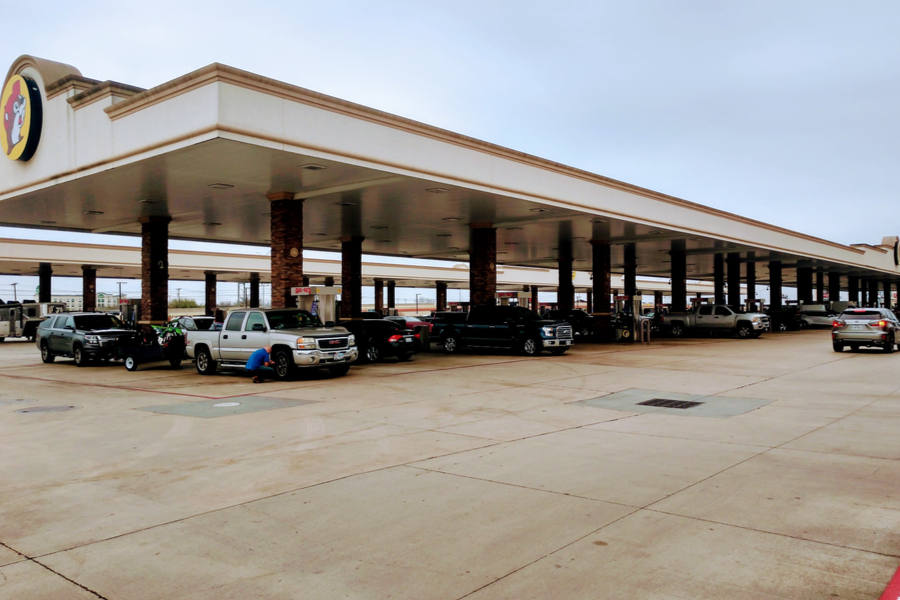 Even The Bathrooms Are Big
There is nothing small about the store in any shape or form. And once inside, the store seems to go on forever.
It has everything you could ever need and more. A gift shop, food stations galore, clothing, books – and the list goes on and on.
And that food just isn't your run of the mill convenience store food. In fact, there are some that will tell you Buc-ee's has some of the best brisket around. While others will tell you their sausage and sausage sandwiches are to die for. All at a convenience store none the less!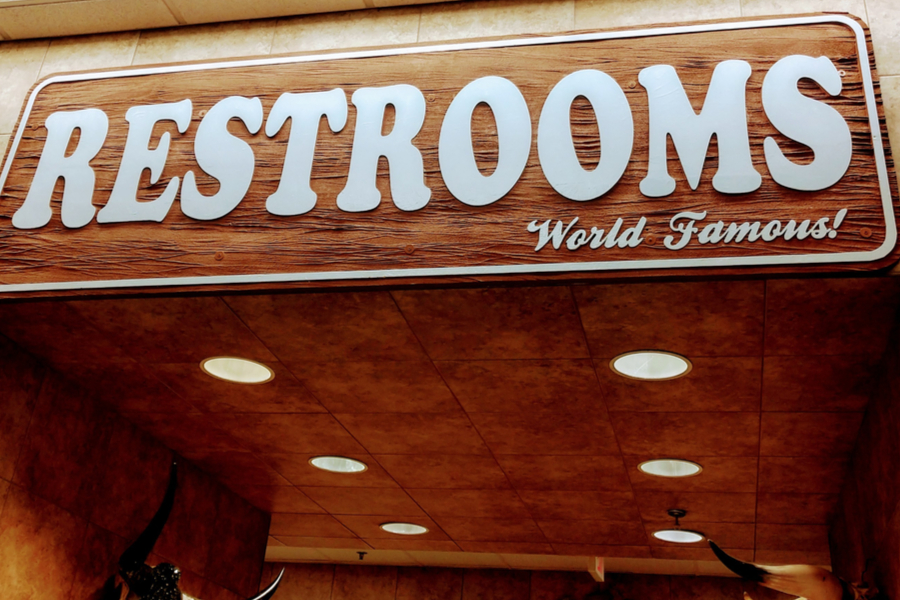 But maybe most famous of are the Buc-ee's beaver nuggets. Yes, it seems folks can get enough of these treats which can best be described as a puffed corn snack. Apparently, they are ridiculously addictive. And judging by all of the bags we witnessed being sold, they must be!
And last but certainly not least – the "Everything is Bigger In Texas" theme continues with the bathrooms. I mean when you put a sign above the bathrooms that says "world famous restrooms" – they must be special.
I can tell you this, I have truly never seen a larger restroom in my life. Not even at major stadiums.
We've managed to see some incredible sights on this trip, and I guess we can now include the Buc-ee's expereince right along with them!
Happy Traveling – Jim and Mary
CURRENT TRIP STATUS TO DATE:
Day 117 of 365
States : 15/50
National Parks / Monuments : 18
Stayed In : San Marcos, TX
Miles Driven : 106.7
Total Trip Miles To Date : 13,069.4
Total Gallons Used : 947.06
Biking Miles : 0.0
Biking Miles To Date : 152.8
Hiking Miles : 3.1
Hiking Miles To Date : 273.0
On September 9th, 2019, we set out in our NuCamp T@B 400 Teardrop Camper to travel to every state. You can check out all of our dates here : Dates for the States

You can follow along by signing up for our twice weekly email updates at the bottom of the page. You can also follow us on Facebook : Live Simple Tour Facebook and Instagram : Live Simple Now Instagram Page.