The questions come every day on our trip, and they all have to do with one big subject : what is it really like living in a teardrop camper day to day?
And the questions cover every aspect of the topic imaginable.
Are you comfortable inside? Do you two have enough room? What is it like sleeping in there? Is it hard to pull with your truck?
And they keep on coming…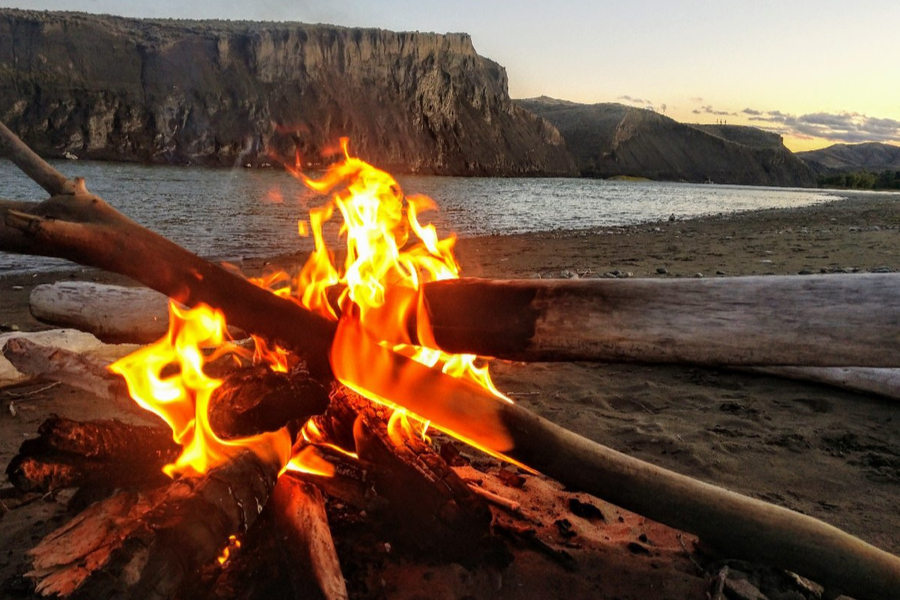 How does the solar-power work? Does it really have a bathroom and shower? A refrigerator? How about a stove?
But it is all good for us. We actually love all of the questions and talking about life in our teardrop.
It has truly been one of the most magical and life-changing experiences for both of us. And we are glad to share all we can about it.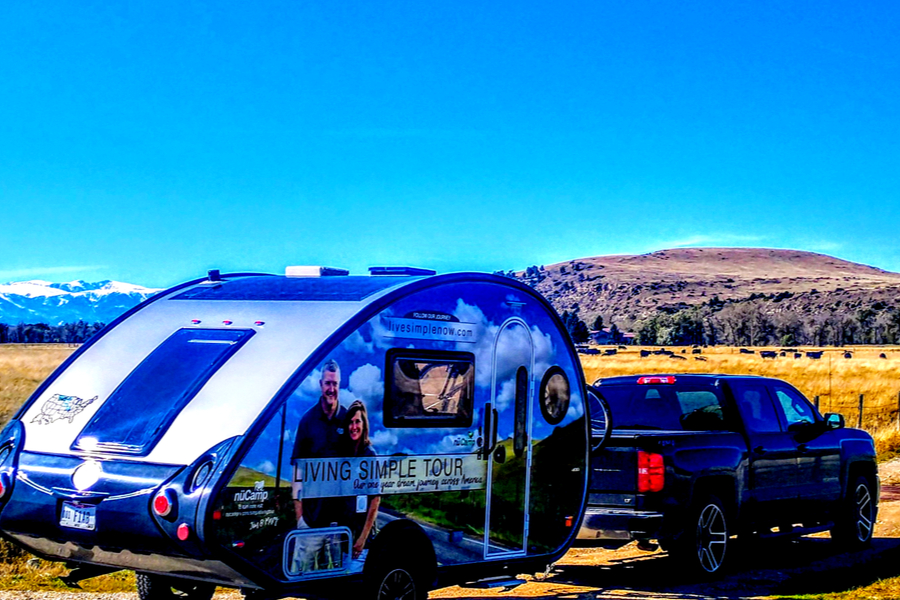 So we thought for today's update, we would share a typical day of what it's like living our teardrop camper. And, take a bit of time to answer a few of the most commonly asked questions we get about our T@B400.
If we miss anything you would like to know, feel free to ask in the comments – and we will be sure to answer!
Life In Our Teardrop Camper – Living In Our nuCamp T@B400
On a typical morning, we make coffee in our coffee pot, and breakfast on the two burner gas stove – just like we would at home.
All while we write our articles for an hour or two at our front kitchenette / dining area. Which, is no different than we always did at home on the farm. Except, our morning views now are all across America!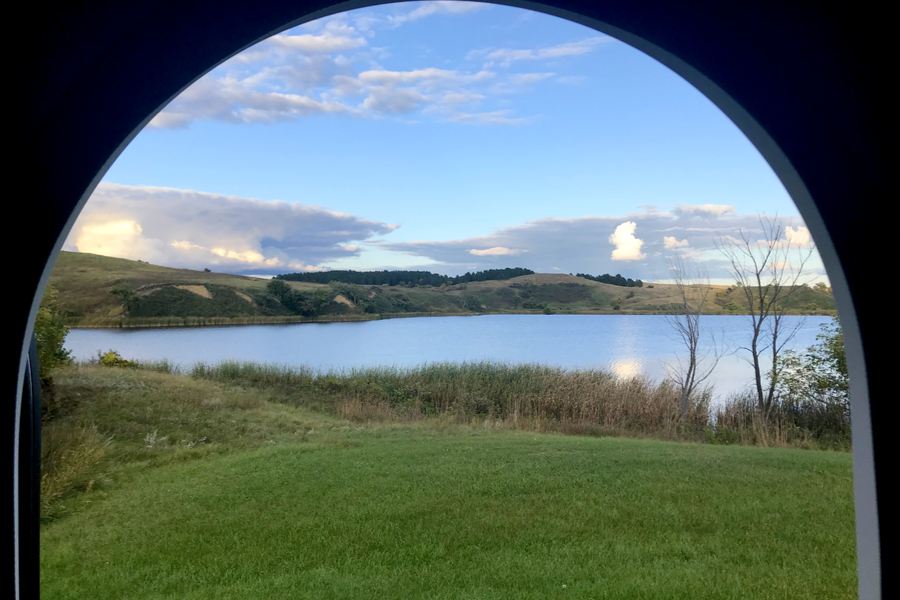 The picture above really tells it all about daily life.
And this morning, as I write yesterday's update, I am looking out over the Pacific Ocean from our front window. We sometimes have to pinch ourselves to ask if it is all real!
The Space
What we trade in space if we had a huge camper we gain in how easy it is to operate. And, even more, where we are able to drive the camper – which is just about anywhere.
We can pull up to our campsite and be set in less than 5 minutes. And leave the next morning in 5 minutes as well. We absolutely love that! (See : How We Set Up Camp)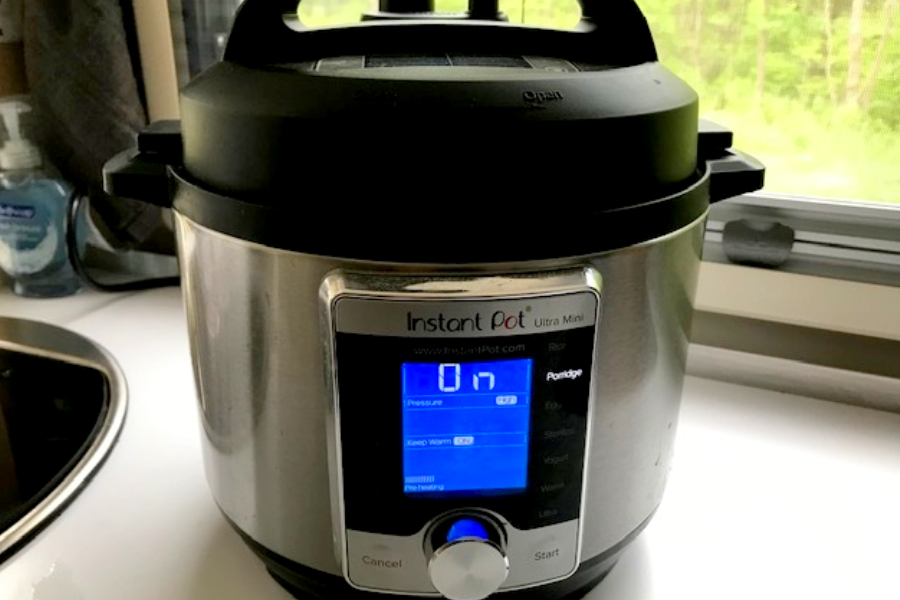 And honestly, we don't require a lot of space. We make our meals, sleep and write in the camper. And the rest of the time, instead of worrying about setting up or maintaining a huge campsite or camper, we are out seeing and doing.
The queen size bed is plenty of room for sleeping. And we have enough room to store food needs for about 4 to 6 days of meals. Which is more than enough for two people who love to go to small markets all the time anyway!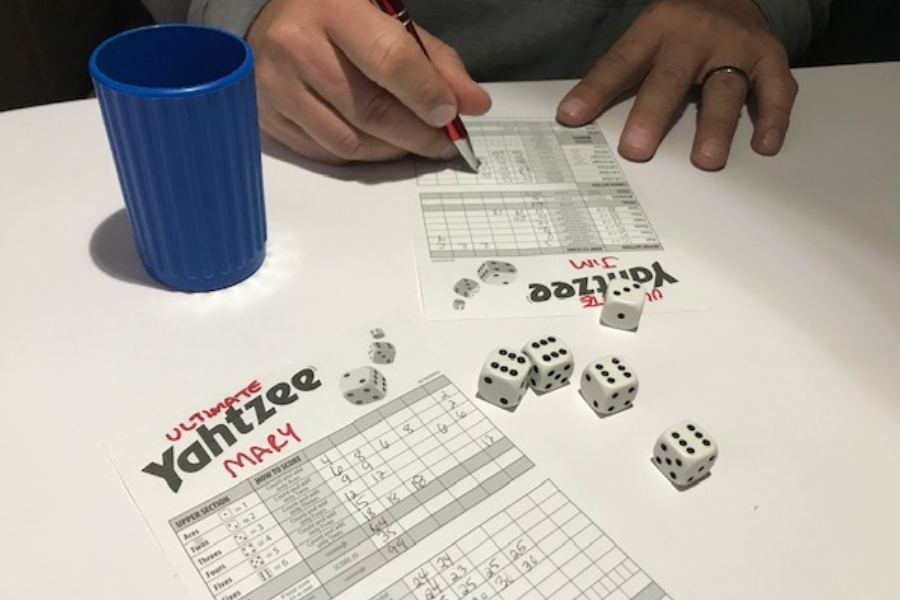 And towing it? Pulling it over through Yellowstone and through the Rockies & Cascades has been easy. It has made the trip much easier than anticipated.
It's lightweight frame also helps with fuel mileage, which has averaged right around 13.4 MPG so far pulling it with a gas-powered V8 Chevy Silverado.
The Basics – Power, Heating and Cooling
Our T@B camper is equipped with both plug-in 30 amp electric service, and an off-grid solar package. And they work together beautifully.
When we are at a campground or power source, the electric hook-up runs all systems – including heating and cooling. It also charges our batteries from the solar side if needed. Although the solar film panel up top has never let us down yet on that front.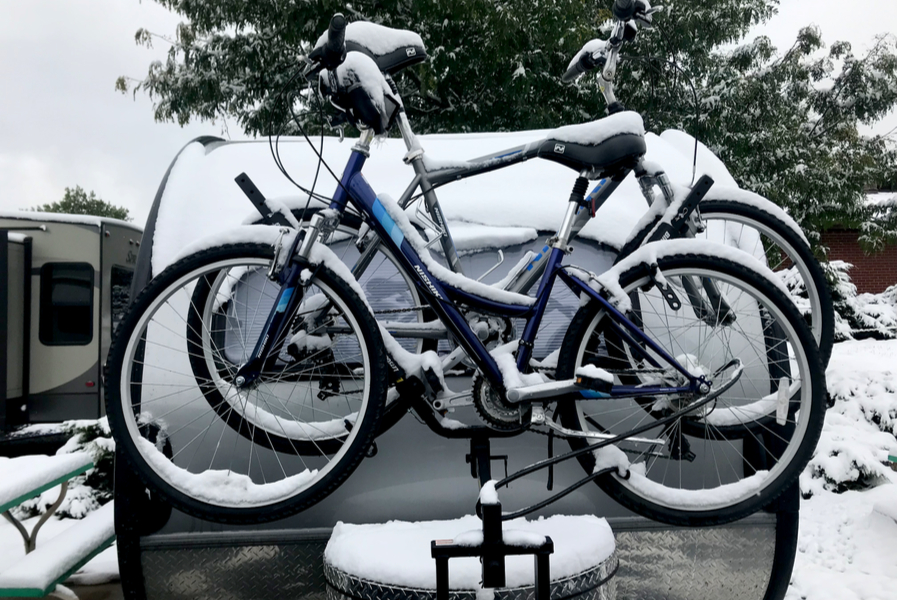 But for much of the trip (well over 50%) we are completely off-grid. And that is when the solar takes over. The solar runs all of our LED lighting, the water pump, USB power outlets – and powers our refrigerator. Even as we travel down the road it keeps the fridge perfectly cold.
That is a big plus for never worrying about the food, or a need for a cooler.
The solar, along with our small propane tank, also powers the radiant floor heat system.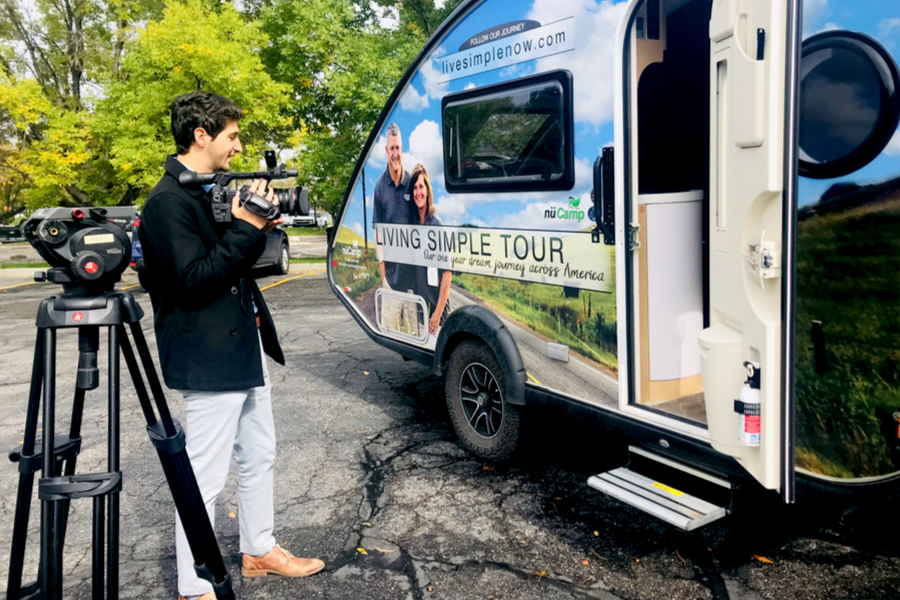 How Long Can You Go?
We have been off-grid for as many as 4 to 5 straight days without any issue. And the batteries have yet to ever go below even 50% in total overnight darkness. And even better, they are totally recharged by noon from the daylight.
As for how long we can go? The small LP tank (grill size) powered the camper's heat and cooking needs for 5 straight days in Colorado when we hit the cold snap. And it was still 20 percent full when we re-filled.
The holding tanks for fresh water and waste both can last us about 5 days without needing to be filled or drained.
Then there is the bathroom and shower area – which of course is so nice to have on board! I am still amazed at the heat the Aldi water system generates for showers and the kitchen sink for dishes.
Getting a chance to discuss living in the teardrop in Idaho…
All in all, as you can see – we love life in our teardrop! It has just given us so much freedom to travel anywhere – and for us, that is incredible! Happy Traveling – Jim and Mary
CURRENT TRIP STATS
Day 59 of 365
States Visited 9 / 50
National Parks / Monuments Visited : 10
Stayed In : Long Beach, Washington
Miles Driven : 137
Total Trip Miles To Date : 7297.8
Total Gallons Used : 544.61
Biking Miles : 0
Biking Miles To Date : 133.0
Hiking Miles : 3.6
Hiking Miles To Date : 143.8
About Our Living Simple Tour
On September 9th, 2019, we set out in our NuCamp T@B 400 Teardrop Camper to travel to every state. You can check out all of our dates here : Dates for the States

You can follow along by signing up for our twice weekly email updates at the bottom of the page. You can also follow us on Facebook : Live Simple Tour Facebook and Instagram : Live Simple Now Instagram Page.