When you are traveling to all 50 states in a single year, and 48 of them are via a teardrop camper, learning how to set up camp quickly becomes a big part of your life.
And that is just one of the reasons we absolutely love our nuCamp T@B 400 Teardrop.
In the first 3 weeks on the road, we have found ourselves in a lot of different camping situations.
Some nights, we are completely off-grid at a remote location. In the camping world, it is known as Boondocking. And with the solar power of the camper providing all the power we need, we actually love it the most.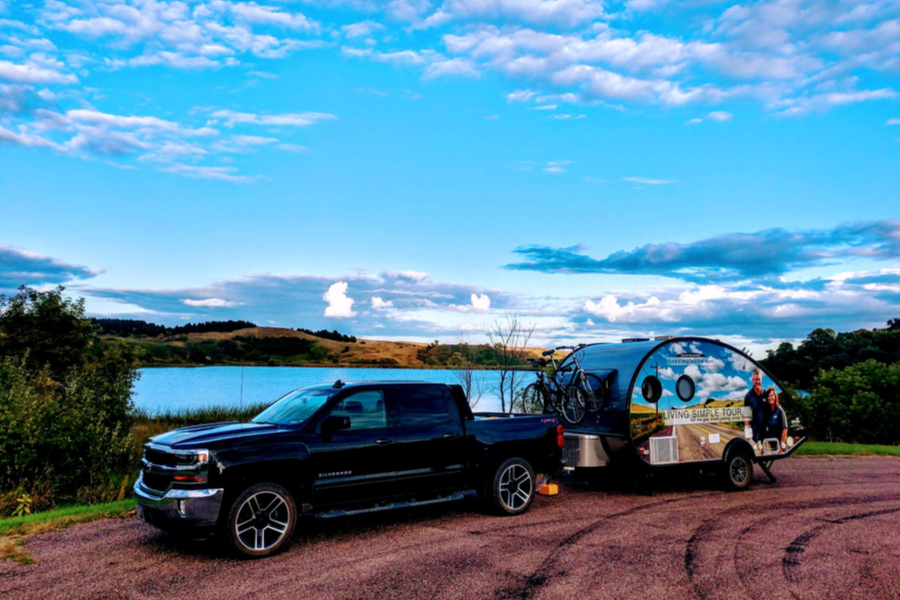 There is no hooking up at all, just unhitching and enjoying the views! Just last Saturday, it allowed us to enjoy an incredible evening at lake Little Moreau. (see Camping Off Grid At Little Moreau)
But we also stay at campgrounds quite a bit too, with access to full hook-ups for water, electricity and sewer. And setting up camp is of course, our very first task of the night.
Just How Do You Set Up Camp With Your T@B 400?
Lately, we have been getting quite a few questions about our T@B 400 camper, and more specifically, asking just how easy it is to set up every time we pull into a campground.
So we thought we would show you with a few videos in today's article just how simple it is. Believe it or not, it only takes us about 5 minutes to go from pulling in, to completely set up.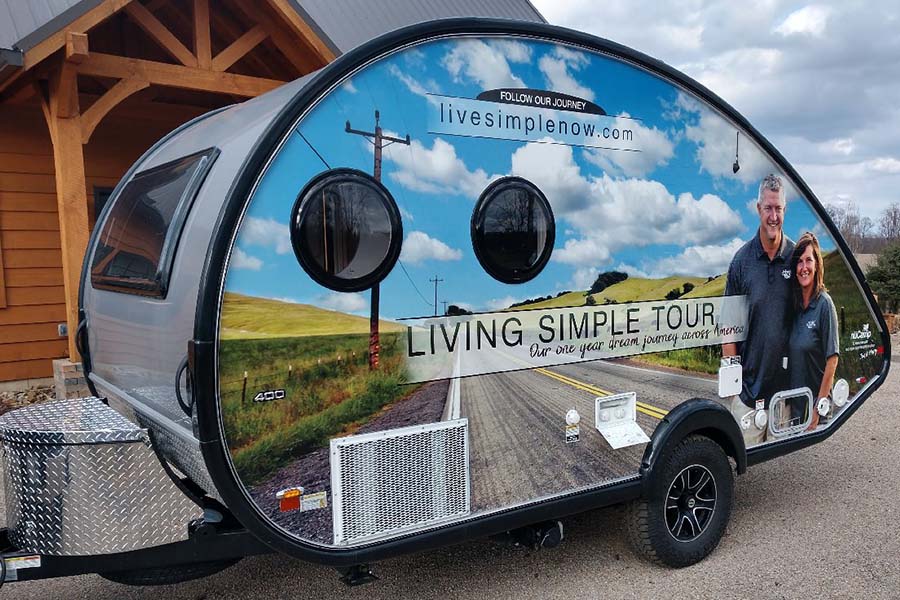 Mary and I have developed a pretty good little system between us.
My job is to handle unhitching and leveling, while Mary opens up the camper and hooks up the electric and water. Usually by the time we have done each, we plug in our sewer line hook up together – and that's it!
So here is a look at today's set up for each segment. Somehow, (because she is much smarter than me) Mary talked me into doing the set-up while she shot the video. Only after finishing up did I realize it. Yep, smart woman. 🙂
How We Set Up Our Tab 400 Teardrop At A Campground
We got into our campground in late afternoon, and it was a perfect time to shoot a few videos of each phase of setting up.
Our home for the night is Hillcrest Acres in Bismarck, North Dakota. Which is one of THE nicest campgrounds we have stayed in to date.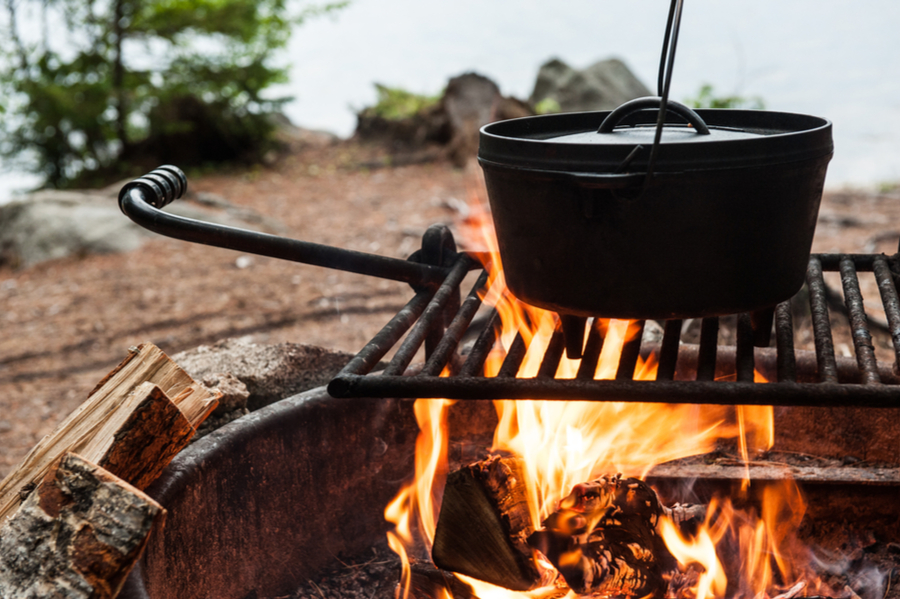 And quite honestly, we have been really fortunate to have stayed in really great ones all along the way so far – but this one is super clean, friendly, and with great hook up options.
So here is a look, step by step, at our 5 minute set-up of the camper.
Step 1 – Unhooking and Leveling
Step 2 – Hooking Up Electric Service
Now on to the water and sewer to finish setting up camp.
Step 3 – Hooking Up Water
Step 4 – Hooking Up Sewer
So there you have it! As you can see, there isn't much to it at all, and it really makes traveling so much more enjoyable! Happy Traveling – Jim and Mary.
About Our Living Simple Tour
On September 9th, 2019, we set out in our NuCamp T@B 400 Teardrop Camper to travel to every state. You can check out all of our dates here : Dates for the States

You can follow along by signing up for our twice weekly email updates at the bottom of the page. You can also follow us on Facebook : Live Simple Tour Facebook and Instagram : Live Simple Now Instagram Page.
CURRENT TRIP STATS
Day 16 of 365
States Visited 3 / 50
Stayed In : Bismarck, North Dakota
Miles Driven : 31
Total Trip Miles To Date : 2541
Total Gallons Used : 188.22
Biking Miles : 16.2
Biking Miles To Date : 71.3
Hiking Miles : 2.5
Hiking Miles To Date : 35.75