After an interesting day and night in Faith, SD, we had no idea that tonight we would be camping off the grid.
We spent the morning walking around the quaint little town looking at the damaged caused by the storm. There were limbs and trees down everywhere.
And the gravel on the roads had been forcefully pushed aside to allow the heavy stream of water to run downhill.
Because it was quite chilly, so we headed back to the camper and decided to spend the morning getting caught up on some writing that we wanted to get done.
It wasn't until noon that we decided to pack everything up and head northeast to our next overnight destination, Little Moreau State Recreation Area.
The Roads of South Dakota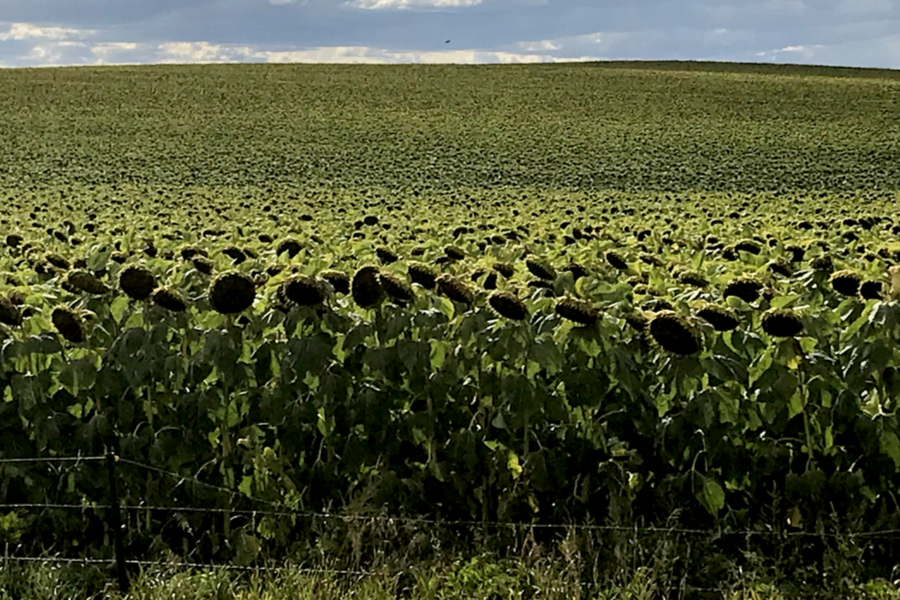 With today being our last full day in South Dakota, we really paid attention to the scenery as we drove.
We both were in awe at the amount of sunflower fields that we passed. For miles upon miles, all you could see were sunflower heads tilted toward the ground, knowing that picking season is right around the corner.
Although this sight was absolutely stunning, I couldn't help but imagine what it was like a month ago when the flowers were bright yellow. It would simply be breathtaking, I am sure.
But not only didn't the sunflowers catch our eye. The massive amounts of rolling fields filled with cattle were amazing.
Being from Ohio, we see cattle quite often. Farms that are minutes from our house are filled with either beef or dairy cattle.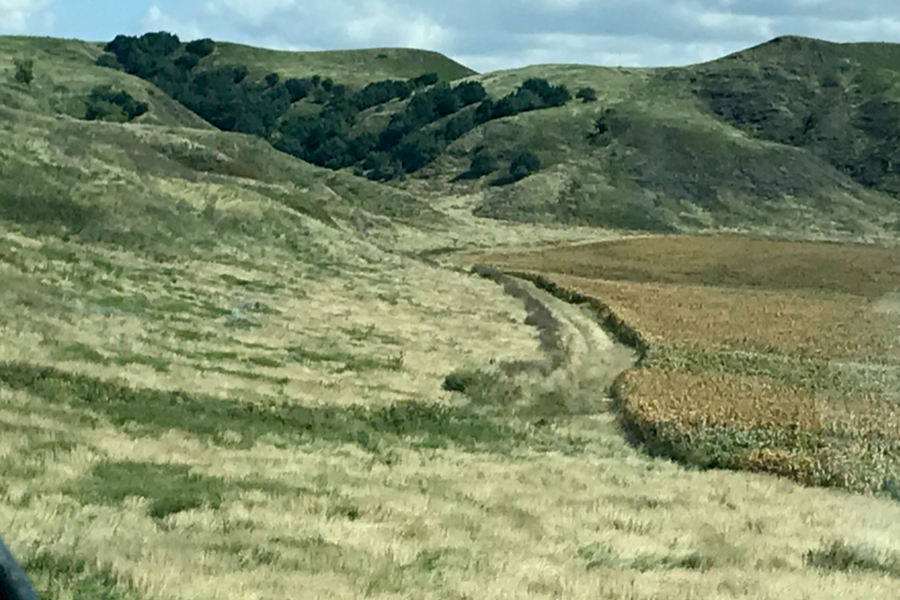 But this is different. In Ohio, a large local farmer may have a couple hundred acres to tend. However, here in South Dakota, a typical farmer will have thousands of acres. Many of which are full of beef cattle.
And let me tell you, as much as we brag in Ohio about the size of our cattle, they don't even compare to the free-range cattle here.
Even the calves are big!
South Dakota Small Towns
However, as we continued to make the drive along the back roads we were somewhat shocked at the communities that we drove through. Although we passed through several tiny towns, most of them were pretty much desolate. Homes, schools and businesses that once thrived with activity now sat empty.
However we were able to find a small town with a little life in Timber Lake, SD. We stopped for a quick bite to eat at R Rockin' Bar and Grill, a family owned restaurant.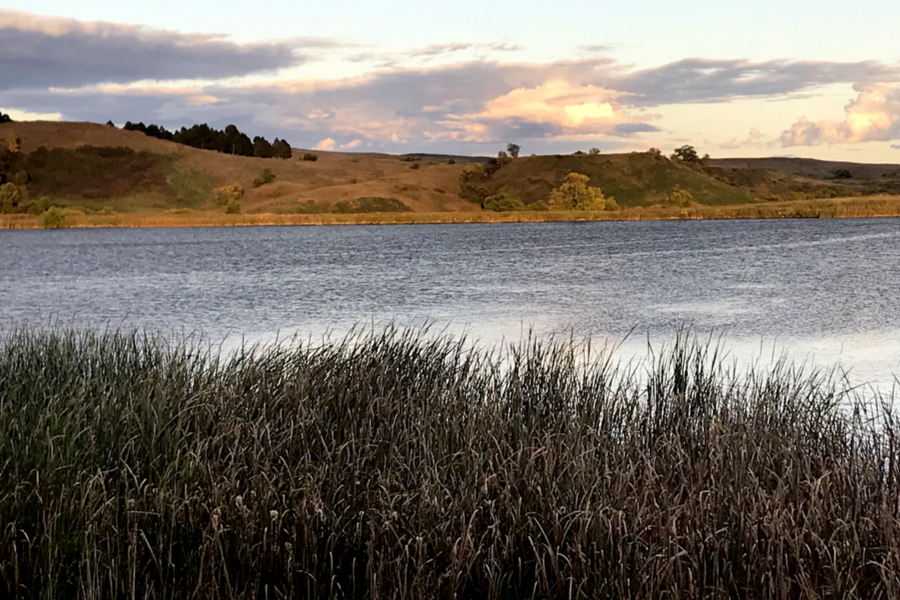 There we learned that the owner and his wife not only ran the restaurant, but he was also a rattlesnake catcher on the side. Because this isn't a typical side job that we were familiar with, we asked him lots of questions. And boy did we learn a lot!
After a fantastic meal we headed to our final destination of the evening, Little Moreau State Recreation Area.
Little Moreau Recreation Area – Camping Off The Grid
We followed our GPS directions that took us a little south out of Timber Lake. And within 6 blocks of town, we were on a bumpy dirt road.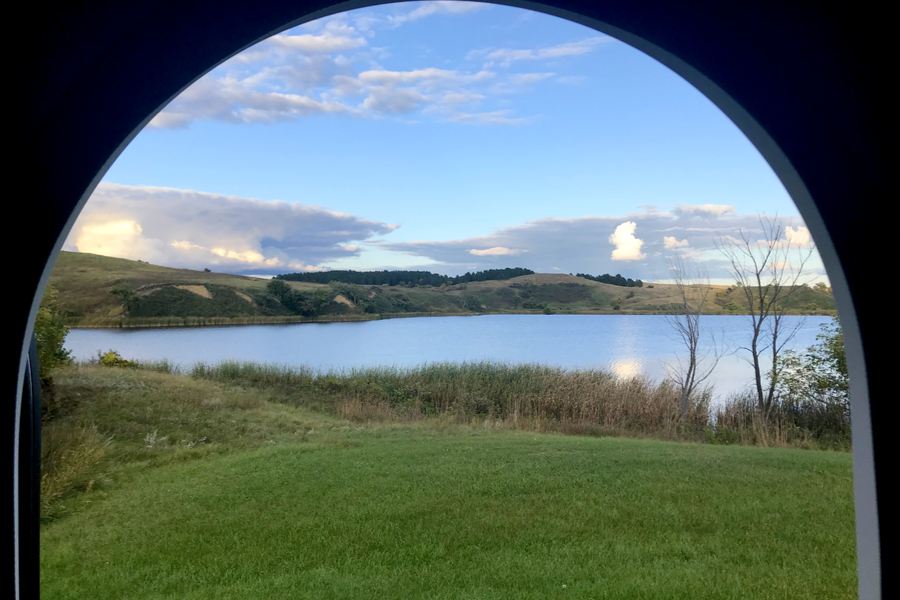 Although the speed limit read 45 mph, we were lucky to be able to go 20 mph! We just laughed and decided to enjoy the ride.
After 1 mile of driving, I lost cell phone service and therefore, my GPS. However, I knew that Little Moreau was just a few more miles down the road.
As we entered the park to set up for our first camping night at a state park we both realized that we would be doing so off the grid.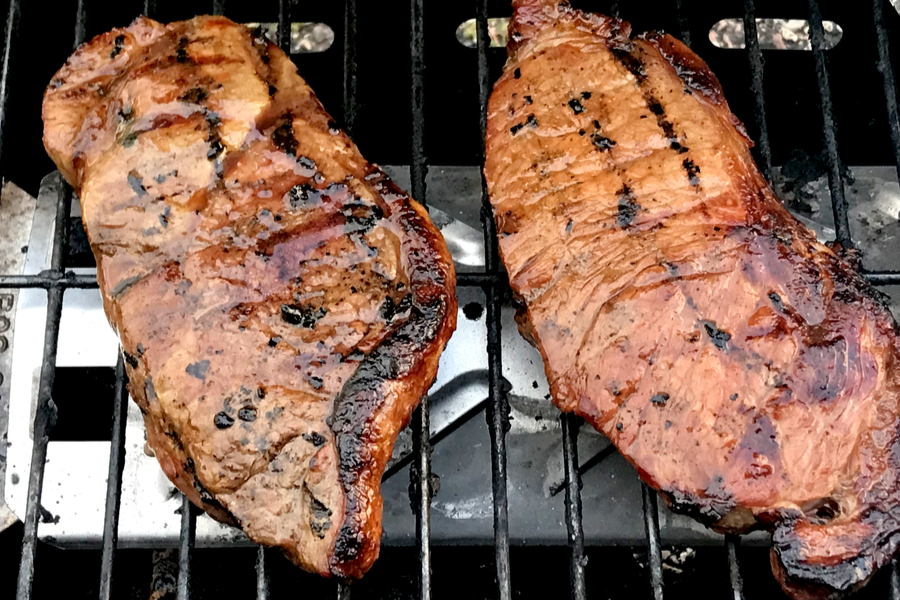 No Cell Service, No Problem
We totally didn't mind the fact that we didn't have cell phone service. In fact, the peace and beauty of the area deserved no interruptions.
The lake is encompassed by rolling hills of landscape that are simply magnificent. We pulled up to a turnaround location and parked our camper so that we could sit outside and enjoy the natural beauty that surrounded us.
We sat and listened to all the sounds among us and talked about what a wonderful experience that we had in South Dakota.
Camping off the grid for the first time allowed us to slow down even more than we have during our first couple of weeks on our journey across America.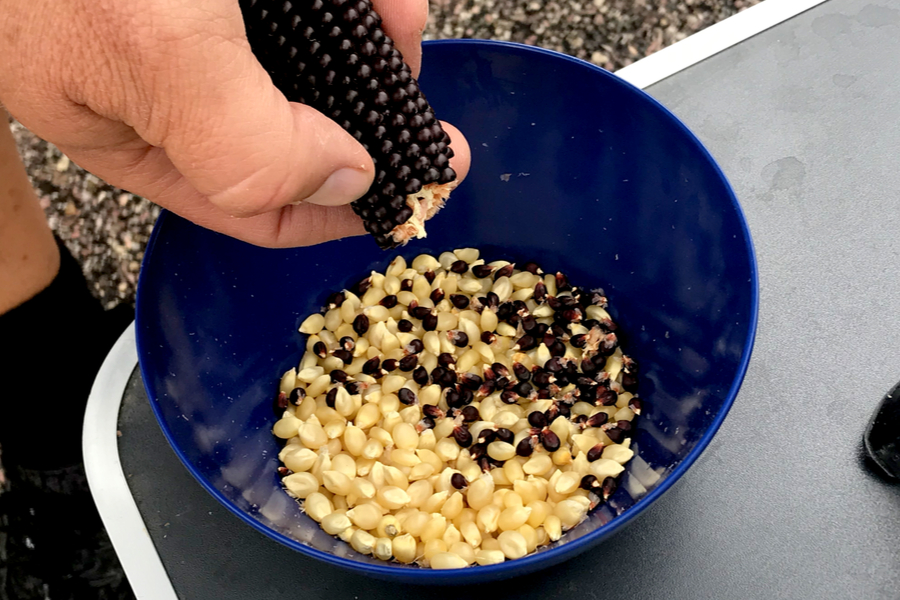 It was time well spent enjoying the views, making dinner on our outdoor tabletop grill, and yes, even play a game or two of Yahtzee!
Thank you South Dakota!!
Happy Traveling – Jim and Mary
CURRENT TRIP STATS
Day 13 of 365
States Visited 2 / 50
Stayed In : Timber Lake, South Dakota
Miles Driven : 62
Total Trip Miles To Date : 2380
Total Gallons Used : 176.29
Biking Miles : 3.5
Biking Miles To Date : 55.1
Hiking Miles : 1.75
Hiking Miles To Date : 31.25
On September 9th, 2019, we set out in our NuCamp T@B 400 Teardrop Camper to travel to every state. You can check out all of our dates here : Dates for the States
Follow along by signing up for our twice weekly email updates at the bottom of the page. You can also follow us on Facebook : Live Simple Tour Facebook and Instagram : Live Simple Now Instagram Page.