As we headed out of Nebraska towards South Dakota, we never imagined that we would end up at a Roadside Rodeo.
But before we get into the details of the roadside rodeo, let me explain how we ended up there, and how we almost didn't!
A Morning Bike Ride
As many of you know, one of our goals is to bike 25 miles in every state. See: Biking Across America
Therefore, this morning we knew that we would need to head out on our bikes to get in the extra miles that we needed.
We were lucky enough to be staying at a campground in Scotts Bluff that had a bike trail access less than 50 feet from our campsite.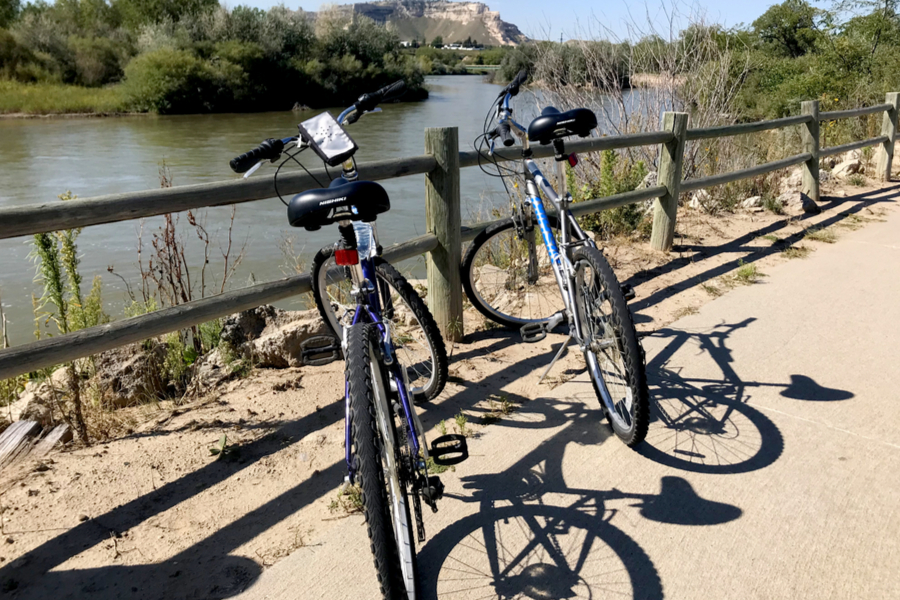 So we unloaded the bikes and got pedaling!
We biked along the North Platte River with beautiful scenes of water, trees, and of course the Scotts Bluff National Monument in the background.
And we learned even more about the history and development of the land through historical markers placed along the way.
On The Road To South Dakota – We Almost Didn't Make It!
After a morning of biking, we packed up our little NuCamp camper and headed north.
A quick stop at the grocery store and we were off! We had about a half a tank of gas so we decided we had enough until we made it to the next town.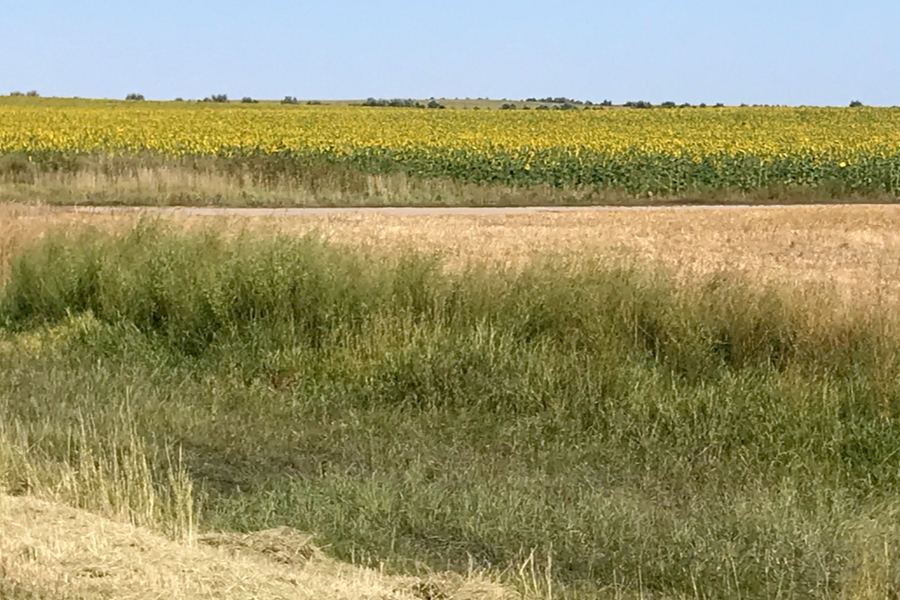 However, that is when the problem arose. There were NO towns!! And I mean literally, there were absolutely no signs of modern day civilization for miles upon miles.
The gas tank got lower and lower and we began to worry. So with just about 60 miles left on our gas tank gauge we decided to turn off the air conditioner.
Yes, it was 93 degrees outside, and it became very warm in the truck. However, we knew that it would be even more uncomfortable for us if we had to walk several miles to find a farmer that could help us with an empty gas tank.
I attempted to look on my cell phone for the nearest gas station and the only response I received was 'none found'.
Then we passed our first street sign indicating that a town was 47 miles down the road.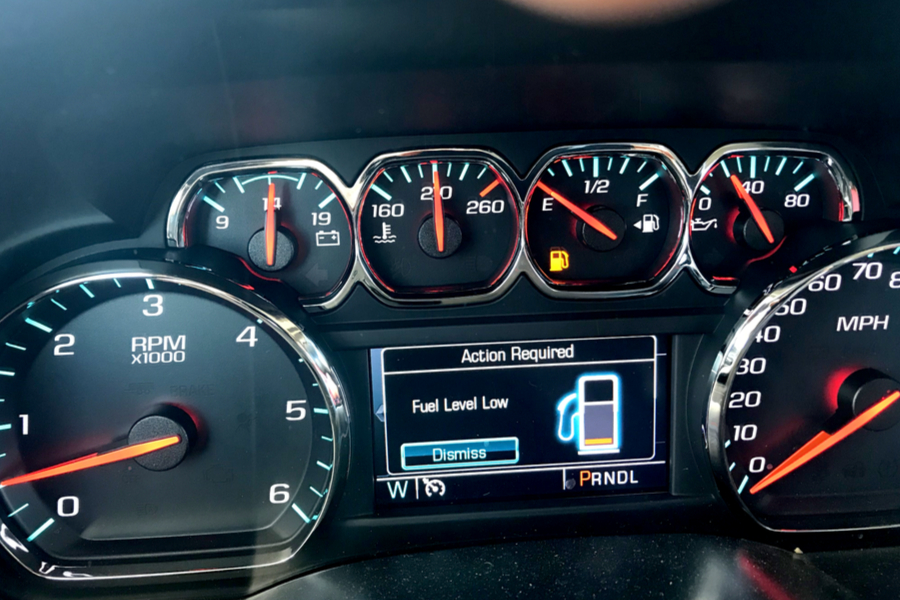 WOW – we were going to cut it close, but we were hopeful that we could make it there.
With just about 6 miles left in our gas tank, we pulled into the town of Crawford, ND and filled up.
And you can bet that we were happy to roll up the windows and turn the air conditioning back on!
Surprise Roadside Rodeo Stop
As we headed into South Dakota we were amazed at the beauty of the terrain.
Lots of rolling hills, plateaus and pine trees filled the landscape. We even got to see herds of Bison in the fields as we drove by.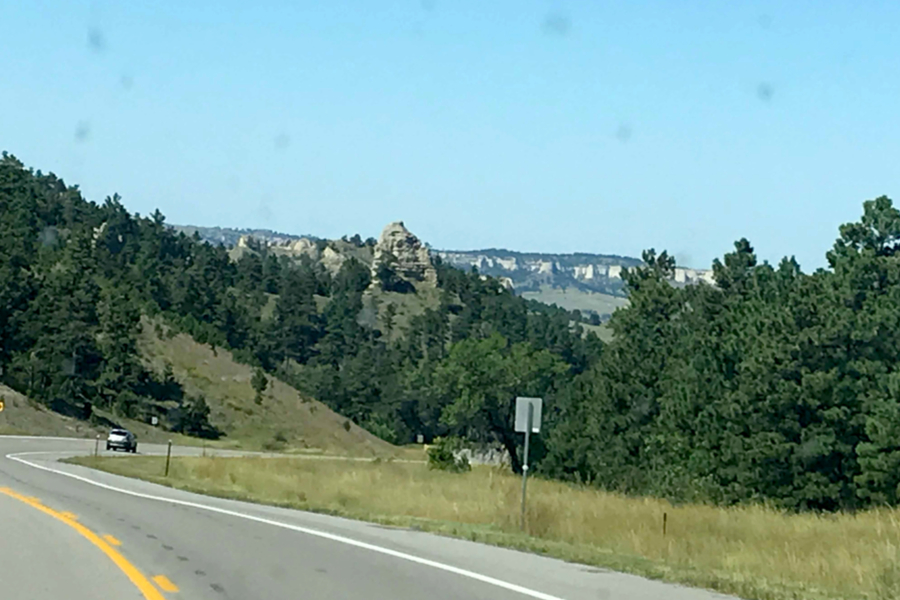 But sometimes the absolute best stops are the ones that you don't expect!
And that is exactly what happened today. We were about an hour outside of our destination when we came across a roadside rodeo.
Immediately we both knew that we had to stop and take in the action of a real rodeo.
We pulled in the bumpy lot that was filled with trucks and horse trailers. There were cowboys and cowgirls everywhere.
Some that were standing along the cattle fence watching the action, and others that were on their horses preparing for their upcoming event.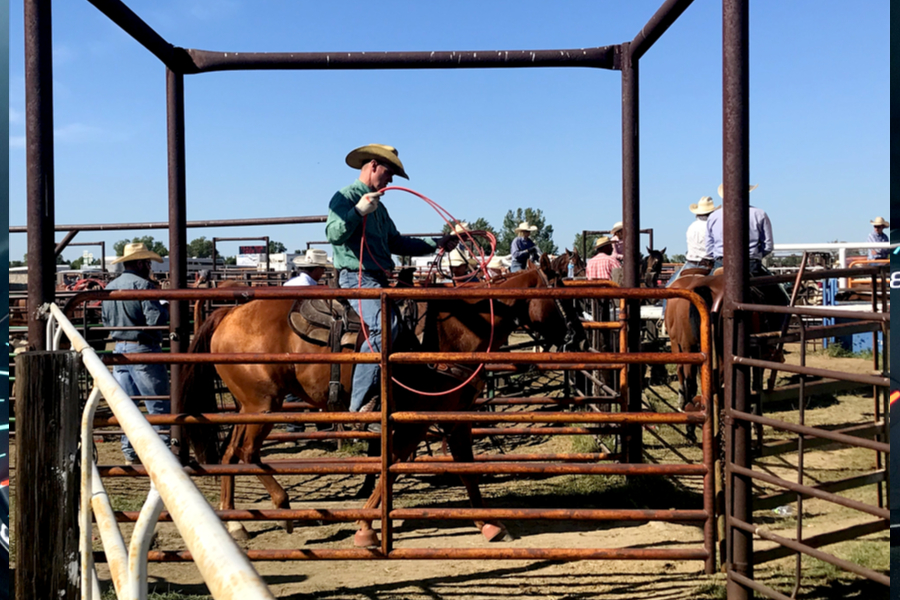 We even asked one of them if we could take their picture by our camper.
We strolled through the area watching the action and were amazed that even the kids as young as 5 years old participating in the events.
After talking with the Oelrichs, SD locals we learned that this roadside rodeo was founded in 1885.
The event is named the Last Round Up Rodeo and we were so glad that we were able to witness and be part of such a historical tradition.
And it was then that both of us realized that you never know where your travels will take you!
Happy Traveling – Jim and Mary
Current Trip Stats
Day 7 of 365
States Visited 2 / 50
Stayed In : Rapid City, South Dakota
Miles Driven : 192
Total Trip Miles To Date : 1825
Total Gallons Used : 135.19
Biking Miles : 9
Biking Miles To Date : 27
Hiking Miles : 0
Hiking Miles To Date : 4.5
On September 9th, 2019, we set out in our NuCamp T@B 400 Teardrop Camper to travel to every state. You can check out all of our dates here : Dates for the States

You can follow along by signing up for our twice weekly email updates at the bottom of the page. You can also follow us on Facebook : Live Simple Tour Facebook and Instagram : Live Simple Now Instagram Page.