There is nothing quite like a visit to a bustling farmers market to inspire a delicious home-cooked meal. Especially when you've been away from your own home-grown produce for 6 months!
When back on our little 3 acre Ohio farm, we grow most of our food. And do we ever miss the taste of our fresh, home-grown vegetables! See : Video Tour Of Our Farm's Garden)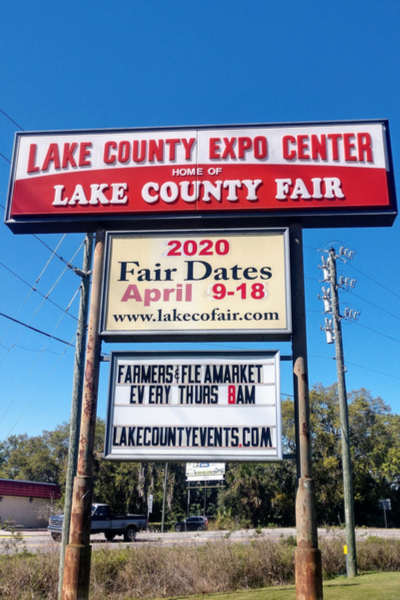 And as it just so happened, as we were driving along this morning to our next little adventure, we happened to notice a huge farmer's market going on at the Lake County Fairgrounds.
Apparently, every Thursday during the growing season, throngs of folks gather here at the fairgrounds for a massive weekly flea and farmers market. And the selection of fresh fruit and vegetables is nothing short of sensational!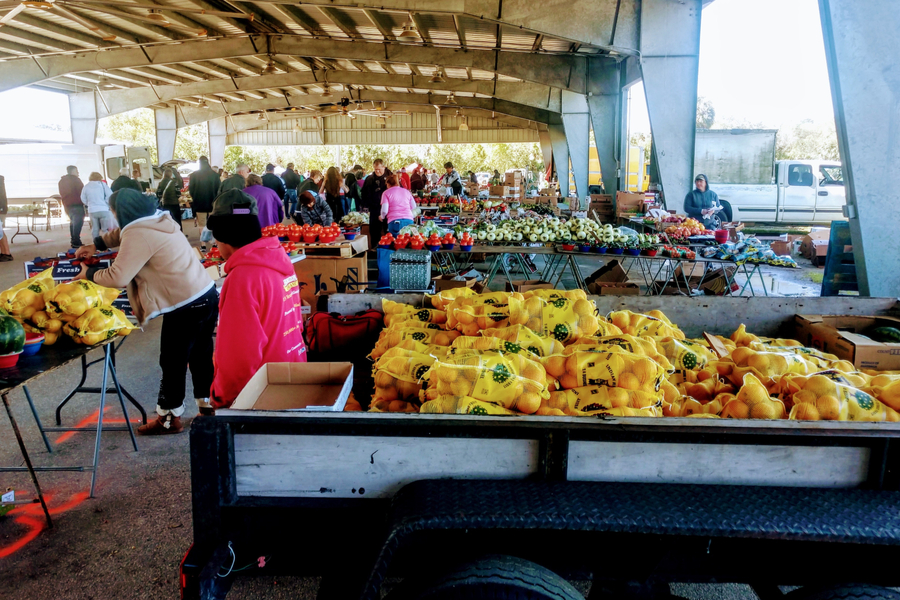 I think for both of us, as soon as the farmer's market came into view, the lights, bells and whistles went off! It was the perfect opportunity to load up fresh produce, and maybe even make an ultra fresh homemade dinner at the campsite.
We have had some amazing meals along the way on this trip (See : Our 3 Favorite Diners and Dives So Far), but making a great dinner at the camper is hard to beat! And with sunny skies and temperatures near 70, it certainly was a great day to do it!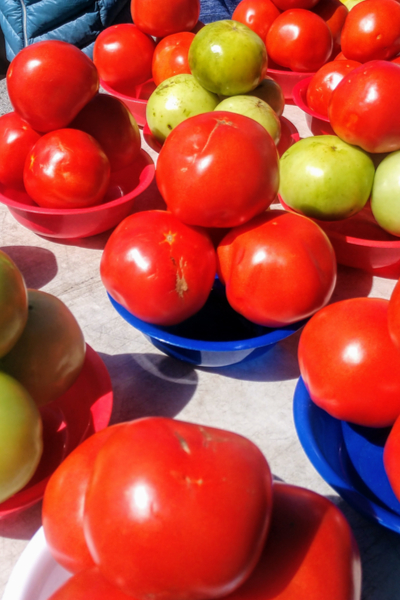 One Amazing Meal
The hardest part of going through the farmer's market was holding back from purchasing everything. The strawberries are in season, and they were ripe and delicious. But so was the sweet corn, tomatoes, cucumbers, radishes, and, well, I could go on forever!
We loaded up with as much fresh produce and fruit as we could possibly hope to somehow use and keep in our camper, and as if on cue, as we were leaving, even found a few local, grass fed steaks at the market to make for the perfect meal.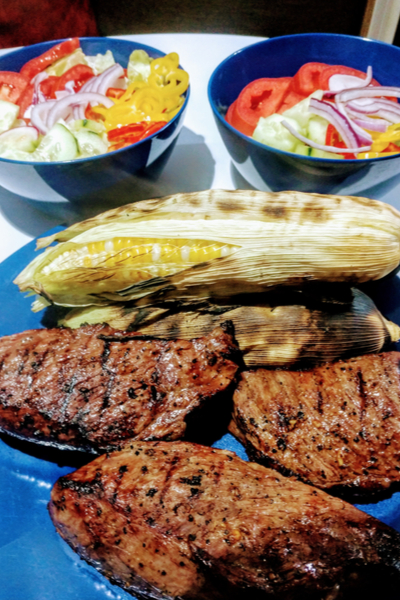 I cannot tell you the thrill we had tonight grilling outside the camper on our tiny camping grill. It really is hard to beat the taste of sweet corn and steaks from the grill. And the salad from all of the fresh vegetables made a wondrous partner to it all. What a fruitful trip it was to the farmer's market.
I think we both fall in love with this trip a little more every day! Happy Traveling – Jim and Mary
CURRENT TRIP STATUS TO DATE:
Day 172 of 365
States : 21/50
National Parks / Monuments : 20
Stayed In : Summerfield, Florida
Miles Driven : 71.8
Total Trip Miles To Date : 18,502.1
Total Gallons Used : 1331.08
Biking Miles : 4.2
Biking Miles To Date : 178.9
Hiking Miles : 3.5
Hiking Miles To Date : 388.6
About Our Living Simple Tour
On September 9th, 2019, we set out in our NuCamp T@B 400 Teardrop Camper to travel to every state. You can check out all of our dates here : Dates for the States

You can follow along by signing up for our twice weekly email updates at the bottom of the page. You can also follow us on Facebook : Live Simple Tour Facebook and Instagram : Live Simple Now Instagram Page.