When it comes to making a few bloopers and blunders, we certainly can't say we've escaped without a few along the way.
All in all, this trip has gone about as smoothly as we could have ever hoped for. But that doesn't mean we haven't made a few mistakes along the tour's path. Some totally self-inflicted, others with a bit of help.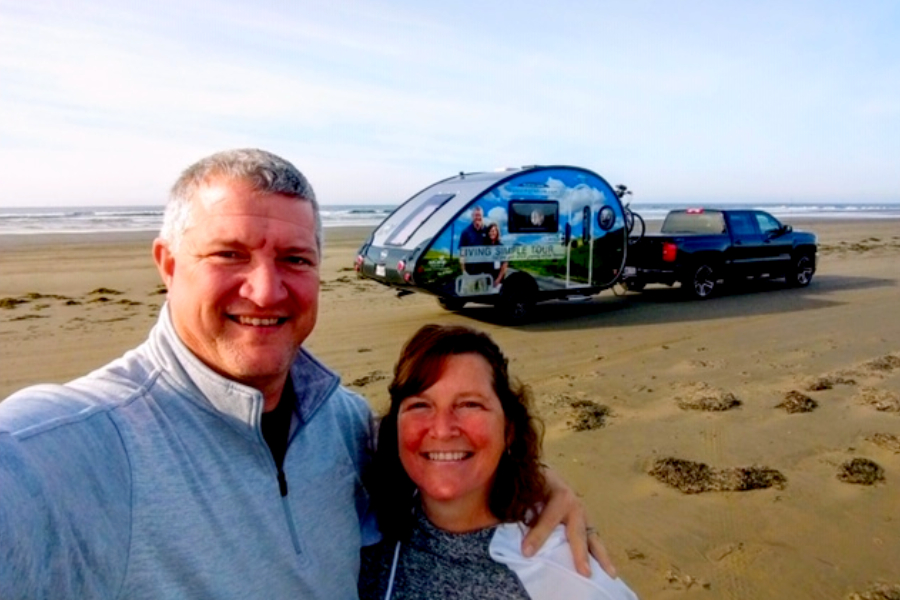 But hey, if you can't admit your gaffes and laugh about it, you are just taking life too seriously.
So here is a look at our five biggest blunders and bloopers of the trip so far. And yes, we said so far, because we know with 30 states to go, there will be plenty more to laugh about!
5 Biggest Bloopers & Blunders
#1 Leaving Without Our Camper
You might think this would be nearly impossible to do, but we did it. Thankfully only once. Well, so far anyway.
We hitch up and unhitch a lot. Sometimes our campground stays are just for a night. Other times, they may be for two or three days so we can branch out from a single point to see nearby attractions.
No matter how organized you are, trust me, it can get confusing. And that is exactly what happened at a campground we had been at for a few days. We both simply thought we had another night to be there.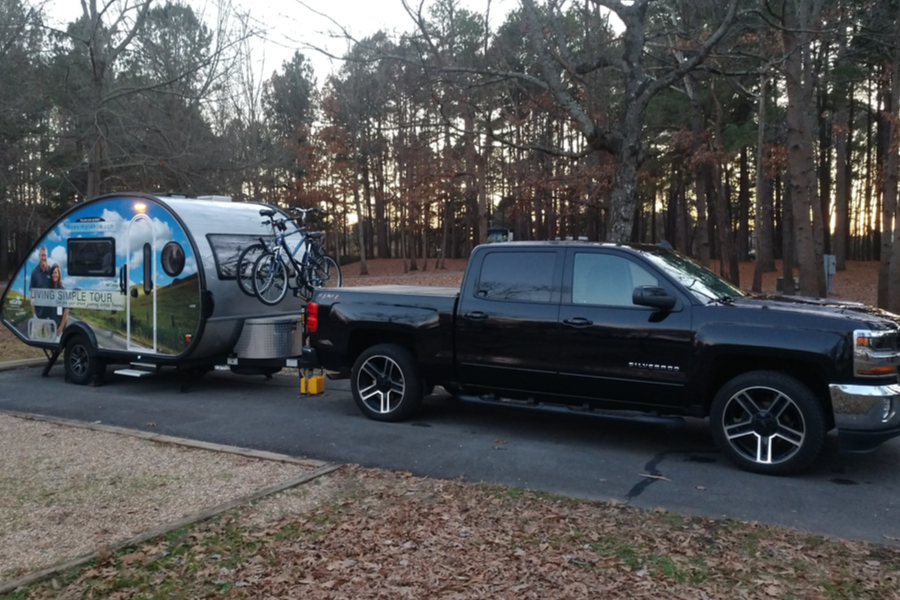 And so we headed out down the road heading to our next adventure in the next city. Actually, 15 miles down the road. And then we realized it! We were actually not spending any more nights there, and should have left with the camper.
As we drove back and stopped in at the office to tell them sheepishly of our mistake – they laughed and said they had just figured we were going to stay another night.
#2 The Nightmare On Elm Street
We are pretty careful about researching our campgrounds and stays. But that doesn't mean you can't make a big mistake once in a while.
As we were approaching a stay we had booked at a "rural farm campsite" – we were a bit taken back when we pulled up only to see a field of overgrown grass, old farm equipment and trucks. Even worse, a very scary looking "office" in an old barn that was certainly not going to stand up to the next storm.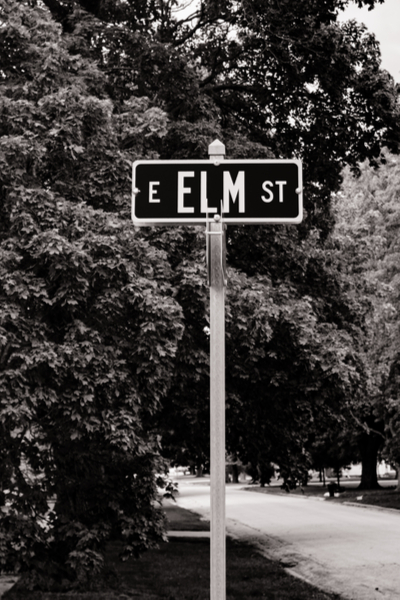 The final straw was a street signed marked "Elm" in the yard. All we could think of was Nightmare On Elm Street. As you can guess, we opted not to stay, and instead spent the night camping "safely" another 30 miles up the road in a Cracker Barrel parking lot.
#3 Going The Wrong Way
Again, travel enough, and some bloopers and blunders will happen. Like turning the wrong way at least once.
Seattle driving can be tough enough as it is. Busy, narrow roads, and of course, a lot of one-way streets. And so it was, using our beloved GPS (which obviously didn't know where it told us to turn was a one-way street) – we found ourselves turning into 4 lanes of one-way traffic. Luckily – they were all stopped at a light just a few hundred feet up the road!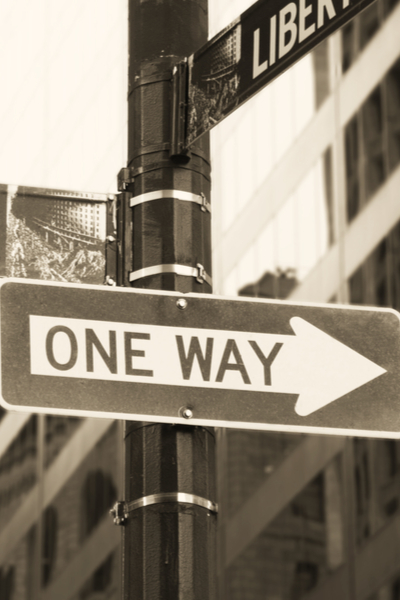 They were all extremely nice and patient, with one good Samaritan stepping out to make sure no-body moved until we turned the truck and camper around.
#4 Driving On A Sidewalk – And Not Knowing It
So if you ask us whose fault this one is, we will both laugh and go to our graves pointing the finger at the other person.
But while driving through the campus of Oregon with the camper, we somehow ended up (without knowing) driving on a sidewalk down the middle of campus. Mind you, it was a big sidewalk.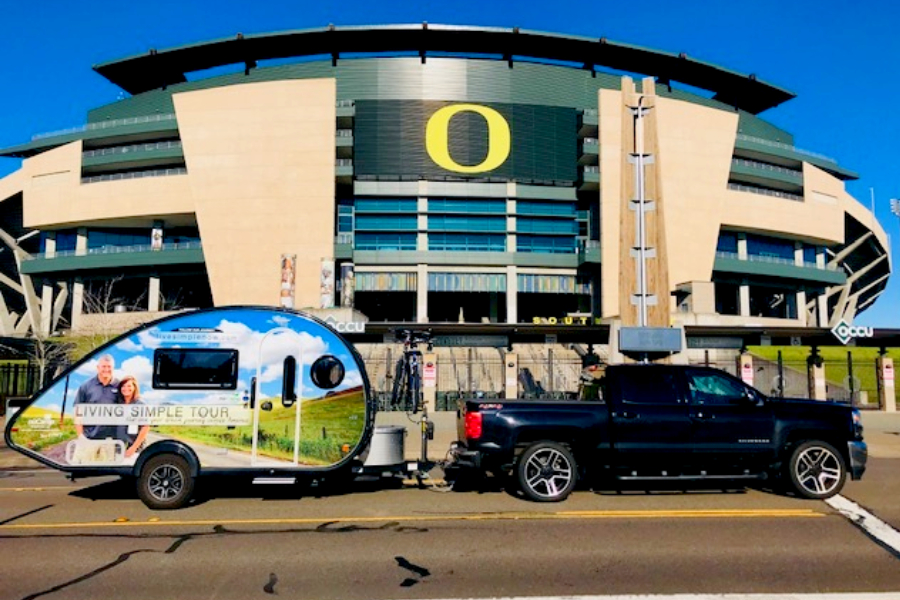 We started to realize, with all the strange looks, that somehow we were not on a road anymore. Luckily, most students and faculty walking on the sidewalk must of thought we were some special event. They very graciously stepped aside to let us through.
All of course embarrassing, but luckily we made it across to another street without drawing the suspicion of the campus police!
#5 Getting The Story All Wrong
Now this one wasn't really our blunder, but it turned out pretty hilarious. We did a local interview for a TV station a few days before Christmas. We told the usual story about the trip, and thought nothing more.
Until they aired the story on Christmas day. Apprarently, something was lost in the translation. As the story told to local viewers went, we had sold everything we owned – house, possessions and all – and left to travel the country for the rest of our lives.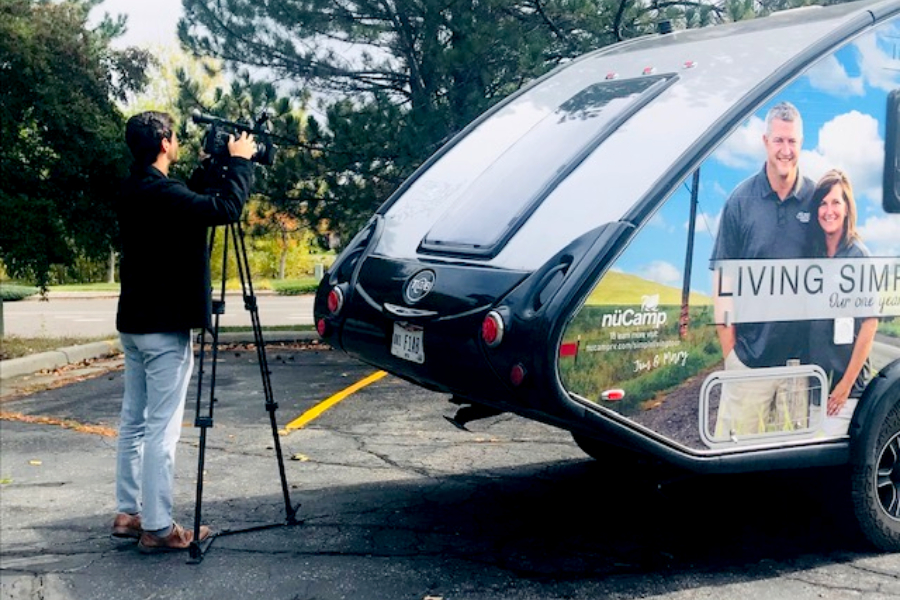 No mention of the 50 states, or writing a book, or even that we still had a place to call home! Good thing our family and friends didn't hear that one, they truly would have thought we lost our minds!
Here is to laughing at your bloopers and blunders no matter where you are – on to Florida we go! Happy Traveling, Jim and Mary.
CURRENT TRIP STATUS TO DATE:
Day 159 of 365
States : 20/50
National Parks / Monuments : 20
Stayed In : Robertsdale, Alabama
Miles Driven : 72.6
Total Trip Miles To Date : 17,070
Total Gallons Used : 1,228.08
Biking Miles : 0.0
Biking Miles To Date : 158.4
Hiking Miles : 3.1
Hiking Miles To Date : 357.4