Today we took advantage of a bright and sunny day and headed to Orange Beach, Alabama.
This beach is one of the most-visited and developed beach resort towns in Alabama. And it is considered a twin coast city of Gulf Shores.
Both are located about 1 hour outside of Mobile. However, Orange Beach is located solely along the Gulf of Mexico. And it is the eastern most community on Alabama's Gulf Coast.
Between the two cities, there are thirty-two miles of sugar-white sand beaches. These are made almost entirely of fine, quartz grains washed down from the Appalachian Mountains thousands of years ago.
But unlike most of the Coastal Mississippi area, the beaches here are filled with towering hotels and condo buildings that line the sandy beaches.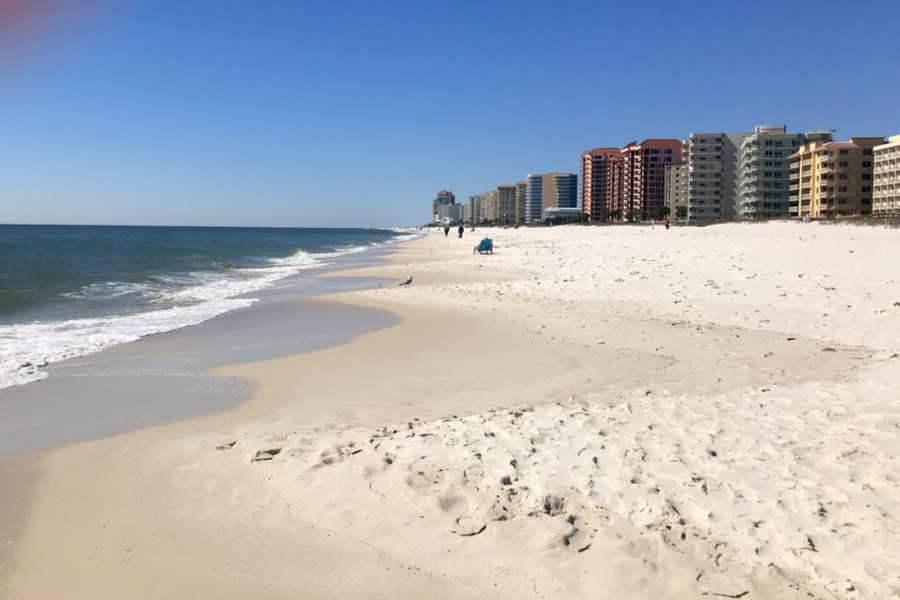 However, that doesn't mean that this beach is like every other tourist beach town. In fact, we found it very quaint and inviting, and it had a small town feel to it.
Orange Beach definitely still displays the Southern Alabama hospitality charm. However, mixed in the culture is a hip and eclectic vibe that helps attract visitors from all ages.
A Day In Orange Beach, Alabama
When we arrived at Orange Beach early in the day, we decided that we would take advantage of the dry, sunny weather and walk the beach.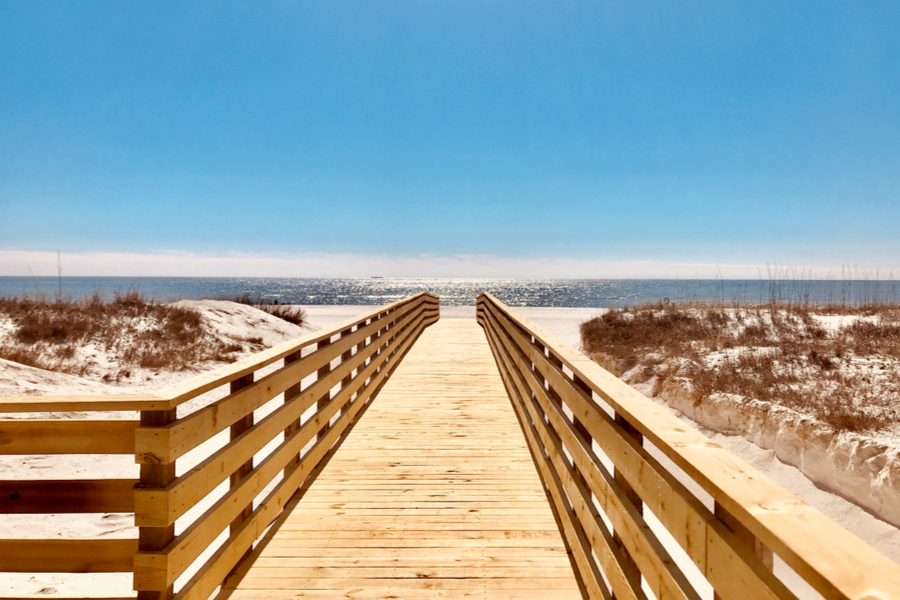 We walked across the public parking lot to a pier that led to the beach. I quickly removed my socks and shoes and rolled up my pants so that we could walk close to the water.
As we strolled down the white, sandy beach I noticed that it was filled with tiny seashells. And although I wanted to take a handful home, I resisted the urge and just enjoyed the simple beauty of each one as we passed by.
We continued our walk looking at the huge hotels and condos and greeted everyone that we passed with a friendly "Good Morning".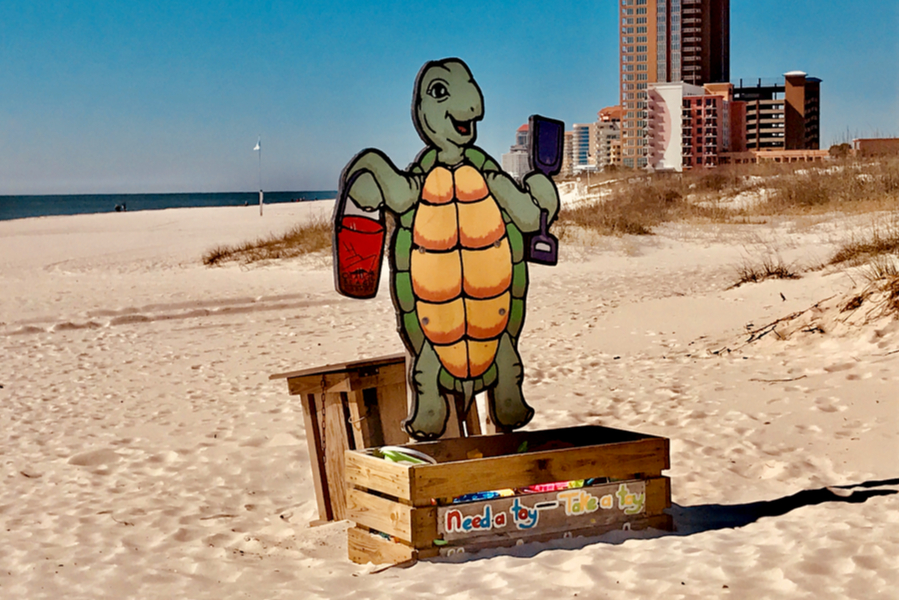 However, we had to keep our eye on the tide as we walked. There were times that we quickly had to run to higher ground as the tide might have come in a little higher than we anticipated.
But I didn't mind getting splashed with a little sand and ocean water. In fact, it was quite refreshing.
We finally decided it was time to turn and around and head back to where we parked. By the end of our walk it was well past lunch time. However, it wasn't until we reached our vehicle that we both realized how hungry we were.
The Wharf
So we headed inland and arrived at The Wharf in Orange Beach. This area is an entertainment and shopping district just north of the beach itself. Not to mention it is the home to a state of the art marina that sits on the wharf itself.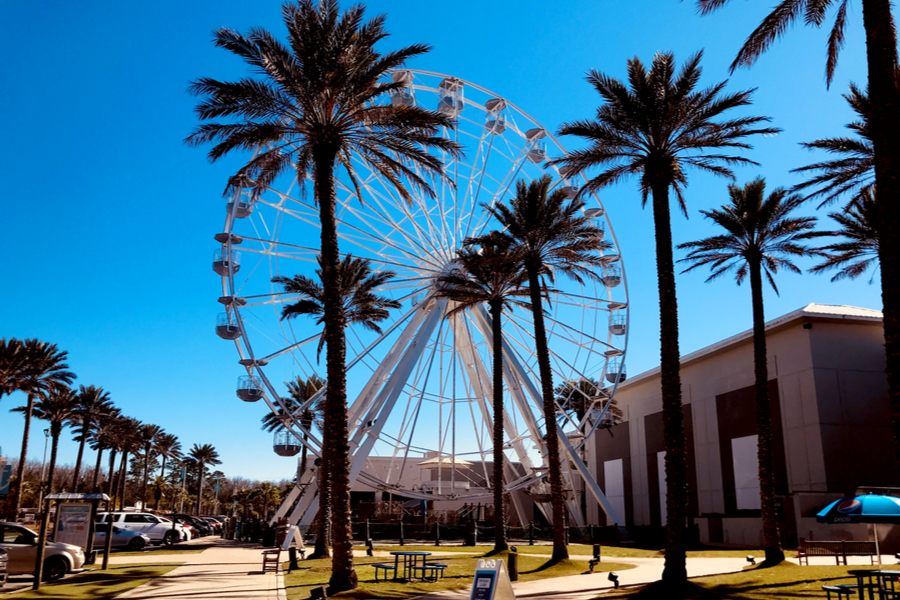 As we walked down the palm tree lined street we saw a variety of restaurants in the distance. From high-end restaurants to To-Go Daiquiri stands (yes, that is a thing), there was plenty to choose from.
So we decided to stroll around and that is when it hit me! I recalled a wonderful couple that we met from Texarkana, Arkansas recommended that we eat at Ginny Lane Bar & Grill if we ever visited The Wharf at Orange Beach.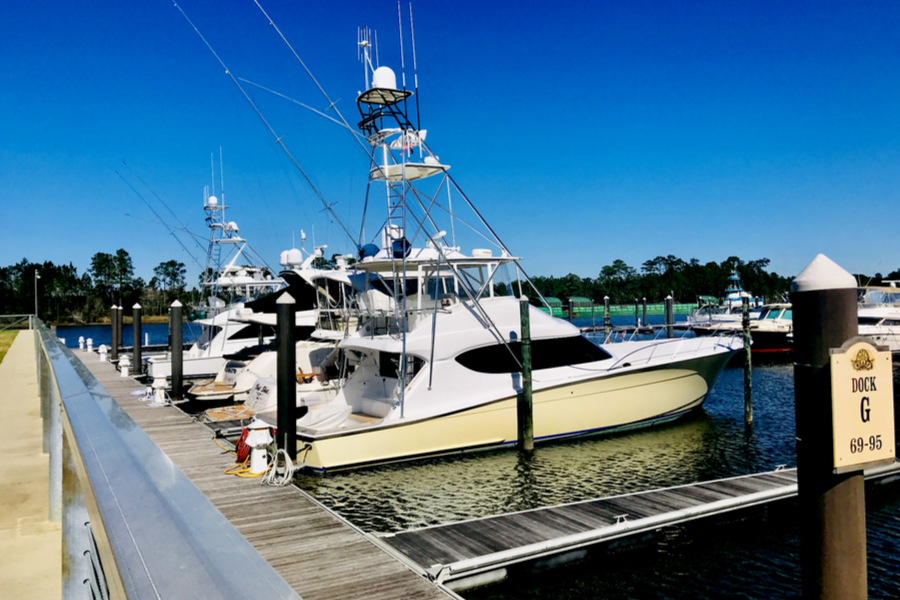 And within minutes, we found ourselves at their front door. After we enjoyed a delicious lunch overlooking the marina we decided to continue our journey down the street.
We enjoyed strolling through the local boutiques and gift shops that were located on both floors of the buildings that lined the street.
And before we left for the day, we enjoyed a cup of mid-day coffee at The Southern Grind. It was nice to stop and relax for the day, and be able take in the beautiful beach and town of Orange Beach, Alabama.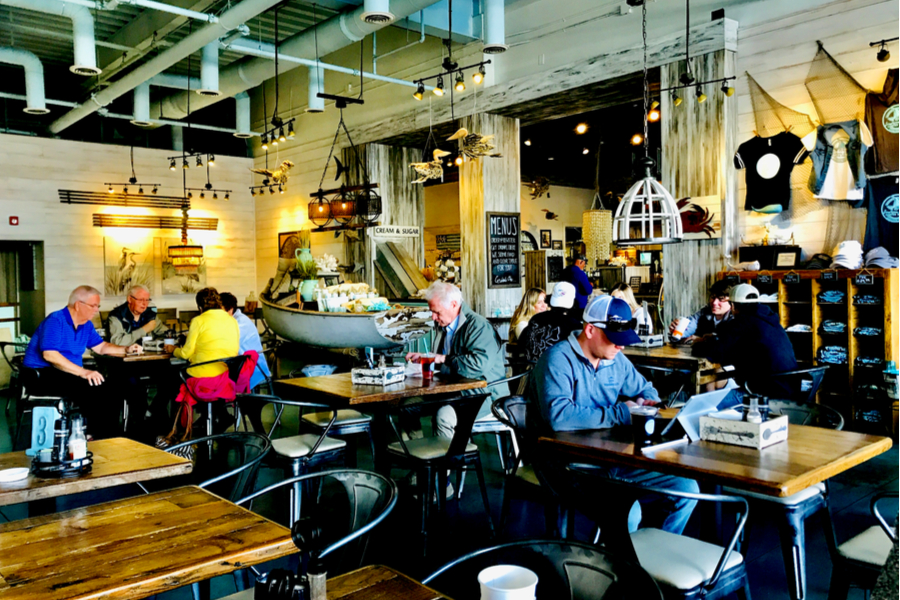 Happy Traveling – Jim and Mary
CURRENT TRIP STATUS TO DATE:
Day 158 of 365
States : 20/50
National Parks / Monuments : 20
Stayed In : Robertsdale, Alabama
Miles Driven : 102.2
Total Trip Miles To Date : 16,977.7
Total Gallons Used : 1,221.42
Biking Miles : 0.0
Biking Miles To Date : 158.4
Hiking Miles : 1.9
Hiking Miles To Date : 354.3
On September 9th, 2019, we set out in our NuCamp T@B 400 Teardrop Camper to travel to every state. You can check out all of our dates here : Dates for the States

You can follow along by signing up for our twice weekly email updates at the bottom of the page. You can also follow us on Facebook : Live Simple Tour Facebook and Instagram : Live Simple Now Instagram Page.