19
Nov
Today we headed out to take on the Trail of Ten Waterfalls. This scenic trail is located in Silver Falls State Park in Silverton, Oregon.
Located south-southeast of Salem, the state's capital, it is the considered the 'Crown-Jewel' of the Oregon State Park System.
This park encompasses over 9,000 acres. And it is the home of over 24 miles of hiking trails and 14 miles of horse trails.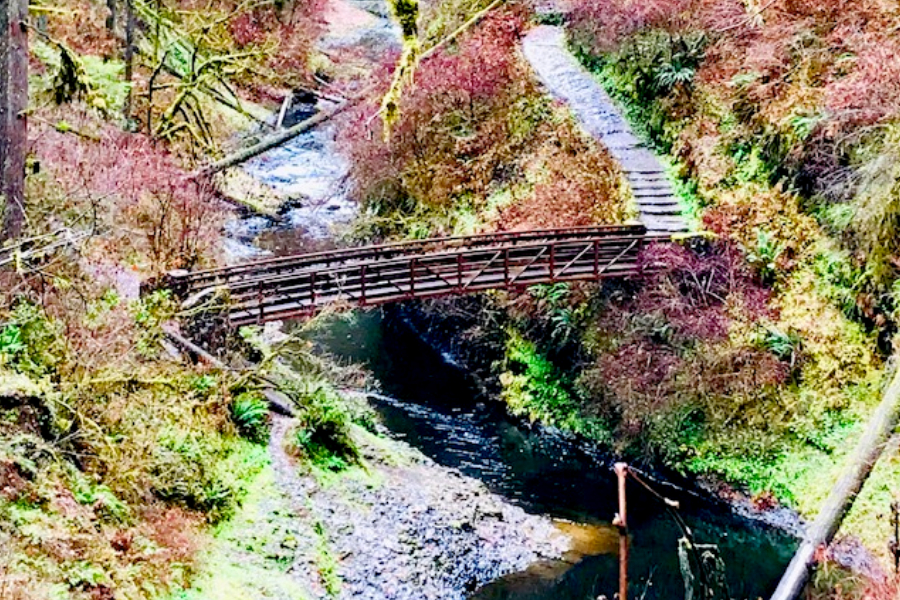 Although, most first time visitors to Oregon typically pass by this gorgeous park. Instead, most people tend to visit the Columbia River Gorge area for both sightseeing and hiking opportunities.
I understand that this area is designated as a National Scenic Area. But you would be hard pressed to find any better views than those on the Trail of Ten Falls.
Trail of Ten Falls
This trail is a nationally recognized hiking path that weaves through a dense forested landscape.
The trail takes you up close, and sometimes at the very top or at the base of 10 different waterfalls. And for at least 3 of those, you can walk behind the waterfall to get a unique view and an ear shattering experience of the power of the waterfall.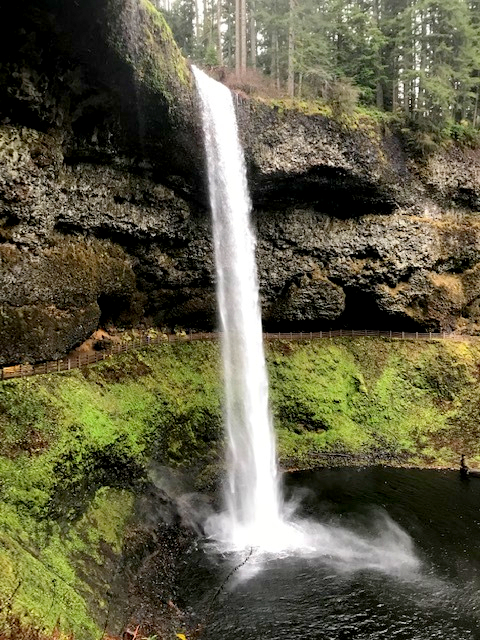 But I have to admit, as much as I love waterfalls, I was enamered by the entire experience as we walked along the Trail of Ten Falls.
The rocky, dirt path takes you along a rocky canyon and descends to a winding creek at the forest floor. You could not take your eyes off the trail, otherwise you would likely trip and fall on the exposed rock and or branches that were scattered throughout.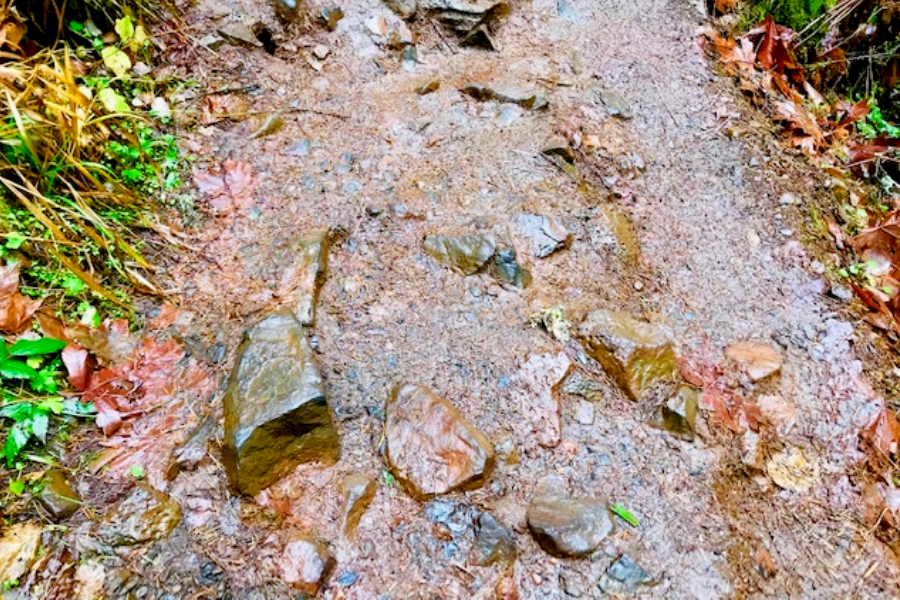 Not to mention, the trails today were wet from rain, and dodging puddles was a must to keep your feet dry.
But every time that we could look up, we saw streams of water running over the rocky base leading to a waterfall somewhere down the path.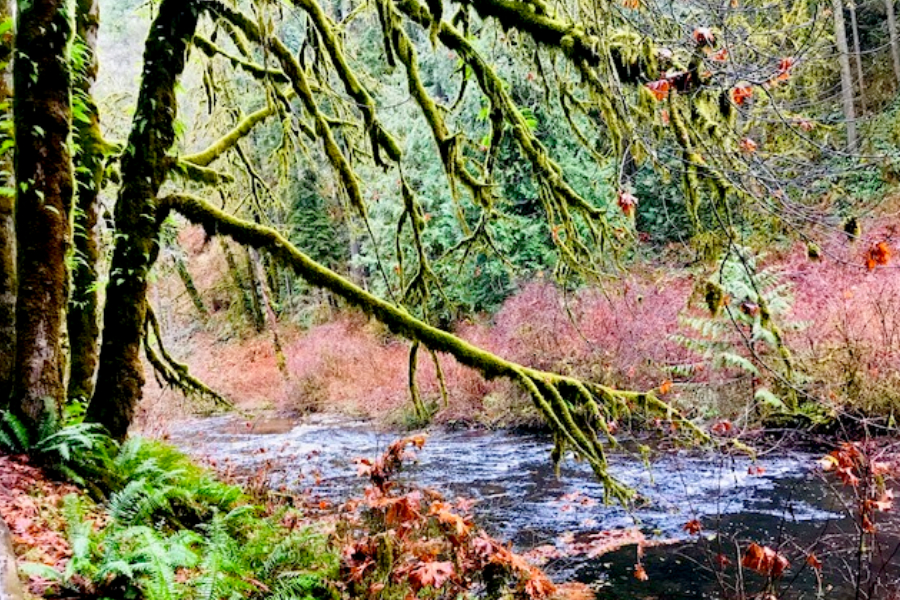 The Trees….
But there were also huge pine trees in the distance. And these trees were massive!!! If I had to guess they were at least a hundred years old and stood over 175 feet tall.
But what caught my eye most of all was the thick and dense moss in the forest. The bright green moss encased the trunks and branches of most of the trees that surrounded us.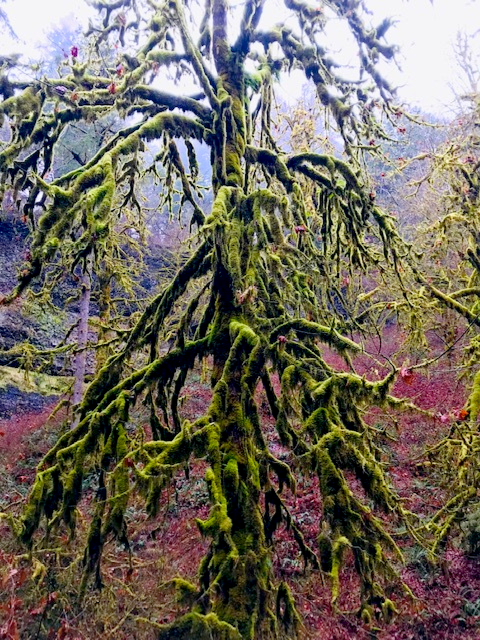 The moss sometimes would be tight against the bark. However, many of the trees had strings of moss hanging well below the actual branches.
Later we learned that the areas that had the most 'stringy' moss, were the areas on the trail with the most purified air.
But instead of trying to put in words the beauty and magnitude of our trip on the Trail of Ten Waterfalls, take a look at the pictures instead.
However, keep in mind, like all landscape photos that are taken by amateurs, pictures never do it justice.
More Photos From The Trail of Ten Waterfalls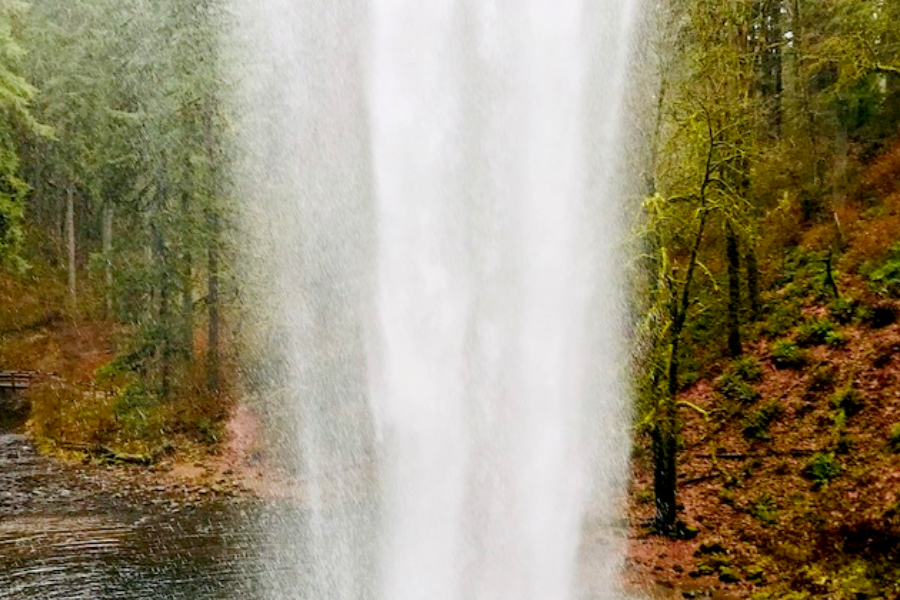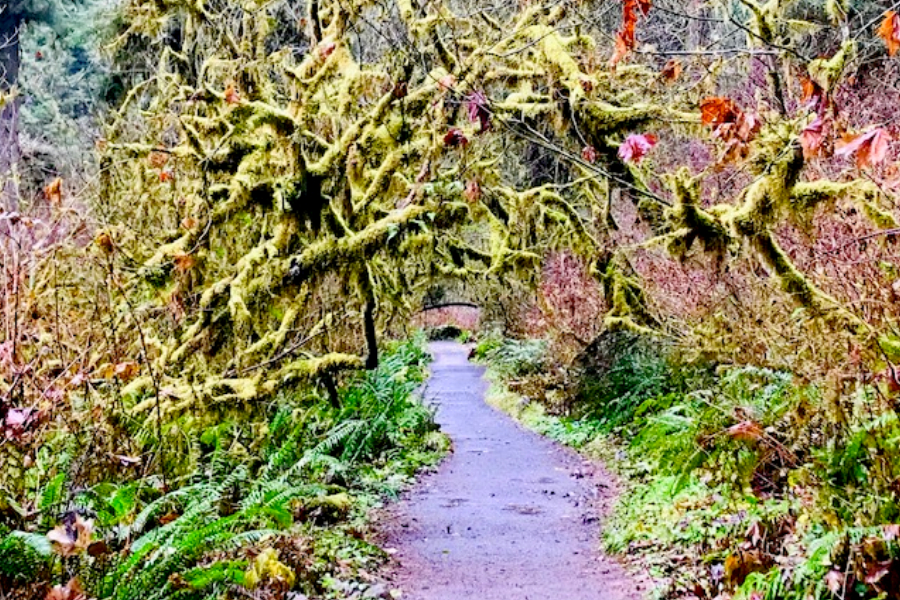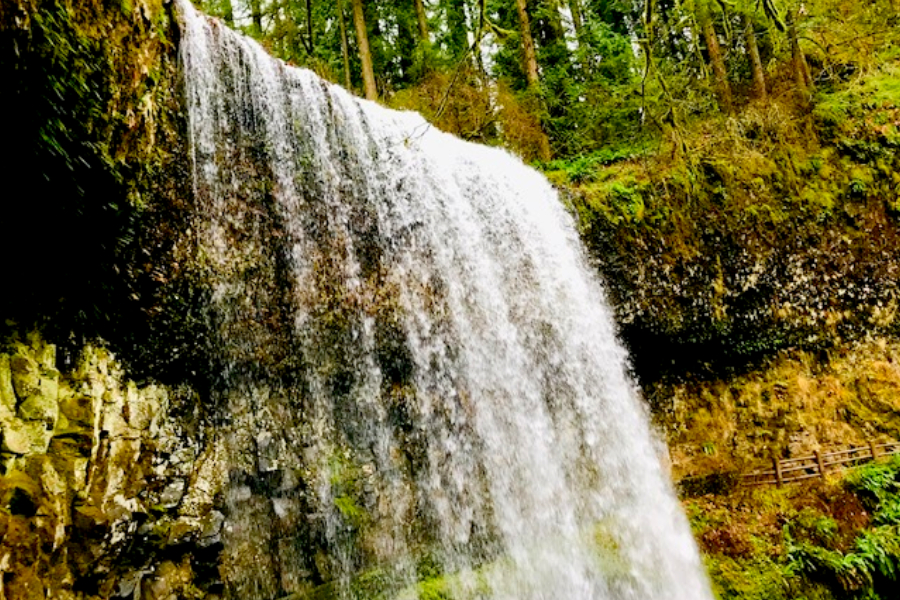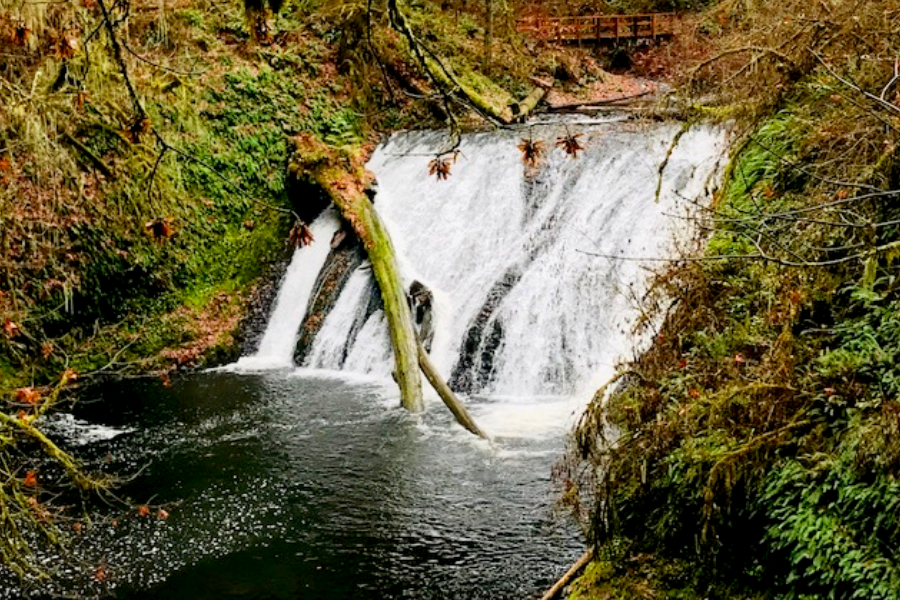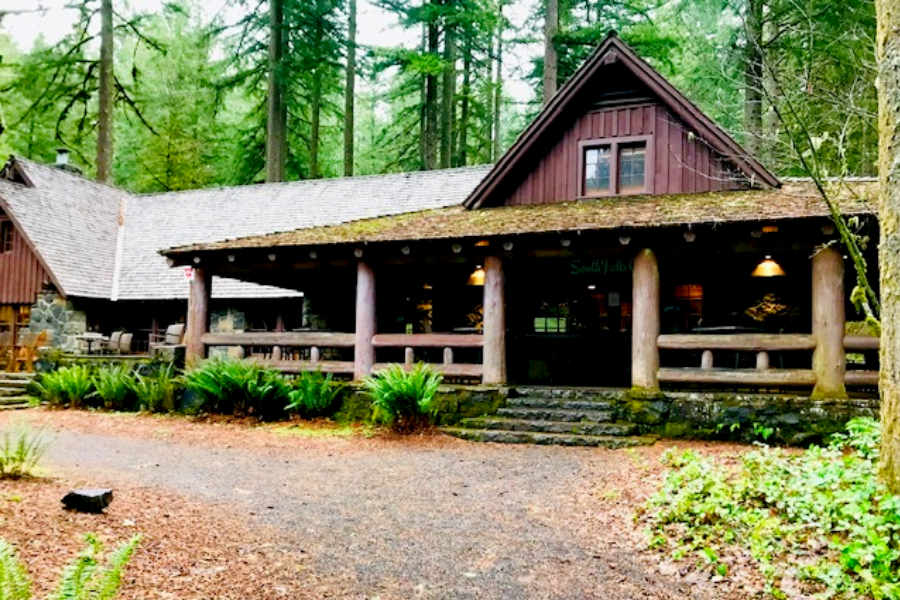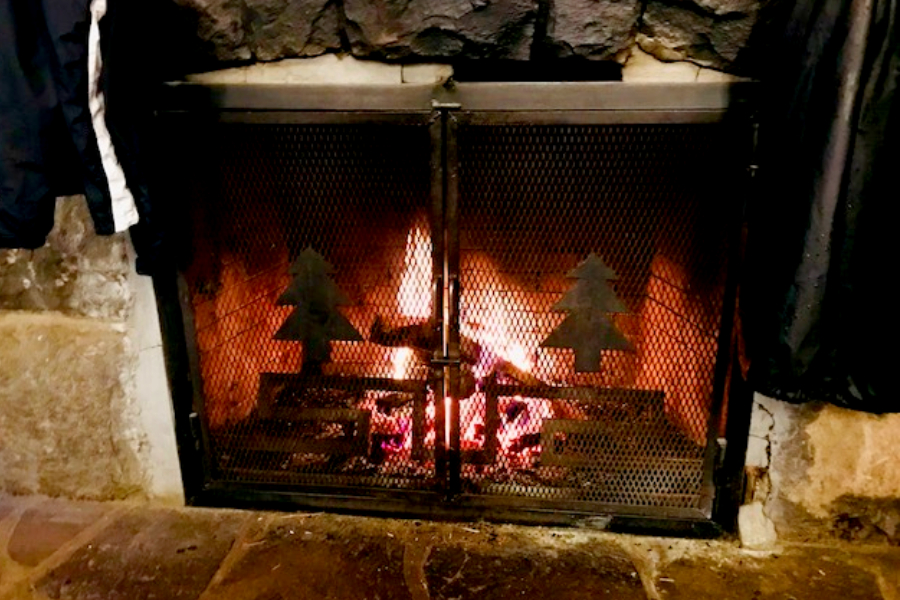 Happy Traveling! – Jim and Mary
CURRENT TRIP STATS
Day 72 of 365
States Visited: 11 / 50
National Parks / Monuments Visited : 10
Stayed In : Albany, Oregon
Miles Driven : 83.4
Total Trip Miles To Date : 7706.7
Total Gallons Used : 575.13
Biking Miles : 0
Biking Miles To Date : 133.0
Hiking Miles : 7.3
Hiking Miles To Date : 158.8
About Our Living Simple Tour
On September 9th, 2019, we set out in our NuCamp T@B 400 Teardrop Camper to travel to every state. You can check out all of our dates here : Dates for the States

Follow along by signing up for our twice weekly email updates at the bottom of the page. You can also follow us on Facebook : Live Simple Tour Facebook and Instagram : Live Simple Now Instagram Page.