Today we had the pleasure of spending a few hours at Powell's City of Books in downtown Portland, Oregon.
And I will be the first to tell you, we could have spent not just all day there, but several days in this iconic bookstore.
Powell's City of Books is the world's largest independent used and new bookstore. It occupies an entire city block and holds approximately one million books.
The original location is conveniently located in downtown Portland's Pearl District. This area is the home to several reclaimed warehouse spaces that have been turned into bars, restaurants, breweries, coffee shops and specialty shops.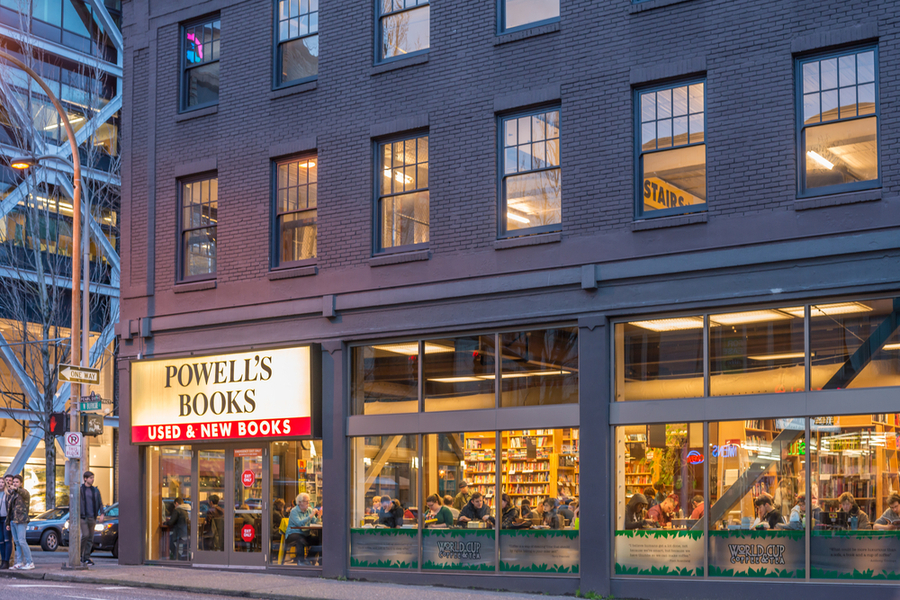 And Powell's City of Books has stood the test of time and has occupied the space of a former car dealership since 1971.
So how does an independent bookstore get started and remain a hustling business for over 48 years?
During our trip there we learned that the inspiration for the bookstore actually began in Chicago.
How Powell's City of Book Got Started
Michael Powell was a graduate student at the University of Chicago when he saw a market to resell used books.
His side business became so profitable that he eventually took out a loan and opened a business to do just that.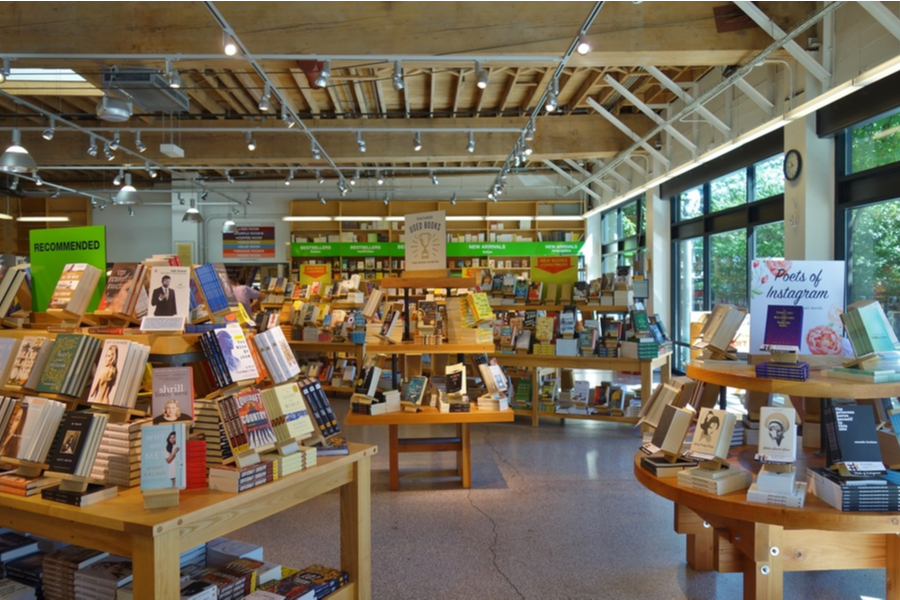 And within 2 months, he had made enough profit to repay his bank loan for the building spaced that housed his bookstore.
Needing some additional help, he asked his retired father to come work with him one summer.
And almost immediately, Walter, Michael's father, fell in love with the store. So when he returned to Portland, he decided to open his own used bookstore.
He bought every marketable used book that came his way and within a short period of time he purchased the building that Powell's City of Books still stands today.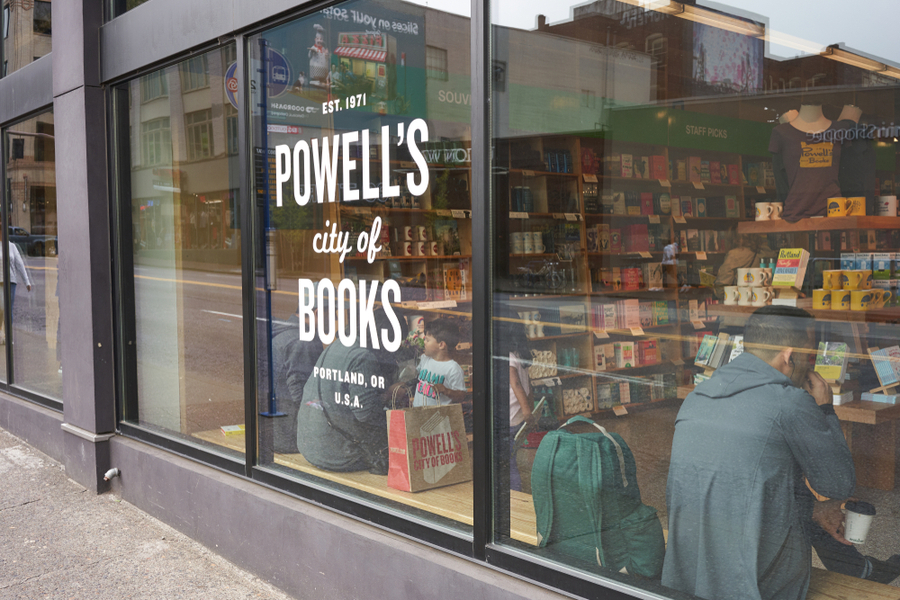 In a full circle of events, in 1979 Michael returned to Portland to help his dad run the bookstore. With such an unorthodox concept of selling both used and new books, and sometimes on the exact same bookshelf, many thought that this business had no chance to be successful.
But that prediction couldn't be further from the truth.
Raised Row Gardening Book On The Shelf
Today, Powell's City of Books has nine color-coded rooms and over 3,500 different sections. It is open 365 days a year and is staffed by knowledgeable, friendly and passionate booklovers.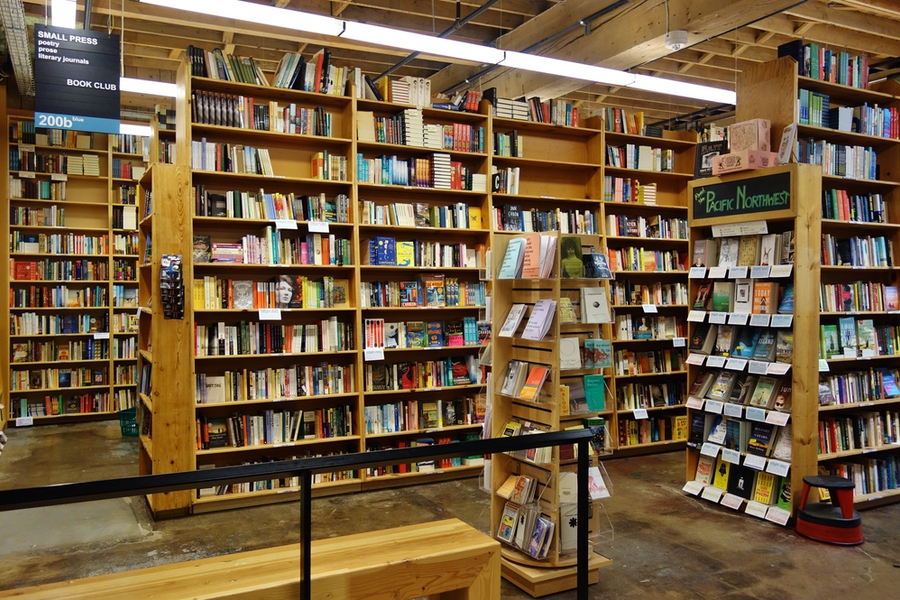 And although there are several different unique rooms, each one makes you feel like you feel welcome to stay as long as you wish.
Of course, being authors ourselves, we had to see if they might happen to have our newest book, Raised Row Gardening.
However, after about an hour of browsing various book categories, we approached the information desk.
The friendly staff member looked up the book title and within minutes she led us to the shelf where we our found our very own book.
Our Autographed Book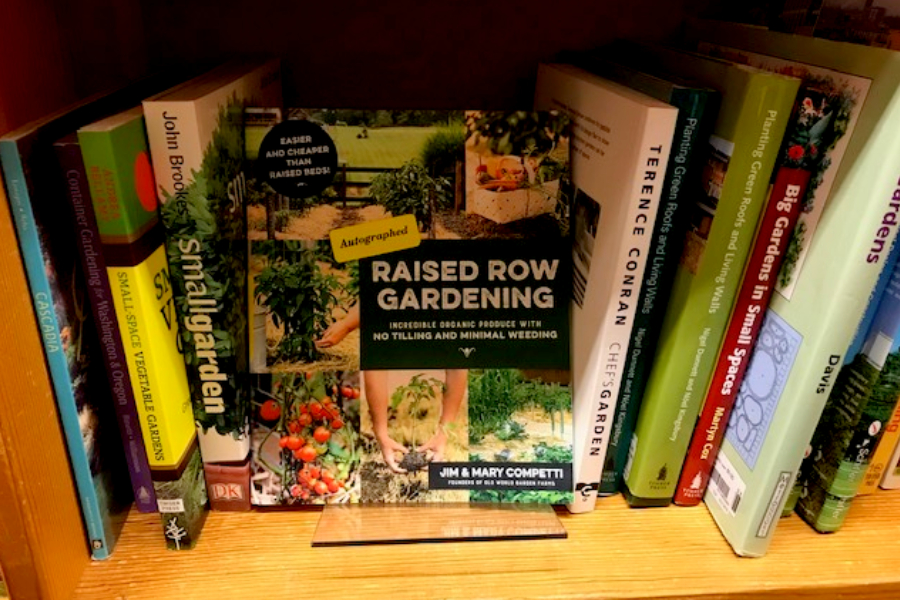 Although we tried to hide our excitement, I have to admit, that we both smiled liked two little kids. We never imaged that we would find our book over 2,000 miles away from home.
When we told the staff member our story and she immediately asked if we would be willing to sign the book.
Of course, we agreed and then she placed an 'Autographed' sticker on the front cover.
We took a quick picture and continued to browse the rest of the bookstore.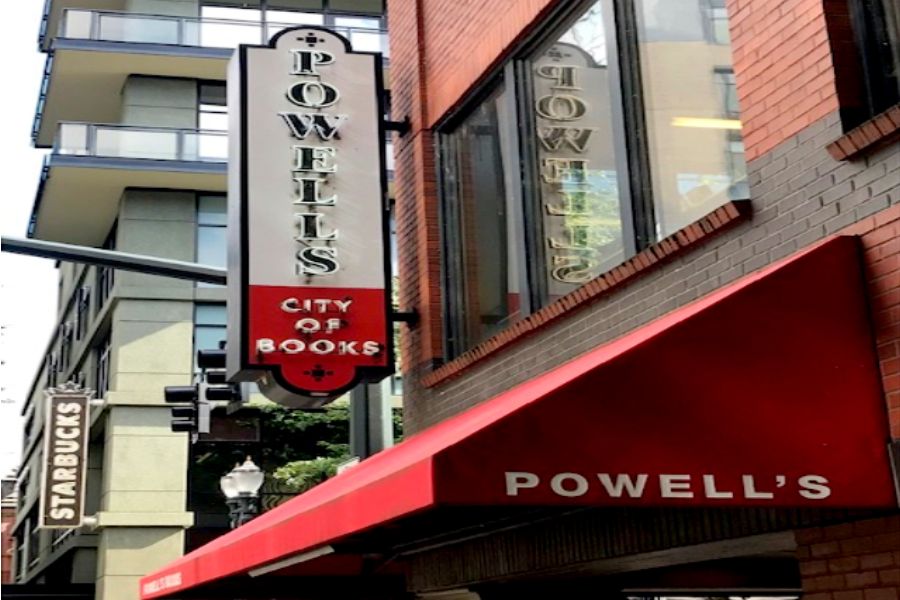 I can definitely understand how Powell's City of Books has become a one of Portland's largest attractions.
I wish we had more time to spend here. However, I am not sure even if we spent an entire week in the bookstore that we wouldn't leave there wishing we had more time there!
Happy Traveling – Jim and Mary
CURRENT TRIP STATS
Day 70 of 365
States Visited: 11 / 50
National Parks / Monuments Visited : 10
Stayed In : Tigard, Oregon
Miles Driven : 7.3
Total Trip Miles To Date : 7543.5
Total Gallons Used : 562.94
Biking Miles : 0
Biking Miles To Date : 133.0
Hiking Miles : 0
Hiking Miles To Date : 151.5
About Our Living Simple Tour
On September 9th, 2019, we set out in our NuCamp T@B 400 Teardrop Camper to travel to every state. You can check out all of our dates here : Dates for the States

Follow along by signing up for our twice weekly email updates at the bottom of the page. You can also follow us on Facebook : Live Simple Tour Facebook and Instagram : Live Simple Now Instagram Page.