Today we are about to mark off another bucket list item by taking an Amtrak Journey from Portland to Los Angeles.
However, we won't be able to officially mark it off until tomorrow night. That is because the train ride down the Pacific Coast will take over 30 hours to complete.
Although it is about twice as long of a trip as compared to driving it ourselves, we are looking forward to not being behind the wheel for a few days to enjoy the scenery.
And this trip was only made possible due to the inclement weather that we faced in Montana, Wyoming, and Idaho.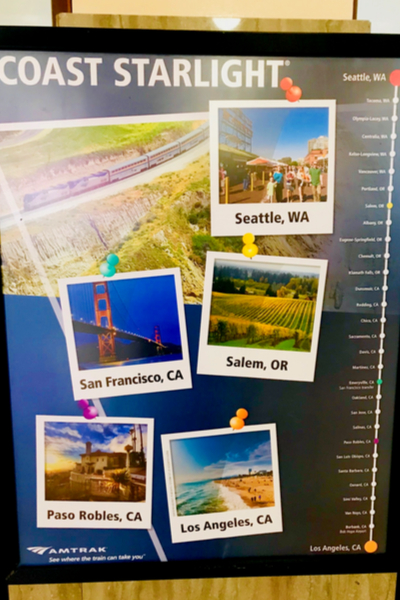 By avoiding the freezing temperatures, we were about 5 days ahead of schedule on our trip around the country.
The weather, along with a flash sale from Amtrak, gave us the perfect opportunity to make one of our bucket list items come true.
Leaving the Truck and Camper Behind

So today we headed to Portland Union Station to begin our Amtrak Journey.
But before doing so, we had to find a safe place to keep our truck and camper. So what did we do?
Last week we contacted the staff at NuCamp, the manufacturer of our T@B 400 trailer, to inquire if they had an RV dealer in the Portland area.  And lucky for us, they did!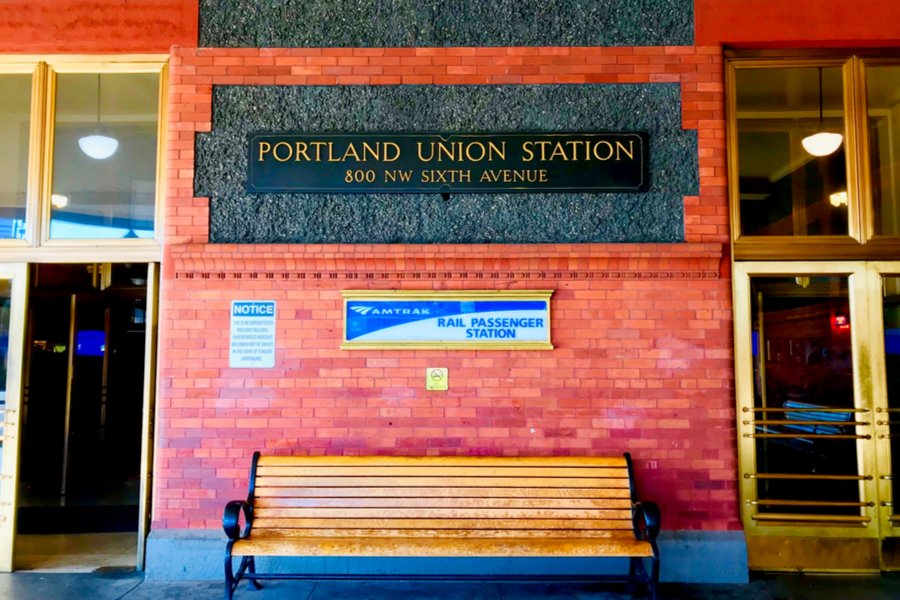 The staff at Apache Camping Center graciously agreed to let us park our truck and camper in their lot while we were on the train.
And because we were going to have it there for 4 days, we decided it was a fantastic time to have them install an automatic trailer jack on the tongue of the camper.
After being on the road for 64 days, it gets tiresome to manually crank the jack up and down every time we need to hitch and unhitch the camper from the truck.
So we both agreed that while we were on the Amtrak Journey it was the perfect time to have one installed.
Heading to Portland Union Station
After packing up a few items from the camper to take with us, we called for an Uber to take us to Portland Union Station.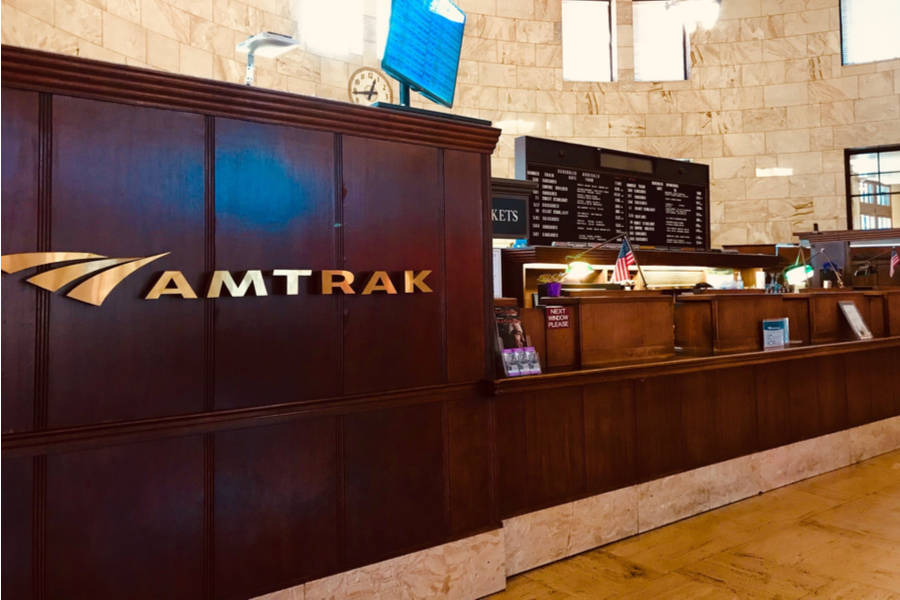 We are both so excited to finally get a chance to ride the Amtrak down the Pacific Coast. Yet, neither one of us have any idea what to expect.
The only thing that we are sure of is that we were heading to Los Angeles. We have no experience traveling on a 'real' train. And by 'real' I mean not the historical train that travel in the Black Hills of South Dakota or the Williams train in Arizona that takes you to the Grand Canyon.
I am talking about a train for the purpose of traveling from point A to point B, without a history lesson given by a tour guide.
This will be our first journey on an Amtrak train and we have so many questions and so few answers.
Will there be food on the train to purchase? Can be bring our own food and drinks? What type of security will we need to go through? Will we have to check a bag? Do we have an assigned seat?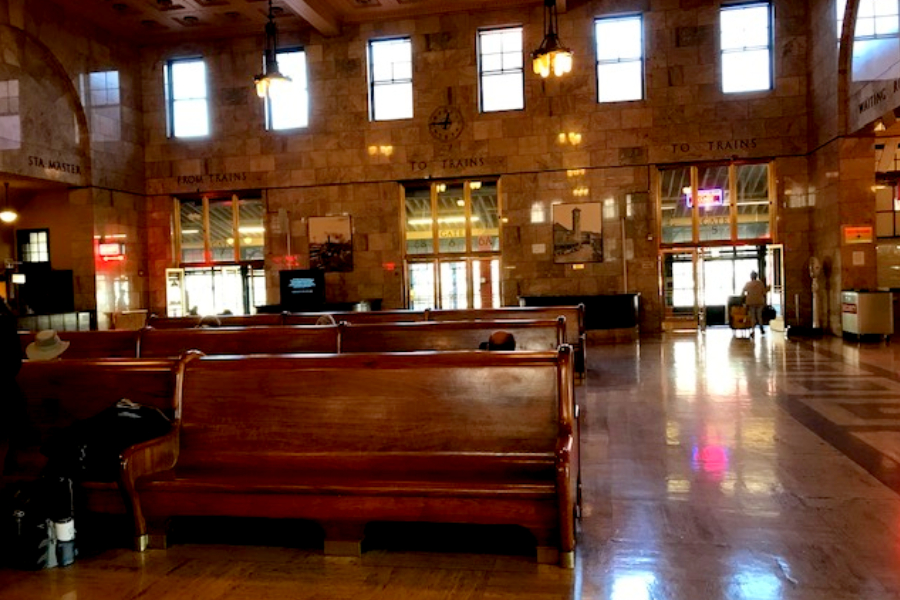 But just like we do with life in general, we took the 'I don't know, but we are going to find out' approach.
Arriving at the Amtrak Station For Our Journey
About an hour and a half before the train was scheduled to depart, we arrived at Union Station. The train station itself was a beautiful sight.
Just like you picture, it is an old historic train depot with a large brick tower with a clock at it's peak.
We entered through glass doors to a beautiful lobby with a check in counter to the left.
As I approached the ticket agent, I quickly confessed that we were rookies and had no idea what to do.
He grinned and told me that I was in the right place.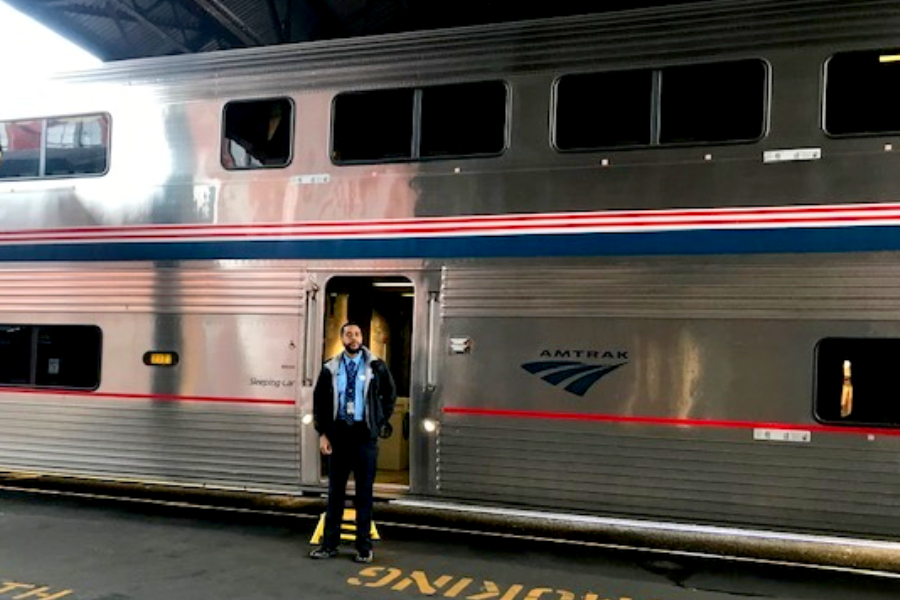 Step by step he walked us through the check in process and handed us a green boarding pass. We were to sit tight and listen to the boarding instructions that would happen a half an hour before the departure time.
After striking up a conversation with a wonderful couple from Las Vegas, we realized that everyone has been in our shoes at one time or another.
In fact, they had just taken their first Amtrak ride a few days before to attend a wedding in the Portland area. They were heading home and were scheduled to be on our train as well.
While we waited for the boarding call they helped answer all our questions, based on their own recent experience.
Our Amtrak Journey Questions Are Answered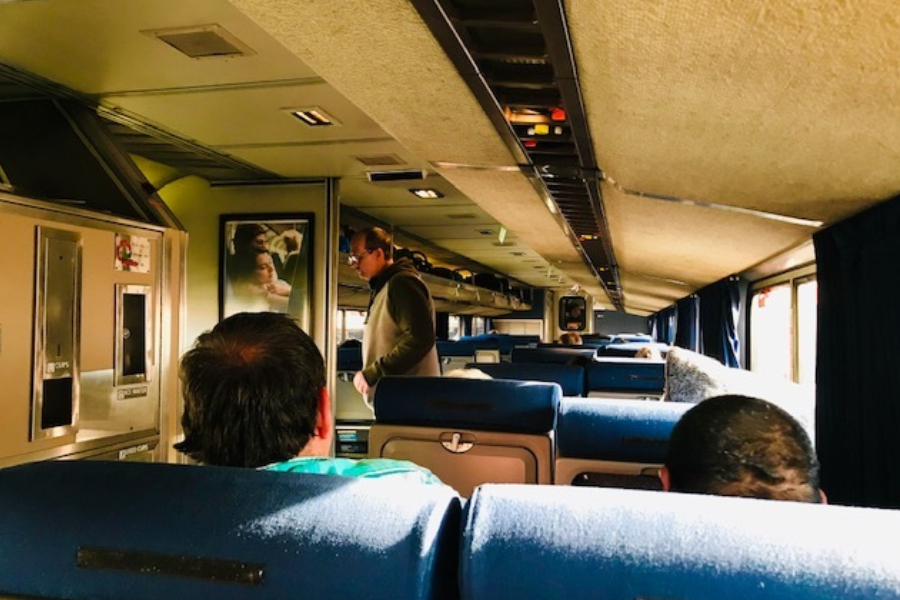 First of all, as scary as it sounds, there is no security to go through before boarding. You simply walk through a door, someone scans your ticket and you head towards the train car that they assign you.
Then, as you get closer to the entrance of the train, you receive a seat assignment.
The train is set up with two seats on both sides of the train. Then you hang your destination ticket above your seat assignment. This is done for lengthy train rides with multiple stops.
The purpose is quite brilliant. Just in case you fall asleep and don't wake up in time, the staff with walk through the passenger cars and make sure you don't miss your destination.
And when you get hungry, we did find out that on this specific Coast Starlight Amtrak train that you have two options.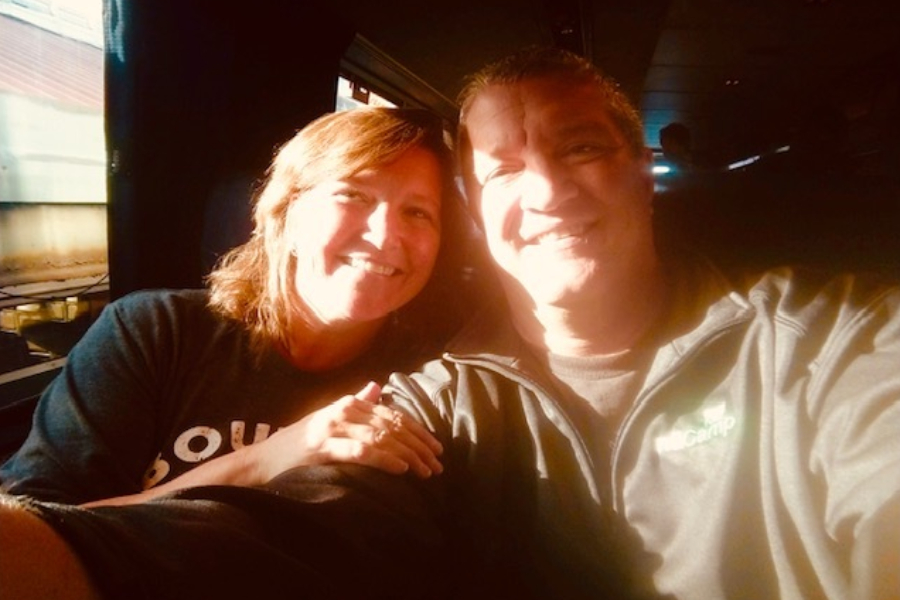 First, there is a café car below the observation deck for snacks, drinks, and light meals. But lucky for us, we found out that this train also has the traditional dining car.
Another part of that bucket list item that we can cross off – eating dinner in a dining car.
And yes, you can also bring your own food and drinks.
So we waited until it was boarding time and took the first steps onto the train to find our seats.
Here is to getting to experience a new adventure for the next couple of days!
Happy Traveling – Jim and Mary
CURRENT TRIP STATS
Day 64 of 365
States Visited: 10 / 50
National Parks / Monuments Visited : 10
Stayed In : A Coast Starlight Amtrak Train
Miles Driven : 14.3
Total Trip Miles To Date : 7510.7
Total Gallons Used : 560.5
Biking Miles : 0
Biking Miles To Date : 133.0
Hiking Miles : 0
Hiking Miles To Date : 147.9
About Our Living Simple Tour
On September 9th, 2019, we set out in our NuCamp T@B 400 Teardrop Camper to travel to every state. You can check out all of our dates here : Dates for the States

Follow along by signing up for our twice weekly email updates at the bottom of the page. You can also follow us on Facebook : Live Simple Tour Facebook and Instagram : Live Simple Now Instagram Page.