As we work our way up through Utah towards Idaho, Monday finally saw us arrive in the beautiful state capital of Utah, Salt Lake City.
Salt Lake is the largest city in the state with a little over 1.1 million people living in the metropolitan area. And is it ever growing!
All around the city, wherever we drove, the skyline was filled with crane after crane working on new buildings. It is certainly a city on the move.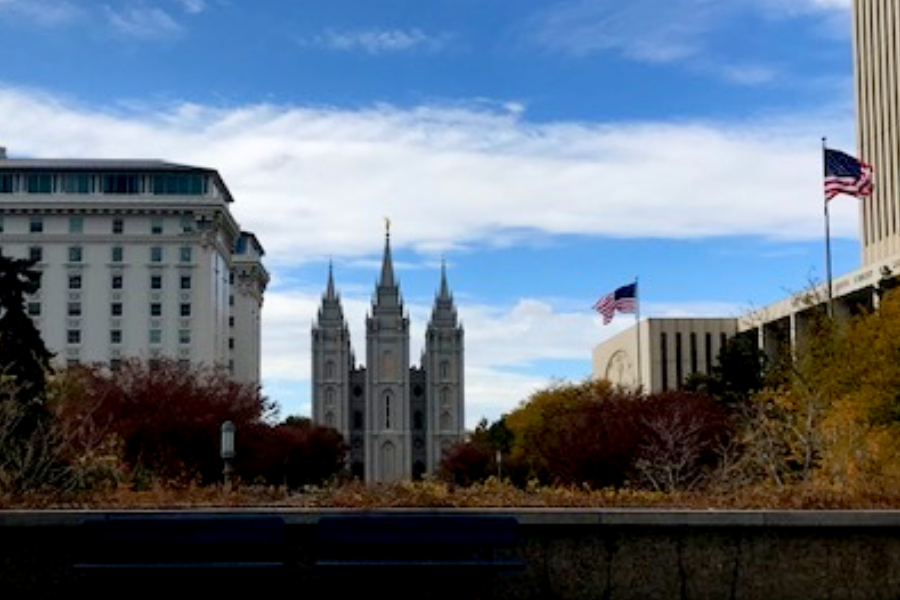 With a wide open day and nothing in particular scheduled, we decided to spend our time simply enjoying as many sites around the city as we could.
And by day's end, we certainly had made it all over the city!
Downtown Salt Lake City
We started off with a drive and walk around the state capitol building area (pictured at the top of the article), which sits on a small hill overlooking much of the city.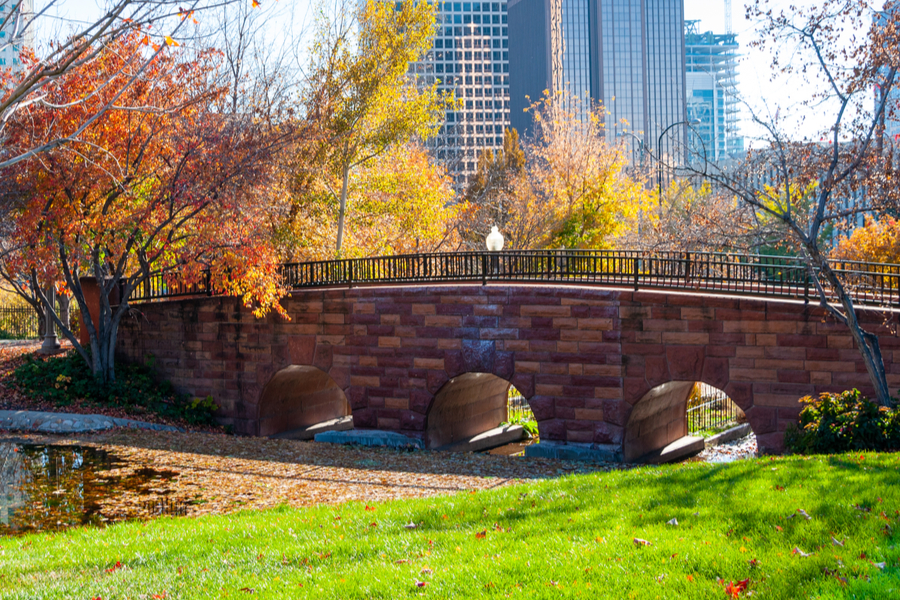 Completed in 1916, and after some amazing renovations a few years back, it remains a prominent fixture of the downtown area.
One thing that really stood out to us about Salt Lake in general is how much green space is all throughout the downtown and surrounding area.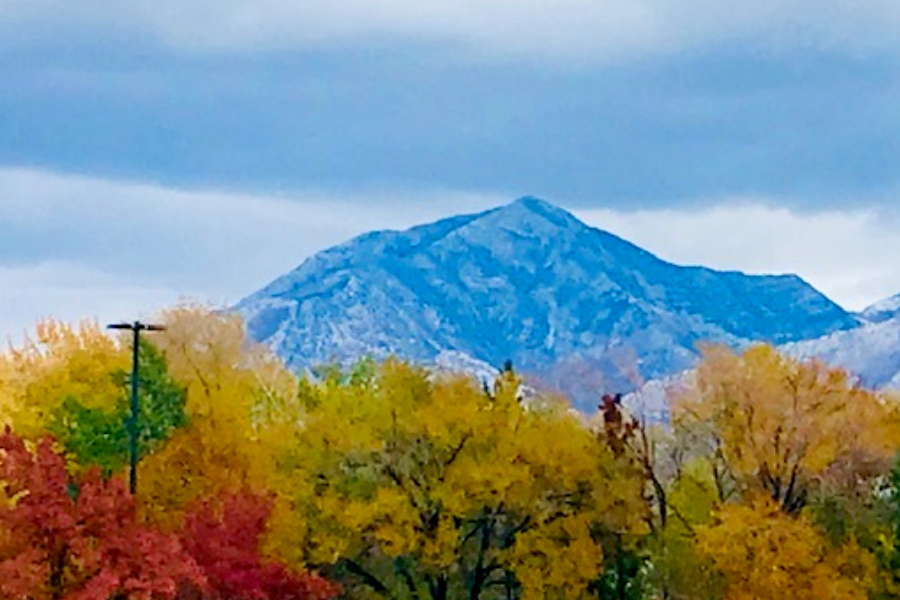 It really gives the city such a beautiful feel, especially when you can always look up and see those incredible snow-capped mountains in the background.
The University of Utah
Next up on our Salt Lake City tour was a trip over to take a stroll around the picturesque campus of the University of Utah.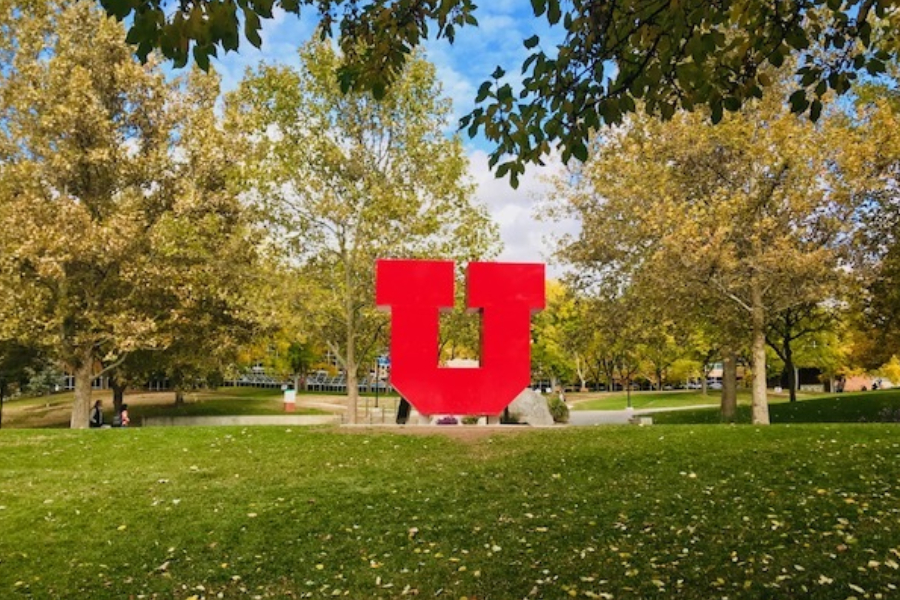 We both love to walk, and for some reason, college campuses located in the middle of a city always are such an incredible setting to get in a little exercise.
It certainly didn't disappoint – it was simply gorgeous walking all around the campus with autumn's colors on full display.
Call us crazy, but we always try to find a local landmark or background in each area we visit to take with a photo of our camper. And it just so happened that the Ute's stadium was the choice for today.
I have no idea what we are going to do with all of these location photos someday, but the idea will come at some point!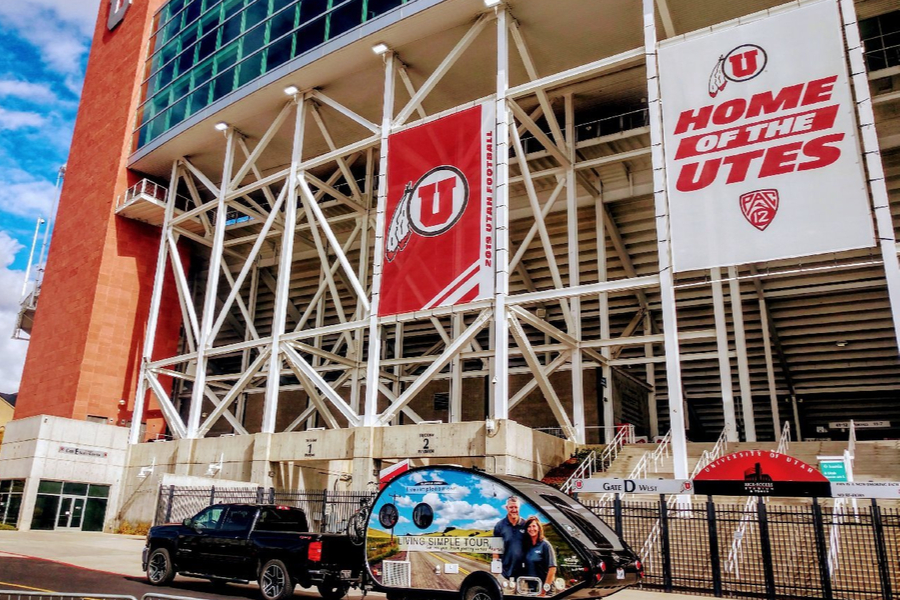 After a little walking around the campus, it was on to see the namesake of the city, the Great Salt Lake
Seeing The Great Salt Lake
One of the things we also enjoy is the chance to learn a little history about each of the places we visit. And today, we both learned a lot we never knew about the Great Salt Lake.
At about 75 miles long and 35 miles wide, it is the largest salt lake in the Western Hemisphere. And, it is also the largest lake west of the Mississippi River.
It's actually a small left-over portion of a prehistoric lake (Lake Bonneville) that once covered a huge portion of both Utah and Idaho.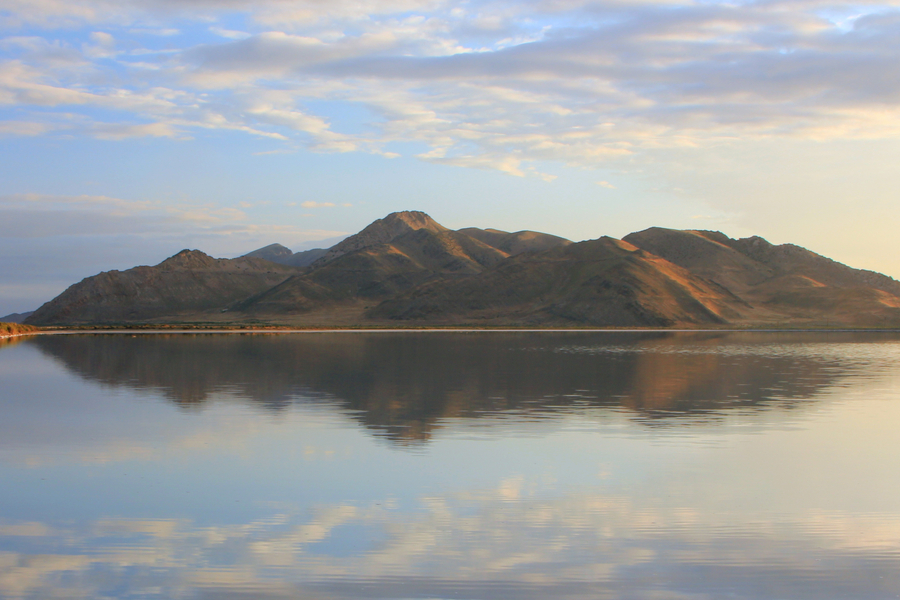 One thing we never knew was just how much the lake fluctuates with it's water levels. At some low points, the islands in the lake can become peninsulas to the mainland. And at other points, it can extend far beyond to flood the farmlands around it's banks.
In fact, in the early 80's, the flooding became so bad, they had to install massive pumps to pump the water into the desert. Like I said, it really is fascinating to learn so much all along the way.
And with that, our day ended with a short drive to Ogden, Utah. It up camp for the night at a local horse farm. Tomorrow, we will head towards Idaho! Happy Traveling – Jim and Mary
CURRENT TRIP STATS
Day 43 of 365
States Visited 7 / 50
National Parks / Monuments Visited : 9
Stayed In : Ogden, Utah
Miles Driven : 97.8
Total Trip Miles To Date : 5647.7
Total Gallons Used : 418.30
Biking Miles : 0
Biking Miles To Date : 109.6
Hiking Miles : 2.5
Hiking Miles To Date : 116.5
About Our Living Simple Tour
On September 9th, 2019, we set out in our NuCamp T@B 400 Teardrop Camper to travel to every state. You can check out all of our dates here : Dates for the States

You can follow along by signing up for our twice weekly email updates at the bottom of the page. You can also follow us on Facebook : Live Simple Tour Facebook and Instagram : Live Simple Now Instagram Page.