Today we had the pleasure of spending the day and night at Rowley's Red Barn in Santaquin, Utah.
This family-owned, working farm is the ultimate stop for farm-fresh foods and country fun for the entire family.
The iconic red barn provides homemade ice creams and pastries, home-grown produce, and world-class dried cherries.
And we were lucky enough to visit during their busy Fall Festival season where the entire farm was bustling with constant activity.
A Visit Inside The Red Barn
As we pulled into the parking lot, we knew that we were in for a treat.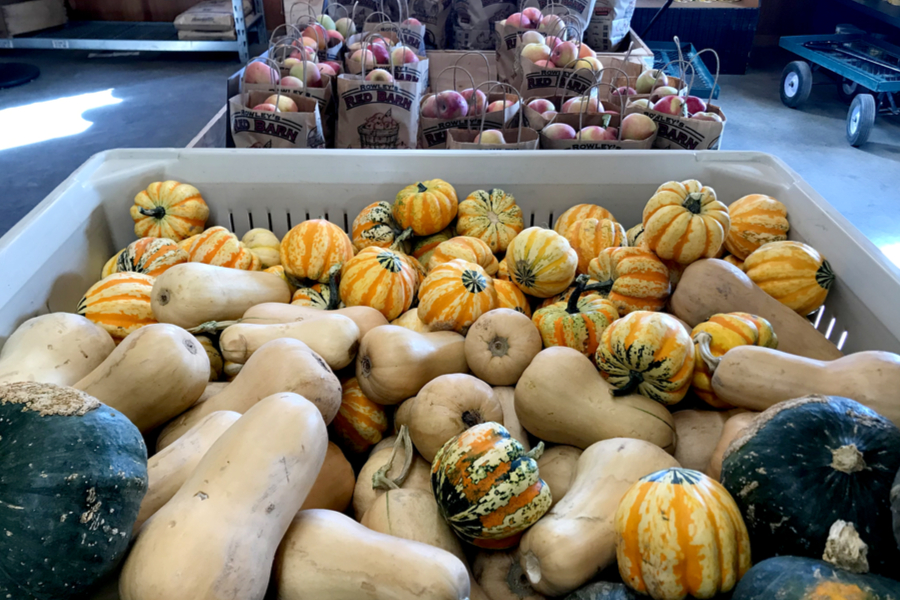 The parking lot was full of not only cars, but families filling their trunks with large pumpkins, gourds, apple cider and boxes of baked goods. And almost everyone walked out of the red barn with a cup of ice cream.
Then in the distance was a John Deere tractor pulling two wagons filled with customers who purchased a ticket to the 'back forty' of the farm.
It was then that we knew that this was going to be a fun visit!
So we parked our T@B 400 camper along the edge of the parking lot and headed into the iconic Red Barn to see what it was all about.
Fresh Produce and Baked Goods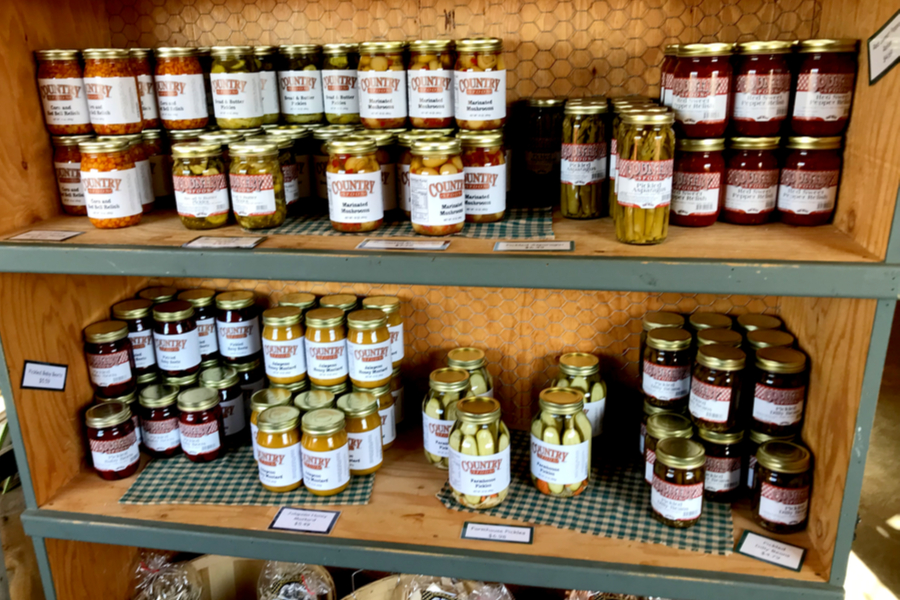 Although it was crowded we were able to easily navigate around the shelves that held home-baked and canned goods made in their Country Spoon Kitchen.
There were jars of jams, jellies, canned vegetables and more! And in the cooler room we found cherry concentrate, fresh pressed apple cider, and pecks of fresh picked apples.
The Rowley's Red Barn had just about everything to stock your kitchen. However, we couldn't help but notice everyone walking around with boxes of donuts.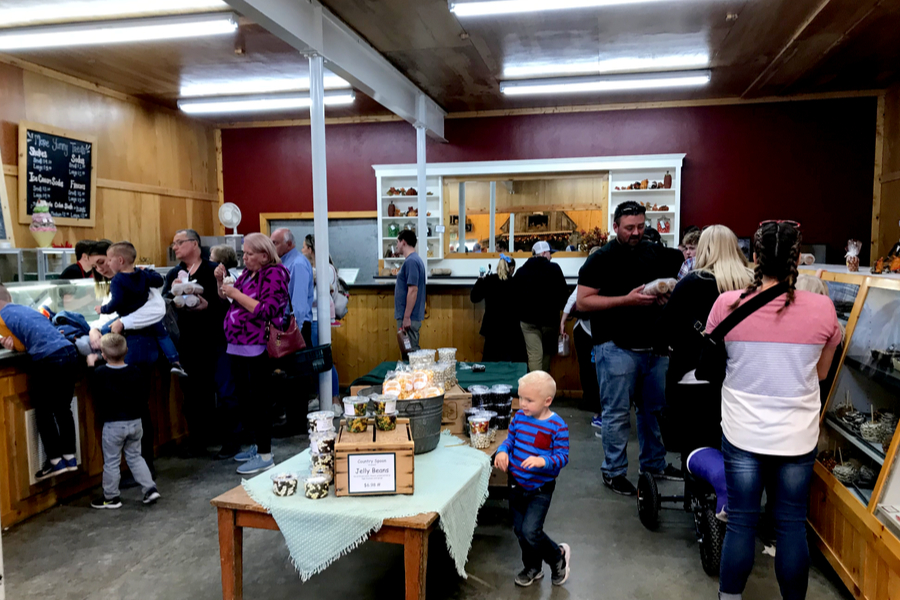 Therefore we went on a mission to find some for ourselves. And that eventually lead us to the Ice Cream Parlor.
Not only were they scooping out ice cream that was flavored using the farm's fresh fruit, they were also serving donuts made from their fresh pressed apple cider.
Although they smelled absolutely delicious, we had to resist eating them right away. However, the minute that we walked back to the camper we poured a glass of apple cider and ate a couple of fresh baked, still warm donuts.
And what better place to eat them with a mountain view on one side and a farm view on the other!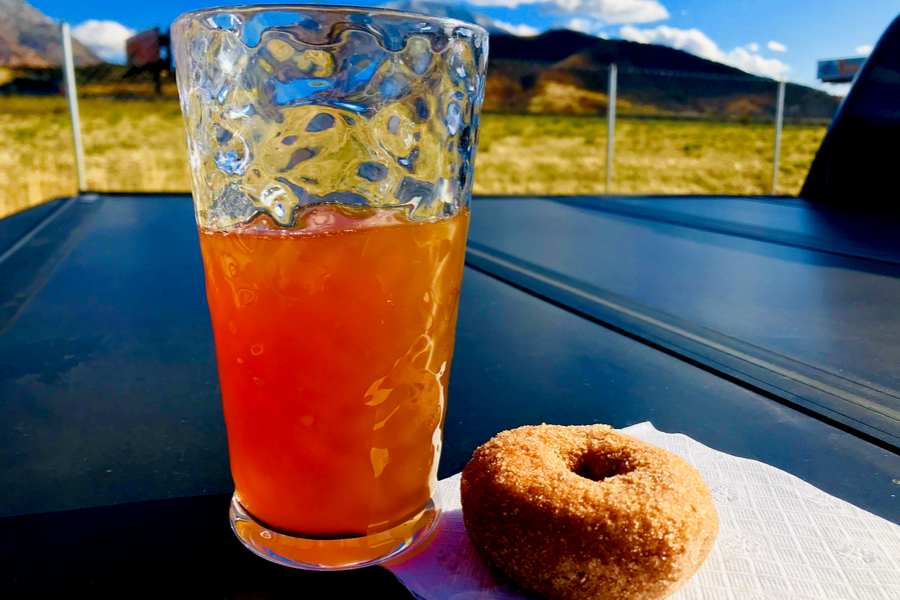 Fall Festival Activities
After our quick snack, it was time to hop on the wagon and head to the back forty of the farm to enjoy the Fall Festival.
The wagon ride was filled with families of all ages. Grandparents, parents, aunts, uncles and children enjoyed the ride towards the Fall Festival area.
And once we turned the last corner to the open field behind the pumpkin patch, you could feel the excitement increase.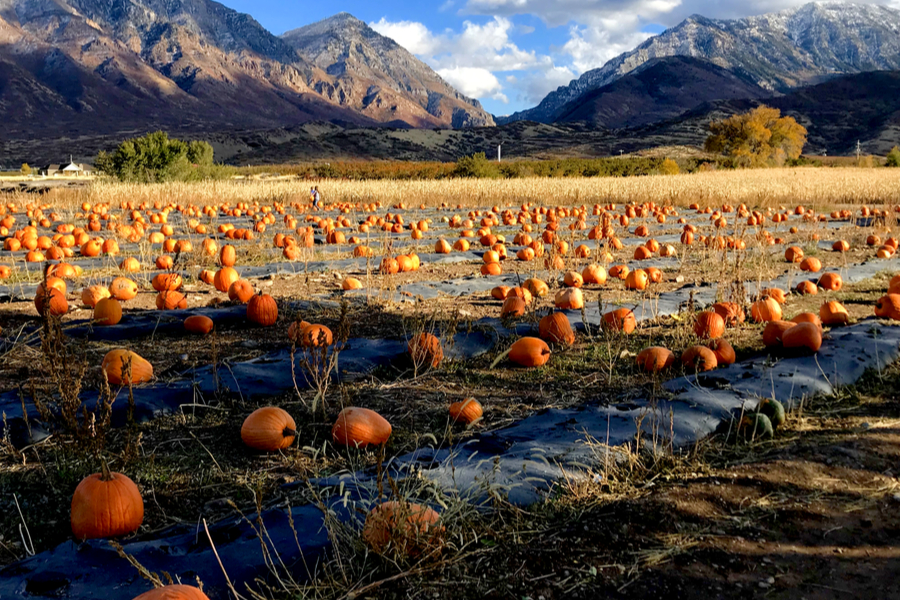 There were so many different activities that the kids had a hard time choosing what to do first.
Right next to the wagon drop off area there were two large slides that you could slide down using a burlap sack.
And if those were too tall, they had transformed a combine tractor into a slide for the little ones to enjoy as well.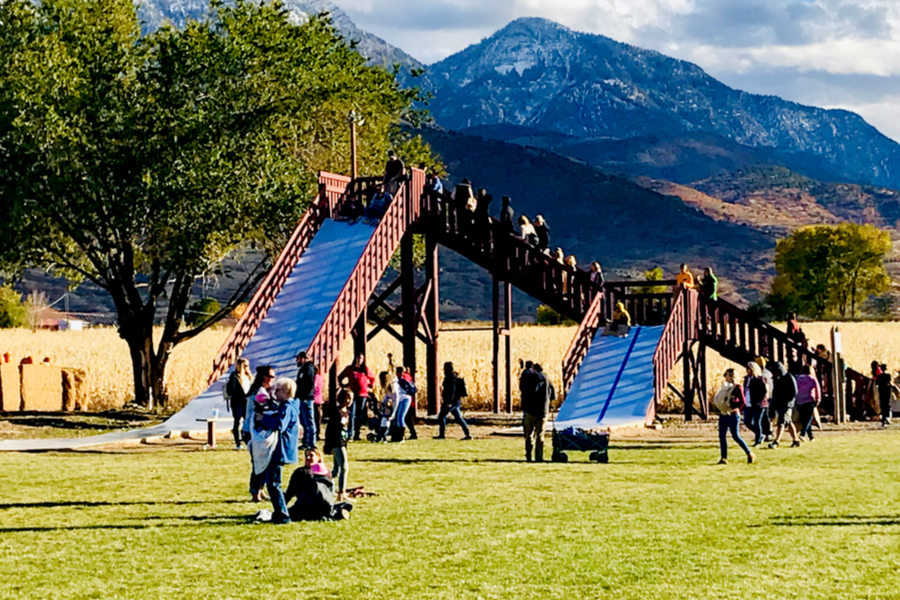 Next to the big slide there was petting zoo filled with goats, piglets, calves and more.
And in the distance you could see two large jumping areas and a zip line for the more daring kids.
The more that we explored the area, the more activities that appeared. From a bike pedaling race track to stacked hay bales for climbing, there was something for everyone to enjoy.
Apple Cannon and An Amazing Corn Maze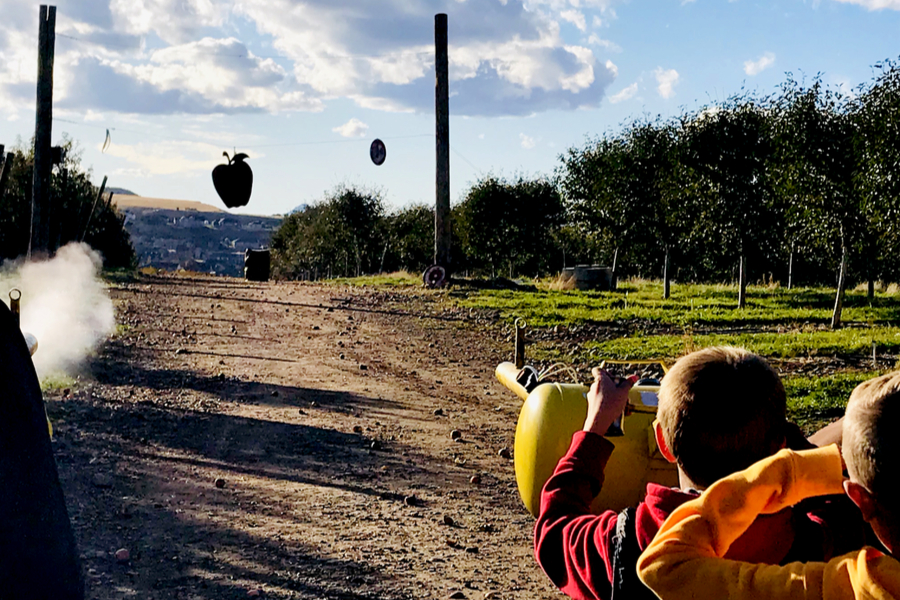 But my favorite two activities were tucked away in the distance. First was the Apple Cannon.
Apples were stuffed in a long barrel and with the magic of compressed air, kids aimed and shot at several targets in the distance. What a great way to use up those apples that aren't suited to sell!
But the most impressive attraction was the corn maze. Designing a corn maze in itself is quite an art. However, this year, in honor of the 20th anniversary of the Red Barn, the corn maze was designed to honor the company's founders, Phil and Shirley Rowley.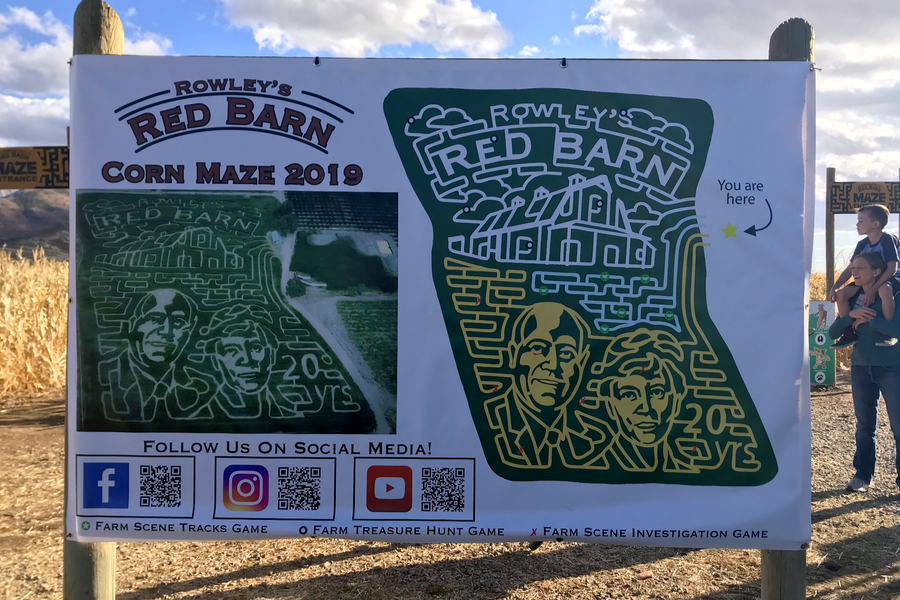 The maze not only had the typical twists and dead end turns. It was designed with both Phil and Shirley's faces cut in the corn maze. Truly an impressive work of art!
We are so glad that we had the opportunity to experience the Rowley's Red Barn Fall Festival. Which was all made possible because they are part of the Harvest Hosts program where RV's can stay for FREE!
CURRENT TRIP STATS
Day 40 of 365
States Visited 7 / 50
National Parks / Monuments Visited : 9
Stayed In : Santaquin, Utah
Miles Driven : 207
Total Trip Miles To Date : 5438.1
Total Gallons Used : 402.82
Biking Miles : 0
Biking Miles To Date : 109.6
Hiking Miles : 1.6
Hiking Miles To Date : 109.8
About Our Living Simple Tour
On September 9th, 2019, we set out in our NuCamp T@B 400 Teardrop Camper to travel to every state. You can check out all of our dates here : Dates for the States

Follow along by signing up for our twice weekly email updates at the bottom of the page. You can also follow us on Facebook : Live Simple Tour Facebook and Instagram : Live Simple Now Instagram Page.