Today was definitely one crazy day on the road, from start to finish!
One of the best parts about travelling the back roads of America is you simply never know when something out of the ordinary might appear or happen.
And today, we were able to experience not one, but four of them.
And whether it is discovering something you never knew existed, coming upon a massive roadside cattle drive, seeing a goat in a restaurant, or weathering a 65 mph storm in your camper – you just take it all in and consider it part of the experience.
And yes, by the way, all of those things above really did happen today!
One Crazy Day On The Road
The Cattle Drive
As we drove up State Route 73 towards the town of Faith, South Dakota, we were fortunate enough to come upon a roadside cattle drive in full progress.
We crested over one of the many gorgeous rolling hills on the plains, only to find a mass of cattle everywhere.
It was simply amazing to slowly drive by and hear the ranchers yelling out calls to each other and the cattle. And of course, the cattle talking back.
If you haven't watched the video yet, it is really a sight to see!
The Minuteman Missile
Our day stared out with the opportunity to visit a crazy and scarier part of our country's history.
Just on the outskirts of the Badlands in South Dakota, sits the Minuteman missile site.
It is certainly a haunting reminder of the cold war era. And even more scary, one of over 1000 such sites that were once scattered throughout the central states!
The missile here (D-09) is about 6 miles east of Wall, South Dakota. And it was live and ready to go for 30 years. It wasn't until 1991, under a treaty signed with the Soviet Union, they were finally de-activated and removed.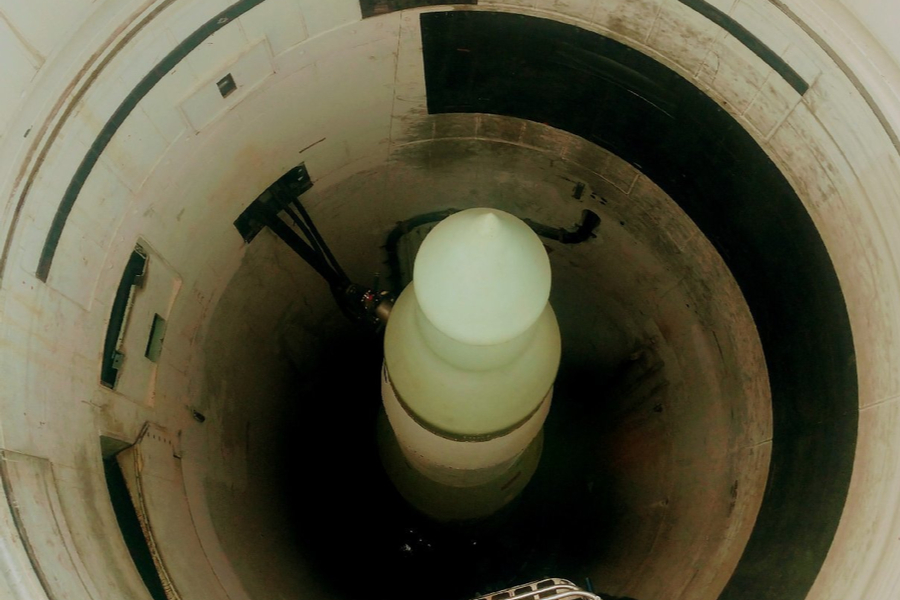 Today, at this historical site, the 90 ton cover is partially rolled back and covered with glass so visitors can look down inside to view a now unarmed missile on the launch rails.
It is crazy to think these silos dotted the landscape all over the midwest. And that at any time, they could have been deployed to alter our world forever.
The Goat
So now back to the crazy day. As we drove into Faith, S.D., we set up camp for the night in a beautiful little park the city allows passerby's to use for camping.
We decided to head up to a local restaurant for dinner, and as always, to see if we could meet a few of the local to tell us about their town.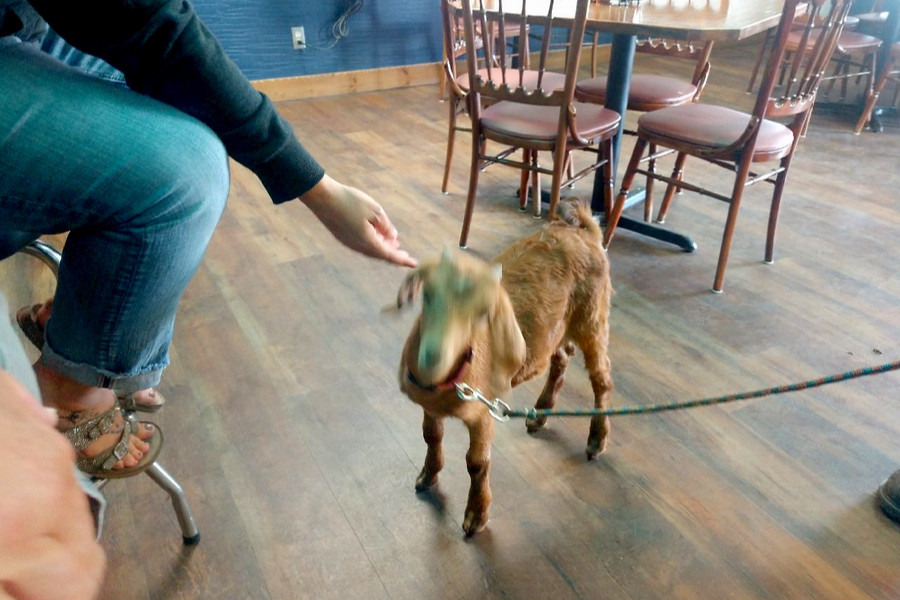 And while doing so, a man and his goat walked into the bar. No, this is not a punch line to a bad joke, it really did happen!
Apparently the owner keeps a goat outside of the restaurant, and he makes regular appearances. And today happened to be one.
And to Erin, Robin, Sarah and all of the others who shared stories and laughed with during our stay – thank you for the hospitality!
The Night Storm
And last but not certainly least, there was the unwelcome overnight storm that rattled through Faith.
It's never a good sign to be aroused by your Weather Alert Alarm – but that is exactly what happened late last night.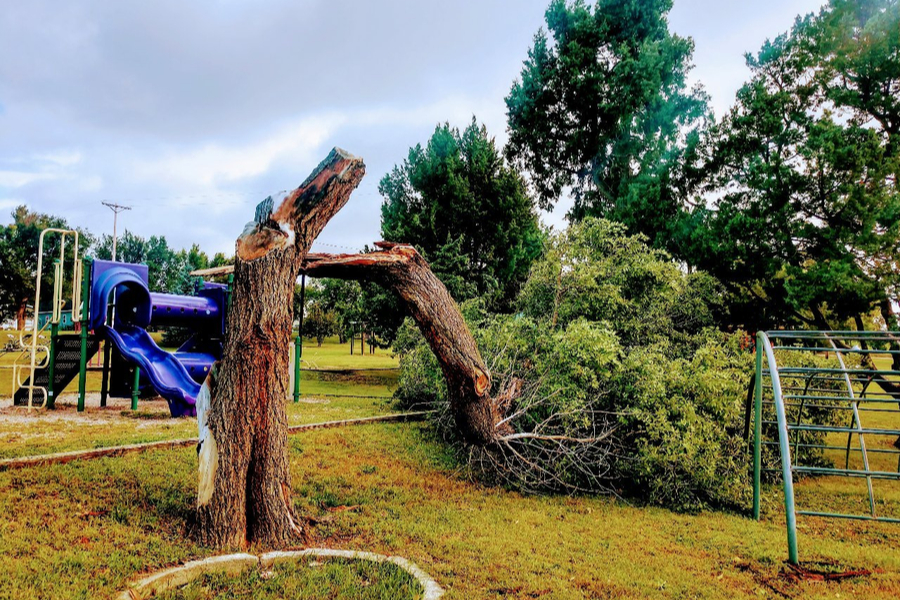 It was our first encounter with a serious storm. In fact, a few of the large trees in our park were toppled over.
Just a reminder to us to always be on the lookout for what might be coming. And all just a part of the experience and memories!
Here's to one adventurous and crazy day on the tour. On towards North Dakota we go! Jim and Mary
CURRENT TRIP STATS
Day 12 of 365
States Visited 2 / 50
Stayed In : Faith, South Dakota
Miles Driven : 141
Total Trip Miles To Date : 2273
Total Gallons Used : 168.37
Biking Miles : 14.6
Biking Miles To Date : 51.6
Hiking Miles : 2.5
Hiking Miles To Date : 29.5
About Our Living Simple Tour
On September 9th, 2019, we set out in our NuCamp T@B 400 Teardrop Camper to travel to every state. You can check out all of our dates here : Dates for the States

You can follow along by signing up for our twice weekly email updates at the bottom of the page. You can also follow us on Facebook : Live Simple Tour Facebook and Instagram : Live Simple Now Instagram Page.