Day 6 was an eye-opening one for sure hiking Scotts Bluff! We discovered a part of Nebraska that quite honestly, we never knew existed!
We hiked a total of 4 1/2 miles up and around the bluff, and also visited and walked around Chimney Rock as well.
These magnificent bluffs and rock formations seem to jut right out of the flat Nebraska landscape. And all of it caught us totally by surprise.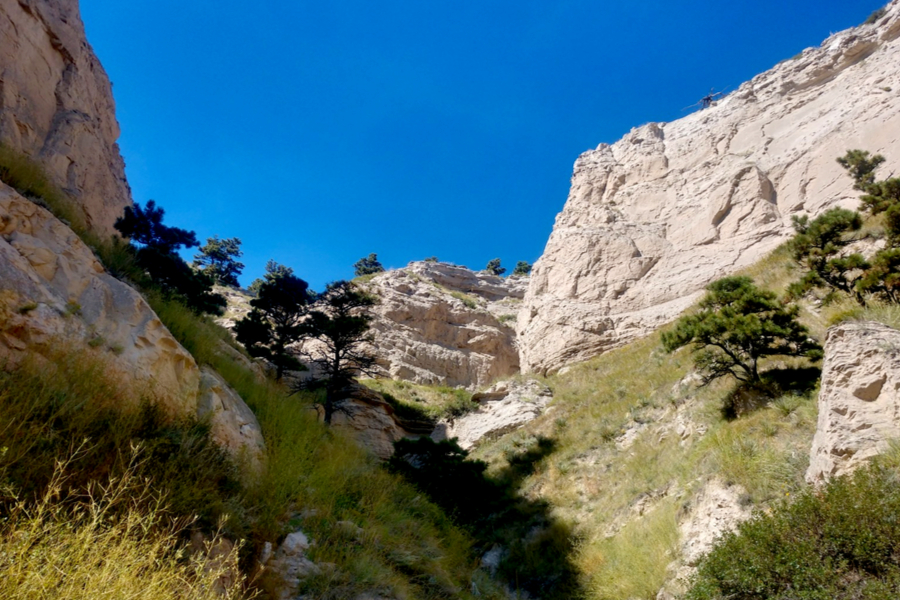 In fact, up until yesterday, if someone showed me the photo we took below and asked me where it was, Nebraska would have been one of my last guesses.
But then again, this is what our trip is all about. Discovering the country as we never knew it. Finding hidden gems like this and learning about their history. One thing is for sure, it will never get old.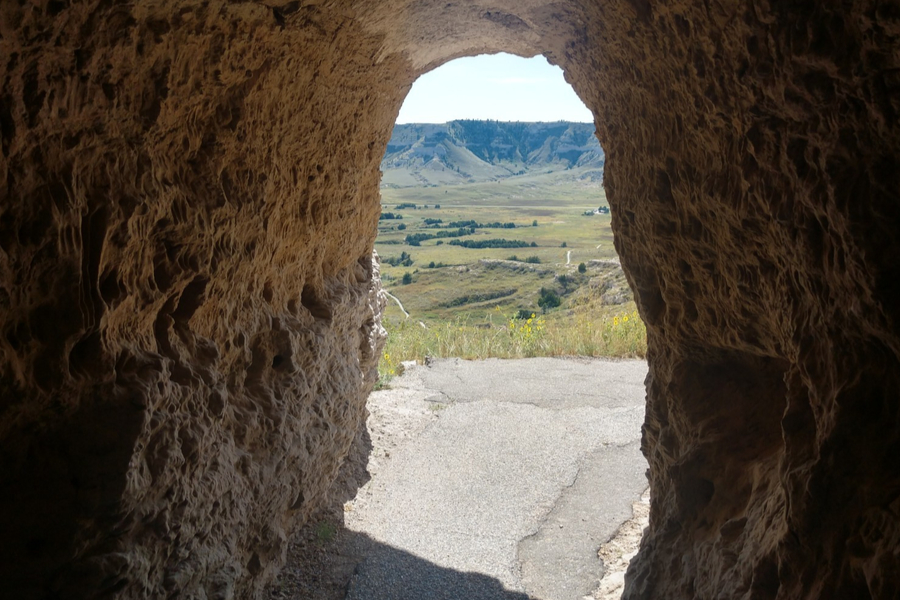 To experience the country first hand is more than we could ever learn from any textbook.
Hiking Scotts Bluff
Scotts Bluff was named after Hiram Scott. Scott was a fur trader who was deserted by his group in 1828 and died at the base of the bluffs that now bear his name.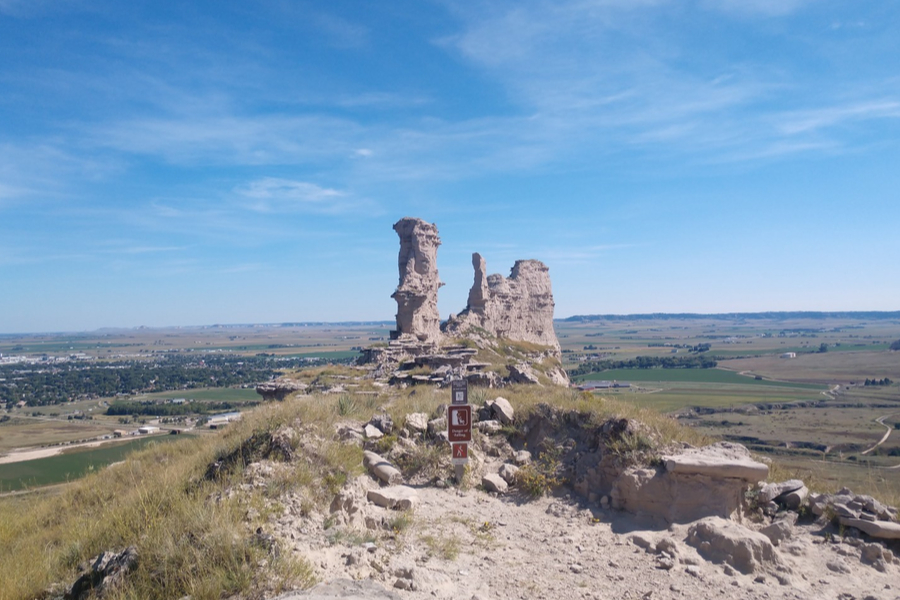 Scotts Bluff sits along the beautiful North Platte River. A river we have crossed now driving countless times as we head across Nebraska.
The bluffs were a big part of the Oregon Trail, California Trail, and even part of the Pony Express as well.
In fact, in just the mid-1800's alone, over 350,000 homesteaders seeking a new life out west traveled by this landmark.
Today, Scott's Bluff is a national monument run by the National Parks Service. And they do an incredible job of keeping the history and the surroundings in tact for so many of us to enjoy.
The hike up the bluff was actually pretty steep. And was a bit demanding on an unusually warm 90 degree day for Nebraska here in mid-September. I guess we will be getting in shape faster than we thought!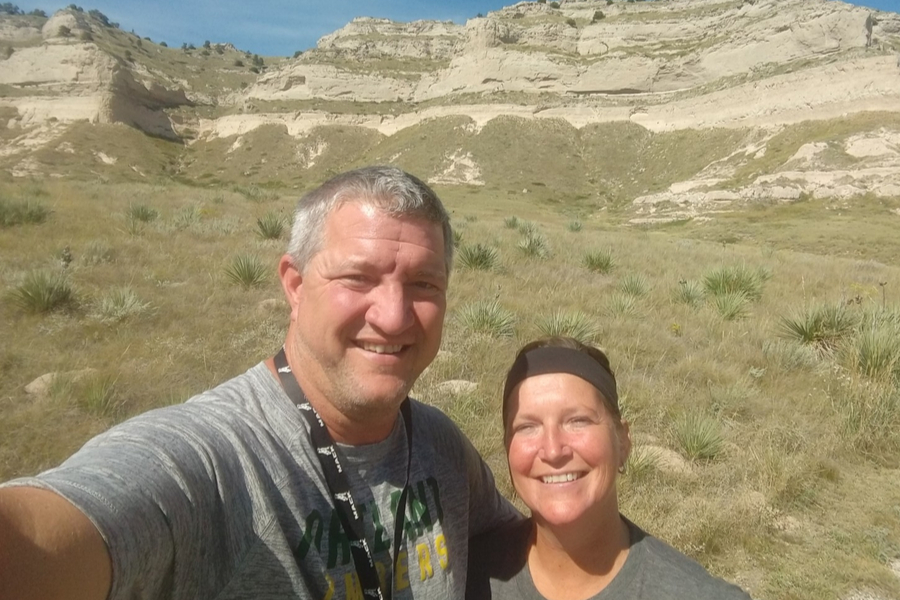 The 1.6 mile trek up the rock formation included a stroll through a tunnel that led to a beautiful view of the city of Gering below.
Once on top of the bluff, you can actually see all 5 of the famous rock formations that dot the Nebraska landscape. It is actually pretty amazing when you consider some, like the Chimney Rock formation, are nearly 20 miles off in the horizon.
A Little Guest On The Trail…
We did, as you can see below, have a little guest greet us on the way up. Not sure what type of snake he or she was, but nonetheless, it did startle us a bit when we first saw it.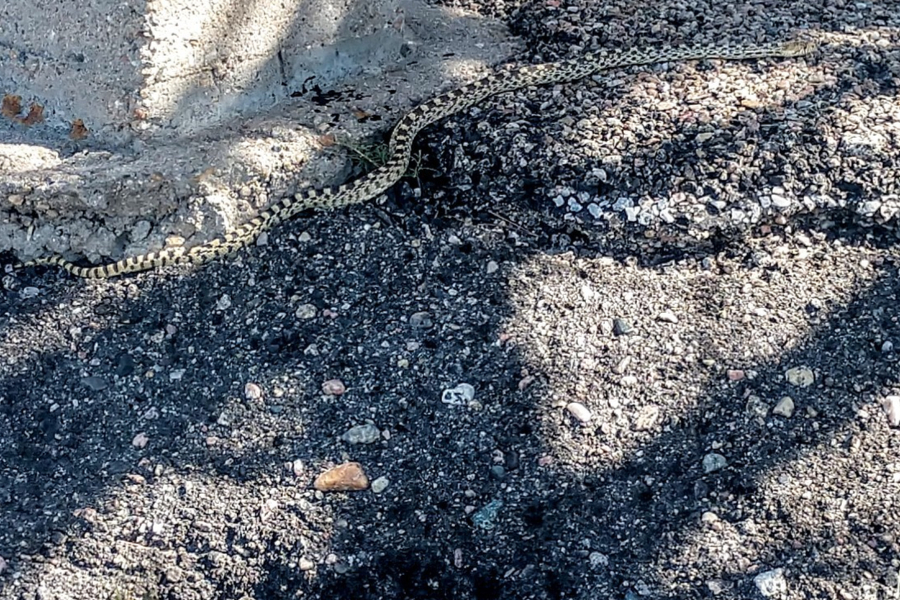 After a long day of hiking, biking and trekking around the area, we finished off the night with a campfire and a "home-cooked" meal grilling outside of our camper at the local campground.
As the clear skies dropped the temperature into the low 50's, it was a perfect night for us to sit around the fire, relax, and enjoy the beauty of Nebraska.
Life in our Nucamp Teardrop camper has honestly and truly been amazing so far. I think the only regret we have is not taking this trip sooner.
After a bit more biking and hiking tomorrow, it will be on to South Dakota!
CURRENT TRIP STATS THROUGH 9/14
Day 6 of 365
States Visited 1 / 50
Stayed In : Scotts Bluff, Nebraska
Miles Driven : 40
Total Trip Miles To Date : 1633
Total Gallons Used : 120
Biking Miles : 10
Biking Miles To Date : 18
Hiking Miles : 4.5
Hiking Miles To Date : 4.5
About Our Living Simple Tour
On September 9th, 2019, we set out in our NuCamp T@B 400 Teardrop Camper to travel to every state. You can check out all of our dates here : Dates for the States

You can follow along by signing up for our twice weekly email updates at the bottom of the page. You can also follow us on Facebook : Live Simple Tour Facebook and Instagram : Live Simple Now Instagram Page.