Today we had the pleasure of not only visiting, but spending the night at the largest rail yard in the world.
As we arrived in North Platte, Nebraska we immediately knew that we were about to witness history.
During our travel along route 30, we got an up close view of dozens of large trains traveling both east and west bound.
Some of the trains hauled cars that were filled with coal. And others had stacked cars that lasted for miles.
As we pulled into the Golden Spike Tower parking lot we were amazed at both the sights and sounds before us.
Hundreds, if not thousands of rail cars filled the area. There were so many different train tracks that I wondered how they kept them all straight.
So we went inside the tower to get a closer look. And, of course, to learn a little more about the history behind the largest rail yard.
Bailey Yard – The Largest Rail Yard in the World
Bailey Yard is part of the Union Pacific railroad. And the Union Pacific is the largest railroad in the United States. Not to mention one of the largest transport companies in the world.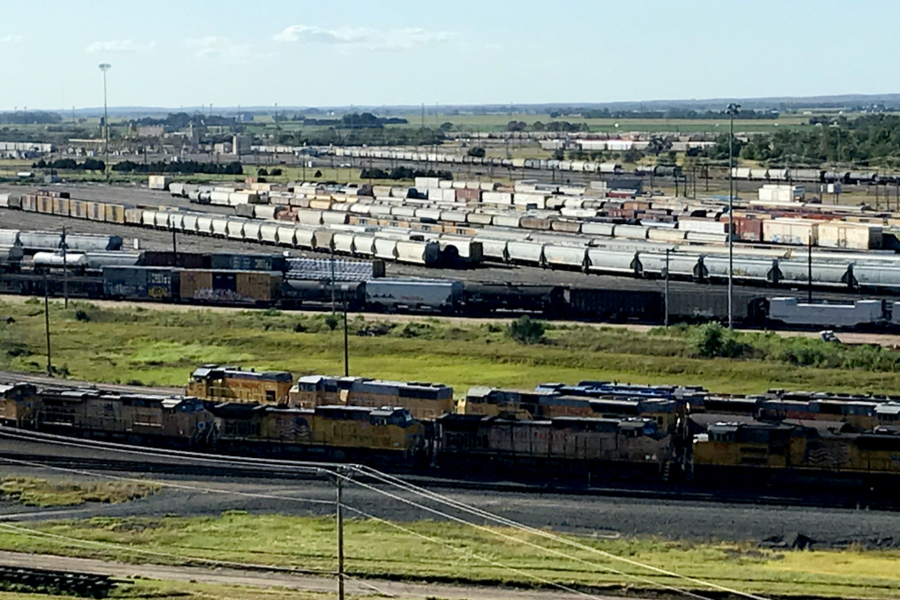 So that makes Bailey Yard the largest rail yard not only in the United States, but in the world!
The massive yard covers 2,850 acres, reaching a total length of eight miles and it is named in honor of former Union Pacific President Edd H. Bailey.
The rail yard handles about 15,000 rail cars each day. About 150 trains pass through the area in a 24 hour period.
It is open 24 hours a day, seven days a week and even has a repair and service center on site. They replace 10,000 wheels annually and work on over 8,500 locomotives per month to keep operations moving as quick as possible.
It was a truly impressive site. But it also made us appreciate the transportation process of the products that we purchase.
The Rest of The Day
After our visit to the largest rail yard in the world, we headed north and west to the city of Scotts Bluff, Nebraska.
As we traveled along highway 26, we began to notice that the terrain had completely changed. No longer were we in the flat lands filled with acres upon acres of cornfields.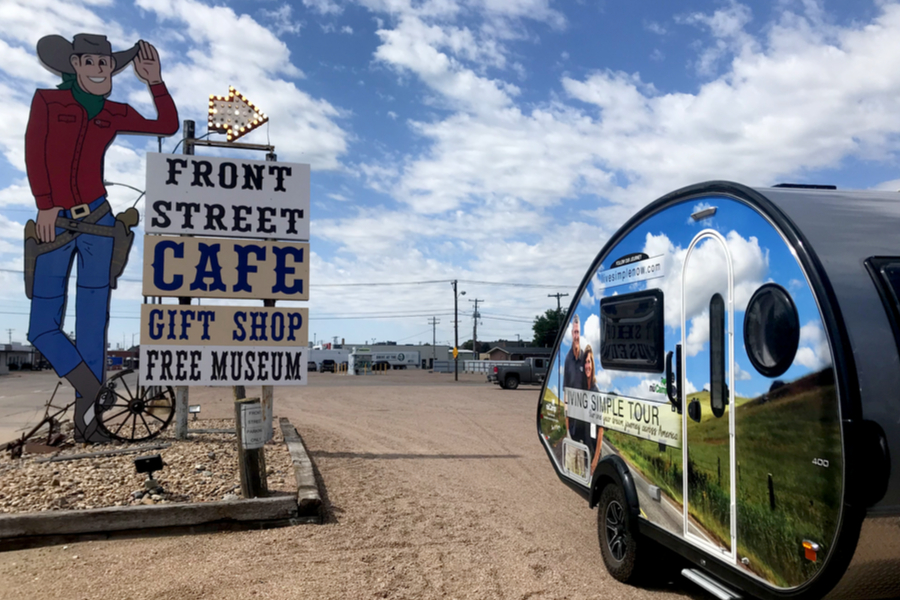 We were increasing in altitude and in the short distance we viewed sandy bluffs around us. It was absolutely stunning.
We stopped for a quick lunch at Front Street Cafe, a recreation of an old Western town.
After we got settled into our overnight campground accommodations, we decided to experience the festivities at a local high school football game.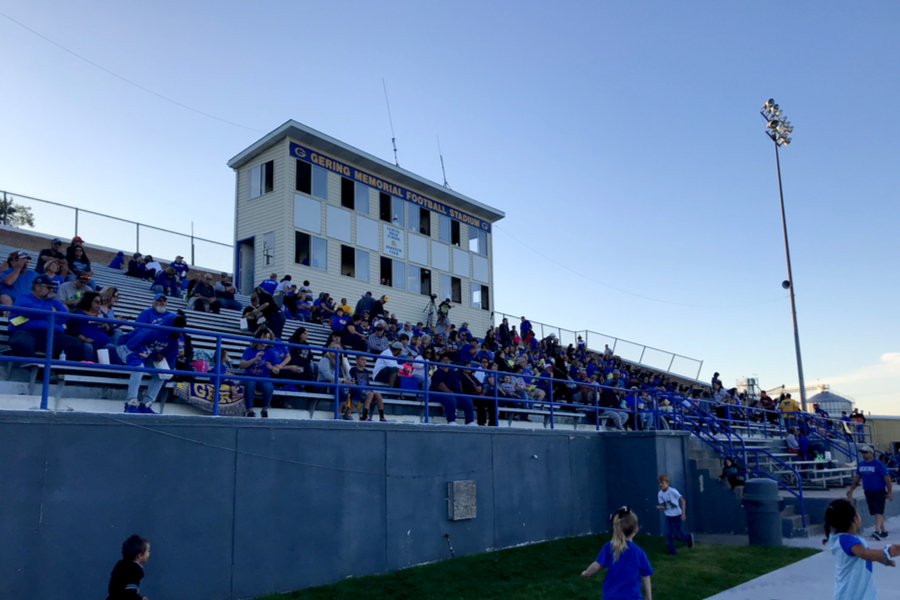 Our boys played football since they were 5 years old, and we attended probably over 100 high school football games.
So we thought it would be interesting to see what high school football is like in the great state of Nebraska.
Therefore, we headed to Gering High School where they were the hosts of tonight's football game.
The excitement that surrounded the stands of the students and parents in anticipation of the first kickoff was very familiar to us.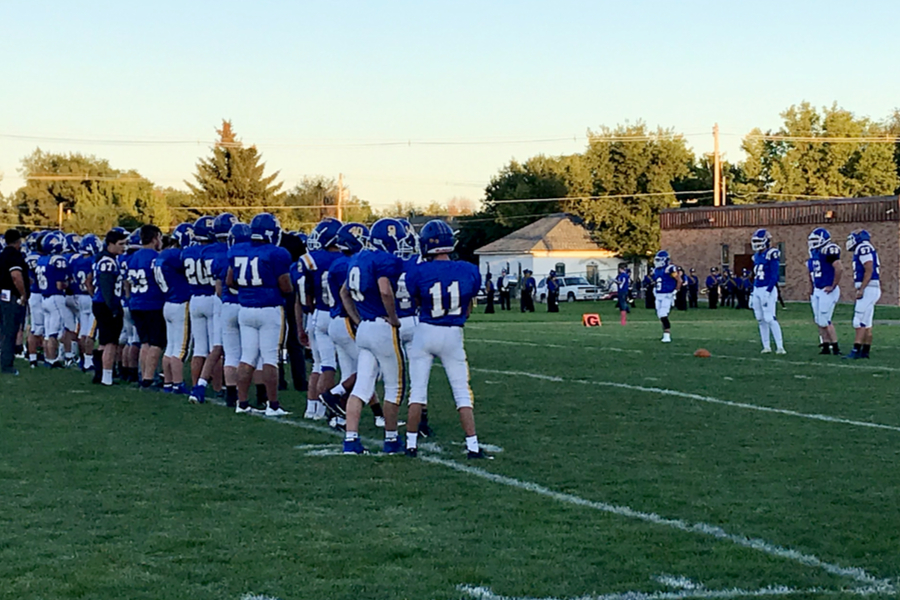 However, this time we got to sit back, relax, and just enjoy the game. No worries of who would win or lose. And even more importantly no concern of doing dirty, smelly football laundry at the end of the night!
Happy Traveling – Jim and Mary
CURRENT TRIP STATS
Day 5 of 365
States Visited 1 / 50
Stayed In : North Platte, Nebraska
Miles Driven : 203
Total Trip Miles To Date : 1593
Total Gallons Used : 118
Biking Miles : 0
Biking Miles To Date : 8
On September 9th, 2019, we set out in our NuCamp T@B 400 Teardrop Camper to travel to every state. Check out all of our dates here : Dates for the States
You can follow along by signing up for our twice weekly email updates at the bottom of the page. Also follow us on Facebook : Live Simple Tour Facebook and Instagram : Live Simple Now Instagram Page.