As if it's possible, we came up with a way to have a little more fun on our trip around the states!
We call it the Traveling Same Name Food Game. And we would love your suggestions to help us play!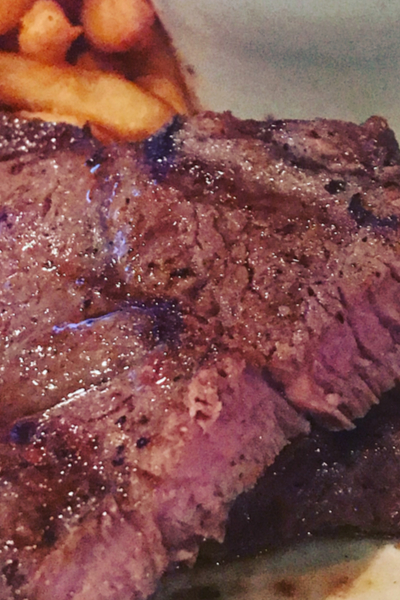 Here is how it works: As we travel around, we want to experience as many local foods that are named after a specific area.
For instance, having a Manhattan in Manhattan. Or a piece of Boston Cream Pie when in Boston. And yes, even an Idaho potato in Idaho.
We started it off in Omaha on the second day of the trip with an Omaha steak in Omaha, Nebraska.
We will keep a running list below of what we have accomplished, and of all the suggestions we get to find more. If you think of one not listed below, just add it to the comments below and we will put in on the schedule!
Thanks! Jim and Mary
Traveling Same Name Food Game
Completed Quests
Omaha Steak In Omaha – September 10th, 2019
On The Schedule :
Idaho potato in Idaho – Suggested by : Rita Competti ( aka : MOM)
Manhattan in Manhattan
Boston Creme Pie In Boston
Chicago Deep Dish Pizza in Chicago – Steve Vann
Key Lime Pie In The Florida Keys – Steve Vann
Hawaiian Rolls In Hawaii – Karen Clark
New York Strip Steak – New York – Kathy Hoey
Baked Alaska in Alaska – Suggested by Jean Fregia
New York Cheesecake in New York – Suggested by Jean Fregia
Mississippi Mud Pie in Mississippi – Suggested by Jean Fregia
Virginia Ham in Virginia – Suggested by Jean Fregia
Philly Cheese Steak, Philadelphia – Julia Rippa
Buffalo Wings In Buffalo, NY – Julia Rippa
Kansas City Strip Steak / BBQ – Kansas City – Ronda Barnow
Kentucky Bourbon in Kentucky – Suggested by Jean Fregia
Tennessee Whiskey in Tennessee – Suggested by Jean Fregia
Boston Baked Beans in Boston – Suggested by Jean Fregia
Georgia Peaches in Georgia – Suggested by Jean Fregia
Washington Apples in Washington – Suggested by Jean Fregia
Louisiana Hot Sauce in Louisiana – Suggested by Jean Fregia
Pendleton Whiskey In Pendleton, Oregon – Rose Felton