On our last day in Florida, we decided to head up to the Northeast coast to St Augustine and make a visit to The Fountain of Youth.
We thought after being on the road for 175 days, it wouldn't hurt to take a drink from the famous spring water. And who knows, maybe it would make us feel even younger than we are!
So before heading into Georgia, we took the trip through rural Florida and headed over towards the Atlantic Coast.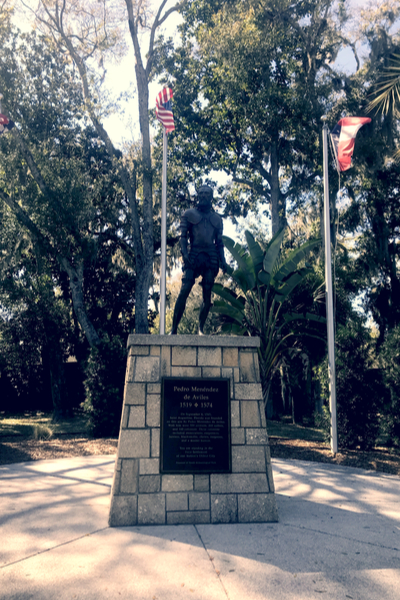 When we arrived in the historic district of St. Augustine we could immediately tell that we arrived in the tourist section of town.
There were trolleys and guided tours happening all around us. So we quickly parked the truck and camper and found the entrance to the Fountain of Youth.
Fountain of Youth Experience
Once you walk into Ponce de Leon's Fountain of Youth Archaeological Park, you feel like you have stepped back in time.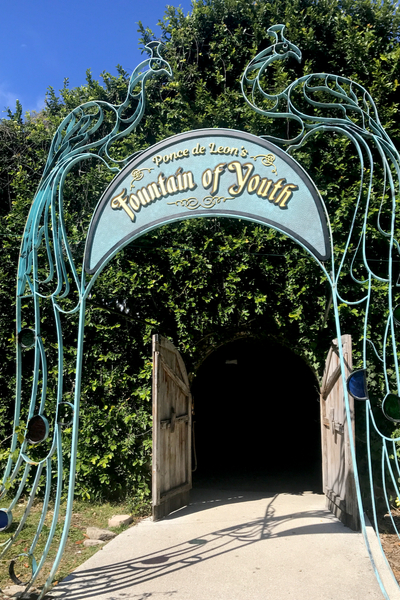 It is a place of tribute to the spot where Ponce de León supposedly landed in 1513 and later settled by Pedro Menendez de Aviles in 1565. In fact, it is the oldest successive European settlement in the United States.
And although there is no historic record that Ponce de León really drank or bathed in this exact spring water location, it has become a huge tourist attraction.
So we decided to pay the admission fee and take a look around.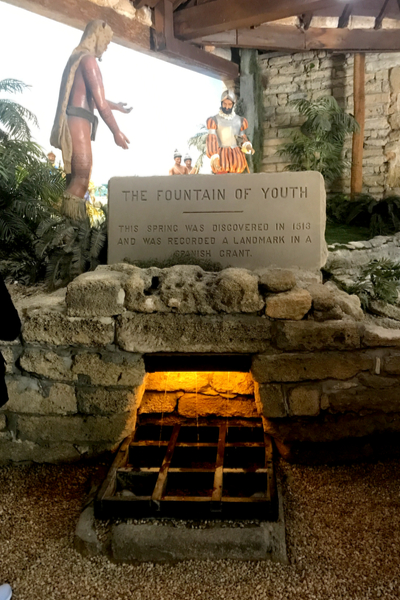 As soon as you walk through the gates, your ticket gets punched and you will immediately find yourself at the spring house.
One step inside and you will see the water, that is now being pumped, trickling down in 3 streams. There are little plastic cups there for you to use to take a drink.
However, the water hasn't always been pumped. In fact, the Fountain of Youth used to be a natural spring that bubbled up on top of the ground.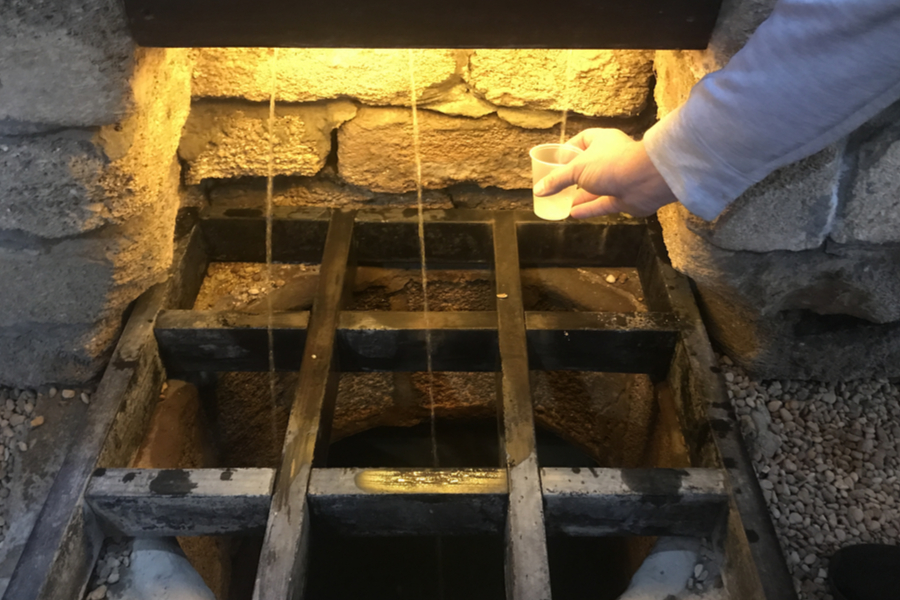 However, due to the massive development of St. Augustine, the natural spring no long freely flows, and now must be pumped from the ground.
So we both grabbed a little plastic cup and took a drink from the slight sulfur smelling water. No, it wasn't good or refreshing. But we did it!
Other Attractions
Once you exit the Fountain of Youth building, you can find several other structures and live demonstrations occurring on the grounds.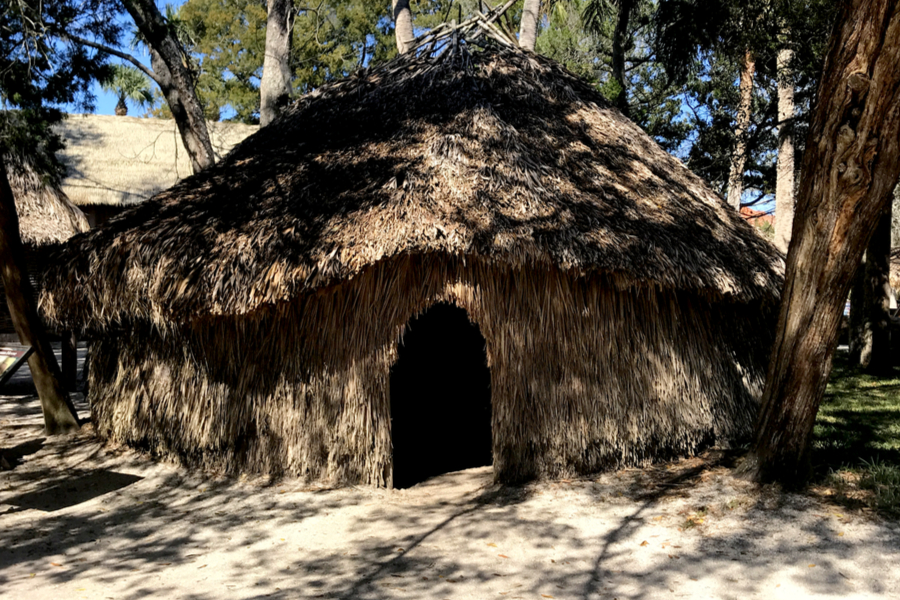 From a cannon going off every hour to blacksmith demonstrations, there are several other things to see while you are here.
But the most interesting area to us, beside the Fountain itself, was the Native American burial grounds located on the property.
In 1934 a work crew found human bones while digging on the Fountain of Youth property. 90 Native American remains were found. And these are the earliest known remains of a Christian burial of indigenous peoples in what is now the United States.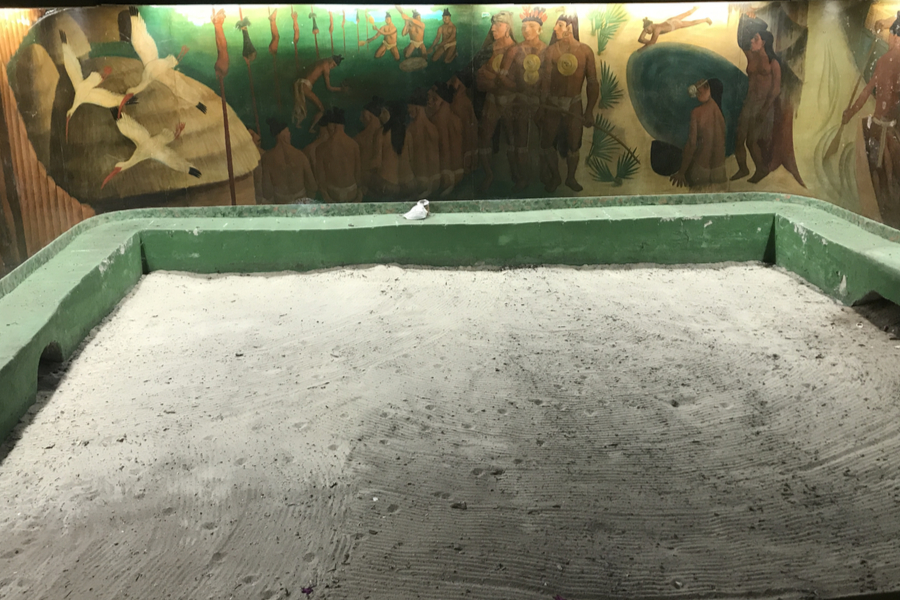 We continued our walk on the grounds and found ourselves on the Founders' Observation Riverwalk. This pier walking path allows you to stand above the bay, looking towards St. Augustine's inlet. And the views are absolutely spectacular.
When we finally made it back to the exit, we decided that we already felt much younger from drinking from The Fountain of Youth. Isn't feeling young a state of mind, anyway?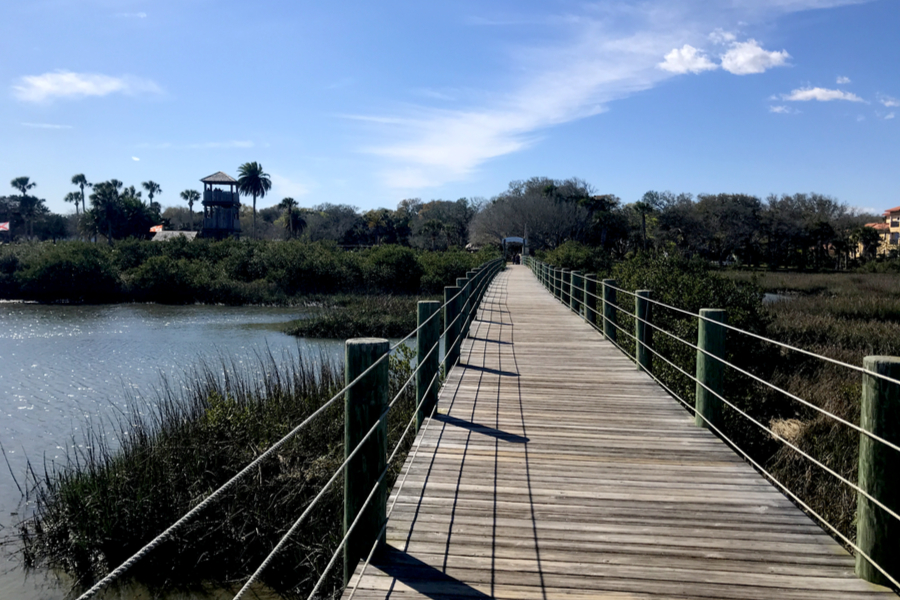 Happy Traveling! Jim and Mary
CURRENT TRIP STATUS TO DATE:
Day 175 of 365
States : 22/50
National Parks / Monuments : 20
Stayed In : Kingsland, Georgia
Miles Driven : 91.7
Total Trip Miles To Date : 18,796.7
Total Gallons Used : 1,342.6
Biking Miles : 0.0
Biking Miles To Date : 186.7
Hiking Miles : 1.7
Hiking Miles To Date : 395.4
On September 9th, 2019, we set out in our NuCamp T@B 400 Teardrop Camper to travel to every state. You can check out all of our dates here : Dates for the States

You can follow along by signing up for our twice weekly email updates at the bottom of the page. You can also follow us on Facebook : Live Simple Tour Facebook and Instagram : Live Simple Now Instagram Page.