One of our bucket list items has always been to experience a Mardi Gras Parade first hand. And it just so happened, that opportunity presented itself today in Ocean Springs, Mississippi!
Although many equate Mardi Gras Parades with New Orleans, there are actually hundreds of parades all throughout Alabama, Mississippi & Louisiana. And they are all a BIG DEAL!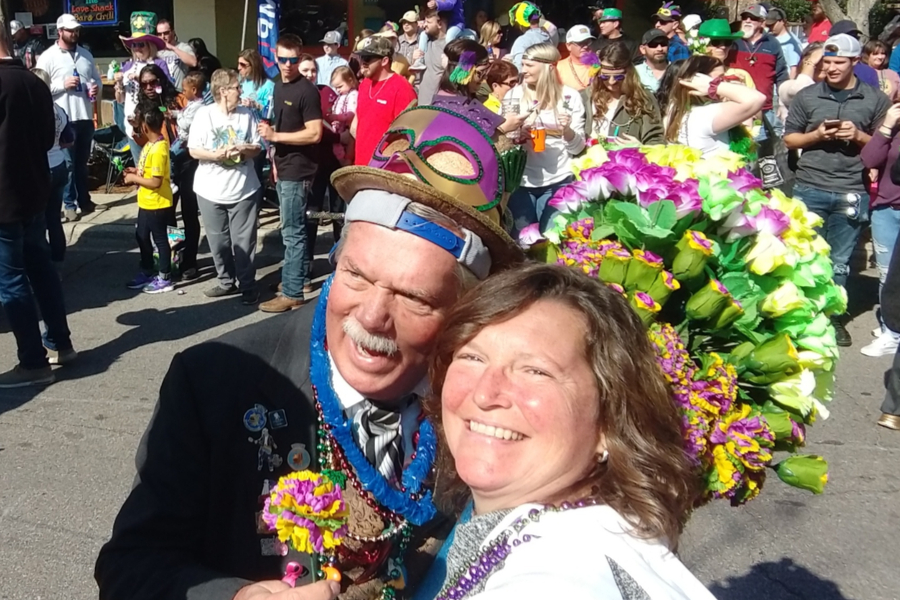 As we were getting set to leave Ocean City to head for the Alabama border, we learned the city was hosting not one, but two parades in the afternoon. So Mardi Gras Parade it was!
Today's Mardi Gras parade in Ocean City is a huge "family-style" parade. And it truly is exactly that. The streets were jam-packed with families everywhere, all decked out in the their finest Mardi Gras attire.
As we stood along the route with thousands of others, it was unbelievable to see it all unfold. In fact, all you have to do is watch a little of the video below to get an idea how close we were to it all. And just how much fun everybody has!
Float after float rolled by, throwing beads, coins, moon pies and more. It was honestly impossible to not catch something – or else risk getting hit in the head!
But I think what we enjoyed most was simply watching absolutely everyone having fun. Young, old, and every age in between could be found with smiles from ear to ear. The songs, the bands, the singing and laughter, it was pure joy.
The Experience Of A Mardi Gras Parade
My sister Karen, who lived in Louisiana for many years, told us both that you simply have to experience it to understand it. And she couldn't have hit it more on the head!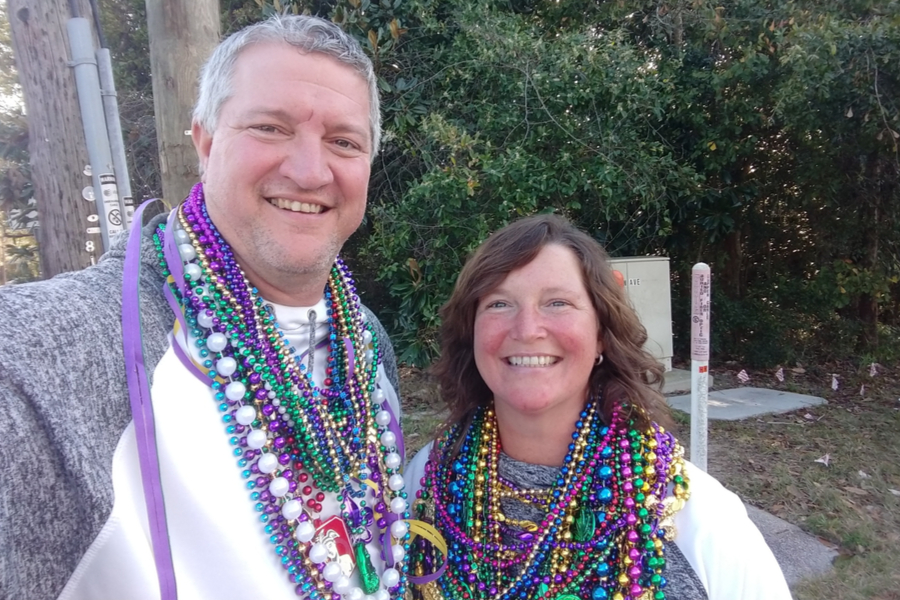 It truly is hard to describe unless you are there. I think the only difficult part of the Mardi Gras Parade was trying to find a place to park our camper and truck before the event. It took us a bit of time, but somehow we managed to squeeze into a spot.
But as it all came to end, we could finally cross another bucket list item off! Although I would be hard pressed to say we won't find ourselves at another on someday in the future. It is truly something everyone should get to experience at least once.
As night fall now, we find ourselves across the state line and into Alabama, our 20th state on the trip. One thing is for sure, this trip is passing by as quickly as the floats did today! Happy Traveling – Jim and Mary
Remember, you can also see more on the trip and follow along with our daily activities on our Live Simple Now Facebook page as well.
CURRENT TRIP STATUS TO DATE:
Day 153 of 365
States : 20/50
National Parks / Monuments : 20
Stayed In : Mobile, Alabama
Miles Driven : 65.3
Total Trip Miles To Date : 16,689.4
Total Gallons Used : 1200.68
Biking Miles : 0.0
Biking Miles To Date : 158.4
Hiking Miles : 2.5
Hiking Miles To Date : 345.9
On September 9th, 2019, we set out in our NuCamp T@B 400 Teardrop Camper to travel to every state. You can check out all of our dates here : Dates for the States