The search is over, we have found The Center of The Universe!
And who knew that we would have found it right in the heart of downtown Tulsa, Oklahoma.
Okay, we realize that it may not be the true center of the universe, but it truly is a mysterious and somewhat magical place.
The self-proclaimed, Tulsa Center of the Universe is a worn concrete circle in the middle of a brick sidewalk on a pedestrian bridge. The circle itself is approximately thirty inches in diameter and it is placed within the middle of another circle that is made up of fifteen rows of bricks.
So what is so special about this concrete circle? This exact spot is an acoustic anomaly.
Downtown Tulsa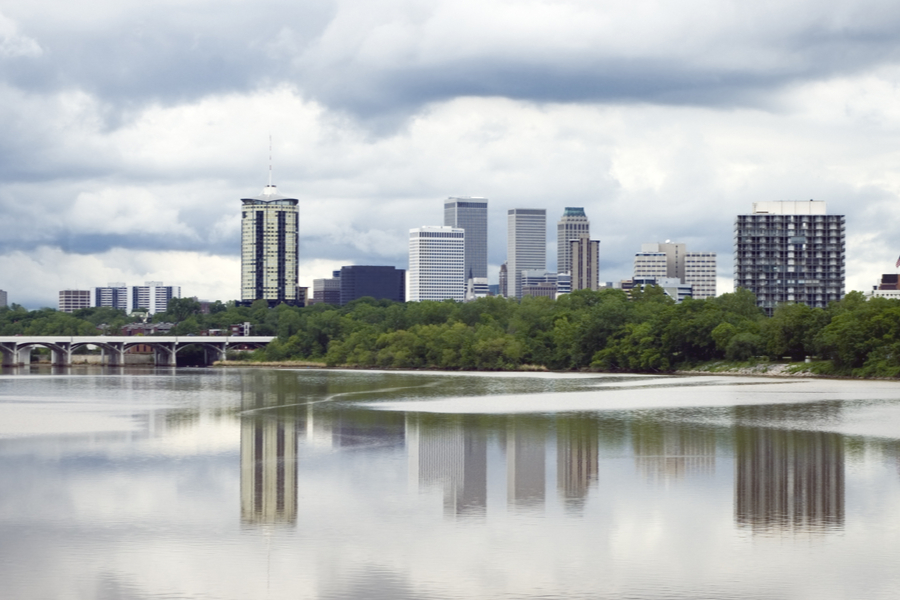 When you stand with both feet in the circle and make a noise, that noise becomes distorted and is echoed back several times louder than first projected.
Imagine dropping a coin on the floor and expecting to hear a tiny "ping" as it hits the floor. Instead, the sound the coin makes is more like the loud bang of a drum.
Legend has it that a foghorn could be going off in the center of the circle and no one outside of the circle would hear it.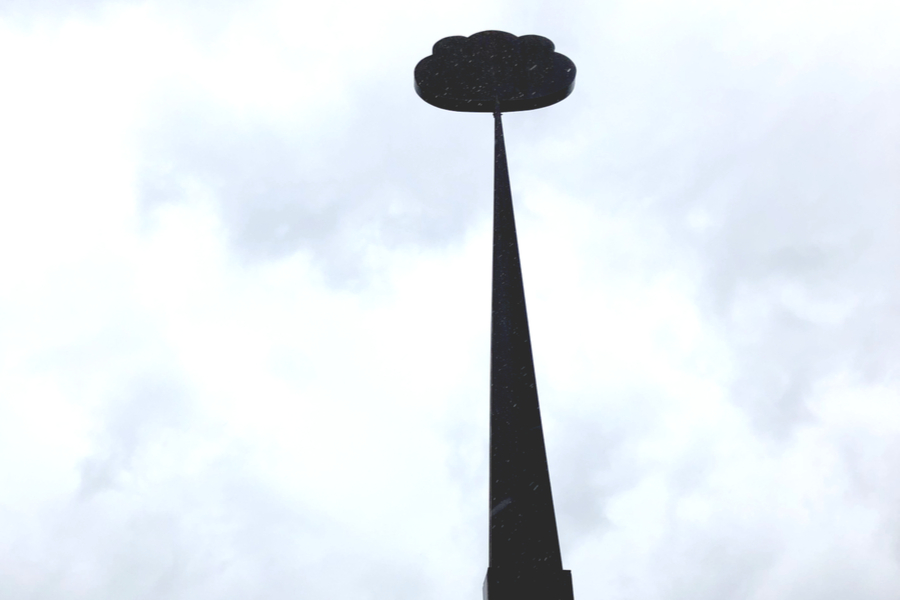 Although this isn't quite the case, the truly amazing thing is that no one outside of the circle can hear the loud, distorted echo. Only the person standing in the circle can hear it.
You are probably thinking that this is a crazy, made up story. In fact, we thought the same thing.
Therefore, we headed out to downtown Tulsa on a cold and rainy day to check it out.
The Center of the Universe Experiment
Located at the apex of a pedestrian bridge that goes over the railroad tracks at the corner of Archer Street and Boston Avenue, the Center of the Universe is easy to find.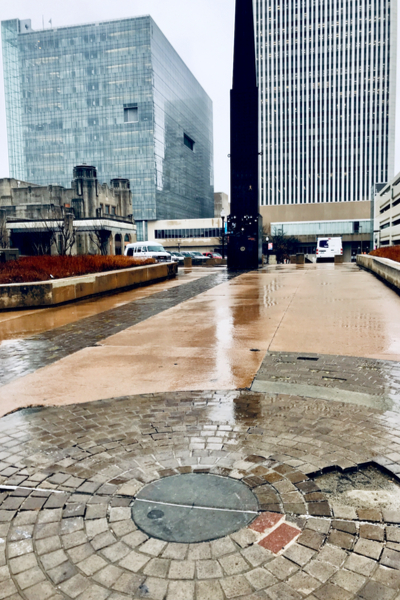 Just look for a large sculpture that looks like a cloud, and you are almost there!
We parked on First Avenue and headed up the brick walkway. It was raining and cold, so we quickly made our way to the famous concrete circle.
As I approached the worn out, cracked circle, I was skeptical that this was really the Center of the Universe that held special powers.
However, as soon as I put both feet in the circle and said 'Hello', I was taken aback.
My voice was definitely distorted and it was much louder than I anticipated! I made a couple of other quick noises, and each and every time the same phenomenon occurred.
An Acoustic Phenomenon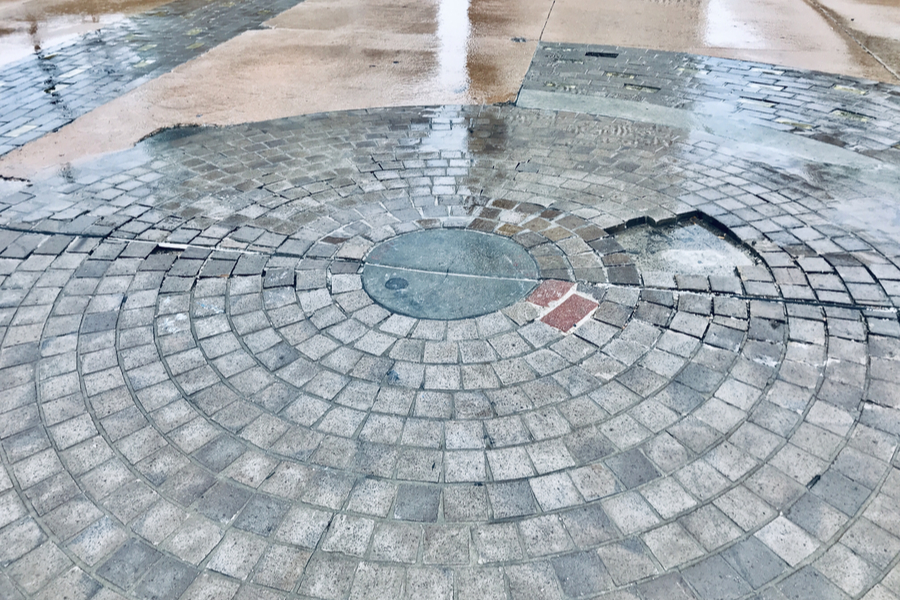 Although Jim was standing a few feet back he heard nothing different or strange with the words that I was saying. He almost, in fact, rolled his eyes in disbelief when I told him what I was hearing.
But that all changed when you took center stage on The Center of the Universe himself.
As soon as he said his first word, his eyes became enlarged in utter amazement. With a few more spoken words, he was totally convinced that something strange occurs here.
Many people have spent a lot of time studying how this effect is made. However, there has been no consensus on what causes it.
But no matter what you believe, or whatever the cause of the distortions are, it is truly an interesting experience.
Happy Traveling! Jim and Mary
Click HERE to see where else we have been on our journey across America.
About Our Living Simple Tour
CURRENT TRIP STATUS TO DATE:
Day 132 of 365
States : 17/50
National Parks / Monuments : 19
Stayed In : Tontitown, AR
Miles Driven : 151.7
Total Trip Miles To Date : 14,821.2
Total Gallons Used : 1,066.3
Biking Miles : 0.0
Biking Miles To Date : 158.4
Hiking Miles : 1.6
Hiking Miles To Date : 295.2
On September 9th, 2019, we set out in our NuCamp T@B 400 Teardrop Camper to travel to every state. You can check out all of our dates here : Dates for the States

Follow along by signing up for our twice weekly email updates at the bottom of the page. You can also follow us on Facebook : Live Simple Tour Facebook and Instagram : Live Simple Now Instagram Page.