Did you know there is a 75-foot-tall, 43,000+ pound statue called the Golden Driller in Tulsa, Oklahoma? Or better yet, that this now state monument is dedicated to oil workers from the Sooner state?
One of the amusing things we enjoy as we travel are the many unique and sometimes obscure statues, monuments and buildings that dot our country's landscape.
And there are way more than we ever thought! In fact, it seems we find at least one or two in every town, village or city we visit.
For instance, just yesterday, we passed through the tiny town of Barnsdall, Oklahoma. And Barnsdall's claim to fame?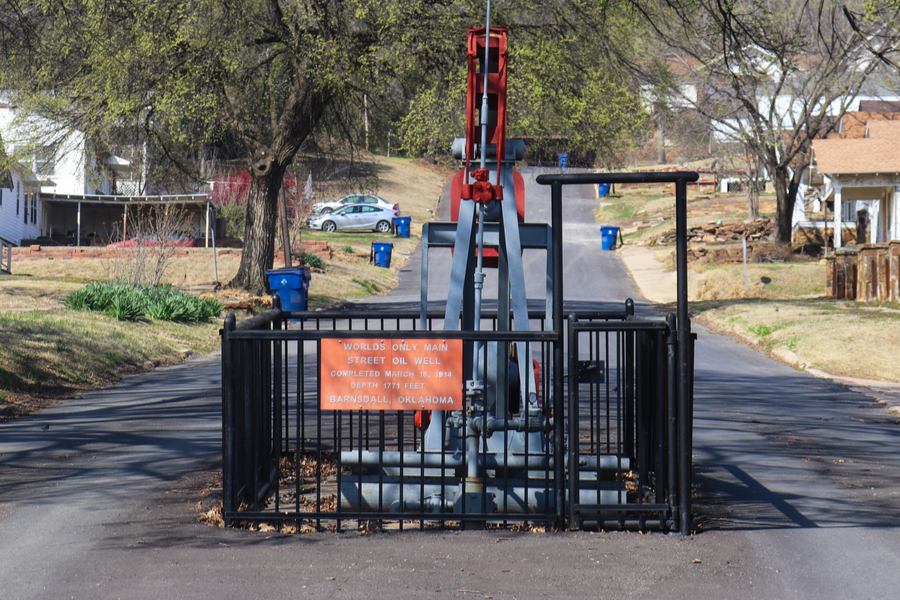 Well, it is the only town in the world with a formerly active oil well right in the middle of main street. And sure enough, as we were driving through, it still sits there today roped off as an exhibit. See: Barnsdall Oil Well
Exploring Back Road America
There have been quite a few crazy sights to see along the way. To name just a few we have already encountered:
World's largest pepper – Las Cruces, NM
The World's largest wall of used bubble gum – Seattle, WA
Biggest convenience store in the World – Buc-ees, New Braunfels ,TX
Tallest movable glass structure in the world – Dallas, TX
World's largest rocking chair – Casey, IL
The oldest running dance hall in the U.S. – Gruene, TX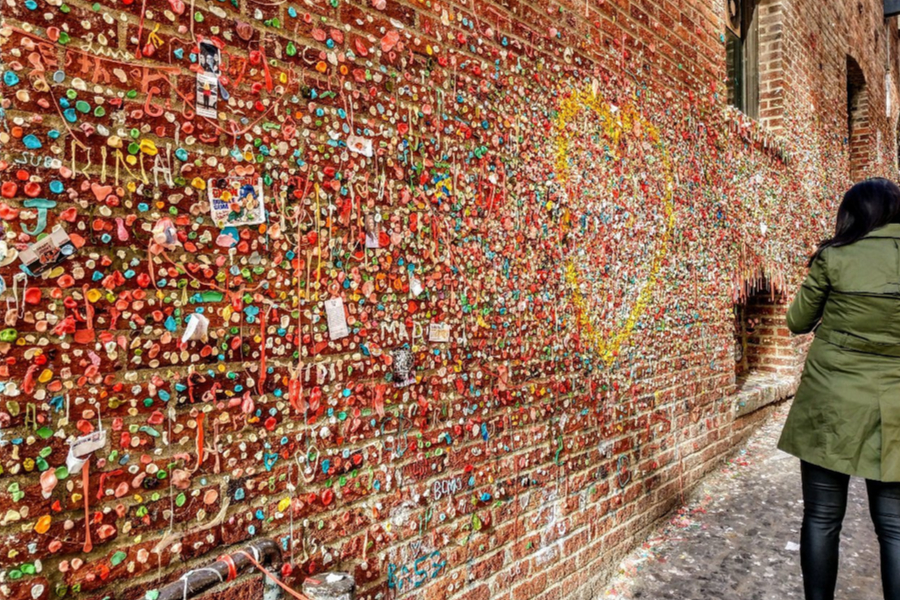 Yes, some are a bit hokey. And many are quite odd. But, it certainly has made for some great photos and memories!
The Golden Driller Statue
And that leads us to finding the gigantic Golden Driller statue in Tulsa, Oklahoma today.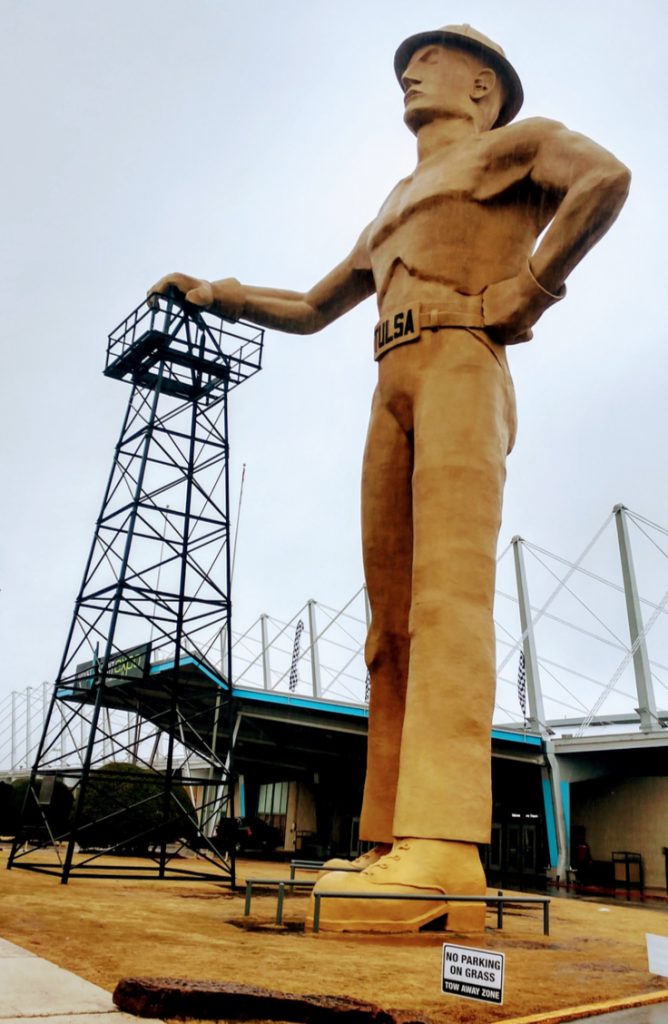 At 75 feet tall, he is indeed the tallest free-standing statue in the U.S. In fact, he is so big, his right hand holds on to an authentic Oklahoma oil derrick. His hard hat is a whopping size 112, and his shoe size is in the hundreds.
Made from steel and concrete, the statue weighs almost 22 tons. It is strong enough to survive the winds of an F5 tornado.
A Little History On The Golden Driller
The first Golden Driller statue was built back in the 1950's for an oil and gas show. After it became a hit, the statue was recreated a few more times at future shows.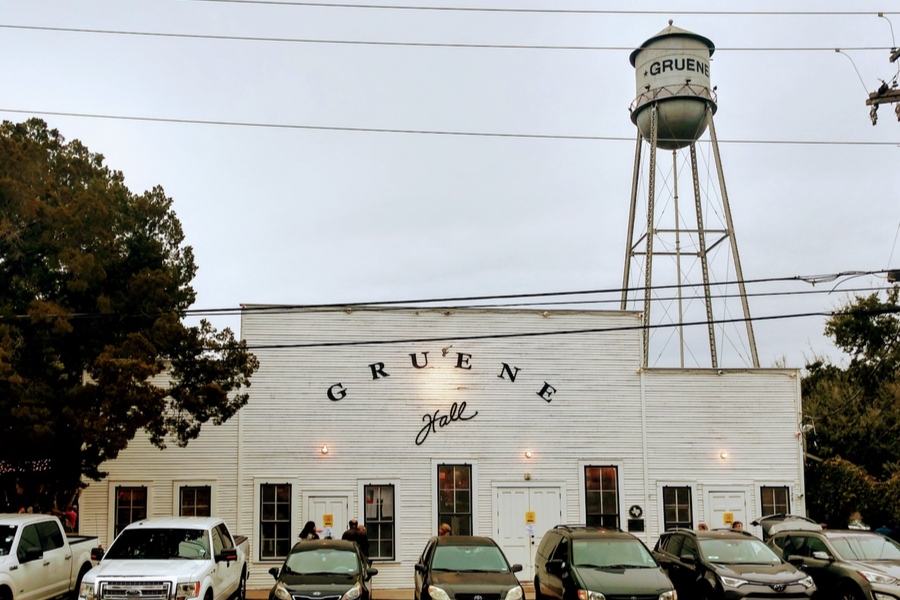 The current and final Golden Driller statue was created for an expo in 1966 at the Tulsa Fairgrounds. It was made to be a permanent feature at the site.
But after falling into disrepair in the 70's, the city of Tulsa finally took possession of it. They then repaired and restored the statue from top to bottom. Including adding a big "TULSA" to his belt buckle.
All crazy but true facts from another day on the road in America.
We never really know what will be around the next bend. But one thing is for sure, it sure is a lot of fun finding out! Happy Traveling – Jim and Mary
CURRENT TRIP STATUS TO DATE:
Day 131 of 365
States : 16/50
National Parks / Monuments : 19
Stayed In : Tulsa, OK
Miles Driven : 47.8
Total Trip Miles To Date : 14,669.5
Total Gallons Used : 1055.36
Biking Miles : 0.0
Biking Miles To Date : 158.4
Hiking Miles : 1.0
Hiking Miles To Date : 293.55
About Our Living Simple Tour
On September 9th, 2019, we set out in our NuCamp T@B 400 Teardrop Camper to travel to every state. You can check out all of our dates here : Dates for the States

You can follow along by signing up for our twice weekly email updates at the bottom of the page. You can also follow us on Facebook : Live Simple Tour Facebook and Instagram : Live Simple Now Instagram Page.