I can honestly say our visit today to the Oklahoma City National Memorial moved us both more than we ever imagined.
Our trip has run the gauntlet when it comes to what we have been able to see firsthand. There have many man-made wonders, and incredible scenes that nature painted without any assistance at all.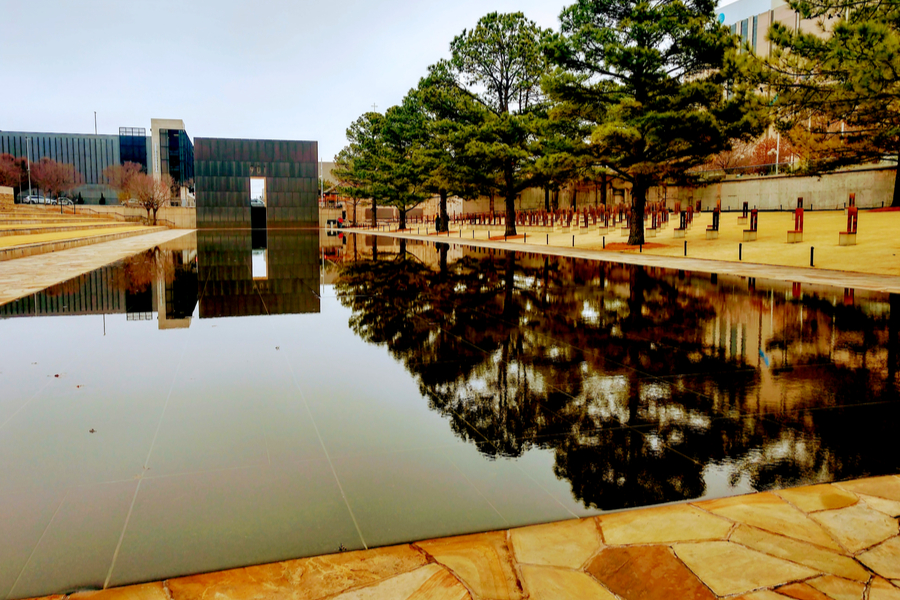 But we have also had the opportunity to visit sites with connections to some darker days in America's past. And today's visit was a somber reminder of one of those more tragic times.
The year was 1995, and a bomb exploded outside of the Alfred P Murray Federal building in Oklahoma City. It took the lives of 68 innocent and unsuspecting people. In its wake, families, a city, and a nation were changed forever.
I was 25 at the time, and still remember watching the coverage on TV. I remember how stunned and saddened I was by what had just happened.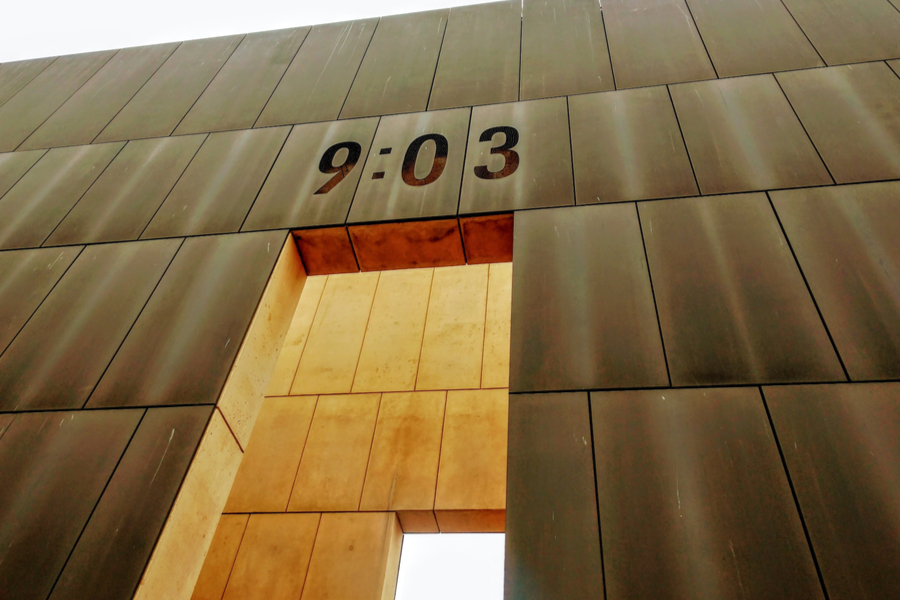 But its hard to describe how visiting a memorial site in person puts an event in a different light. And that couldn't have been more true today.
The Oklahoma City National Memorial
The memorial is incredibly powerful, beautiful and moving – all at the same time. It is built on the former site of the Alfred P Murrah building that was ravaged by the explosion. And it opened exactly 5 years to the date the bomb donated.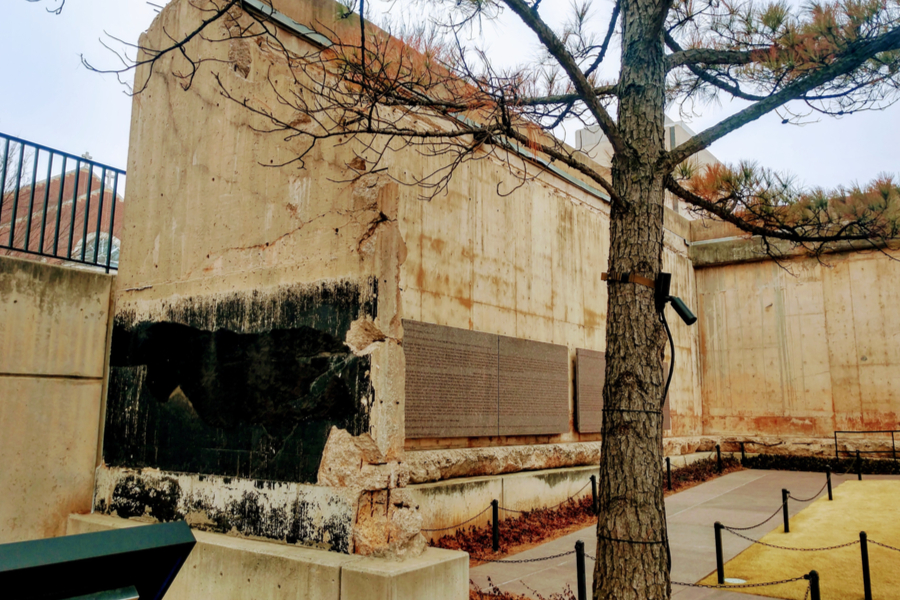 The Chairs
It is surreal to see the 68 hand crafted glass, bronze and stone chairs sitting so peacefully in the lawn. The chairs overlooks a massive reflecting pond that slowly ripples in the background.
There is a chair placed in the lawn for every life lost that day. And etched into each chairs base is a name of one of the victims from the bombing.
The chairs are arranged in nine rows, each representing a floor of the building. Each row is then filled with a corresponding number of chairs to represent where those who lost their life were when the bomb went off.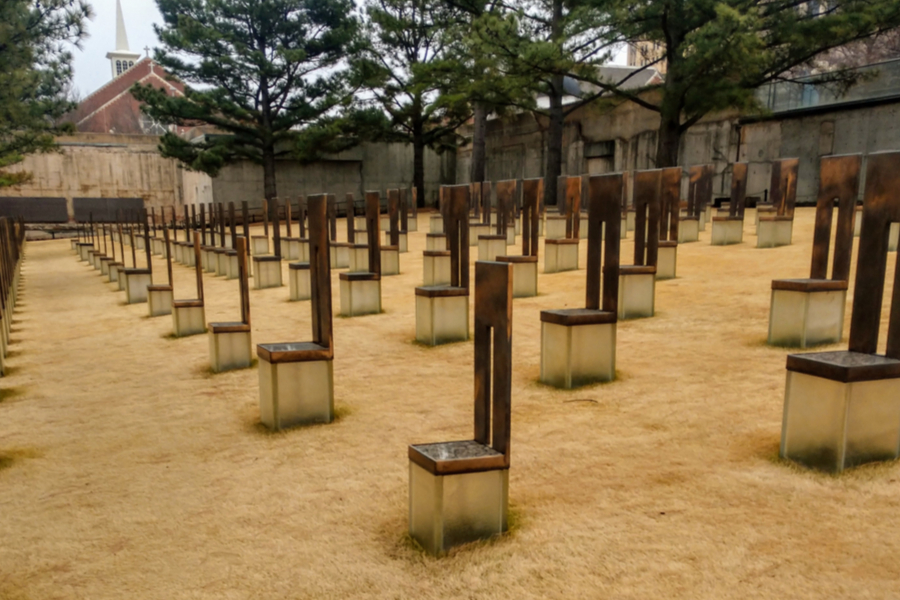 For small children, small chairs are placed in the row. For adults, a larger chair used. The symbolism hits you immediately. It is a moving and poignant reminder of the tragedy that changed so many lives that fateful day.
To that point, the times of 9:01 AM and 9:03 AM are inscribed at the top of two huge walls on opposite ends of the memorial. The times are meant to represent the peaceful second before, and the chaos left behind the second after the bomb detonated at 9:02.
A City Stands Strong
The Oklahoma City National Memorial is dedicated in honor of the victims and survivors, as well as all of the first responders who rushed in to help,
But it also a testament to the resiliency, pride and hope that exists when people face adversity.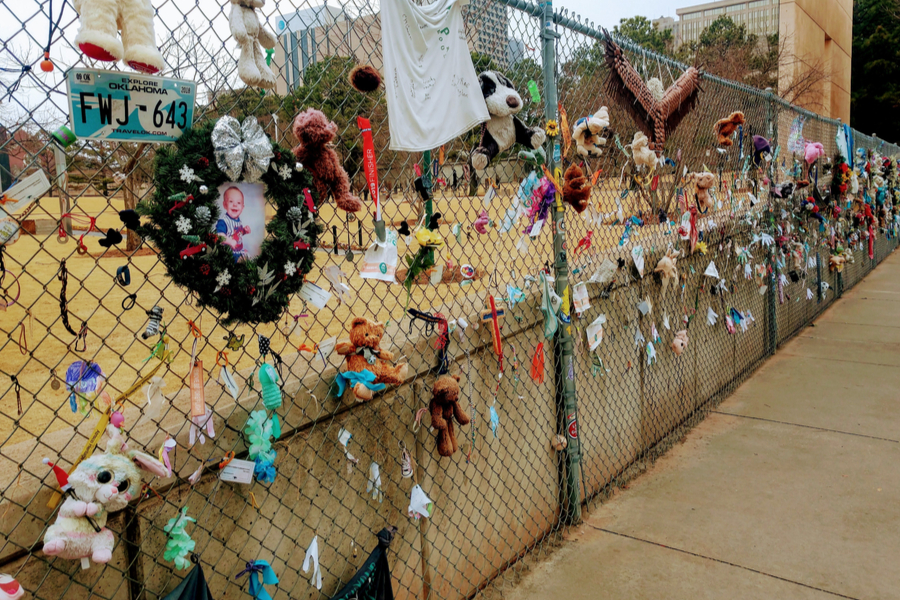 Whether it be a natural disaster, or a horrific and senseless crime against humanity, people always stand strong in the end. And that is certainly true when it comes to the people of Oklahoma City.
It also serves as an eye opening reminder to all who visit that life is short, and that every day is precious. Jim and Mary.
* Special Note: For those that have asked, we have now added a special section to the blog where you can easily navigate to see each day's story from the trip – from Day 1 to present. You can see that here : The Days Of The Trip
CURRENT TRIP STATUS TO DATE:
Day 127 of 365
States : 16/50
National Parks / Monuments : 19
Stayed In : Oklahoma City, OK
Miles Driven : 53.9
Total Trip Miles To Date : 14,315.6
Total Gallons Used : 1,029.9
Biking Miles : 0.0
Biking Miles To Date : 158.4
Hiking Miles : 1.0
Hiking Miles To Date : 288.25
About Our Living Simple Tour
On September 9th, 2019, we set out in our NuCamp T@B 400 Teardrop Camper to travel to every state. You can check out all of our dates here : Dates for the States

You can follow along by signing up for our twice weekly email updates at the bottom of the page. You can also follow us on Facebook : Live Simple Tour Facebook and Instagram : Live Simple Now Instagram Page.