Today we headed southwest outside of Tucson to the town of Tombstone, Arizona.
Many of you might be recognize the town's name. It was the home to the famous gunfight between the Earp brothers and Clanton-McLaury gang at the O.K. Corral.
But there is so much more history that this town has to offer. And it is more than willing to share it with every visitor that enters the streets of this historic Wild West Town.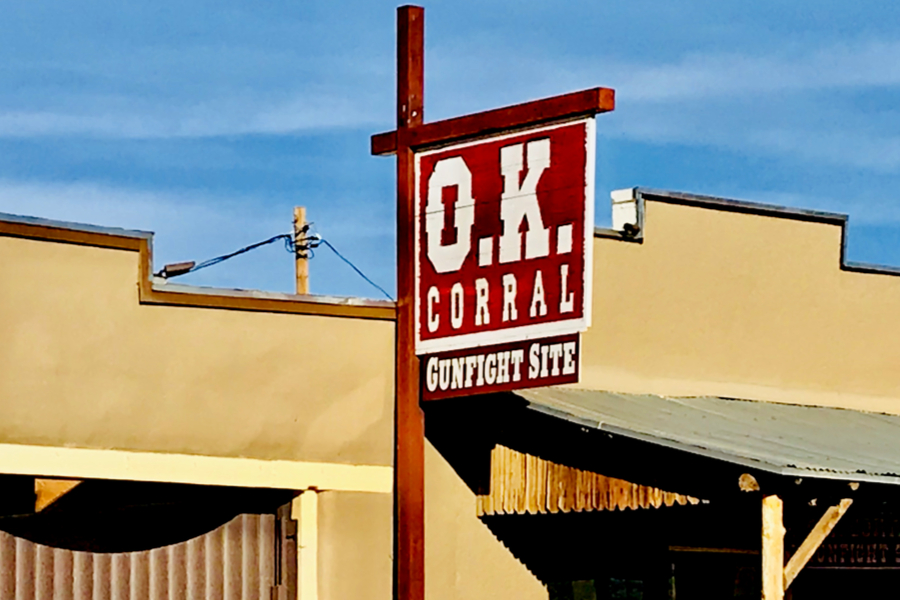 The History of Tombstone, Arizona
Tombstone was founded in 1877 by a prospector named Ed Schieffelin. Ed liked going out to explore the desert area to look for rocks. This was quite dangerous to do, as the weather was brutal and there were Indian tribes in the area.
His fellow soldiers told him that if he continued looking for stones that the only one he would find would be his "Tombstone". But lucky for him, within a few days, he discovered Silver.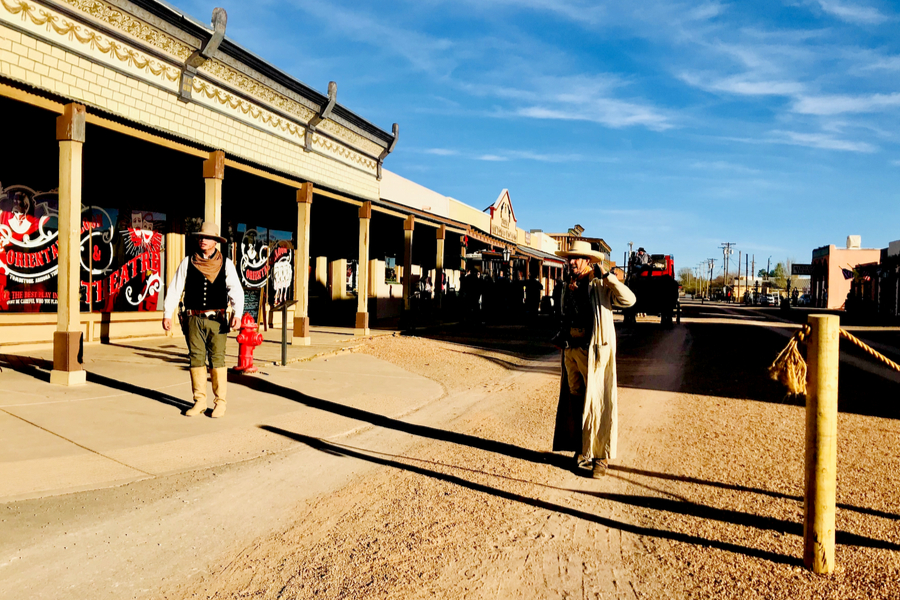 And that was the beginning of the huge mining operation in this remote area. As people began to gather the town needed a name. And Ed decided that the name of the town should fittingly be Tombstone!
At its peak, it is said to have been the fastest growing city between St. Louis and San Francisco. There were over one hundred saloons, numerous restaurants, two theatres and even a large red-light district.
Bird Cage Theatre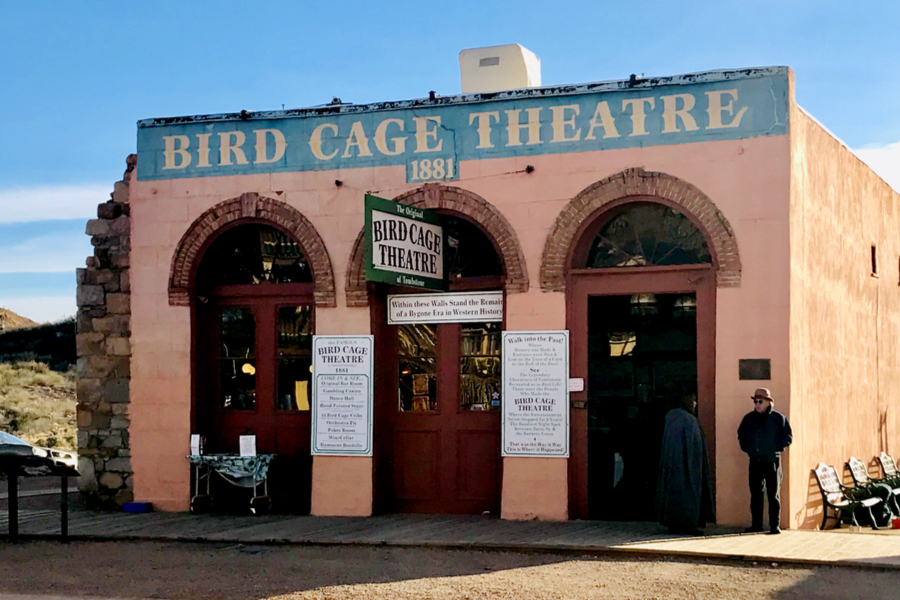 In fact, one of the most famous theatres. The Bird Cage Theatre was several of those things. It was a saloon, theater, gambling hall and brothel all in one.
Rumor has it that it was named for the round cages that held the lady entertainers inside.
And to this day, if you go inside, you can still see over 100 bullet holes in the walls and ceilings from frequent gunfight battles that occurred there.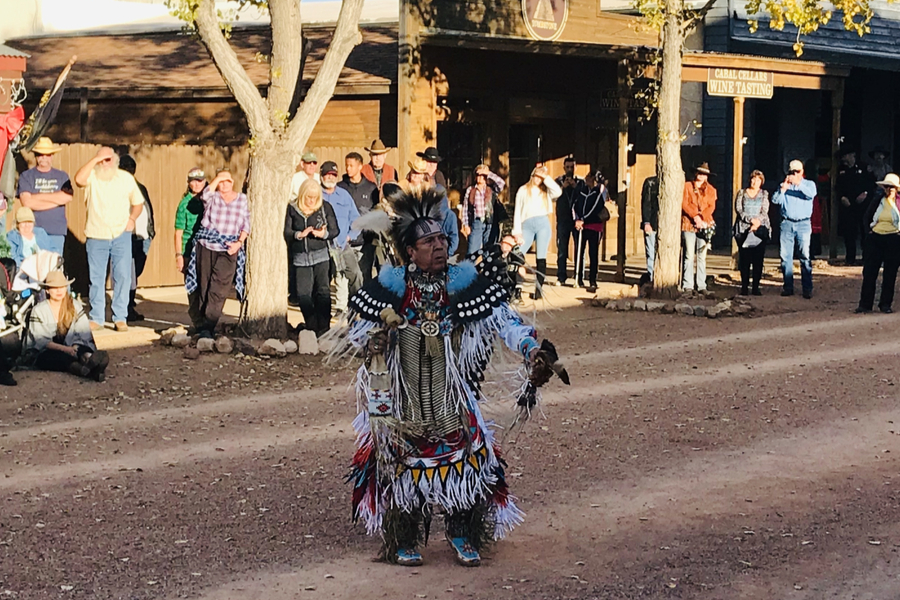 But that isn't all that we got to witness today. We were fortunate enough to be there on a day when a Native American program was being performed on the streets of Tombstone.
Right in front of us there were ceremonial songs, dances, and tributes being conducted as they would have been done many years ago.
We stood and watched for awhile before we continued our stroll down the wood plank sidewalks of the town.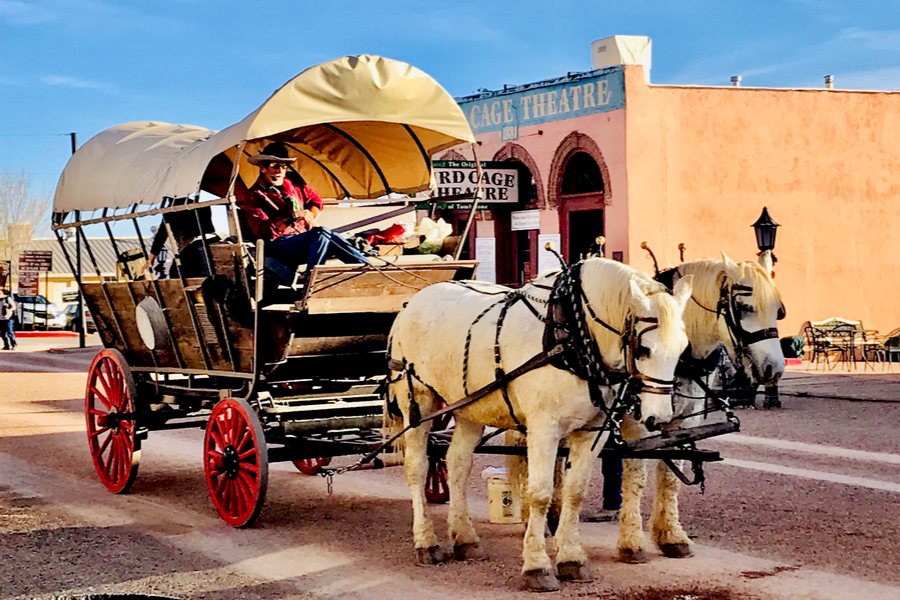 Today you can still find several artifact shops, saloons, restaurants, theaters and more down Allen Street.
We enjoyed our time walking the streets of Tombstone and to see what it would be like living in a Wild West Town of years past. And it made us appreciate the fact that we don't!
Happy Traveling! Jim and Mary
Trip Stats To Date
Day 104 of 365
States : 13 / 50
National Parks / Monuments : 16
Stayed In : Tucson, Arizona
Miles Driven : 154.9
Total Trip Miles To Date : 11,181.4
Total Gallons Used : 816.16
Biking Miles : 0.0
Biking Miles To Date : 142.5
Hiking Miles : 1.6
Hiking Miles To Date : 254.7
About Our Living Simple Tour
On September 9th, 2019, we set out in our NuCamp T@B 400 Teardrop Camper to travel to every state. You can check out all of our dates here : Dates for the States

Follow along by signing up for our twice weekly email updates at the bottom of the page. You can also follow us on Facebook : Live Simple Tour Facebook and Instagram : Live Simple Now Instagram Page.