When we woke up this morning, we had no idea or plans of hiking to Hoover Dam.
In fact, our only plan for the day was to find a hike where we could get out and enjoy the weather. And, of course, get some much needed exercise.
In our attempt to take in as much as we could in California and with the rainy weather that we faced along the way, our daily exercise routine took a back seat.
And after our 4 1/2 hour drive from Bakersfield, California to Nevada, we were ready to get outside and do something!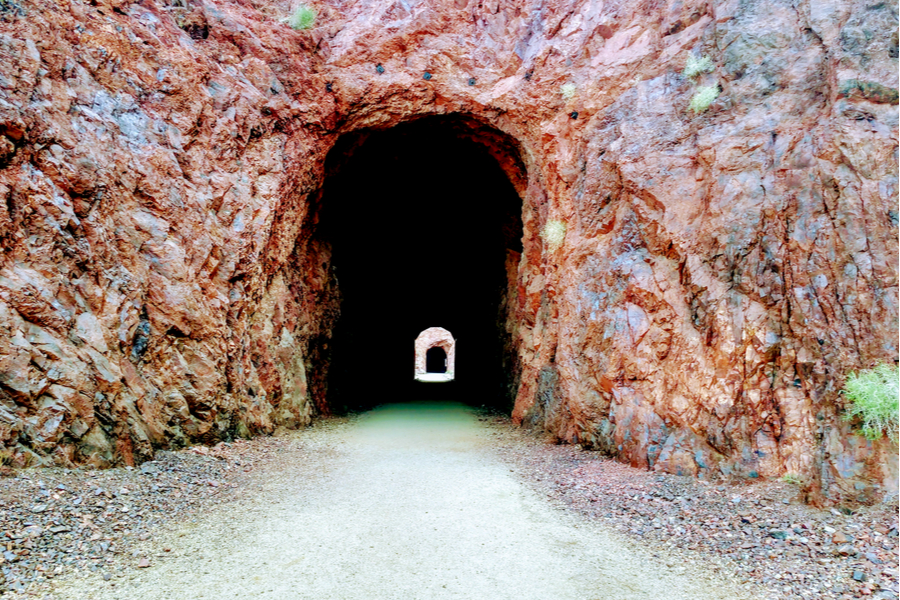 Our original thought was to head to Red Rock National Conservation Area. We were familiar with the area as we both have hiked a trail in this park before. And we knew that it was long enough that we could get in some much needed exercise.
However, our plans quickly changed from one simple email that we received from a follower.
Melissa from Henderson, Nevada informed us of a Rails-to-Trails hike that wasn't too far from us. This hike was unique in that it takes you on an old-railroad path and through 5 different tunnels.
Ready to try something new, we decided to head towards Boulder City where the trail began.
A Hike To Hoover Dam
As we drove into Boulder City, we both realized that we were close to Hoover Dam. In fact, it was only a short 15 minute drive from where we were.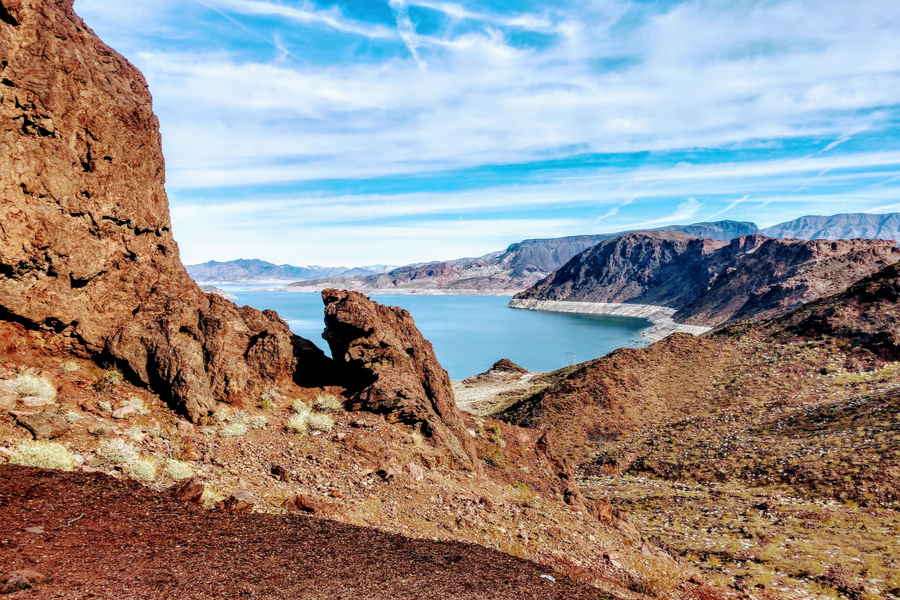 And we both agreed, that after our hike, we would drive over the Memorial Bridge and take in the views of Lake Mead and Hoover Dam.
Once we arrived at the trailhead we put on our hiking shoes, gathered our backpack that was full of water, and headed to the hiking map.
This is when we realized that if we took the Historical Railroad Trail we would be hiking right to Hoover Dam!
Maybe not the most traditional way to get to Hoover Dam, but it was certainly going to be a fun one!
Historical Railroad Trail
The Historic Railroad Trail is an easy hike along the former railroad grade. But not just any railroad.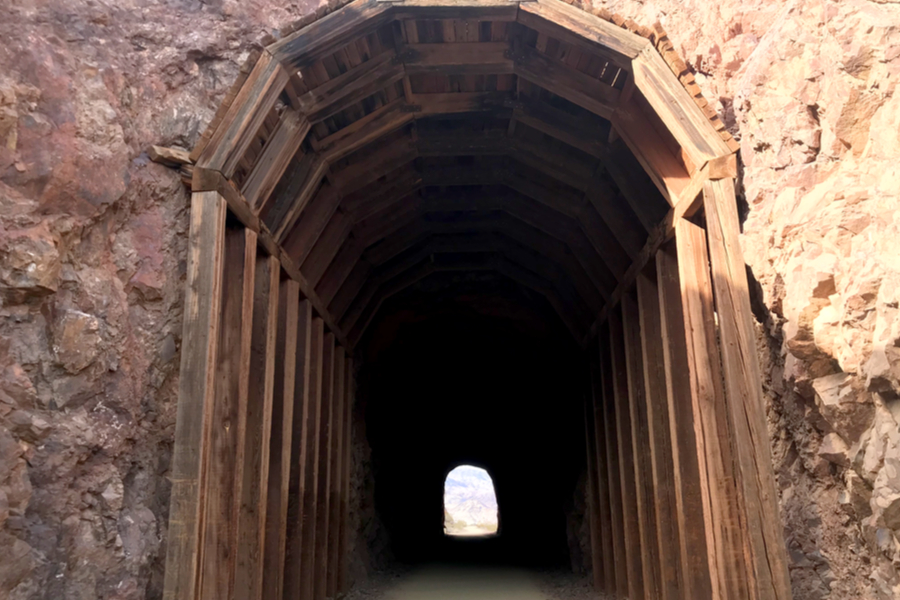 The trail followed part of the path of the historical railroad that carried the supplies that built Hoover Dam.
And today, this is the only remaining section of the Hoover Dam Railroad system that is not highly disturbed or under water.
The trail provides panoramic views of Lake Mead, overlooking the Boulder Basin area.
And if that wasn't interesting enough, the trail takes you through 5 tunnels that were built so that the train could pass through the boulders.
Each tunnel is about 25 feet high and 300 feet in length. And two of the tunnels have been restored due to a fire that occurred in each of them.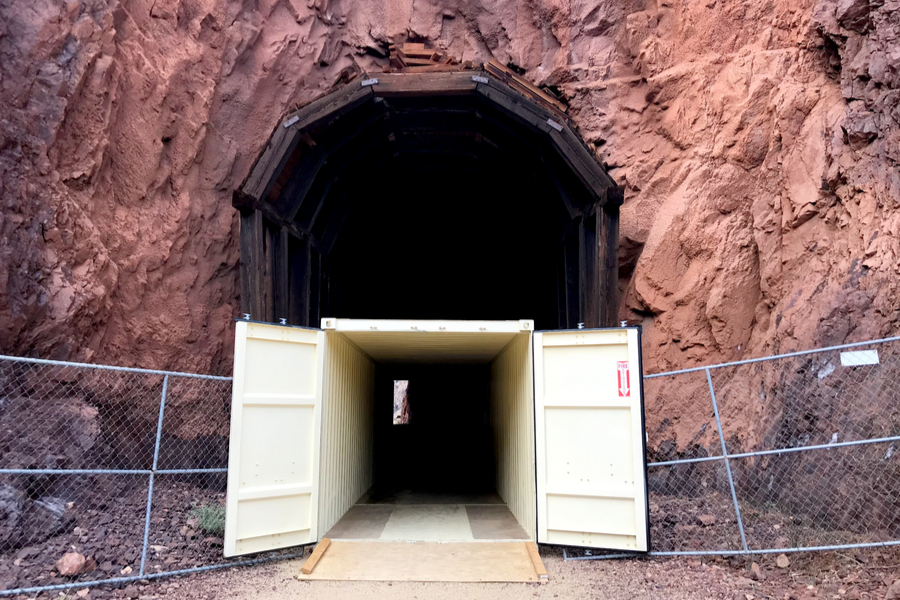 All of the tunnels have wooden supports to help the ends from deteriorating. And two of them even have a cargo container set up for you to walk through to prevent injury from falling rocks.
After we passed through all 5 tunnels we found ourselves at a trail rest area.
This is when we realized we still had about a mile and a half of hiking before we reached Hoover Dam.
Now that we were this close, we knew that we had to continue the hike.
After a brief water break, we continued down the rocky and winding path. And after getting a little off track on another trail, we finally made our way to the iconic Hoover Dam.
We Hiked To Hoover Dam
You really can't explain the size and magnitude of this hydropower facility without being there.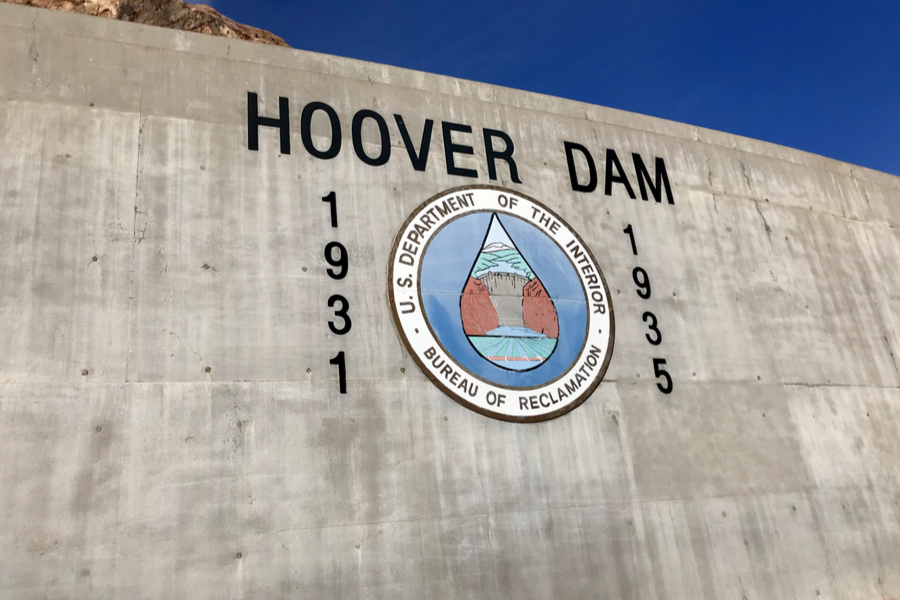 The massive, sloping concrete walls that hold back Lake Mead are a sight that everyone should see. It is hard to believe that the wall is over 600 feet thick at the bottom edge.
However, this isn't just a dam. Although it definitely holds water back, it also stores water in times of a drought.
And it is the main water supply for the Imperial Valley in California, Phoenix and even as far away as Tuscon, Arizona.
But what is most impressive about Hoover Dam is the amount of hydropower that it generates.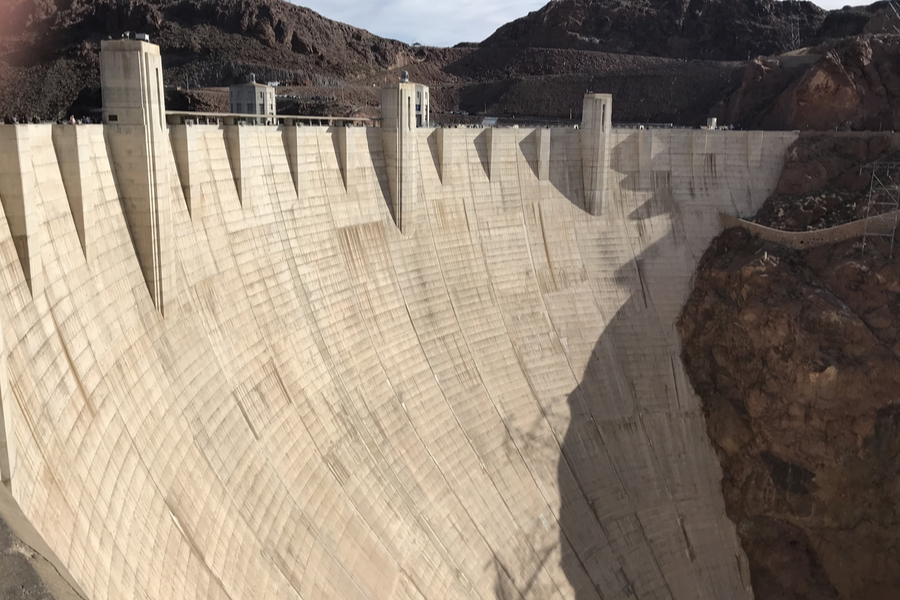 The engineering force to utilize the water to generate power allows Hoover Dam to provide the annual electrical needs of nearly 8 million people in Arizona, southern California, and southern Nevada.
And if you have the chance, you can take a tour to see how it all works! This is something both of us have done in the previous visits to Hoover Dam and we would both agree that the tour is well worth the admission cost!
And both times that we visited Hoover Dam we made the trip by driving there! This was the first time that either of us hiked to Hoover Dam!
The Memorial Bridge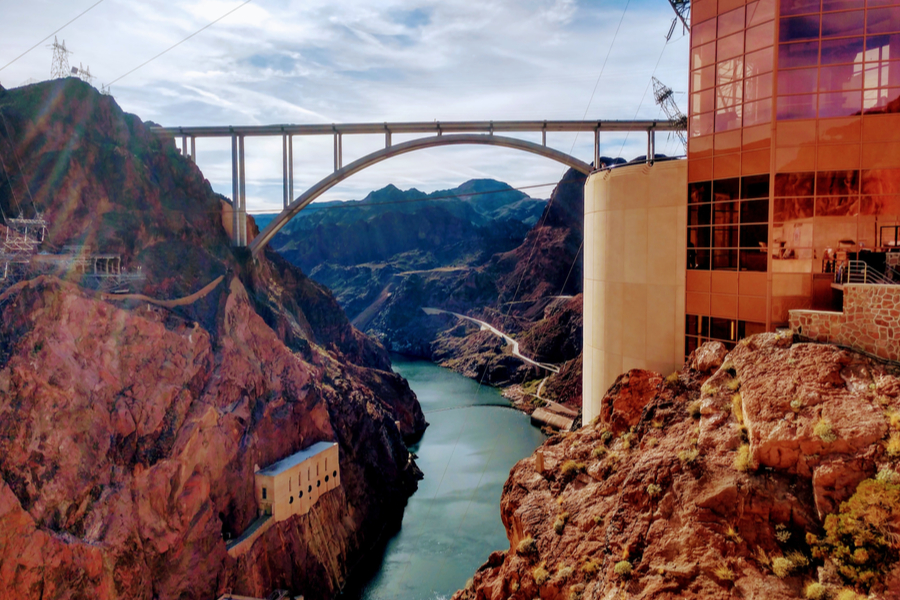 After a short visit admiring the beauty and engineering of the area, we realized that we had to hike back to our vehicle.
We ended up hiking 8.75 miles, and although our feet were a little sore we thoroughly enjoyed every step as we were hiking to Hoover Dam!
Happy Traveling! Jim and Mary
CURRENT TRIP STATS
Day 94 of 365
States : 12 / 50
National Parks / Monuments : 13
Stayed In : Las Vegas, Nevada
Miles Driven : 98
Total Trip Miles To Date : 9901.8
Total Gallons Used : 738.94
Biking Miles : 0.0
Biking Miles To Date : 142.5
Hiking Miles : 7.6
Hiking Miles To Date : 205.85
About Our Living Simple Tour
On September 9th, 2019, we set out in our NuCamp T@B 400 Teardrop Camper to travel to every state. You can check out all of our dates here : Dates for the States

Follow along by signing up for our twice weekly email updates at the bottom of the page. You can also follow us on Facebook : Live Simple Tour Facebook and Instagram : Live Simple Now Instagram Page.