Today we woke up to a rainy morning, but knew that the day would brighten, at least in spirit, as we headed south towards Sonoma Valley.
As we packed up the camper from a wonderful evening spent at Six Sigma Ranch, we were excited to finally visit the area where so many famous wines are produced.
In fact, we have been dreaming about visiting this section of California for many years.
As many of you know, we have a small vineyard of our own back at our little farm in Ohio.
Although we have yet to make our own wine, we have been sampling various red wine for years. Of course, this is only in an effort to perfect our future wine making skills.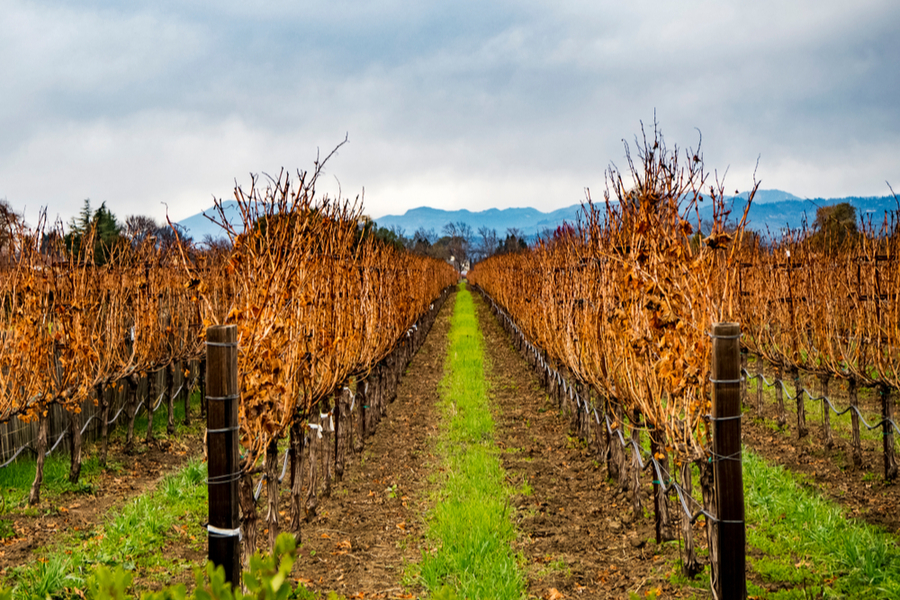 And many of those wines have come from California. Both the Sonoma and Napa Valley areas are the home to some of the most famous wineries in the country.
And today, we head towards Sonoma to visit a few wineries and taste a few samples of local wines.
A Rainy and Winding Trip To Sonoma Valley
But the trip wasn't exactly as we pictured a few months ago.
As we headed out of the driveway of Six Sigma Ranch the rain began to come down even heavier than before.
As soon as we regained cellular service, we followed our GPS directions towards the Sonoma Valley.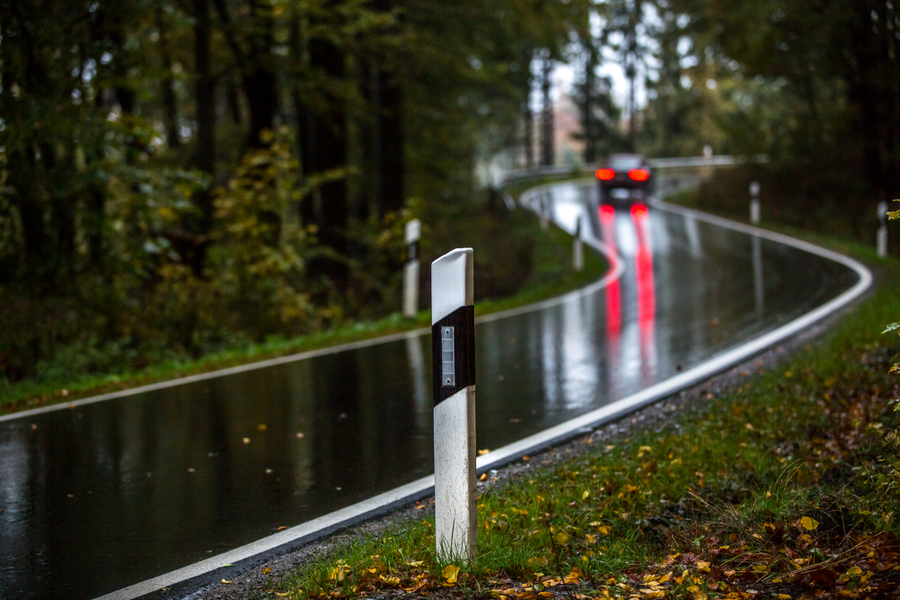 Unfortunately, the drive wasn't an easy one. Between the rain and the winding roads, it was a 'white knuckle' drive.
But for Jim, who was actually driving, he was only slightly nervous as we encountered steep and narrow roads.
He handled the roads quite well. And to be honest, I was happy not to be at the wheel!
But the views around us were even more humbling than the drive itself.
The Impact of Forest Fires
Within minutes, we were faced with the reality that this area was directly impacted by forest fires.
Right next to the road there were hills upon hills that were stripped of all living vegetation. The only thing left were blackened tree trunks and branches that had little chance of long-term survival.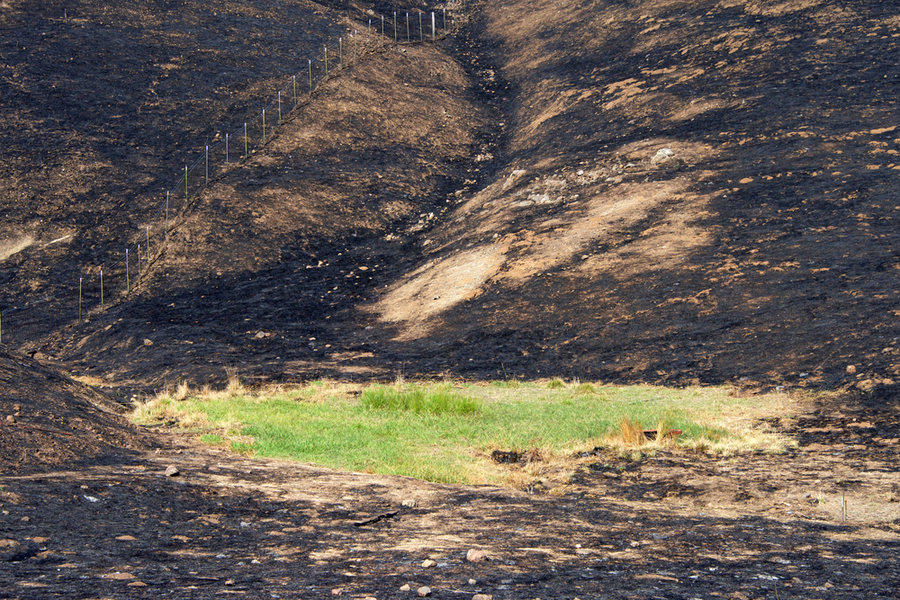 And every few miles, there were handmade signs to thank the firefighters that helped during that horrific time period.
It truly was a breathtaking view. And not in a good way.
There were trailers and campers that filled the valleys. These have become the replacement homes for many people in the Sonoma Valley area.
However we were able to see some promising progress. In the distance we could see several new homes that were just starting to be built. And we even saw a few homes that were lucky enough to have been spared the wrath of the storm.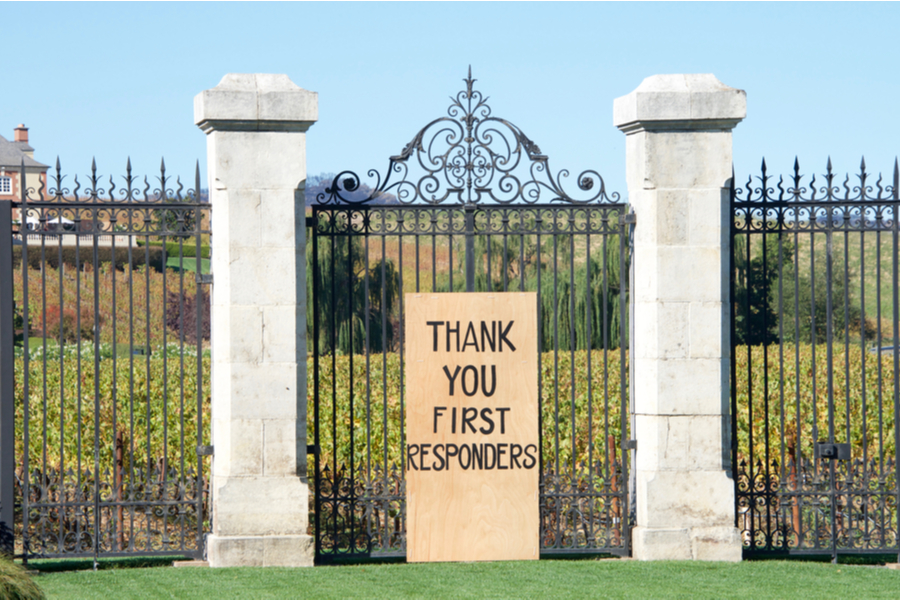 But everywhere you looked, you found evidence of the impact of the forest fire.
For us, the difficult drive alone made us think about what it must have been like trying to escape the area when it was engulfed with flames.
As drove into the city of Santa Rosa, we both took a deep breath and may have even wiped a tear from our eyes.
The Sonoma County Vineyards
But by late morning we finally arrived in Sonoma county. And through the light rain drops and clouds, you could see vineyards that filled the landscape.
And the wineries and tasting rooms seemed to pop up everywhere. Every few miles there were gated entrances that had signs indicating the winery hours and tasting room entrances.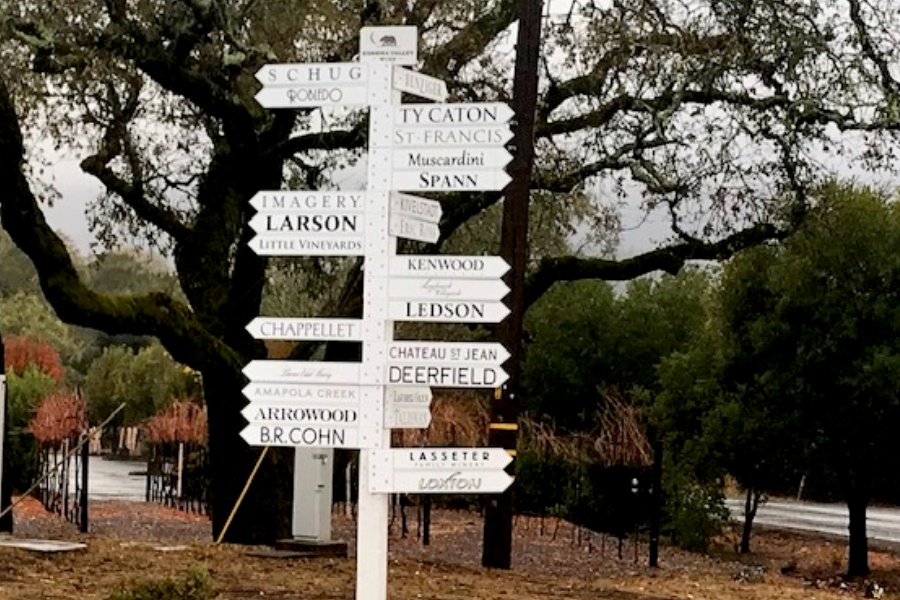 We first came across the famous Mark West Winery in Santa Rosa. Here we found huge vineyards that lasted for miles upon miles.
Then we continued our drive around the Sonoma area. We were shocked at how many vineyards there were within a fairly short perimeter.
When I look back at it now, we were like two kids participating in a Scavenger hunt. We would look at every vineyard sign and see how many we could recognize.
But we couldn't just say that we were familiar with that winery. We had to come up with where we actually had that bottle of wine.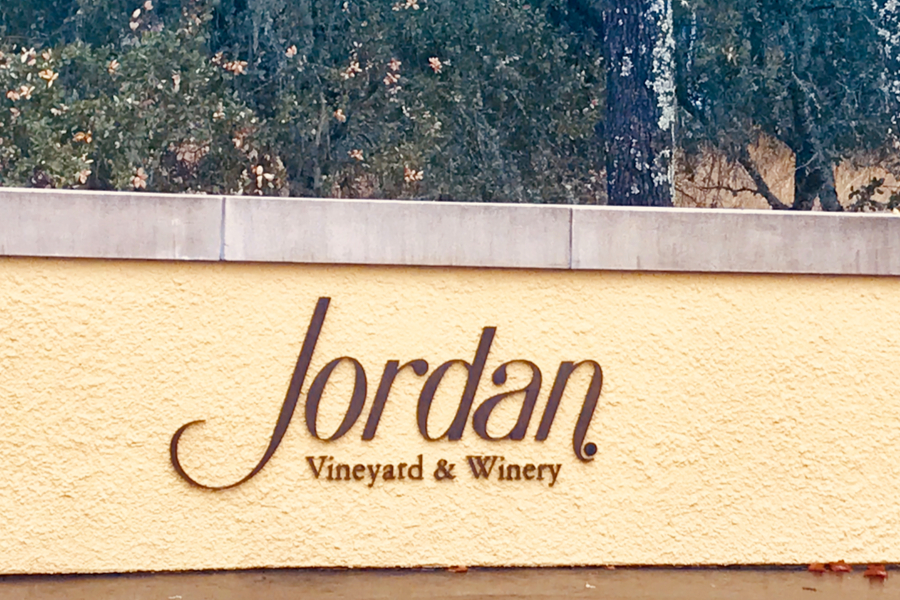 However, we both were in our glory when we came across the maker of our favorite, special occasion wine.
Jordan wines have become the wine of choice when we are celebrating a special event.
And although they only do wine tasting and tours by appointment only, we were happy to actually see where our favorite wine originates from.
So here is to exploring an area that you have been looking forward to, rain or shine!
Happy Traveling! Jim and Mary
CURRENT TRIP STATS
Day 84 of 365
States : 11 / 50
National Parks / Monuments : 11
Stayed In : Sonoma, California
Miles Driven : 140.50
Total Trip Miles To Date : 8679.1
Total Gallons Used : 652.56
Biking Miles : 0.0
Biking Miles To Date : 142.5
Hiking Miles : 0.0
Hiking Miles To Date : 182.3
About Our Living Simple Tour
On September 9th, 2019, we set out in our NuCamp T@B 400 Teardrop Camper to travel to every state. You can check out all of our dates here : Dates for the States
Follow along by signing up for our twice weekly email updates at the bottom of the page. You can also follow us on Facebook : Live Simple Tour Facebook and Instagram : Live Simple Now Instagram Page.