As we leave Oregon and head into California we have decided to continue down U.S. Route 101 instead of taking the quicker, interstate path.
We have had the opportunity to travel down the Pacific Coast Scenic Byway through two different states so far and you just can't beat the views!
Our first time that we decided to take Route 101 was when we were traveling out of Lacey, Washington. We were making our way south to Oregon and we had to make a decision on which road to take.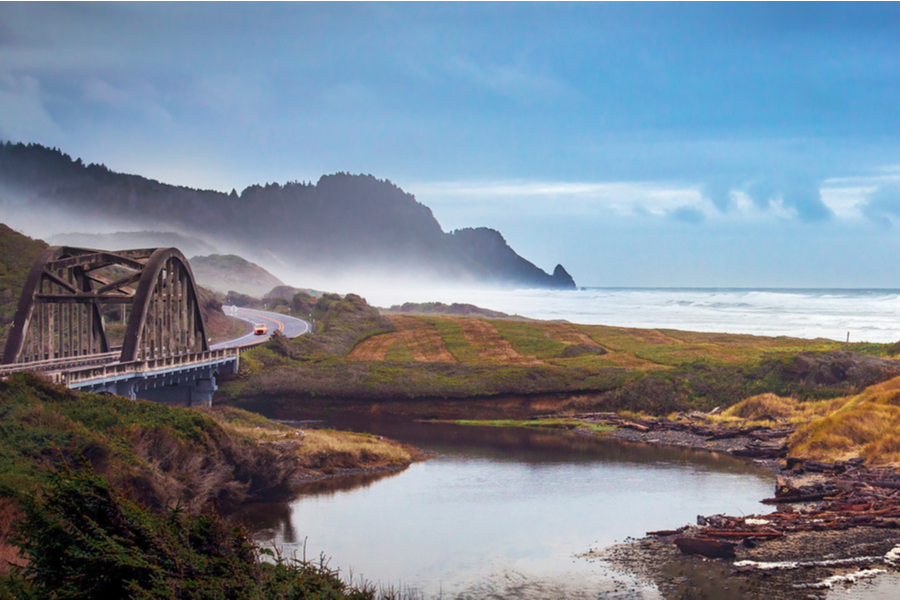 We basically had two options. Interstate 5 would allow us to get from Lacey to Portland in just under 2 hours.
However, we knew that we wanted to see more of America than lanes of traffic and exits filled with fast food restaurants and gas stations.
So we decide to head about as far west as you can go and take U.S. Route 101 down the coast instead.
U.S. Route 101
And that is exactly where it took us. However, before we we got to the coast we had to go through some small fishing towns along the Chehalis River.
The narrow streets were filled with mom and pop bait shops, country stores and one or two local restaurants. And about every driveway that we passed was the home to a fishing boat.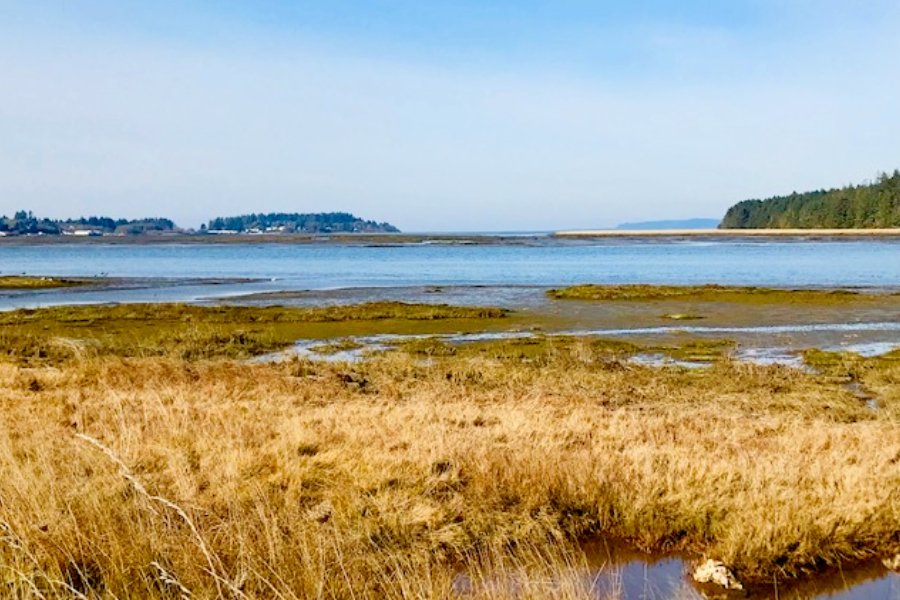 But as we headed further south and west, the scene became much different. We were traveling adjacent to Willapa Bay where the views were that of large marshes that were filled with wildlife.
It was a gorgeous scene and I could sit there all day. In fact, we did take a long break from driving to eat our lunch right on the side of Route 101 to enjoy the view.
And once we got back on the road, we headed to Long Beach, Washington. This is where we had the chance to actually drive our truck and camper right on the beach.
We Reached The Pacific Coast!
I would have to say our first encounter with the Pacific Ocean was a spectacular one. And it was all courtesy of U.S. Route 101.
However, since that day, there has been nothing but spectacular views as we continued to travel through Oregon and now into California.
When we first arrived in Oregon we stopped in Astoria. Although it is a huge port town, it still has a small town vibe to it.
And who knew that the movie 'Goonies' was filmed here?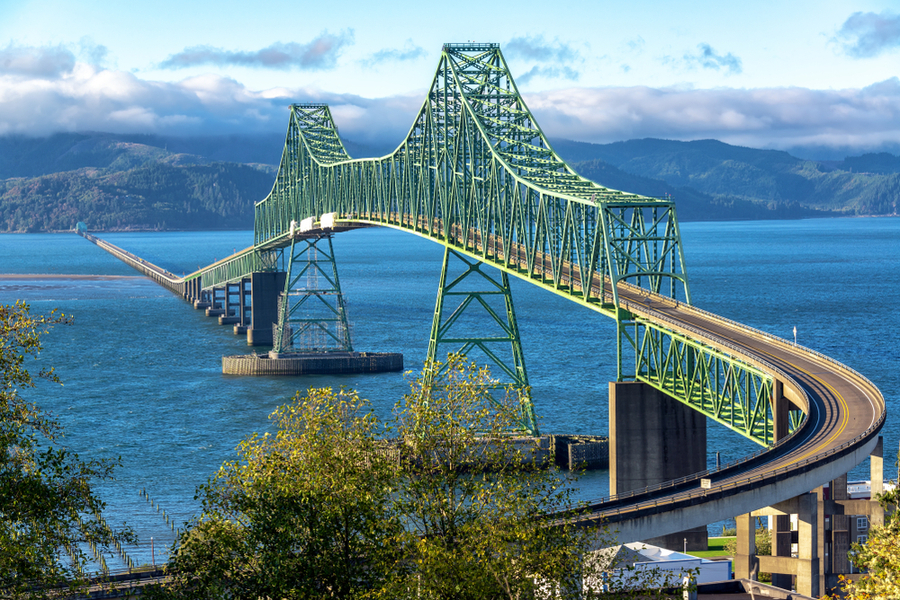 Then we headed to Seaside, Cannon Beach and Oswald West State Park. We were able to walk to beaches, take in the views of ocean water violently crashing against huge boulders and to watch surfers take on the waves.
Although we took a short break from Route 101 as we headed to Portland for a few days, we both knew that we would be enjoying the scenic byway once again.
So we skipped the opportunity to travel down the interstate and headed back to the coast after our stay in Eugene.
Back To The Pacific Coastal Highway
But this time the scene was quite different. Although we were very close to the beach, this time the road took us through National Forests.
And the view was spectacular. There were huge pine trees that lined both sides of the street. And by huge, I mean that they had to be over 100 feet tall and they were as straight as they could be.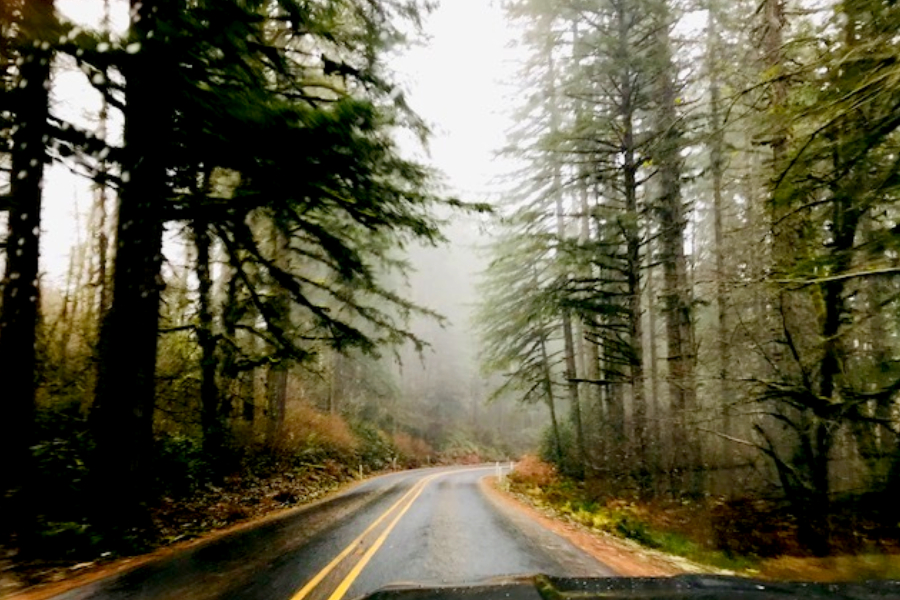 We passed several logging trucks along the way and the sheer size of the tree trunks was amazing.
During our travels we passed in and out of the forest on several occasions which led us back to the pacific ocean coast.
There were several pull off areas that are designed for travelers to stop and take a look at the scenic view. Several of which we took the opportunity to do.
And as we passed into California we had the same spectacular views. Our first night in California took us to the small coastal town of Crescent City, right on Route 101.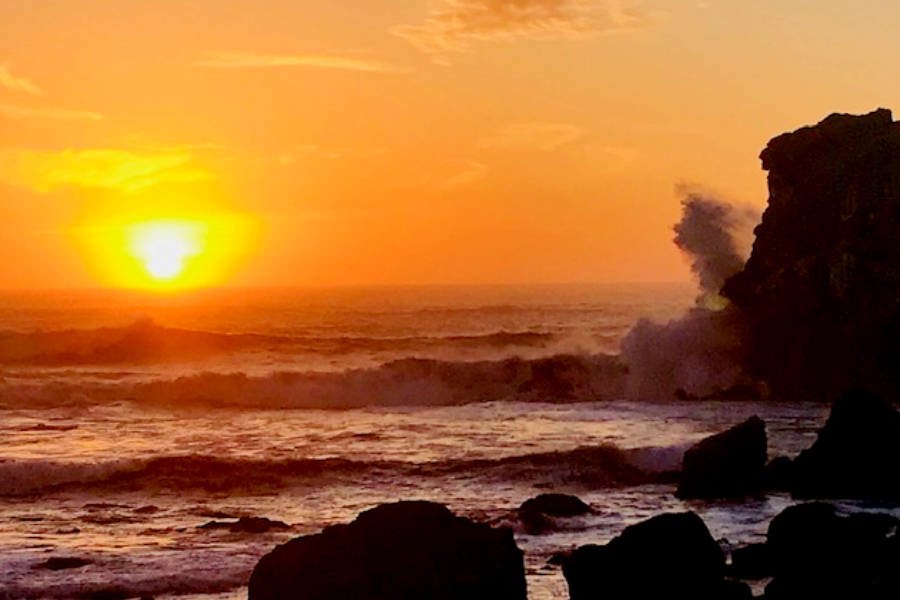 And within a few minute of arriving, we were able to watch the sunset over the Pacific Ocean. This is definitely a view that we never get tired of.
So here is to taking the scenic view whenever you can!
Happy Traveling -Jim and Mary
CURRENT TRIP STATS
Day 76 of 365
States Visited: 11 / 50
National Parks / Monuments Visited : 10
Stayed In : Crescent City, California
Miles Driven : 133.6
Total Trip Miles To Date : 8071.5
Total Gallons Used : 602.35
Biking Miles : 0.0
Biking Miles To Date : 142.5
Hiking Miles : 1.4
Hiking Miles To Date : 172.5
About Our Living Simple Tour
On September 9th, 2019, we set out in our NuCamp T@B 400 Teardrop Camper to travel to every state. You can check out all of our dates here : Dates for the States

Follow along by signing up for our twice weekly email updates at the bottom of the page. You can also follow us on Facebook : Live Simple Tour Facebook and Instagram : Live Simple Now Instagram Page.