14
Nov
Over the last few days, we have received quite a few emails wanting a little more background from our first Amtrak train adventure.
It seems that just like us, there are a lot of others who have also dreamed of taking a long train excursion. And they have a lot of questions.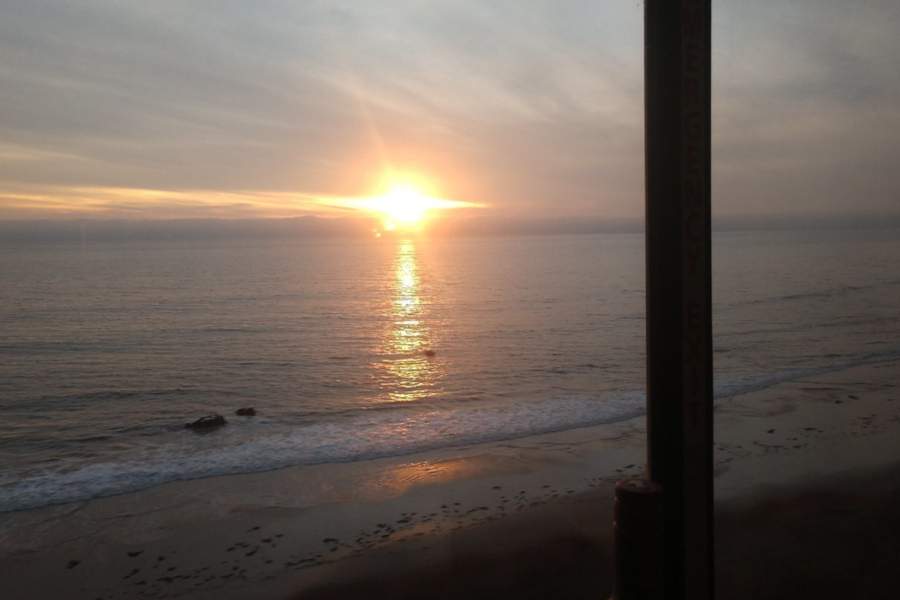 The funny thing is, they are almost exactly the same questions we had before setting out on our trip as well!
Questions like:
How do you book your tickets?
Are there a lot of stops in between?
How often can you get up and walk around?
How big are the seats?
Is it expensive?
Is the food good?
Did you get a sleeper car?
What are the restrooms like?
Would you do it again?
So as we sit on the train tonight heading back to Portland on the final leg of our inaugural trip, we thought we would take a bit of time to answer those oft-asked questions, and share a few tips and hints we learned from our first Amtrak train adventure.
Oh, and before we go any further – YES! We would certainly do it again!
Lessons Learned From Our First Amtrak Adventure
Here are answers to the most often asked questions:
Can You Move Around The Train?
One of the nicest things about riding on Amtrak vs. a train, car or bus is mobility.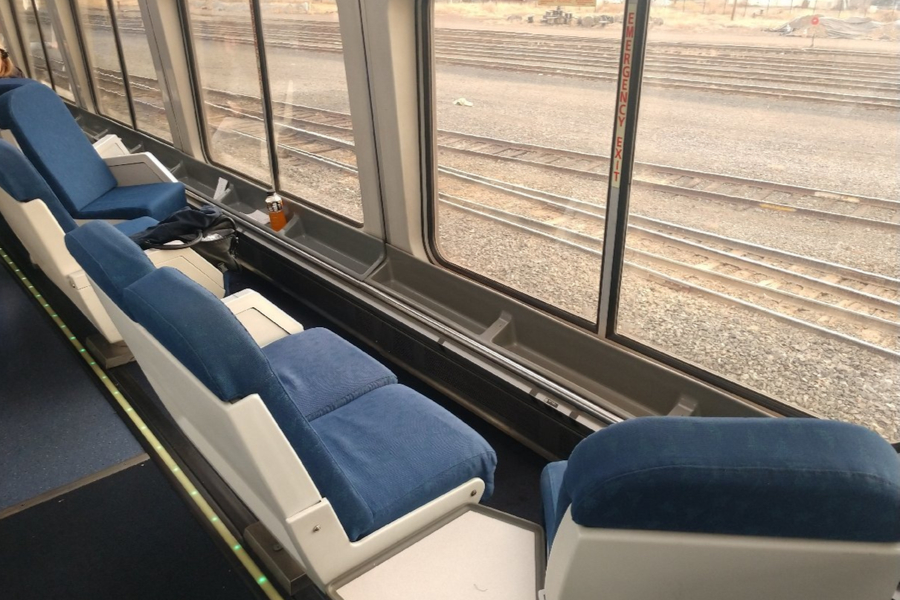 You can get up and move around anytime you want on the train. And it is easy to do.
The best thing about these long train rides are that they include an Observation Car, a Diner Car, and a Snack Bar Car as well.
The glass covered Observation Car is where we spent 95% of our trip. It is wide open, with comfortable seats that face out to the wide open views. In addition, there are large tables and bench seats for working or reading, or even playing cards and games.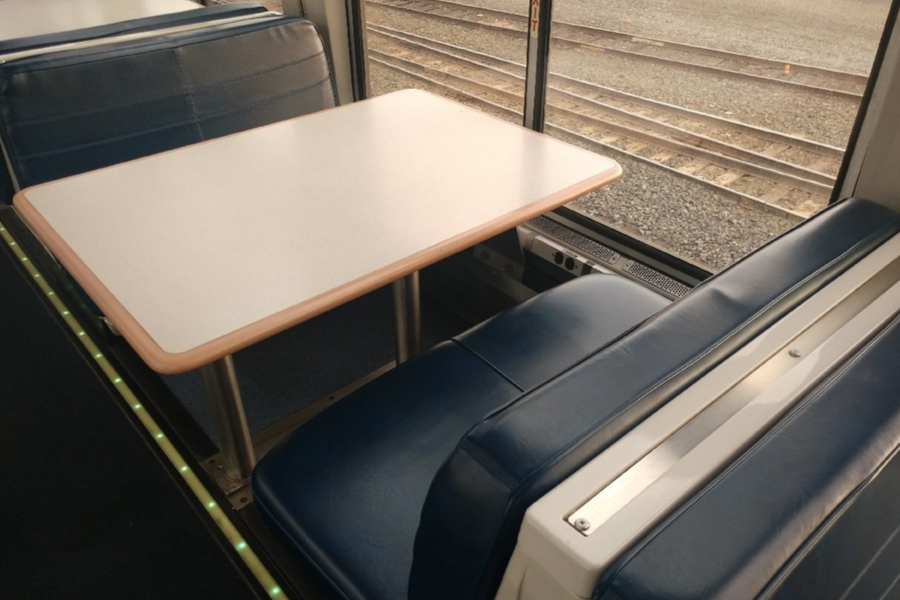 We loved not feeling cramped or tied to a seat. It also makes for a great place for meeting people all along the way.
An added great feature is the electrical plugs located all throughout the car.
How Big Are The Seats?
Honestly, the seat size amazed us both on this, our first great Amtrak train adventure.
At 6'4", I will admit I was worried about not being comfortable in my seat. But the coach seats are actually quite large. And, to boot, they recline way more than airline seats.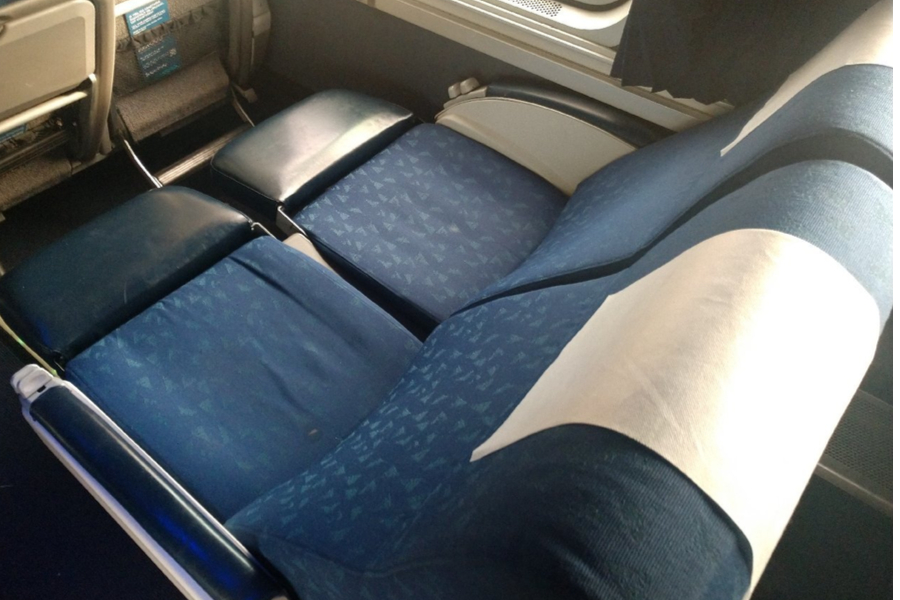 They also have a footstool that slides up to make sleeping or resting in place actually bearable and comfortable.
Each seat section also has two plugs, which is another big plus!
Does The Train Make Stops? Can You Get Off?
For starters, yes, the train makes stops. Our train had a total of 23 stops between Portland and L.A.
A few of the smaller city stops are super quick, and on those, it is usually requested that you stay on board.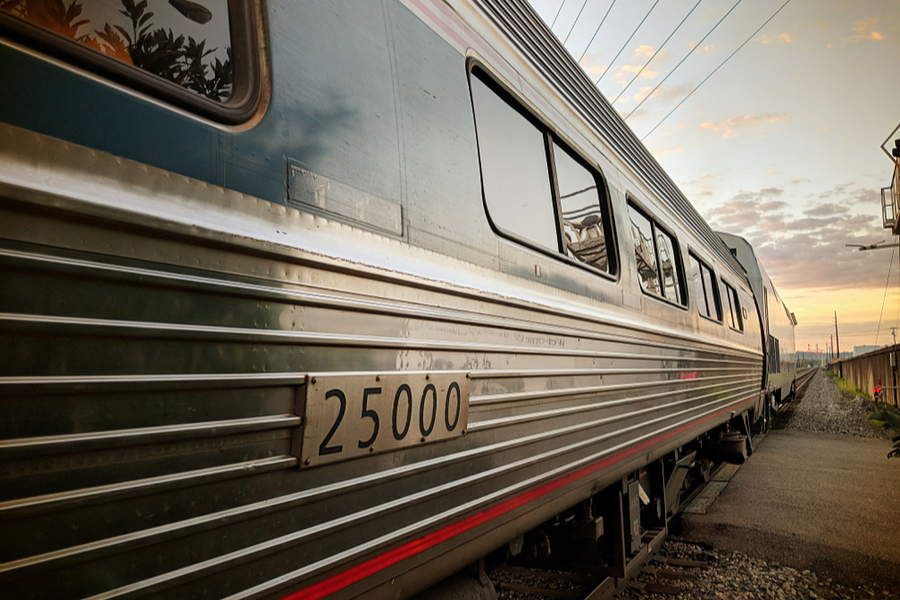 However, on the majority of stops, you are allowed to get off and walk about the platform to stretch your legs.
How Are The Restrooms?
Always a big question! So the majority of restroom are small and a bit tight, but certainly work well enough. They are a bit older with the trains of some age as well.
With that said, here is an insider tip we learned from another traveler. The restroom on the other side of the Snack Bar Car is the biggest on the train. Actually, it is wonderfully large!
What Is The Cost Of A Ticket?
Traveling by train is actually quite affordable.
Tickets are of course based on the length of trip, and what section of seating you choose. There are standard coach seats, business class, and then private sleeping rooms – which also include a shower, restroom and seating.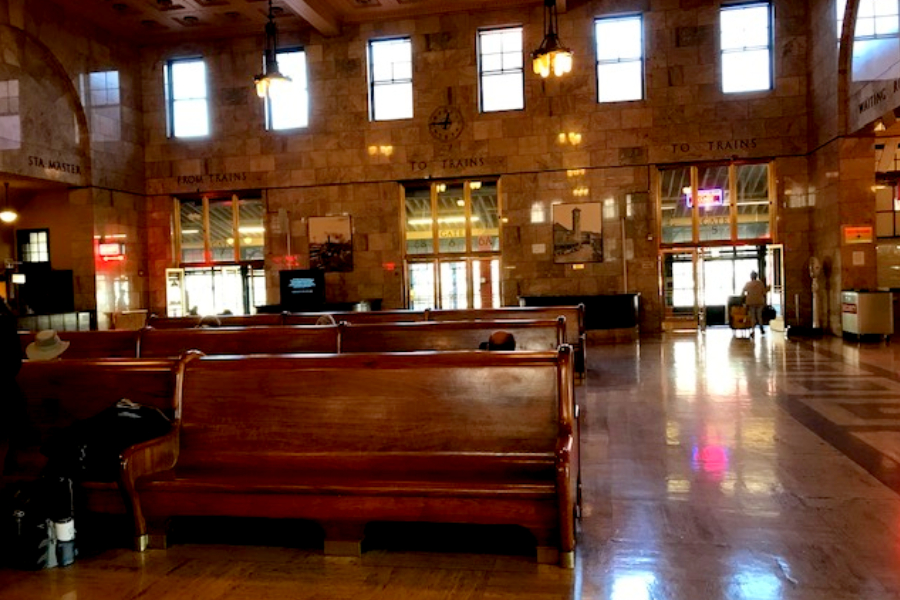 For this trip, we selected coach and it was a huge bargain. The coach seating is quite spacious, and has plenty of room and overhead storage. It is nothing at all like airline seating with easily 3x's the amount of room!
Here is another great bargain and comfort feature with train riding – they allow you to bring your own food and drinks on the train!
Watch For Deals
Amtrak will promote specials on-line quite often. You just have to be diligent in looking for them.
In fact, we were able to use a coach promotion for 50% off of our tickets. from Portland to Los Angeles for $122 per person – round trip!
But there are other great options as well. They have a 15 day ($400 range) and 30 day ($600 range) unlimited pass that allows you unlimited travel.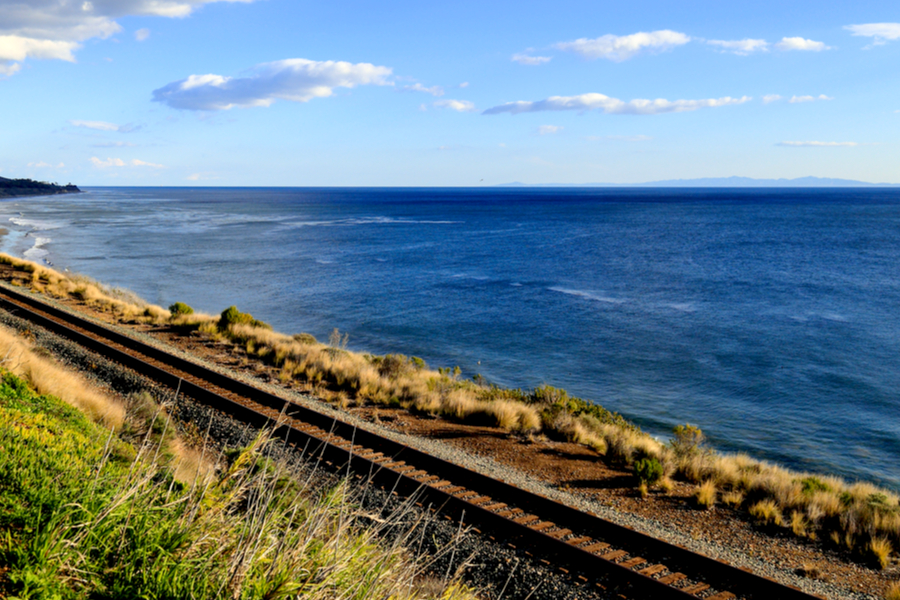 In fact, there is a wonderful gentleman named Peter, who hails from Amsterdam, on our train tonight. He is here on holiday, and is using the 30 day pass to go around the entire edge of the country. See : Peter's Travels
All the way from New York to New Orleans, Los Angeles, Seattle, Chicago and back to New York. Talk about an adventure!
Last But Not Least – The Doors Between Cards Open & Shut Automatically!
A little humor here with this one. And at my own expense!
All of the doors on the train that connect each of the cars open with a simple push of a button in the middle, or down on a kick plate at the bottom of the door.
That I figured out with ease. However, I learned the hard way that they do indeed close automatically.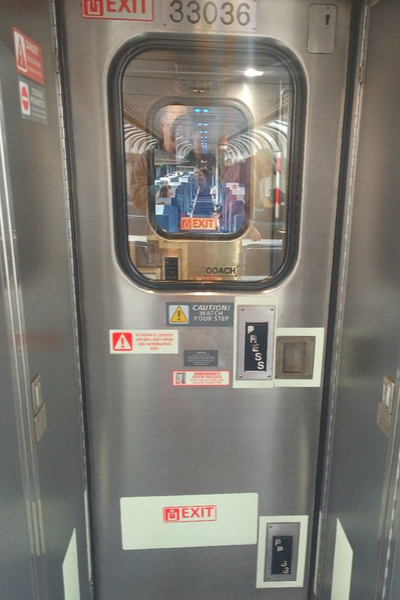 Not knowing this, and while looking for a close button to be considerate, I was hit a few times by the door trying to close automatically. All the while people all of the people in the front rows were trying frantically to tell me to move along.
The doors didn't hurt much mind you, just enough to get quite a bit of laughter from those sitting nearby.
See what Mary and I go through to make traveling easier for others? 🙂
Now that we are back in Portland, it is time to continue exploring Oregon.
Happy Traveling! And here is to taking your own Amtrak train adventure! Jim and Mary
CURRENT TRIP STATS
Day 67 of 365
States Visited: 11 / 50
National Parks / Monuments Visited : 10
Stayed In : North Bound Amtrak Land
Miles Driven : 0
Total Trip Miles To Date : 7510.7
Total Gallons Used : 560.5
Biking Miles : 0
Biking Miles To Date : 133.0
Hiking Miles : 0
Hiking Miles To Date : 151.5
About Our Living Simple Tour
On September 9th, 2019, we set out in our NuCamp T@B 400 Teardrop Camper to travel to every state. You can check out all of our dates here : Dates for the States

You can follow along by signing up for our twice weekly email updates at the bottom of the page. You can also follow us on Facebook : Live Simple Tour Facebook and Instagram : Live Simple Now Instagram Page.