13
Nov
Now that we have one full day to spend in the Los Angeles area, we have decided to take advantage of the beautiful and warm weather and head to Santa Monica beach.
From our Airbnb we jumped into an Uber and headed towards the coast.
Our first stop was the Santa Monica Pier. Here people can enjoy taking a stroll down a raised, wooden walkway to various shops, restaurants, fishing and ocean viewing spots.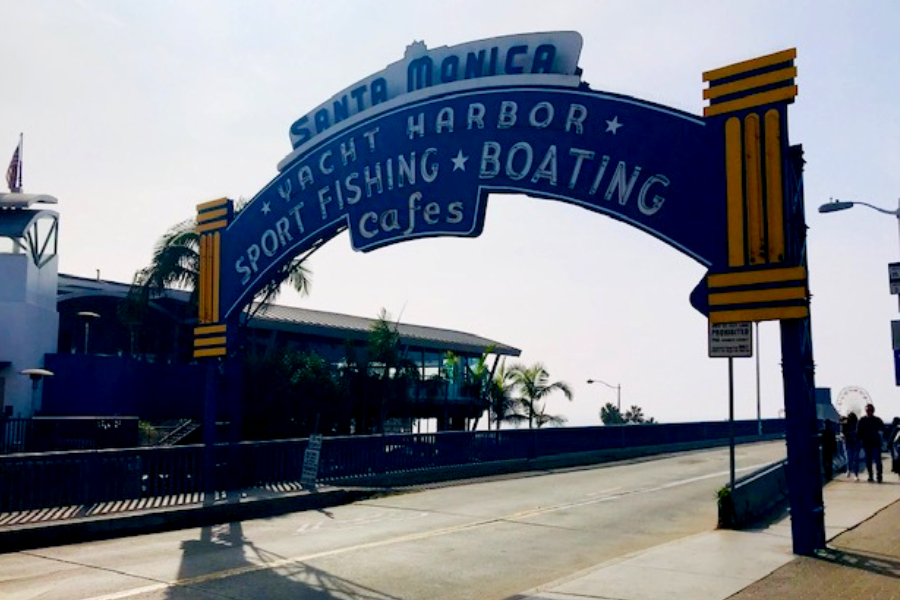 During the peak season there is even an amusement park located on the pier for the entire family to enjoy.
Pacific Park On The Santa Monica Pier
Pacific Park is home to the famous Santa Monica pier Ferris wheel. This is the world's first solar-powered Ferris wheel and it over looks both Santa Monica beach and the Pacific Ocean.
However, there other rides to enjoy as well, including a roller coaster. And of course there are midway games scattered throughout the park, just in case you haven't spent quite enough money yet.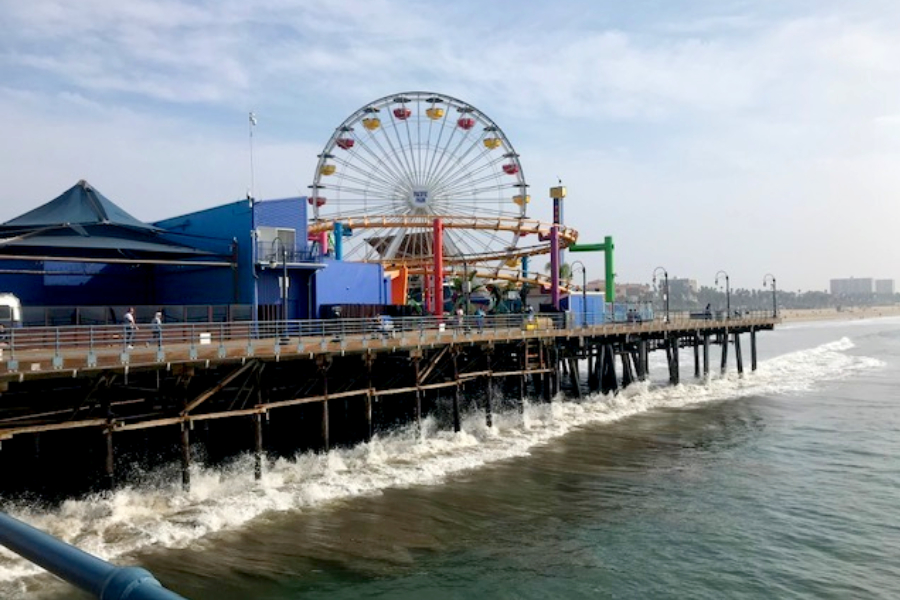 As we were taking in all of the sights and sounds of the life on the pier we headed towards the end where a small crowd was gathered.
As we were approaching the railing we heard what sounded like barking sounds. Once we looked down we could see a seal hanging out in the water just below the pier.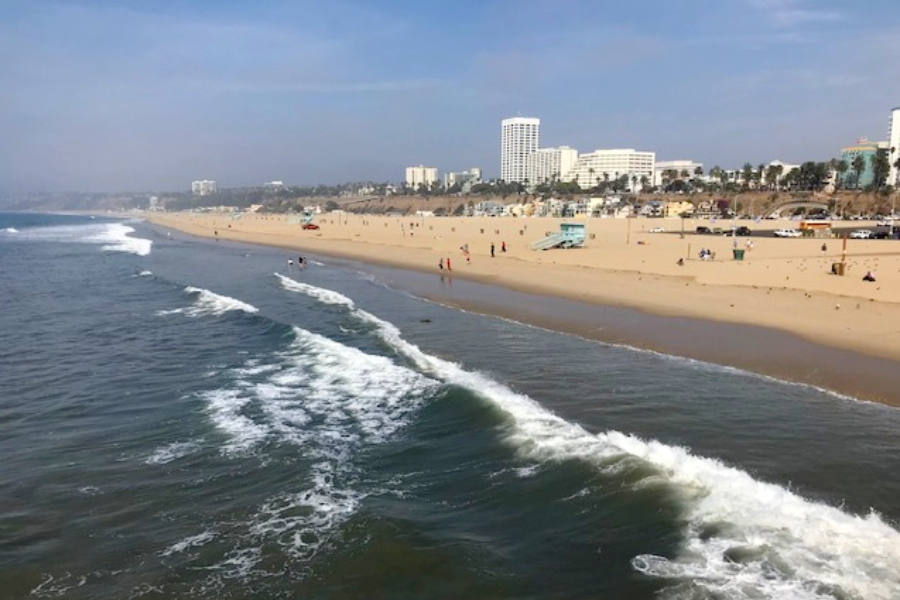 About every few seconds it would rise it's belly above the water and bark up at the crowd above.
As cute as it was, I am pretty sure it was begging for either food scraps or leftover fish parts from the visitors and fishermen.
We sat and watched 'him' entertain the crowd for a few minutes before we headed down to the beach.
Santa Monica Pier Seal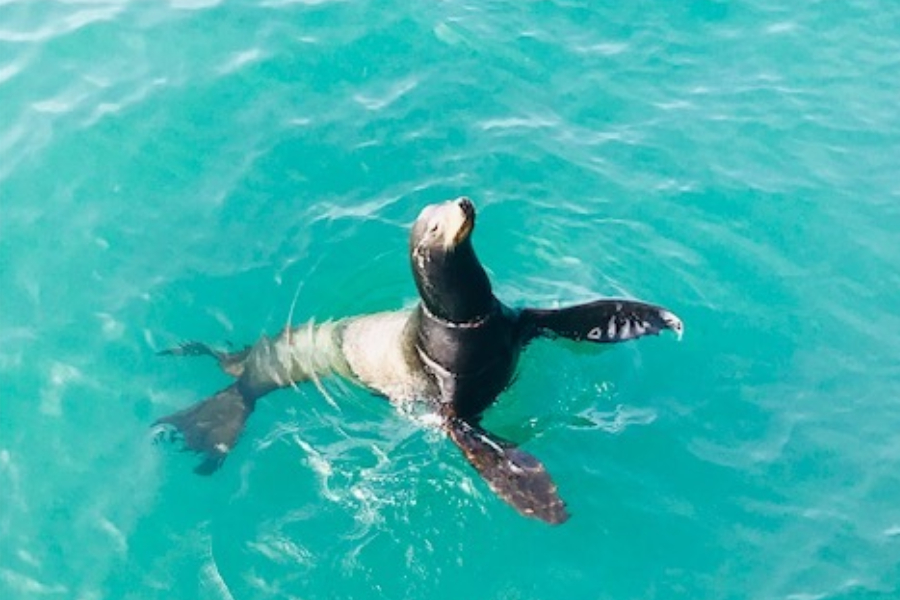 It took us about 15 minutes to walk to the beach access area off the Santa Monica pier. And within minutes we had our feet in the warm sand.
We walked to the edge of the water and took a moment to enjoy the sights around us.
We enjoyed hanging out at here while we watched people from all over the world enjoying what a California beach has to offer.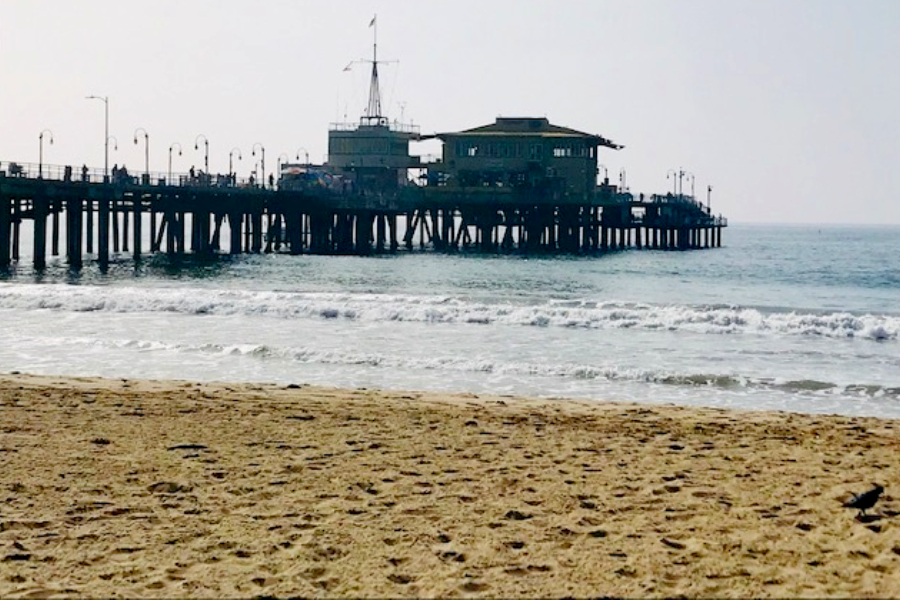 No matter what language that they spoke, the smiles on their faces as they walked through the sand was priceless.
Wanting to take as much in as we could on our short stay in the area, we decided to partake in some exercise and walk towards another beach in the area, Venice Beach.
Although there were both scooters and bikes that you could rent, we both agreed that we would be able to take in the views better if we traveled there on foot.
And what interesting views there were!!!!
Interesting Views At Venice Beach
Although close in proximity, there is a huge difference in the atmosphere of Venice Beach when compared to Santa Monica.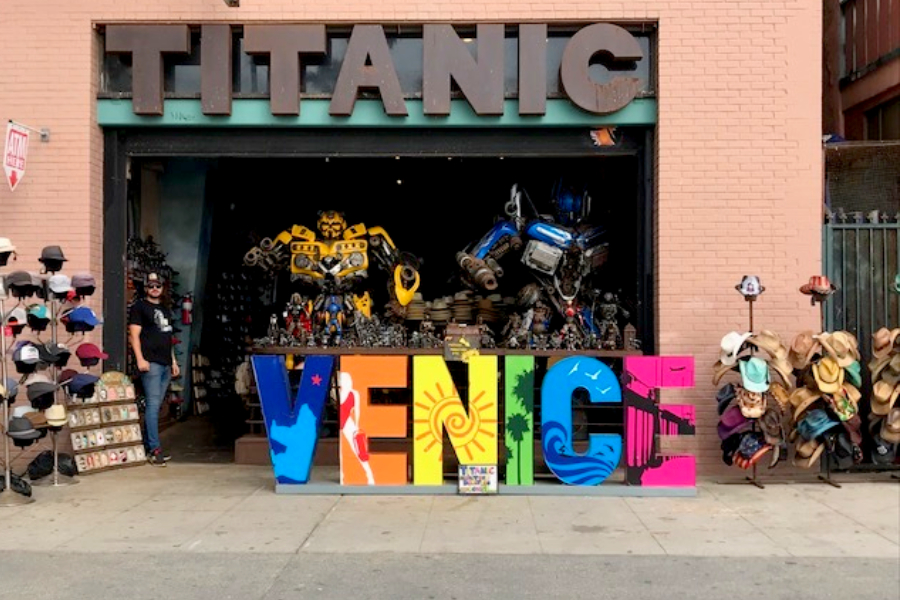 Santa Monica is a laid back, family-friendly area with restaurants, shops and entertainment.
On the contrary, Venice Beach is filled with free-spirited individuals and the boardwalk area is the site of funky shops, street performers and colorful murals.
Although there are many artists that have booths in the area, there are also several homeless camps along the pedestrian sidewalk as well. Here they attempt to sell you drawings, sculptures, or even rocks to make a few bucks.
Then right in the middle of the boardwalk is the famous Muscle Beach Outdoor Gym and sports recreation area.
Here you will find not only a weight lifting area, but also a skateboard park, pickleball, volleyball and basketball courts that are open to the public to enjoy.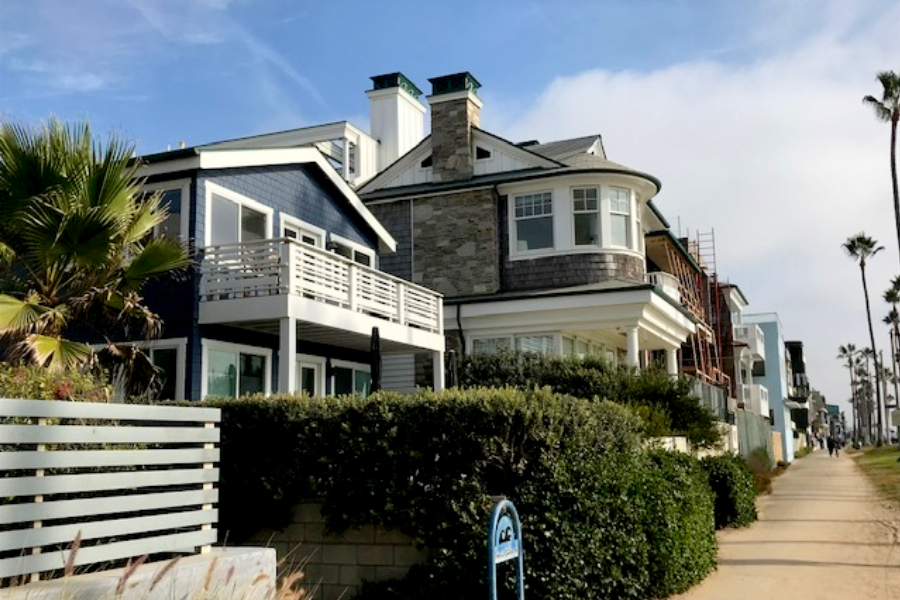 But just past the crazy atmosphere of the boardwalk we entered in the beautiful residential area of Venice Beach. Here it is designated as a 'Quiet Zone' where there is no skateboarding, camping, or selling of anything on the sidewalks.
The Quieter Side of Venice Beach
Both old-fashioned Cape Cod style and modern homes lined the edge of the beach. They were absolutely beautiful, and I can't even fathom what the cost must be to own a home here.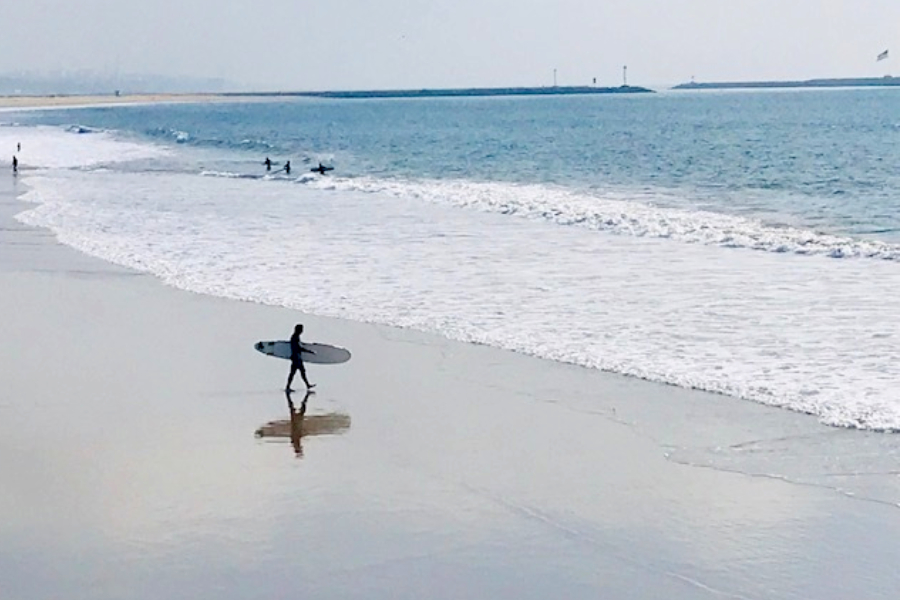 As we continued to walk towards the Venice Beach Pier, we were both in awe at tall glass homes that overlooked the beach and ocean.
It wasn't until we reached the actual pier and sat down that we realized how tired our legs were from walking the distance from Santa Monica to Venice.
So we spent the next hour resting and taking in the beach views of fisherman, surfers and sailboats.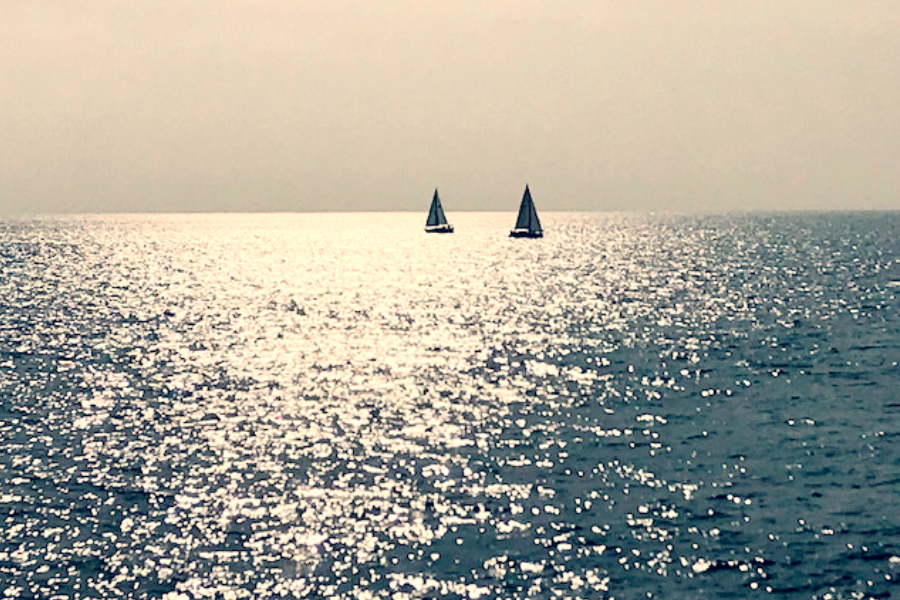 And after reflecting on our trip to the coast today, we would have to admit that our one day exploration tour of Santa Monica and Venice beach was definitely a fun and eye-opening experience of how life is on the beaches of California.
Happy Traveling! Jim and Mary
CURRENT TRIP STATS
Day 66 of 365
States Visited: 11 / 50
National Parks / Monuments Visited : 10
Stayed In : East Los Angeles, California
Miles Driven : 0
Total Trip Miles To Date : 7510.7
Total Gallons Used : 560.5
Biking Miles : 0
Biking Miles To Date : 133.0
Hiking Miles : 3.6
Hiking Miles To Date : 151.5
About Our Living Simple Tour
On September 9th, 2019, we set out in our NuCamp T@B 400 Teardrop Camper to travel to every state. You can check out all of our dates here : Dates for the States
Follow along by signing up for our twice weekly email updates at the bottom of the page. You can also follow us on Facebook : Live Simple Tour Facebook and Instagram : Live Simple Now Instagram Page.