Today we headed southeast, not knowing that we would end up at the World's Longest Beach.
In fact, we had all intentions to spend the night in the small town of South Bend, Washington.
A couple of days ago we contacted a county park campground in this area to reserve a campsite. Unfortunately, they called us back the next day to inform us that they were full due to hunting season.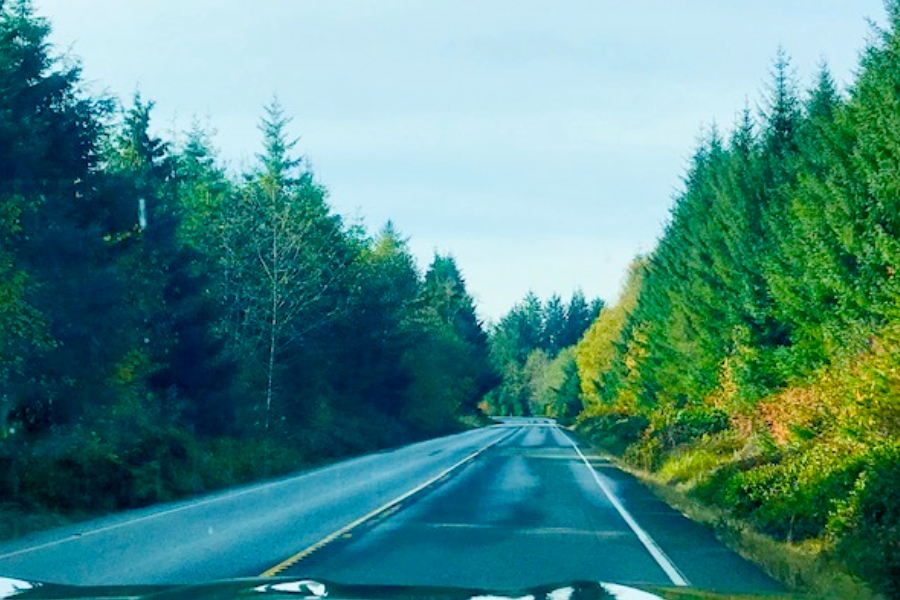 Understanding the situation, we began looking for alternative locations to spend the night. Trying to prevent driving more than 2 hours, we looked for areas both south and west of South Bend, and to be honest, the choices were limited.
So we decided to keep driving along interstate 101 to see what we could find. And I am so glad that we did!
The drive itself is absolutely stunning. We drove through streets that were lined with huge pine trees on both sides.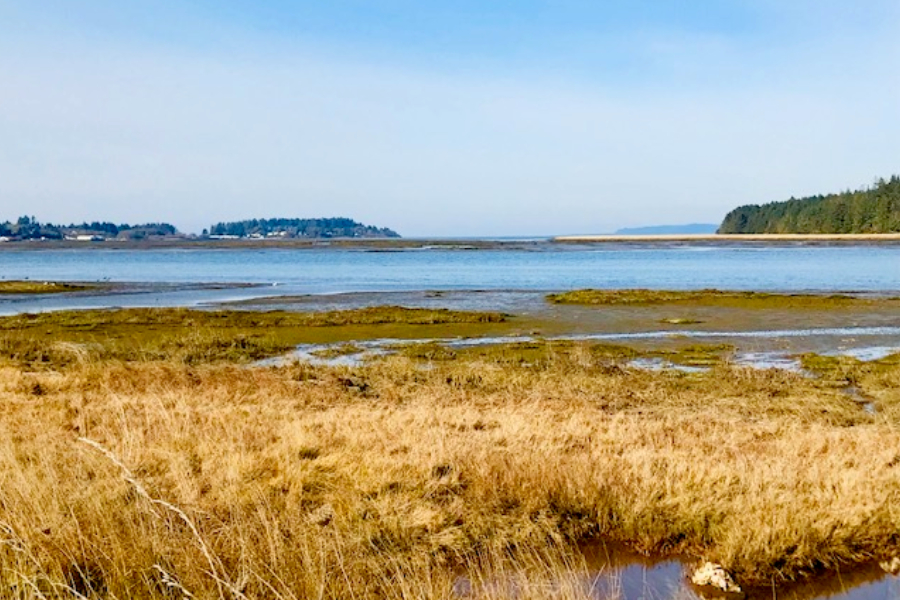 Then we turned the corner and we drove down Willapa Bay towards the most southeastern point of Washington.
In fact, it was so beautiful that we decided to pull over and enjoy a lunch with such a fantastic view.
Feeling refreshed after a bite to eat, we decided to keep driving towards the Oregon border.
The World's Longest Beach
And within about 30 minutes, we arrived at Long Beach, Washington.
What we didn't know is that this peninsula is the home to the world's longest beach!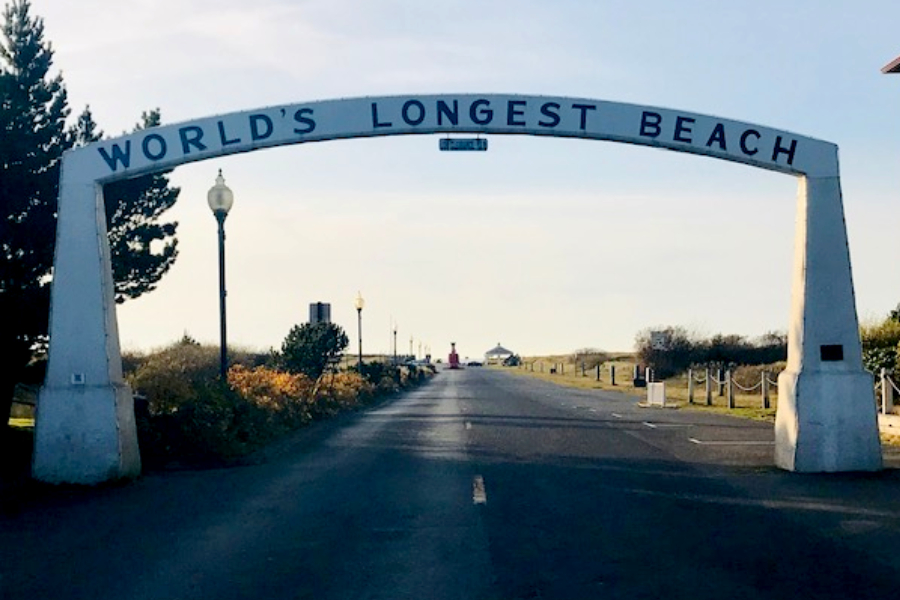 We knew that we had to take advantage of another beautiful, dry day in Washington and talk a walk on the beach.
Plus, we had to celebrate making it to the Pacific Ocean and dip our feet in the water.
So we parked the truck and camper on a side street and headed toward the beach.
Although it is the 'off-season' for this somewhat tourist town, we could see a few other people also taking a walk along the wide coast.
Driving On The Beach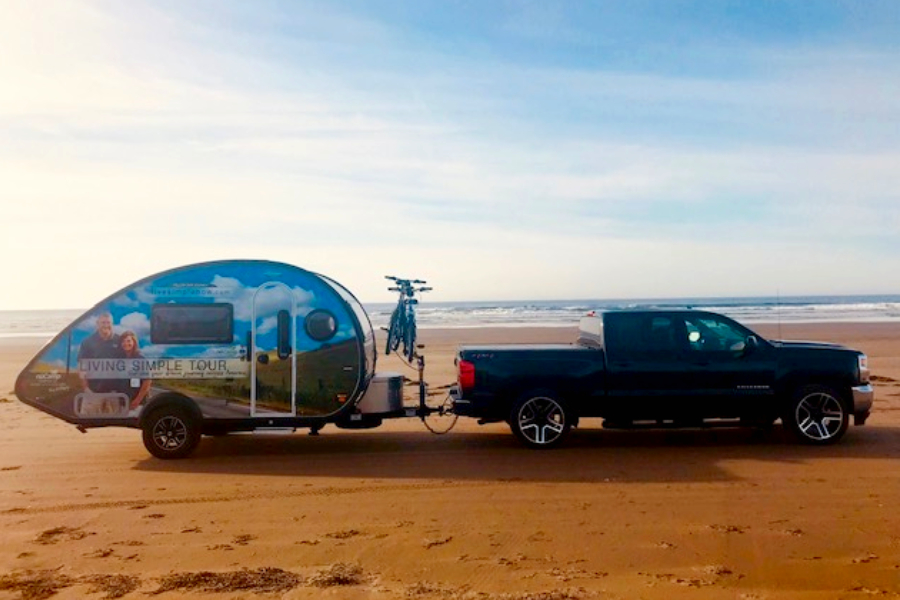 However, we also saw a few personal vehicles driving up and down the beach as well.
It was then that we both looked at each other, smiled, and turned around simultaneously to go get the truck and camper!
It was going to be a once in a lifetime experience to have our T@B 400 right on the beach with the Pacific Ocean in the background.
So we hopped in the truck and slowly and carefully made our way down towards the beach.
Lucky for us, it was low-tide and the beach was not only long, but wide as well.
We enjoyed driving up and down the beach and looking out into the Pacific Ocean. But we also enjoyed views inland where Cape Cod like homes and piers peaked out from the dune grass.
And yes, we did what all Midwestern residents would do and let the water splash over our bare feet.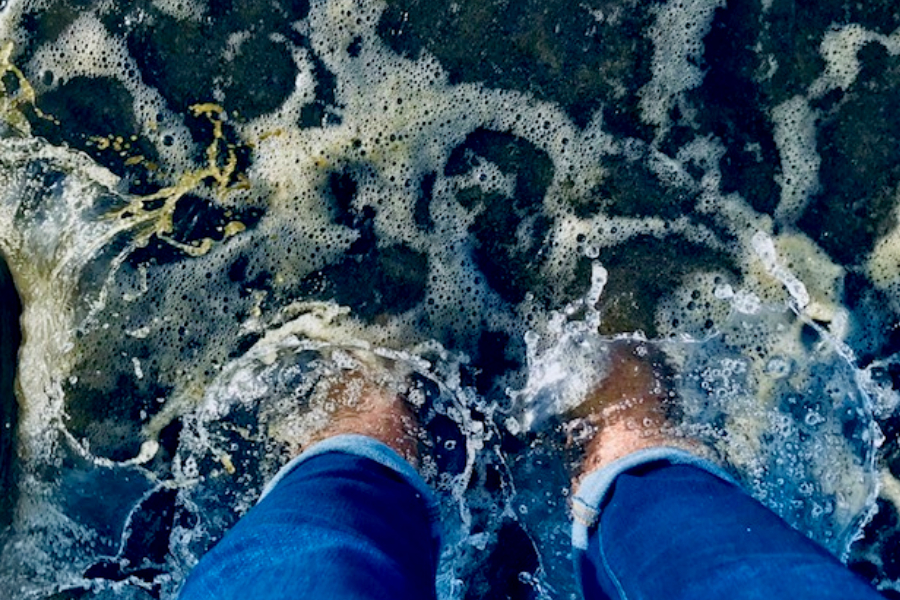 What a wonderful and rare opportunity it was to be standing in state of Washington on a sunny November day and having the Pacific Ocean right at your feet.
And now we look forward to continuing our journey down the beautiful coastal highway into the state of Oregon.
Happy Traveling – Jim and Mary
CURRENT TRIP STATS
Day 60 of 365
States Visited: 10 / 50
National Parks / Monuments Visited : 10
Stayed In : Seaside, Oregon
Miles Driven : 51.4
Total Trip Miles To Date : 7349.2
Total Gallons Used : 548.45
Biking Miles : 0
Biking Miles To Date : 133.0
Hiking Miles : 1.6
Hiking Miles To Date : 145.4
On September 9th, 2019, we set out in our NuCamp T@B 400 Teardrop Camper to travel to every state. You can check out all of our dates here : Dates for the States

Follow along by signing up for our twice weekly email updates at the bottom of the page. You can also follow us on Facebook : Live Simple Tour Facebook and Instagram : Live Simple Now Instagram Page.