31
Oct
If there is one place we have both been looking forward to taking in during our time in the state of Washington, it was the Pike Place Market.
Located on the edge of Elliot Bay in Seattle, the public market has been in existence since August, 17th of 1907. Not only is it one of the oldest continuously operated farmers' markets in the United States, but one of the largest and most vibrant.
And after taking in all of it today, we both can say it truly an amazing sight to behold. In fact, we hated leaving it!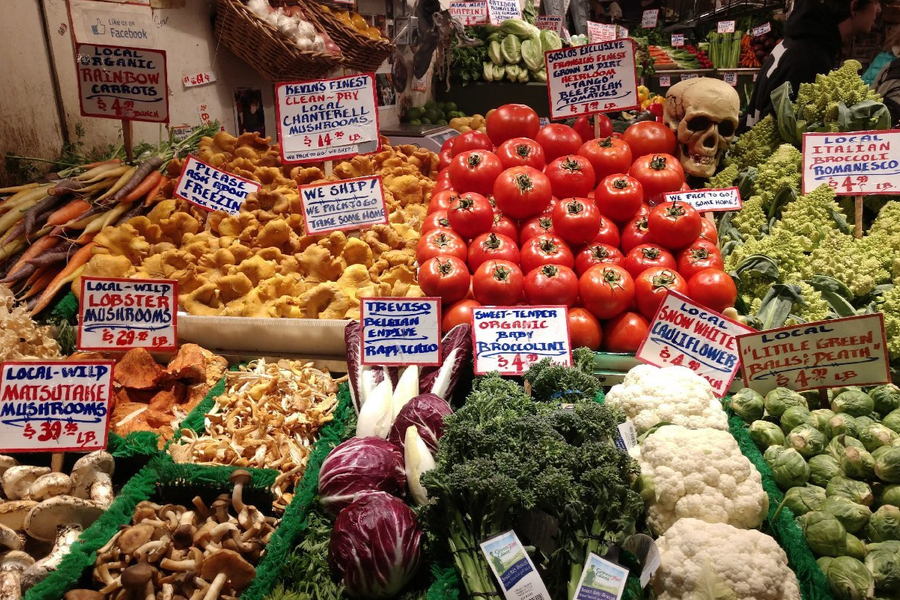 The market is comprised of nine acres of land that includes parts of Pike Street, Virginia Street, 1st Avenue and Western Avenue.
You name it, and this market has it! Butcher shops, fish shops and market stands with every kind of fresh vegetable and fruit imaginable. And then there are the artist stalls, donut stands, bakeries, musicians and restaurants with nearly any cuisine you could wish for.
The sights, the sounds, and the smells coming from it all are nothing short of intoxicating.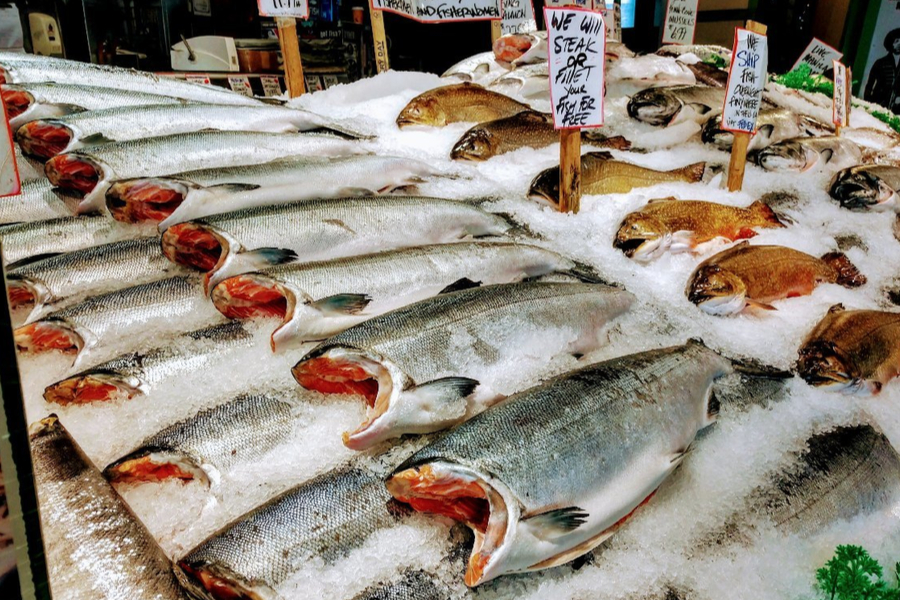 And the activity! In every direction, around every corner, there are waves of vendors and customers creating a scene that can't help but energize you.
For us, with every level and every turn of a corner, there was something new to see and enjoy. And where else can you have a lunch of grilled salmon, fresh green beans and fresh fries made right in front of you? All for $9.99. (And incredibly delicious too!)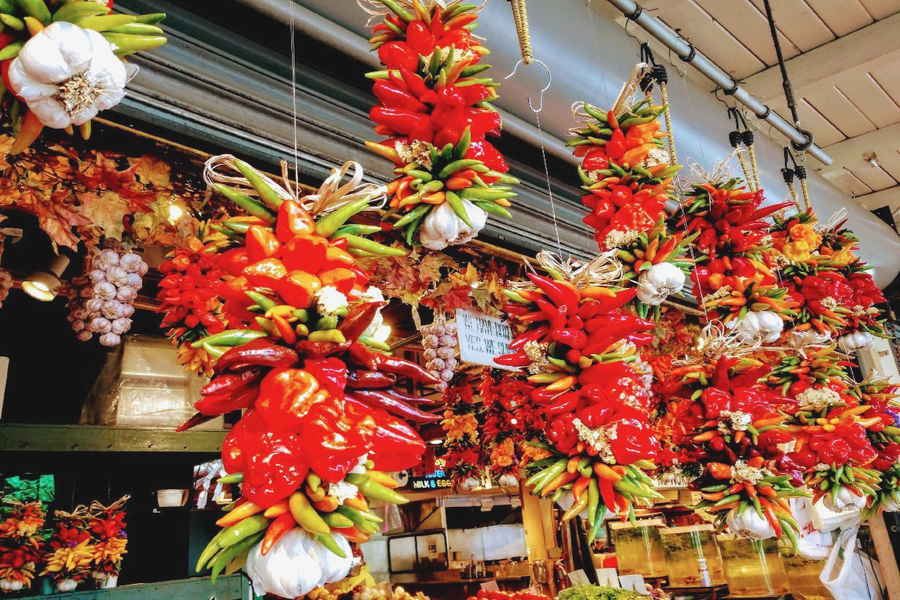 It is probably good we live 2471.6 miles from this place! We might never be able to stay away!
The Famous Fish Throw
A visit to the market wouldn't be complete without stopping by to see the famous "Fish Toss" at Seattle's Pike Place Fish Market.
It was great to finally witness the fish flying back and forth over the counter. (We shot a short video of the tossing to share below)
The tradition all started when the original owner decided it took nearly 100 steps to take a customer's selection back to the scales to wrap up. So he tossed it over the counter instead to a pair of waiting hands.
And ever since, it has grown to a sightseeing spectacle that draws crowds of folks every day.
Seattle's Gum Wall
Last but not least is the visit to Seattle's gum wall.
There are beautiful things we get to see on the trip. There are interesting things we get to see on the trip. And then there are the downright unique. The gum wall certainly qualifies as unique!
Just outside of the market district, and in an alley on the brick wall of the Post Alley's Market Theater – there is massive wall of gum. Yes, old, sticky, chewing gum.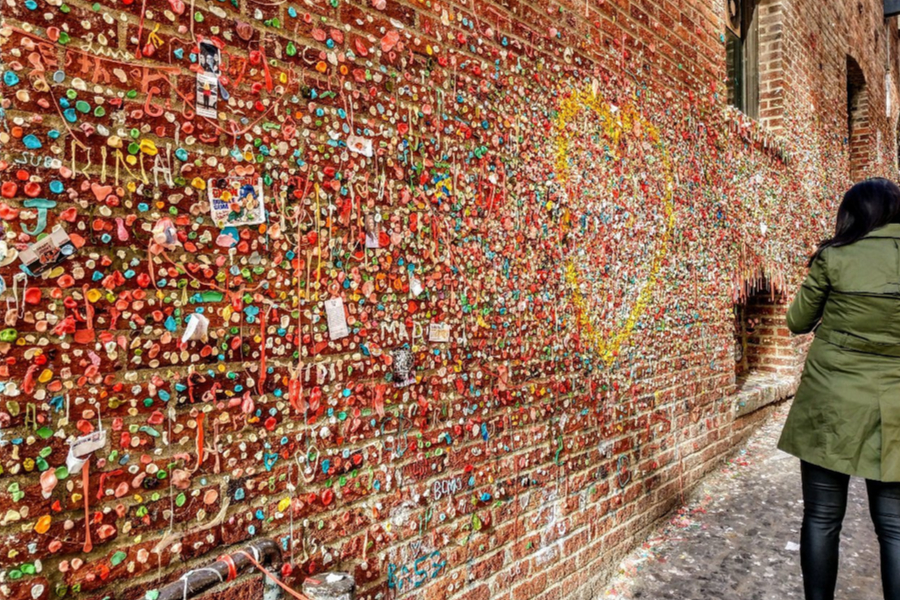 The display is nearly 50 feet long, and stretches to heights that neither of us could figure out how they were ever actually put on the wall.
The tradition stated in the 1990's, when people started sticking their used chewing gum on the wall. And the collection grew from there.
The gum wall went uncleaned for 20 years until 2015. It was steam-cleaned, and the bricks restored. And then the gum came again.
Today, people come from all over to have their photos taken at the gum wall, and to put their own gum in place.
I am sure you are wondering… The answer is no, we did not touch the wall. Or add any gum to it either. LOL
But it is one more memory and sight we can add to the trip, and we are certainly having fun with all of them!
And remember, if you happen to live in one of the 41 states we haven't been to yet, head to our State Map, click on your state, and add to the list of things we should see in your great state in the comments section,
Your hints and suggestions have led to some of our best experiences so far. And we certainly can't wait for more! Happy Traveling – Jim and Mary.
CURRENT TRIP STATS
Day 53 of 365
States Visited 9 / 50
National Parks / Monuments Visited : 10
Stayed In : Issaquah, Washington
Miles Driven : 52.5
Total Trip Miles To Date : 6903.8
Total Gallons Used : 519.02
Biking Miles : 0
Biking Miles To Date : 128.4
Hiking Miles : 4.2
Hiking Miles To Date : 132.2