23
Oct
Our first full day into Idaho was spent in the beautiful city of Twin Falls, and was filled with a little slice of everything.
From taking in the beautiful views at Shoshone Falls (pictured above), to hiking the Snake River Canyon Rim Trail, we were able to explore a city surrounded by some pretty impressive scenic beauty.
So scenic, in fact, that it once even attracted Evel Knievel to attempt a jump over the breathtaking canyon walls of Snake River.
One thing is for sure, we were both totally caught of guard by Idaho's natural wonders!
Shoshone Falls
Our day started off with a visit to Shoshone Falls and the Snake River Canyon.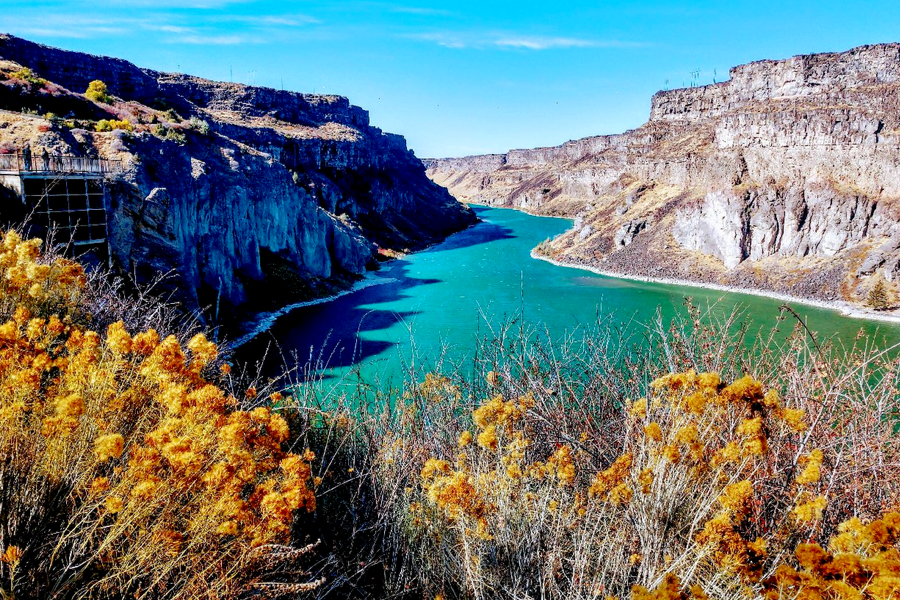 Talk about an opportunity to experience an unexpected natural wonder! For us, Shoshone Falls becomes another "never knew about it before this trip" place to put in our memory banks.
Often referred to as the "Niagara Fall of the West", Shoshone Falls are located on the edge of Twin Falls, Idaho.
At 212 feet in height, the falls are actually taller than Niagra's. And watching the water flow into the gorgeous Snake River and throughout the canyon below is a sight to behold.
As beautiful as the views were, the locals all told us it's even more breathtaking in the spring. That is when the snow melt from the surrounding mountains leads to epic volumes of water rushing over the falls.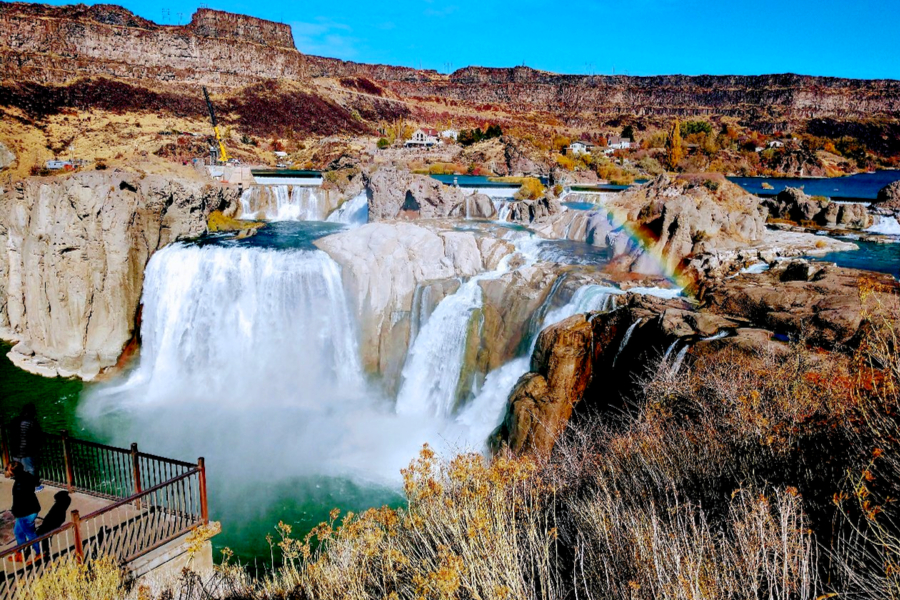 As beautiful as it was today, I can't imagine being here to see that as well!
Hiking The Snake River Canyon Rim Trail In Twin Falls Idaho
After taking in the falls, it was time for a little hiking. The trails at Snake River Canyon Rim Trail are honestly among the best we have hiked so far on the trip.
With about 10 miles of trails that showcase spanning views of the canyon, river and lakes, it really offers something for everyone – including walking, hiking, biking, and even kayaking.
We started off with the 2 mile Lake Tour hike at Dierkes Park that included nearly 200 metal steps attached right into the cliff walls.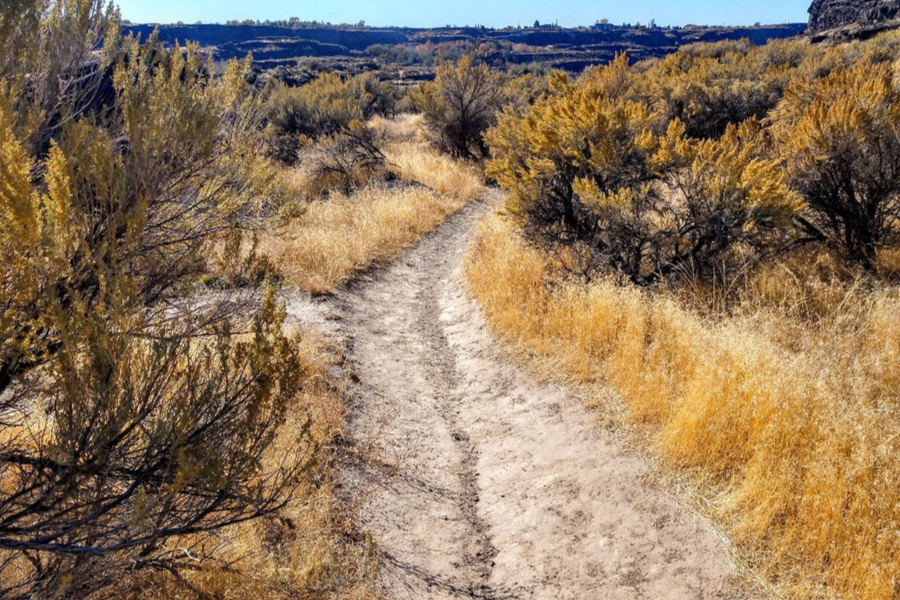 The rock formations and canyon walls are all remnants of lava flows from long-ago. It made for a sensational hike.
Evel Knievel, Twin Falls, & The Snake River
And now, for Twin Falls, Idaho's connection to Evel Knievel.
Growing up, I always remember tuning in with my brother to watch whatever stunt Evel Knievel was about to try.
And it just so happens, unbeknownst to me before this trip, that Twin Falls, Idaho was the site of one of his most famous and unfortunately unsuccessful jump attempts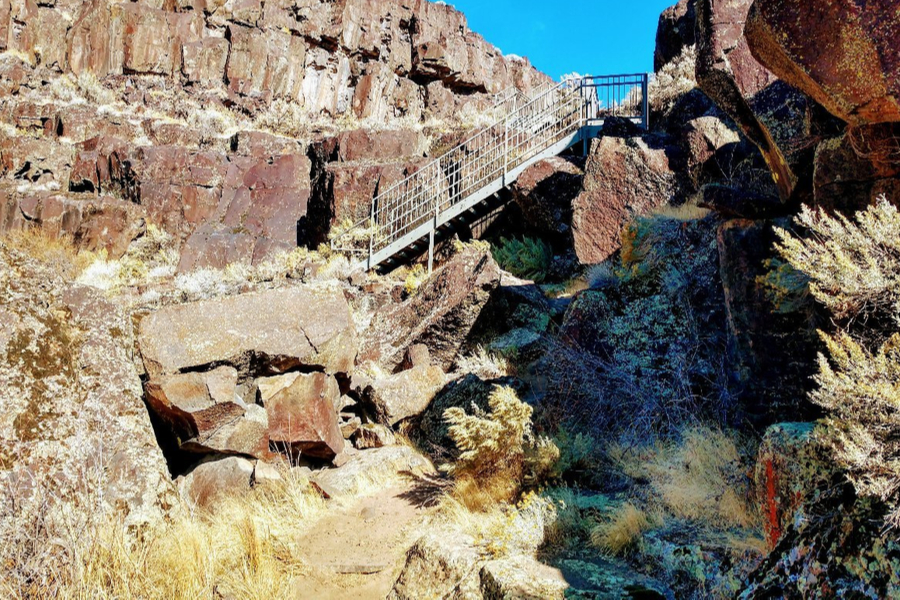 On September 8th, 1974, using a modified steam-powered skycycle – Evel attempted to jump the quarter-mile wide Snake River Canyon.
It apparently went awry with a malfunctioning parachute, but you can still hike to see the remnants today of the earthen hill where he attempted the stunt.
Just another little bit of history we have learned from this amazing trip so far! Happy Traveling – Jim and Mary.
CURRENT TRIP STATS
Day 45 of 365
States Visited 8 / 50
National Parks / Monuments Visited : 10
Stayed In : Twin Falls, Idaho
Miles Driven : 37.3
Total Trip Miles To Date : 5939.7
Total Gallons Used : 441.42
Biking Miles : 0
Biking Miles To Date : 109.6
Hiking Miles : 3.5
Hiking Miles To Date : 120.5
About Our Living Simple Tour
On September 9th, 2019, we set out in our NuCamp T@B 400 Teardrop Camper to travel to every state. You can check out all of our dates here : Dates for the States

You can follow along by signing up for our twice weekly email updates at the bottom of the page. You can also follow us on Facebook : Live Simple Tour Facebook and Instagram : Live Simple Now Instagram Page.