Up until two days ago, I can honestly say that Mary and I had never heard of the term "goat heads," and certainly didn't have the slightest clue what pain they could cause.
Oh, but how quickly we learn things on this trip! And sometimes, like with the goat heads, it's the hard way!
A Fun-Filled Evening With Goat Heads…
I am sure some of our followers, especially those from the west, know exactly what goat heads are. But for us Ohio "newbies" to the western states, it was a bit of a painful lesson.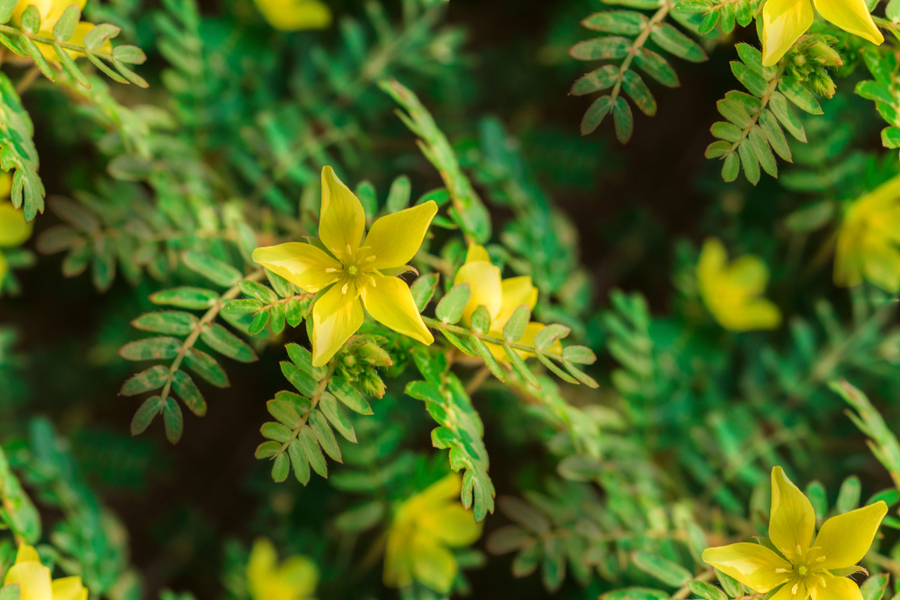 A goat head is a sharp little seed/thorn that comes from a plant officially called Tribulus Terrestris. The invasive weed is actually known by many names, including Devils Weed, Caltrop, or the aptly named Puncturevine.
The term goat head is derived from appearance of the thorny seeds, which do indeed look like that of a goat, horns and all!
A Mine Field In The Camper
Our first run-in with them came in the camper on Monday evening.
After taking a late stroll down the roads around the Alpaca farm where we were staying, we came back to the camper to relax a bit before bed.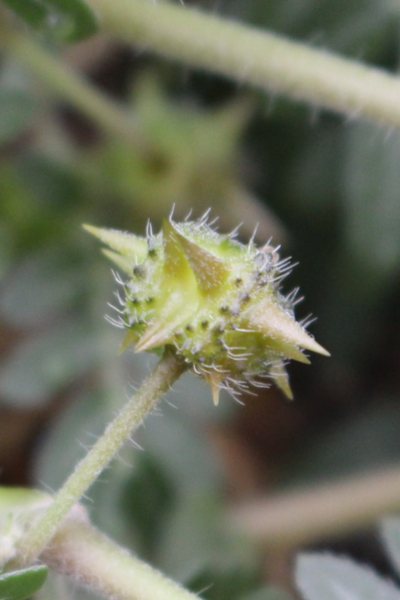 After changing into some shorts, I took two steps across the carpet and immediately felt a piercing pain in my right foot. Sure enough, there was an extremely sharp goat head that went right through my sock.
And as soon as I removed it and stood up again, another piercing thorn hit my left foot.
Then the comedy routine really began. With a flashlight in hand, Mary and I gingerly combed the floor, only to find about 10 or so more goat head land mines lying in wait.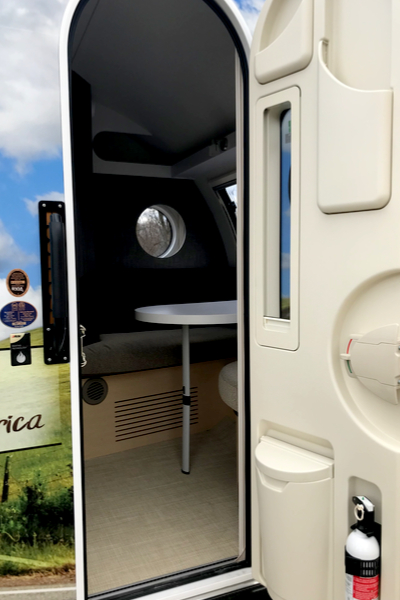 The rest of the evening, every step we took was like playing Russian roulette as we would find another hidden in the carpet. It was amazing just how many we had tracked in on our shoes from the walk!
An Amazing Stroke Of Bad Luck & Good Fortune…All At The Same Time!
I wish I could say our story with goat heads was over, but they struck a bigger blow today! Although it did have quite an unbelievably happy ending.
We left Silt, Colorado and the Alpaca farm this morning to head 60 miles west to Palisade, Colorado. Palisade is an beautiful scenic town, situated on the banks of the Colorado River, and surrounded by towering mountains.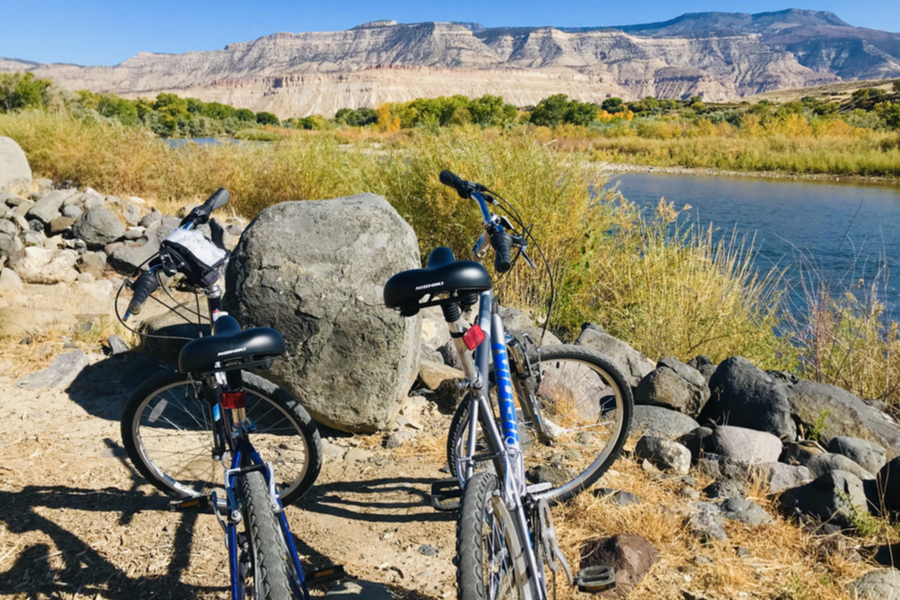 When we arrived in the early afternoon to a sunny, warm day, we decided to take the bikes out to see the town and ride the trails that surround it.
After an incredible 12+ mile ride, we were heading back into town when it happened. My back tire went flat, just like that.
You guessed it. A goat's head thorny seed was to blame! But this is where the story turns good.
What To Do…
As we sat there pondering what to do, we both looked up, and directly across the street, like a gift from heaven, was of all things, the Rapid Creek Cycles & Sports Store. Complete with a bike repair shop in back!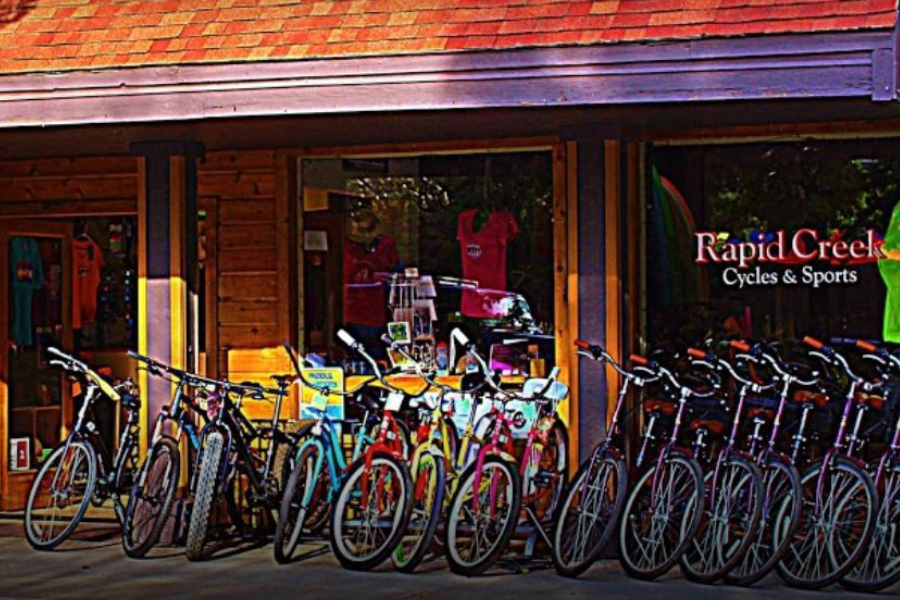 Within 5 minutes, an amazingly friendly staff had the tire fixed. Along with adjusting my brakes and handle bars to boot! Now that is a stroke of pure luck.
Again, it never ceases to amaze us how many incredibly wonderful people there are all over this country.
And today, thankfully, that was certainly the case in Palisade, Colorado!
Now it's on to Utah – and hopefully no more goat heads! Happy Traveling – Jim and Mary.
CURRENT TRIP STATS
Day 37 of 365
States Visited 6 / 50
National Parks / Monuments Visited : 7
Stayed In : Palisade, Colorado
Miles Driven : 119.9
Total Trip Miles To Date : 4928.8
Total Gallons Used : 367.82
Biking Miles : 12.5
Biking Miles To Date : 97.6
Hiking Miles : 2.0
Hiking Miles To Date : 97.1
About Our Living Simple Tour
On September 9th, 2019, we set out in our NuCamp T@B 400 Teardrop Camper to travel to every state. You can check out all of our dates here : Dates for the States

You can follow along by signing up for our twice weekly email updates at the bottom of the page. You can also follow us on Facebook : Live Simple Tour Facebook and Instagram : Live Simple Now Instagram Page.