Friday in Colorado was perfect from start to finish, including an unforgettable dinner experience in Boulder!
There is nothing like getting to ride a train or two to take in the sights of a few beautiful cities. And that is exactly what we did today in both Denver and Boulder, Colorado.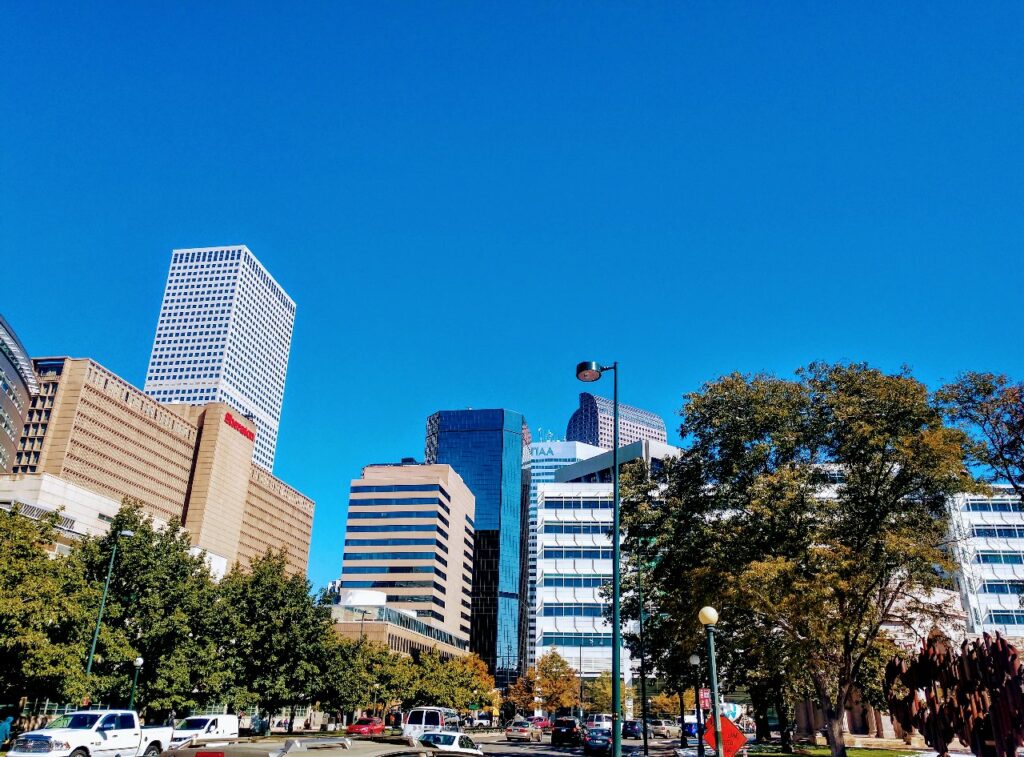 One day after a snowstorm blew through, the skies turned sunny, and the temperatures soared back into the mid 50's. It was time to explore!
Denver has a really nice public transportation system of trains and buses. The lines not only cover the main Denver area, but also serve some of the surrounding cities as well.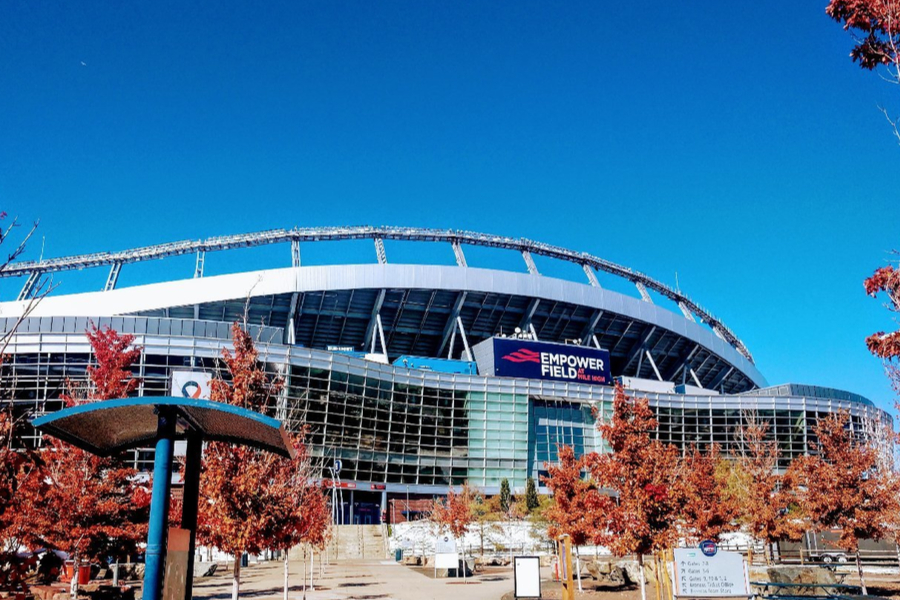 And with a train station right around the corner from our campsite, it was an easy choice to give the truck a rest, and let someone else take the wheel.
It turned out to be a great choice. For about $10 each, we purchased two all-day access tickets to ride the entire Denver transport system. And did we ever use them!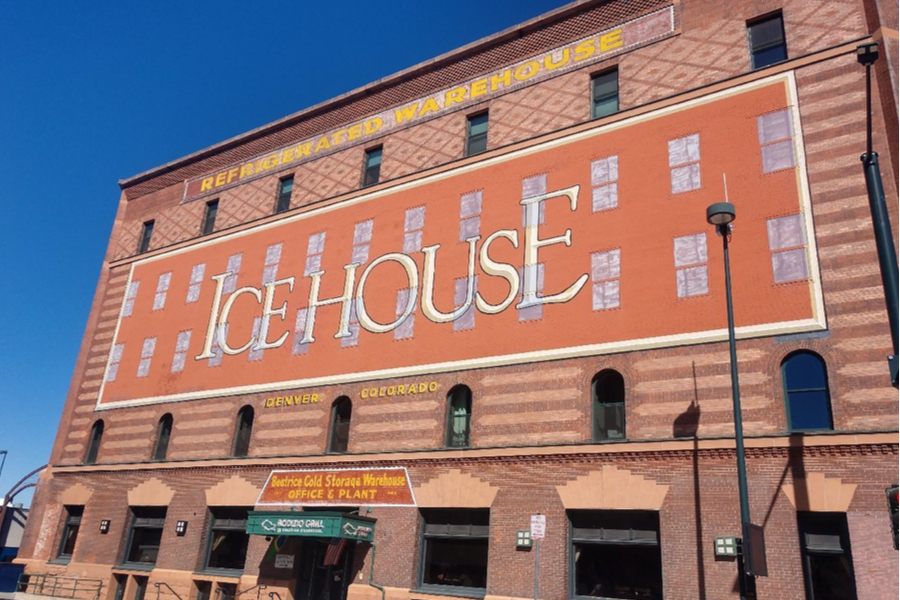 In a single day, we covered much of downtown Denver, including a train ride out to Mile High Stadium for a tour. And finally, another trip using the transit system for an unforgettable Boulder experience in the evening.
Exploring Denver
What a morning in Denver it was! The city is simply beautiful, and the blue sky and crisp cool temps made it perfect for walking around.
We checked out everything we could. Including Union Station area and the entire 16th Street District, which is lined with shops, restaurants and more.
Next up was a short train trip out to take a tour of Mile High Stadium, the home of the Denver Broncos. Since they happen to be in town this weekend, we are going to head back on Sunday to take in a game as well.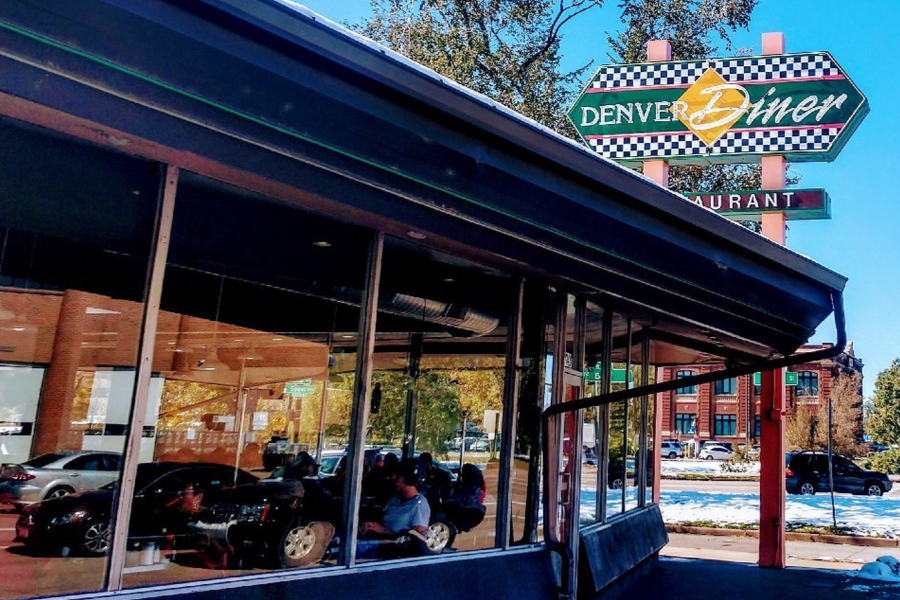 Finally, we finished our downtown Denver experience with a train ride back in to the city, and a great lunch at the classic Denver Diner.
Getting to visit and eat at so many coffee houses, diner's and other unique eateries has certainly been one of our favorites on this trip. And the Denver Diner was a great one!
An Amazing Experience In Boulder
Our afternoon in evening in Boulder was nothing short of spectacular. What an amazingly beautiful city. Home to the University of Colorado, this town is full of life and vitality.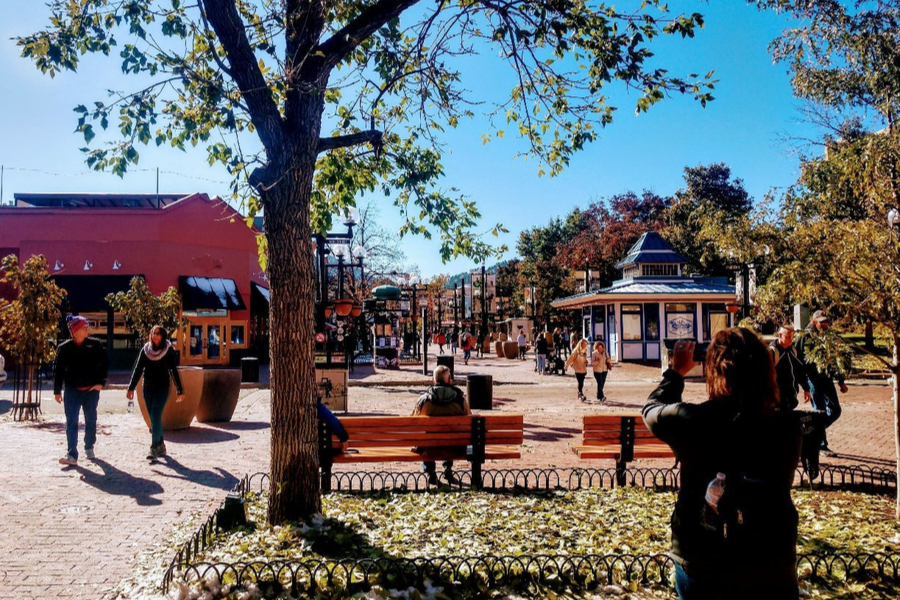 After checking out the campus, we headed down to iconic Pearl Street to walk around and look for a place to enjoy dinner.
I could go on and on about Boulder, but I want to end with an amazing story of an incredible little place on Pearl Street known as Mountain Sun Pub & Brewery.
After walking around, we noticed the overflowing crowd, and decided it would be a great place to enjoy dinner. And were we ever right!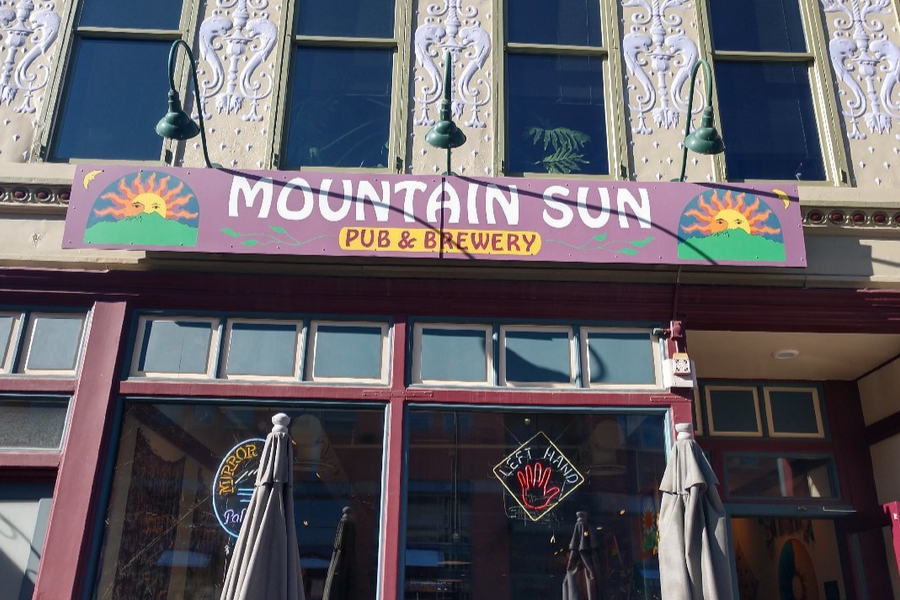 As soon as you walked in, you felt the positive vibes coming from all corners. The place was packed with customers, so we decided to head up to the counter to sample a few of their brews and wait for a seat.
And it was there that we met Sydney and Andrew behind the counter. Two of the most refreshing and wonderful people we have met so far, and we have met a lot of great ones!
As we sampled a couple of their delicious brews, we both noticed something you just don't see in restaurants very often. Every single staff member was having a blast. I mean, really having fun working!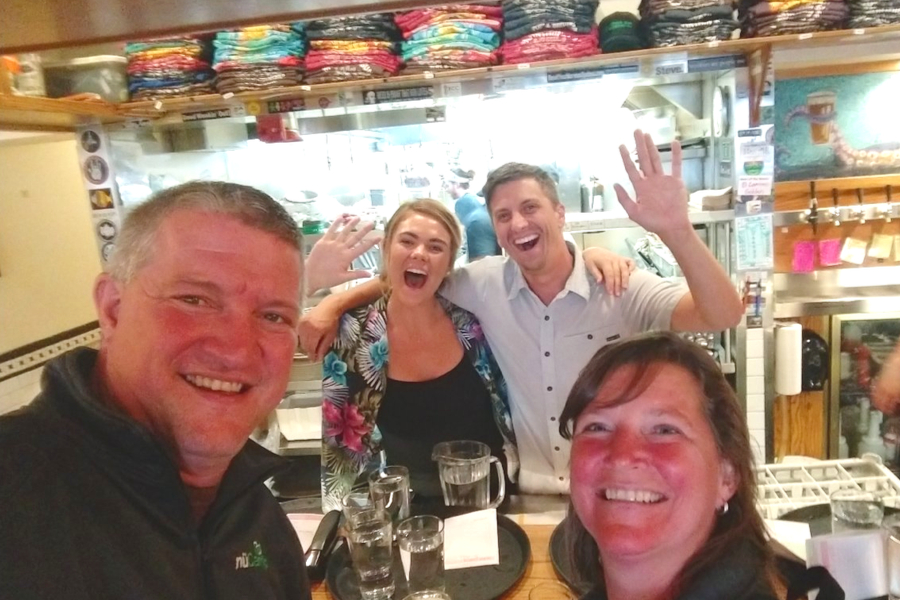 Mountain Sun Pub & Brewery – A Different Approach
Helping each other wasn't a question, it was how they operated. We could have spent 10 hours there and not told you who was a manager. Because they were all taking charge and taking care of everyone.
We ended up staying at the counter area for the entire time, talking to both Sydney and Andrew. You couldn't help but feel good just being around them.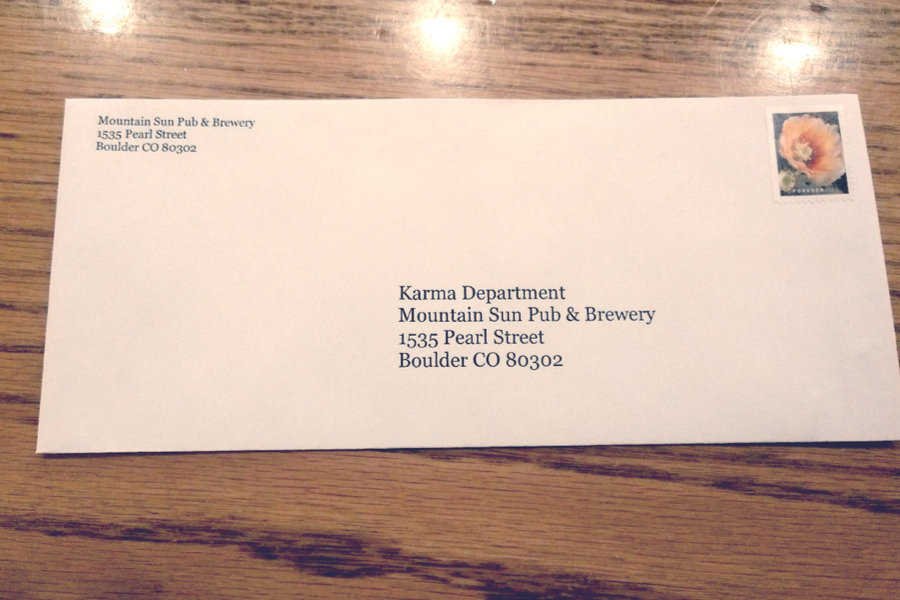 To boot, we learned the kindness and laid back atmosphere extends to their business policies as well.
Here is my favorite: As a cash & check only business, they sometimes will have customers who only have a credit card. Well, no worries here.
If that happens, they simply hand you a pre-stamped Karma envelope. No taking of names or addresses. No checking up. They just hand you an envelope and you send it in. Love it!
What an amazing place, and what an incredible experience in Boulder.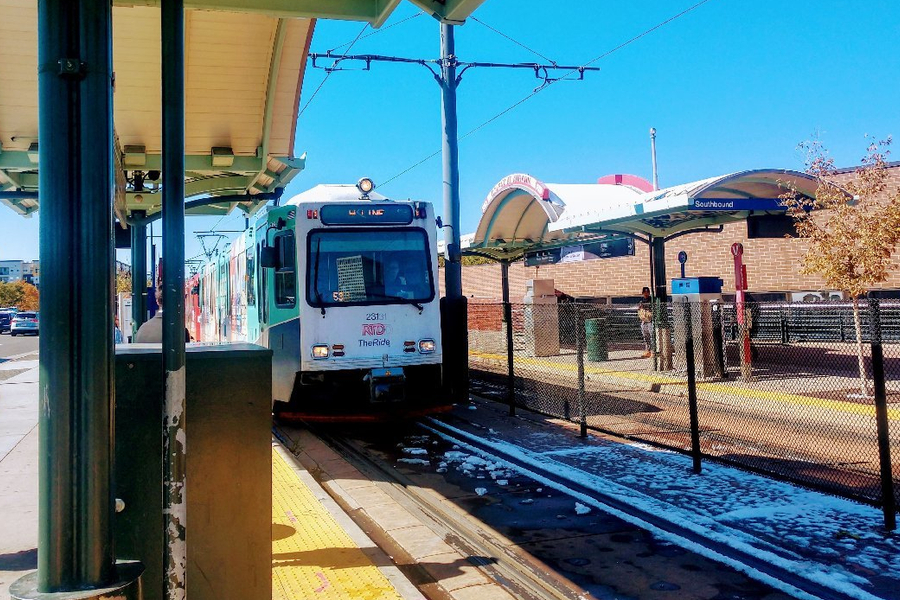 Traveling really does restore your faith in how wonderful people and places can be.
Now it's time to rest up for tomorrow's adventures – Pike's Peak and an Air Force College Football Game! Happy Traveling – Jim and Mary.
CURRENT TRIP STATS
Day 33 of 365
States Visited 6 / 50
National Parks / Monuments Visited : 6
Stayed In : Wheat Ridge, Colorado
Miles Driven : 2
Total Trip Miles To Date : 4431.9
Total Gallons Used : 330.59
Biking Miles : 0
Biking Miles To Date : 87.6
Hiking Miles : 0
Hiking Miles To Date : 86.1
About Our Living Simple Tour
On September 9th, 2019, we set out in our NuCamp T@B 400 Teardrop Camper to travel to every state. You can check out all of our dates here : Dates for the States

You can follow along by signing up for our twice weekly email updates at the bottom of the page. You can also follow us on Facebook : Live Simple Tour Facebook and Instagram : Live Simple Now Instagram Page.