10
Oct
It is hard to believe that just yesterday we were in shorts hiking around Rocky Mountain National Park and today we are faced to tackle a snowy day in Denver.
Although it wasn't a big surprise that we would be faced with this today. The weather forecast has been calling for this storm to arrive for a little over a week now.
In fact, we shortened our trip in Cheyenne, Wyoming to try and miss the large amount of snow and frigid weather that was predicted to arrive.
Leaving Wyoming early Wednesday morning allowed us the opportunity to explore Rocky Mountain National Park in glorious 80 degree temperatures.
But more importantly, it allowed us to arrive and set up camp before the foul weather moved closer.
The Cold Front Heading Our Way
After dinner last night we witnessed first hand the shift in weather conditions. We were heading outdoor to hike around the beautiful ponds near us when a wind gust nearly knocked us off our feet.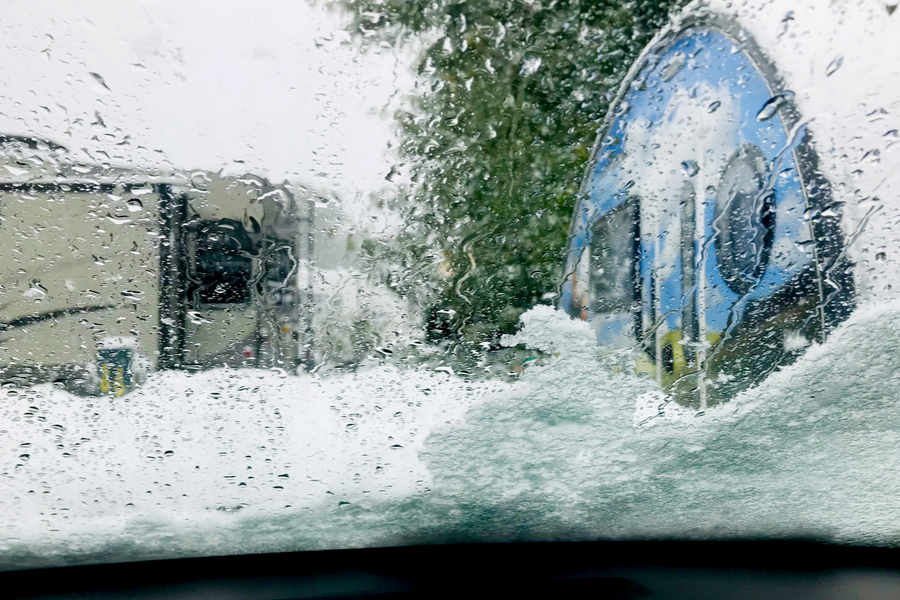 Then in the distance Jim pointed out a huge dust storm that was heading our way.
Being visitors to the area and being that we had never experienced anything quite like it, we stood there in awe.
That was only until the dirt start flying and pelting us forcefully in the face.
We quickly ran for the camper door and watched the gusts of wind whip around everything that was in it's path.
After about 10 minutes of watching out the camper windows, we questioned whether or not that we were going to get a chance to get out and hike or not.
But just as quickly as it moved in, the wind gusts suddenly ceased to exist. Don't get me wrong, it was still breezy but manageable. And you could definitely feel the warm temperatures dissipate and the cold air begin to move in.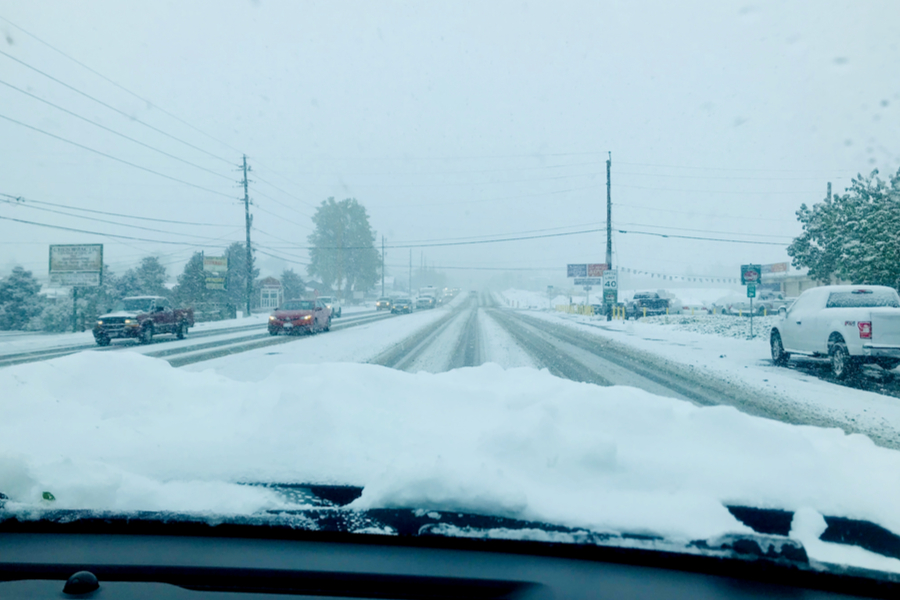 So after a spectacular day of views of the Rocky Mountains and hiking and biking in shorts and t-shirts, we braced ourselves for the anticipation of a snowy day in Denver.
Snowy Day Activities
When we woke up in the early morning, there was just a dusting of snow outside.
However, the temperatures were continuing to drop and by the time the sunrise appeared it was snowing heavily.
We could hear those around us scraping the ice off their windows as they prepared to go to work.
For those of you that are snow lovers you might anticipate all the things that you could do in a Colorado snow fall.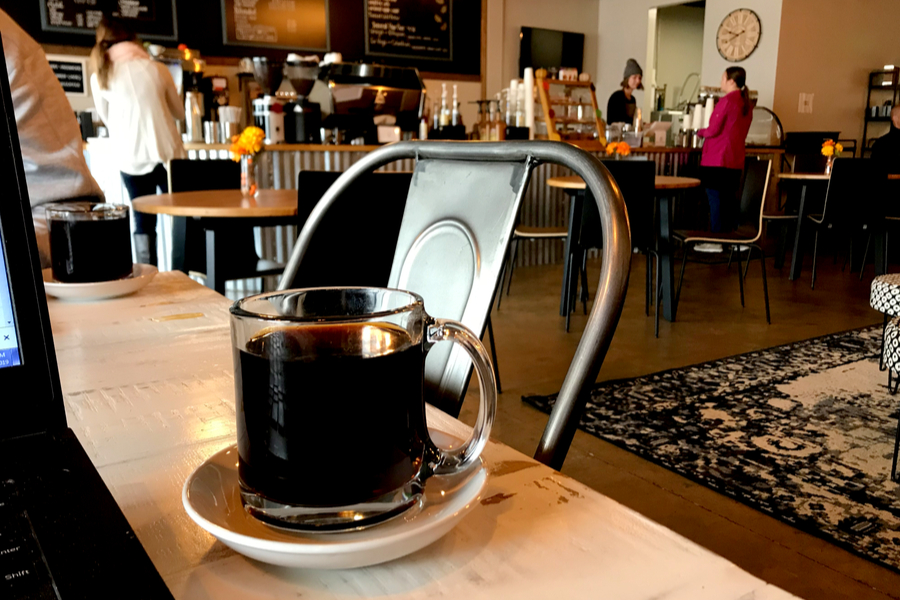 Skiing, snow shoeing, snowmobile riding, and more might have crossed your mind.
However, none of the winter time recreation facilities are open for business this early in the year.
And with temperatures predicted to be back in the 70's early next week, you can understand why.
So what do you do when you have a snowy day in early October in Denver?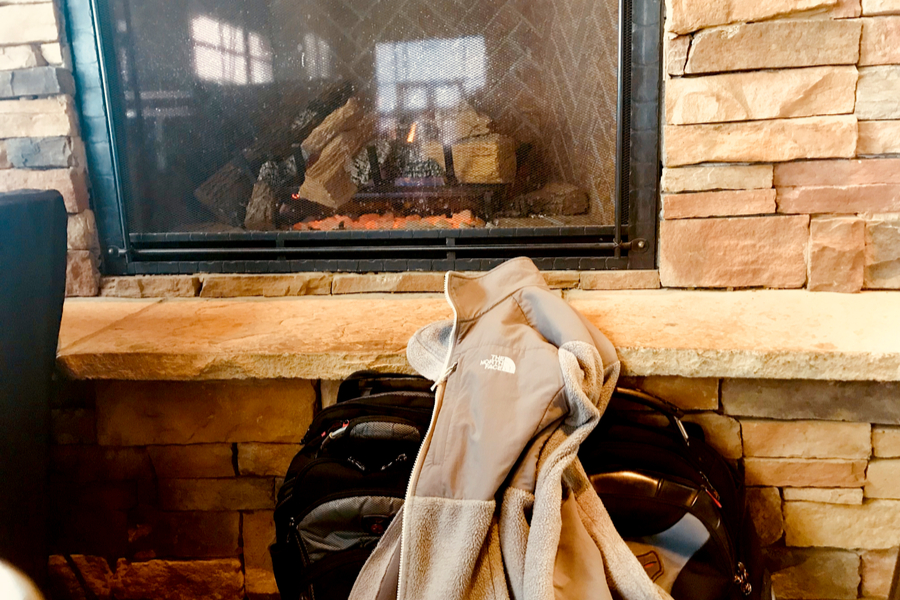 For us, we decided to dedicate the day to writing.
Writing on a Snow Day in Denver
Because there is so much to see and experience in and around Denver when the weather cooperates, we both agreed that today would be a good day to spend indoors writing.
We needed to carve out a little time for writing articles, recipes, and more. And there is no better time than a snowy day to accomplish this task.
So we headed to a local coffee shop to warm up and let the writing begin.
Those 3 hours flew by quickly, but we both got a lot accomplished. So we decided that after we made lunch back in the camper to head back out to write for another few hours.
This time we sat inside New Terrain Brewing Company to write comfortably next to a fireplace.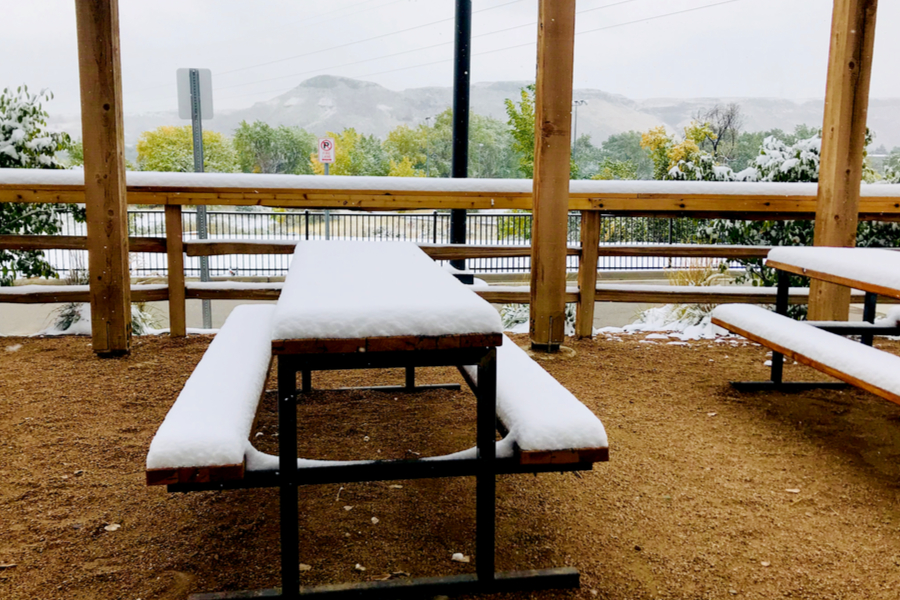 We thoroughly enjoyed the wide open atmosphere and our bones warmed up within minutes as we sat at a high top table right in front of the fire.
In fact, we got so warm that we both took off our coats, hats and even sweatshirts within the first hour of being there.
But we didn't mind the heat. Just the thought of the temperatures swinging 65 degrees to hit a record low this evening made us appreciate the warmth even more.
And now that we had most of the day to write, we are set to explore what Colorado has to offer over the next few days!
Happy Traveling! Jim and Mary
CURRENT TRIP STATS
Day 32 of 365
States Visited 6 / 50
National Parks / Monuments Visited : 6
Stayed In : Wheat Ridge, Colorado
Miles Driven : 12.3
Total Trip Miles To Date : 4429.9
Total Gallons Used : 330.59
Biking Miles : 0
Biking Miles To Date : 87.6
Hiking Miles : 0
Hiking Miles To Date : 86.1
About Our Living Simple Tour
On September 9th, 2019, we set out in our NuCamp T@B 400 Teardrop Camper to travel to every state. You can check out all of our dates here : Dates for the States

Follow along by signing up for our twice weekly email updates at the bottom of the page. You can also follow us on Facebook : Live Simple Tour Facebook and Instagram : Live Simple Now Instagram Page.