08
Oct
As we wrapped up journey through Wyoming, we had the pleasure of spending the day and night in Cheyenne, the state capital.
We arrived in town early in the day and decided to visit the Cheyenne Botanic Gardens.
Cheyenne Botanic Gardens
As most of you know, we are avid gardeners ourselves. And any chance that we get to visit or speak about gardening, we jump on the chance.
This time, we found this amazing gem of an attraction after doing a google search on what to experience when visiting Cheyenne, Wyoming.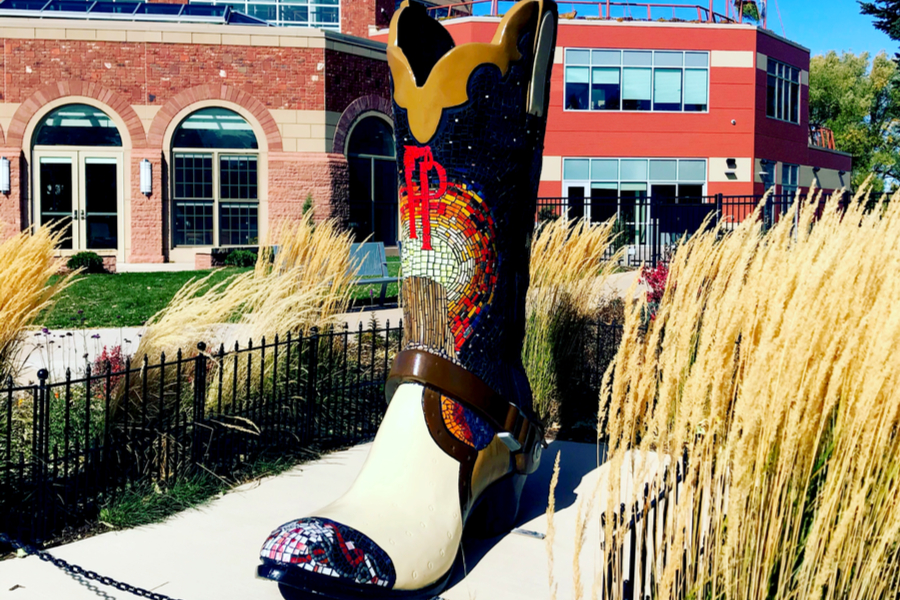 Actually, Cheyenne Botanic Gardens is Wyoming's only botanic garden. Although it exists in one of the most challenging gardening climates, the beauty of gardens, landscape and Grand Conservatory are definitely worth a visit.
They even have a Children's Village on site that allows the visitors to interact and provides real-world examples of sustainability. Windmills, hand-powered water pumps, a roof-top garden and multiple raised garden beds fill the area.
Every inch of the space has been updated and utilized to make visitors feel welcome to enjoy the space at their own leisure.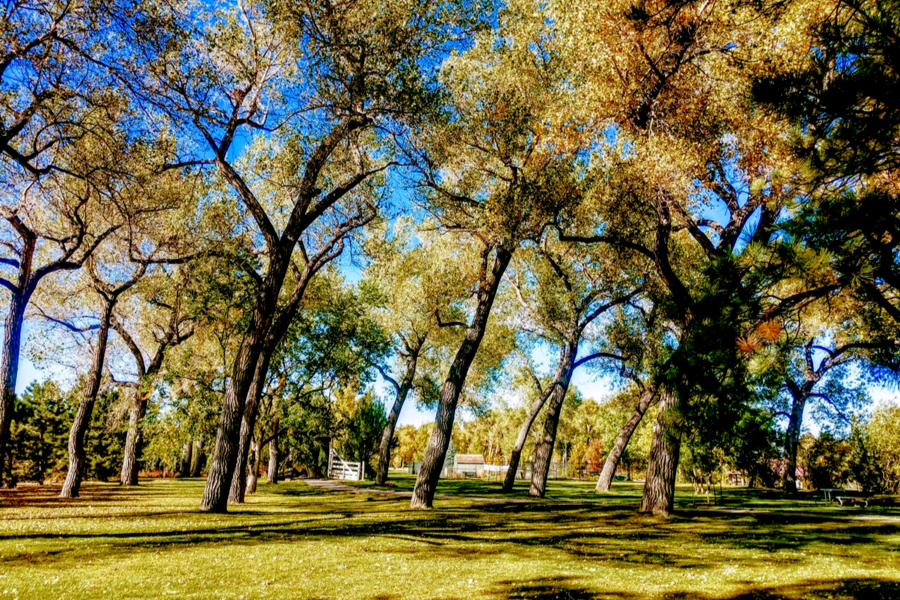 FREE Admission
And the most surprising fact of all, it's 100% free to the public. There is no fee to walk through the Grand Conservatory, Children's Village or the entire grounds of the Cheyenne Botanic Gardens.
Not to mention they hold several educational programs throughout the year, and quite a few weddings as well!
However, in an continual effort to keep it free to the public, they offer a membership program to those who want to give back to the community.
Without the support of the Friends of Cheyenne Botanic Gardens, they would not be able to provide such a beautiful facility and grounds for everyone to enjoy.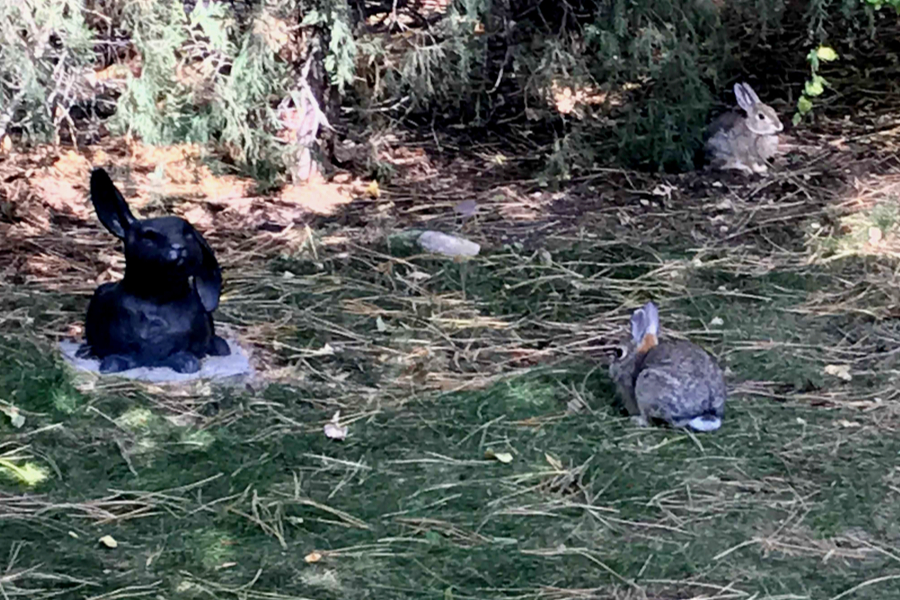 We literally could have spent all day there. However, because we had less than 24 hours to enjoy the city of Cheyenne, we pulled ourselves away from the beauty and serenity of the area and headed in the city.
The Streets of Cheyenne, Wyoming
As we drove through the streets of Cheyenne, Wyoming, we couldn't help but to notice the historic buildings that lined every street.
On the north side of Cheyenne stood the large gold dome of Wyoming's State Capitol building. And on the south end of Capitol Avenue is the Union Pacific Railroad Depot. Both the dome and the tower on the old train depot building gives downtown Cheyenne a unique skyline.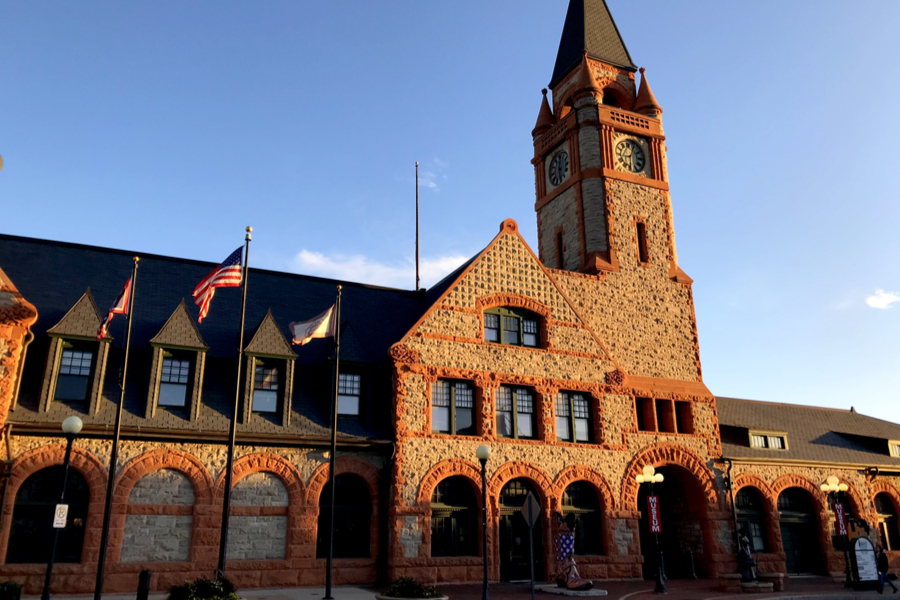 The depot has become a cornerstone of Cheyenne's identity. It no longer services train passengers, but, like many depots in western towns that no longer have passenger train traffic, the depot has been repurposed for other uses. The depot features a railroad museum, restaurant, and its lobby plays host to a number of community events.
So we decide to head to the train depot to have a quick drink before dinner.
What we didn't know is that we would be experiencing something unique.
There was a large crowd around the entrance off the Accomplice Beer Company. So we decided to see what all the fuss was about.
When we entered into the lobby, we realized that the famed restaurant was also a brewery.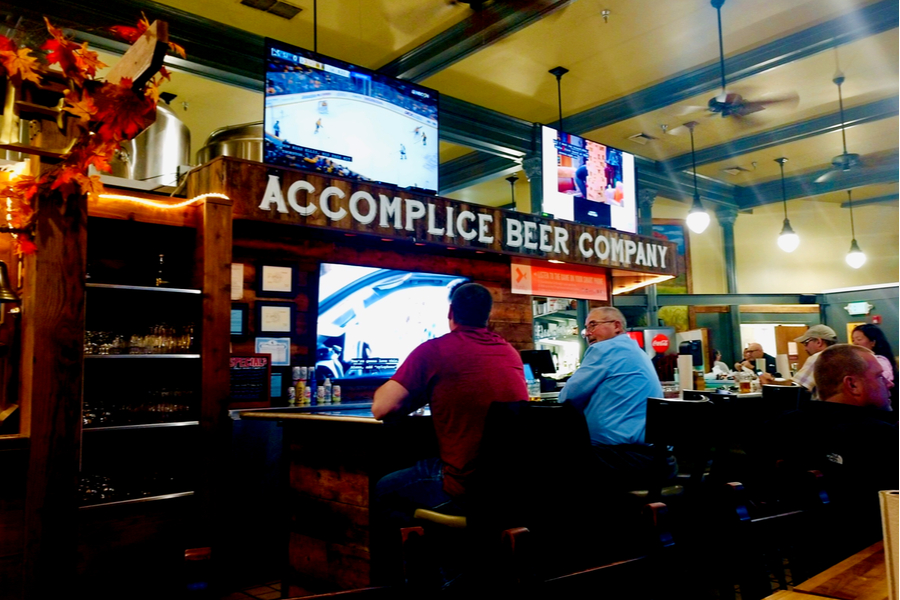 Being rookies to the area, we asked our host to guide us through the ordering process.
That is when we knew we were in for a treat! Unlike most restaurants or tap rooms, the Accomplice Beer Company offers self-pouring taps of a variety of beers that they have brewed on-site.
Self-Pouring Beer Taps
Yes, you read that right. You pour your own beers!!! Upon entering the restaurant, they give you a plastic card that is connected to your credit card account.
When you want a beer, or a small taste of one, you place the card above the tap that you want to try. Once you pour the liquid into the glass, it charges you by the ounce.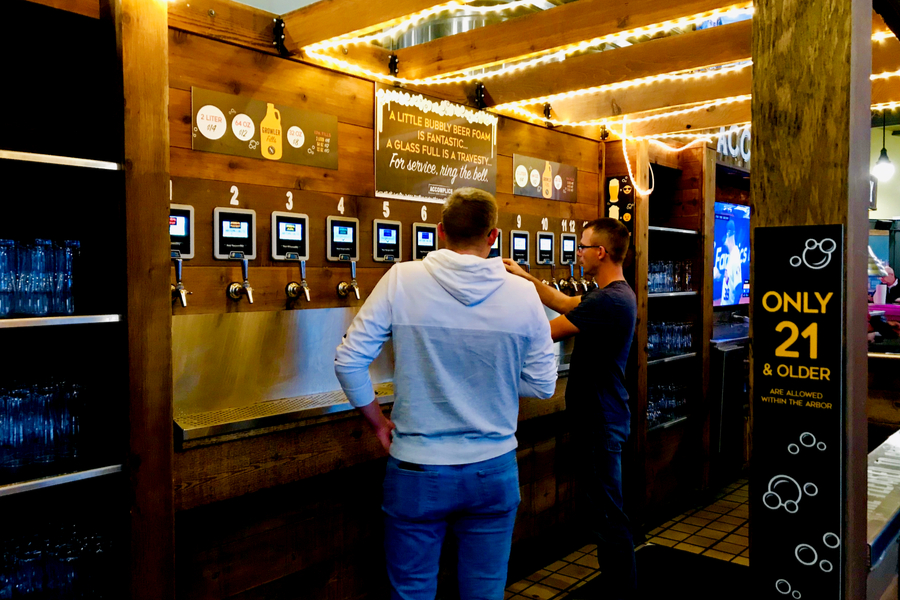 What a fantastic way to be able to try a variety of beverages!
Because we had never heard of such a concept before, we asked Jared, our server if this was a typical practice in Wyoming. He explained that this was a unique concept to Accomplice Beer Company, and it simply has taken off!
And by the size of the crowd on this Tuesday evening, I would say that he was correct!
After a couple of samplings, we decided that we would head back outdoors and explore the town of Cheyenne a little more.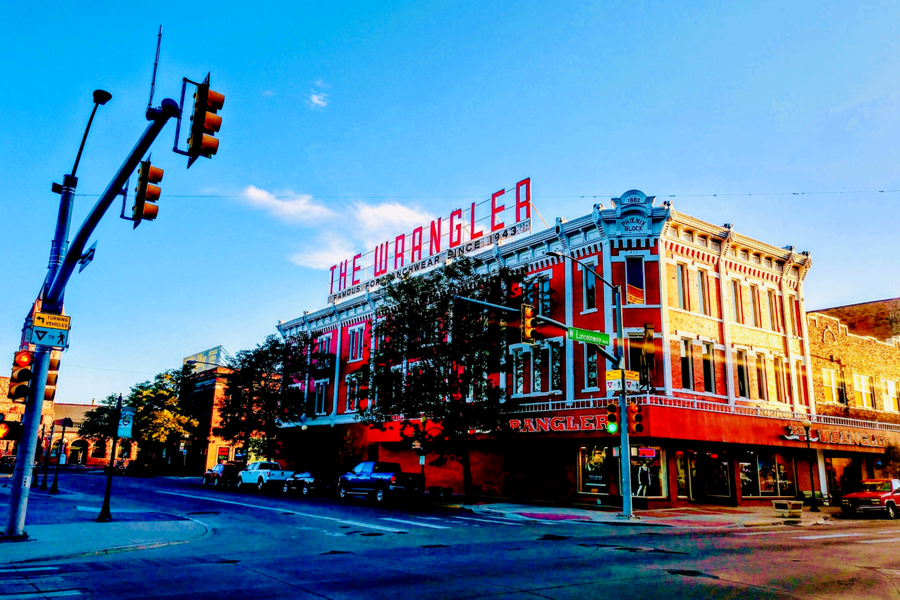 The beauty of the buildings, shops and restaurants made us want to come back for more!
Although we have to cut our stay short in Cheyenne due to a snow storm and frigid temperatures that are expected to arrive tomorrow night, this is one state and town that we will definitely come back to visit!
Happy Traveling!!! Jim and Mary
CURRENT TRIP STATS
Day 30 of 365
States Visited 5 / 50
National Parks / Monuments Visited : 5
Stayed In : Cheyenne, Wyoming
Miles Driven : 208.9
Total Trip Miles To Date : 4227.4
Total Gallons Used : 313.14
Biking Miles : 0
Biking Miles To Date : 87.6
Hiking Miles : 3.6
Hiking Miles To Date : 81.9
About Our Living Simple Tour
On September 9th, 2019, we set out in our NuCamp T@B 400 Teardrop Camper to travel to every state. You can check out all of our dates here: Dates for the States

Follow along by signing up for our twice weekly email updates at the bottom of the page. You can also follow us on Facebook : Live Simple Tour Facebook and Instagram : Live Simple Now Instagram Page.