06
Oct
Today we had the pleasure of visiting Thermopolis, WY. But it wasn't because we had planned to make a trip there.
In fact, neither of us had ever heard of the town of Thermopolis until this past weekend.
As we were sitting at restaurant in Cody, WY, our friendly server was asking us about our trip around the country.
We told him how much we were looking forward to seeing the hot springs and geysers in Yellowstone National Park.
That is when his eyes lit up and asked if we had planned a stop in Thermopolis.
Not knowing anything about this town, we asked him for more information.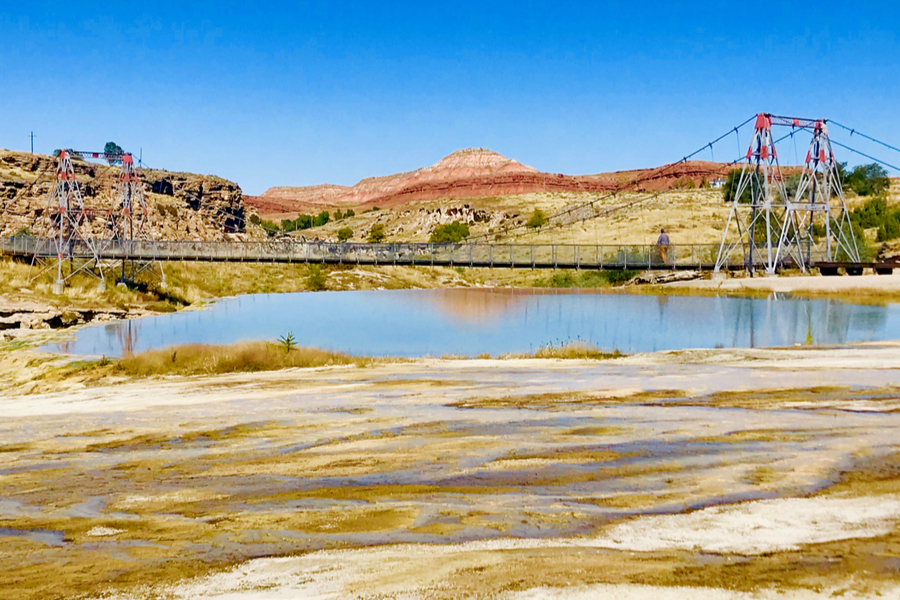 He told us that it was the location of the World's Largest Mineral Hot Spring. And if that wasn't enough to peak our interest, he also explained that you could actually take a natural hot spring bath there as well.
That is when we knew that we had to make a stop there! And lucky for us, when we checked where it was on the map, it worked out perfectly in our travel plans.
Leaving Cody and Heading To Thermopolis
After a few wonderful days in Cody, we started our journey southwest across Wyoming, towards the state capital, Cheyenne.
But instead of driving straight through, we decided to break the trip up and stay in a couple smaller towns along the way.
Therefore, our first overnight stay was planned for Riverton. That is when we realized that we would be driving right through Thermopolis along the way!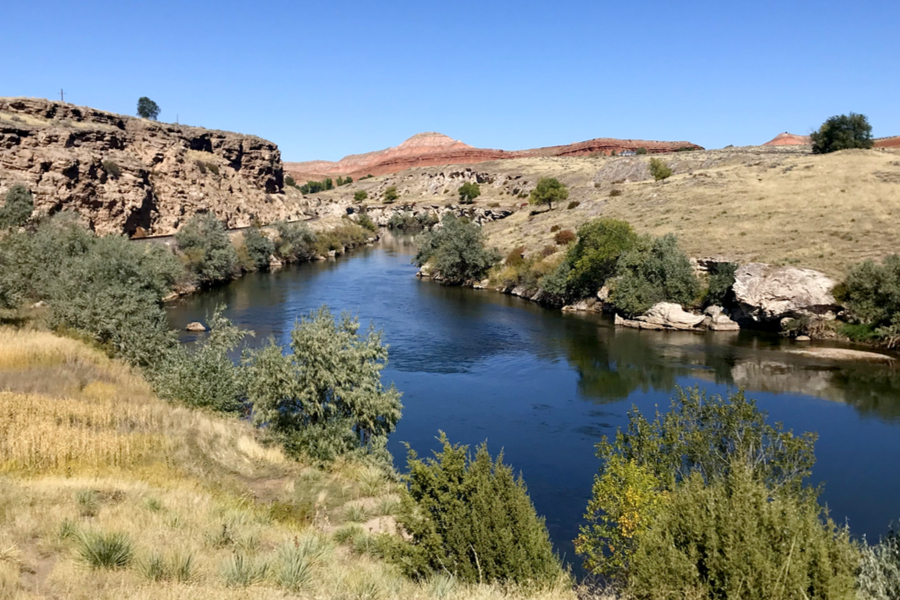 Although we hadn't previously planned to stop, we now knew that this was a must see town.
So we drove an hour south of Cody and ended up at Hot Springs State Park in Thermopolis.
Hot Springs State Park
As soon as we entered the park, the faint smell of sulfur filled the air. Not knowing exactly what to expect, we put our bathing suits in a bag and headed toward the recreation area.
The temperature outside was 56 degrees F. However, it felt warmer as the sun was out and the breeze was all but absent.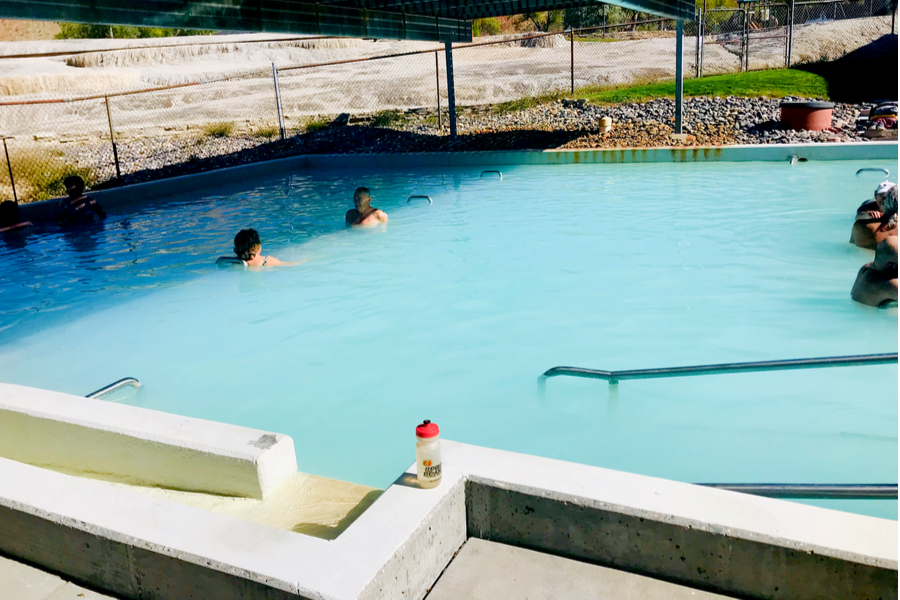 We first came across a large building that had a pool that extended from the inside to the outside.
However,we were shocked to see that the outdoor pool area was still open in October. Although it made sense when we saw several families outside enjoying the warm water.
We continued our walk to explore the area and came across the Public Bath House. This is where anyone can come in an enjoy soaking in a Natural Hot Springs Bath, for free!
The temperature of the water is 104 degrees F, the standard temperature of a hot tub.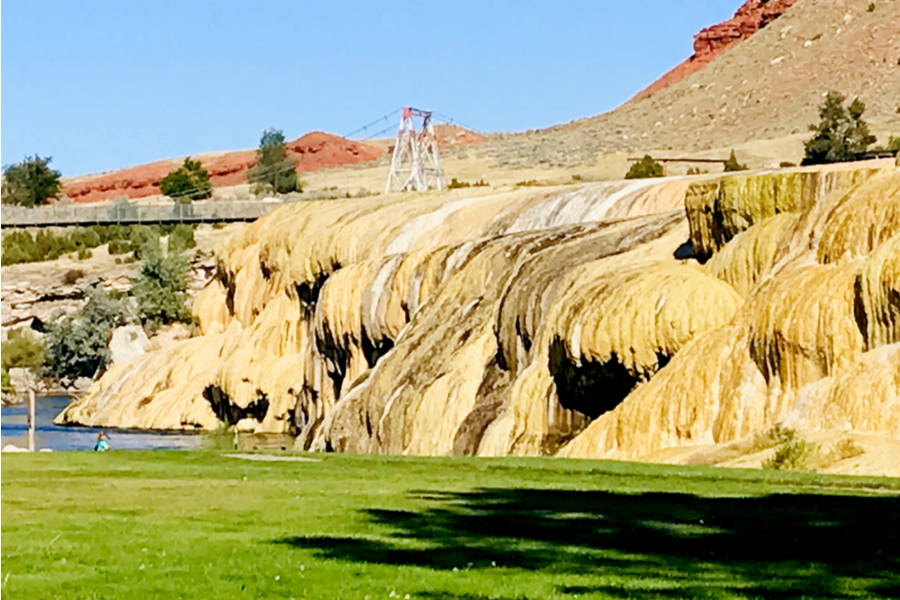 We knew that we had to enjoy this rare opportunity while we were in Thermopolis. So we both changed into our swim suits and headed outdoors.
Although the smell of the minerals from the hot springs was in the air, we entered the therapeutic water.
We sat on a bench that allowed our entire body to be submerged in the hot springs water. It was so relaxing to be outdoors, looking at the geological formations around us.
Mineral formations: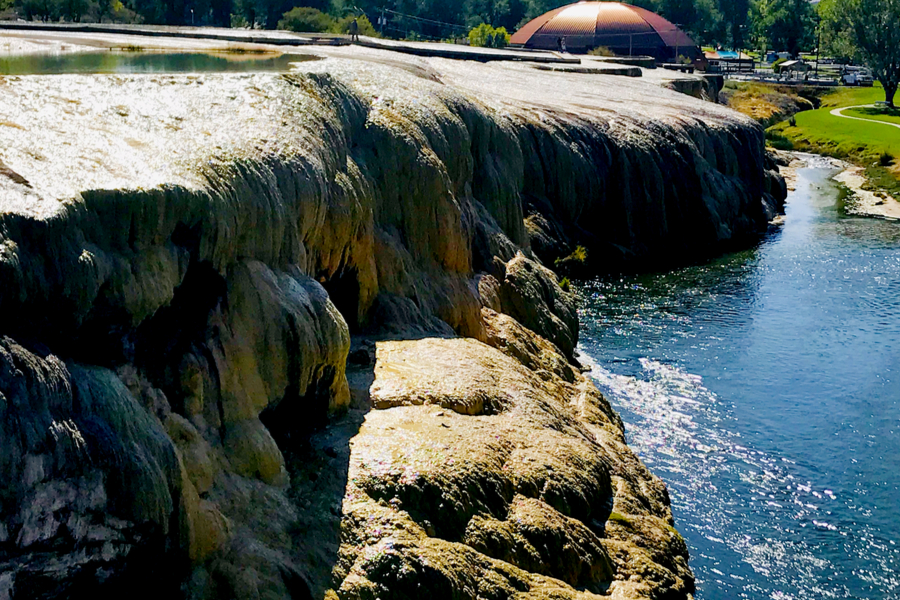 We really couldn't believe that if it wasn't for someone telling us about Thermopolis earlier in the week, we would have driven straight through the area!
When we got out of the hot springs bath, we decided that we should walk the area and get a closer look to the world's largest mineral hot spring.
There is a path that leads you around the hot springs area. You can see the water steaming out of the ground and running towards the river below.
There are variations of colors streaming over the rocks and the mineral deposits along the river bank are simply amazing.
Wind River Canyon
After we spent time exploring Hot Springs State Park and biked the town of Thermopolis, we decided to hit the road towards Riverton.
But what we didn't know was that we would be driving through Wind River Canyon. Which may hold the prettiest views in Wyoming!
Although you are just a few miles south of Thermopolis, the roads quickly change. In fact, within minutes, you are driving towards the bottom of a large canyon. And off to the right is the majestic wind river.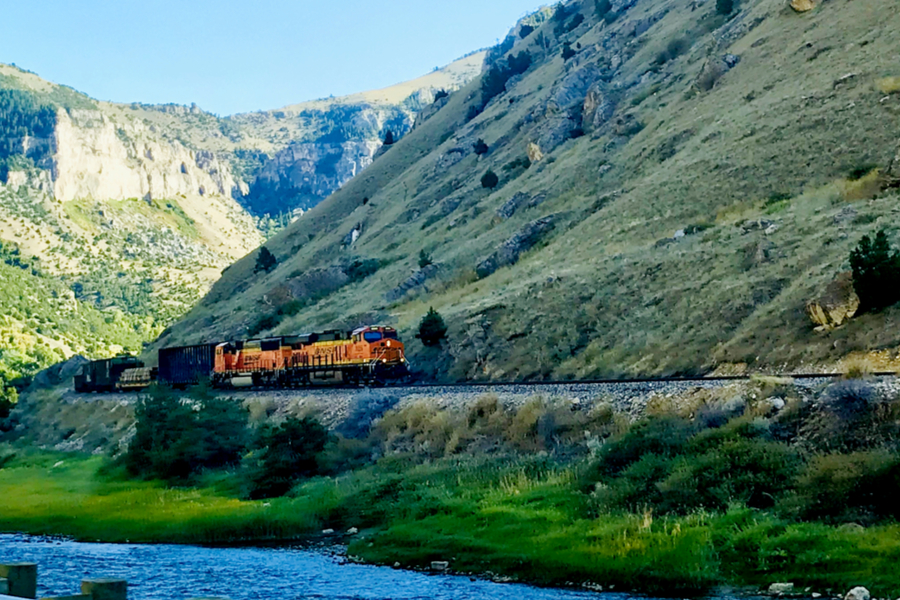 The views were absolutely stunning!
And on the other side of the river, there were train tracks that followed the river's path.
As much as we both enjoyed the scenery among us, we couldn't help to imagine the incredible views that you could see if you were lucky enough to be on that train.
Happy Traveling! Jim and Mary
CURRENT TRIP STATS
Day 28 of 365
States Visited 5 / 50
National Parks / Monuments Visited : 5
Stayed In : Riverton, Wyoming
Miles Driven : 146.3
Total Trip Miles To Date : 3888.5
Total Gallons Used : 288.0
Biking Miles : 11.3
Biking Miles To Date : 87.6
Hiking Miles : 2.6
Hiking Miles To Date : 70.1
About Our Living Simple Tour
On September 9th, 2019, we set out in our NuCamp T@B 400 Teardrop Camper to travel to every state. You can check out all of our dates here : Dates for the States

Follow along by signing up for our twice weekly email updates at the bottom of the page. You can also follow us on Facebook : Live Simple Tour Facebook and Instagram : Live Simple Now Instagram Page.