27
Sep
After a wonderful stay in Dickinson, North Dakota, it was time to hit the road and visit the Theodore Roosevelt National Park.
As we headed west on 1-94 we were in awe of the beautiful landscape that surrounded us.
There were fields of cattle on both sides of the highway. And as we drove a little further all we could see hundreds, if not thousands of round bales of hay scattered throughout the land.
But as we approached the Theodore Roosevelt National Forest, the topography began to change drastically.
Large rock formations began to appear out of nowhere and in the distance you could see the beginning of the North Dakota Badlands area.
And what a magnificent view it was! Canyons formed by years of deposition and erosion filled the area.
But what caught your eye the most were the various colors in the layers of rock that remained.
Painted Canyon at Theodore Roosevelt National Park
In fact, this area is what they call Painted Canyon. It actually is one of the most notable and photographed places in North Dakota. And it sits at the south unit of the Theodore Roosevelt National Park.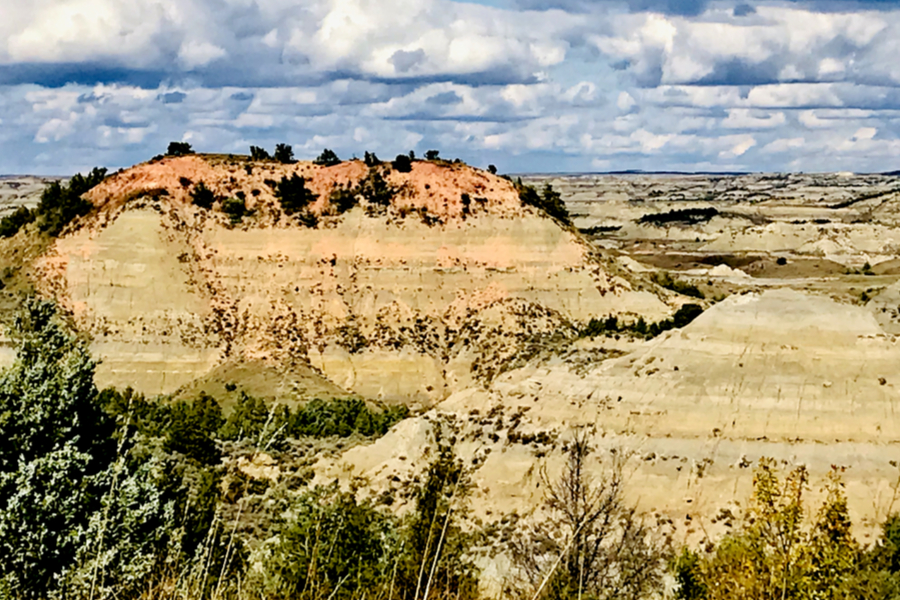 Not only does the park have a magnificent overlook area that everyone can enjoy. But it also has a moderate hiking trail that leads through the canyon to get an up close and personal view of the rock formations.
So we decided to get in a few extra steps by hiking this path.
The sign at the top of the path indicated that it was a moderate trail with uneven surfaces and steps.
And they weren't kidding! There were several deep and rugged steps that lead to towards the bottom of the canyon.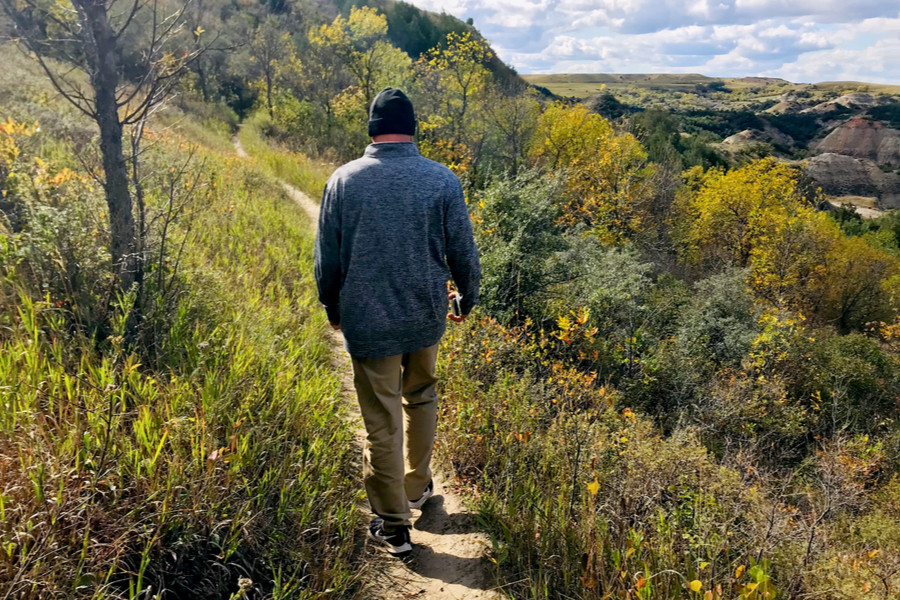 Although they weren't too difficult to navigate down, we knew that we would have to eventually take them back up to finish the hike.
So we continued down the narrow path and stopped to enjoy the views along the way.
As we were taking in the beauty of the trails and canyon, we decided to hike up to an overlook area to get an unobstructed view of the badlands in the Theodore Roosevelt National Park.
It was simply breathtaking. And by that I mean the hike up there and the views!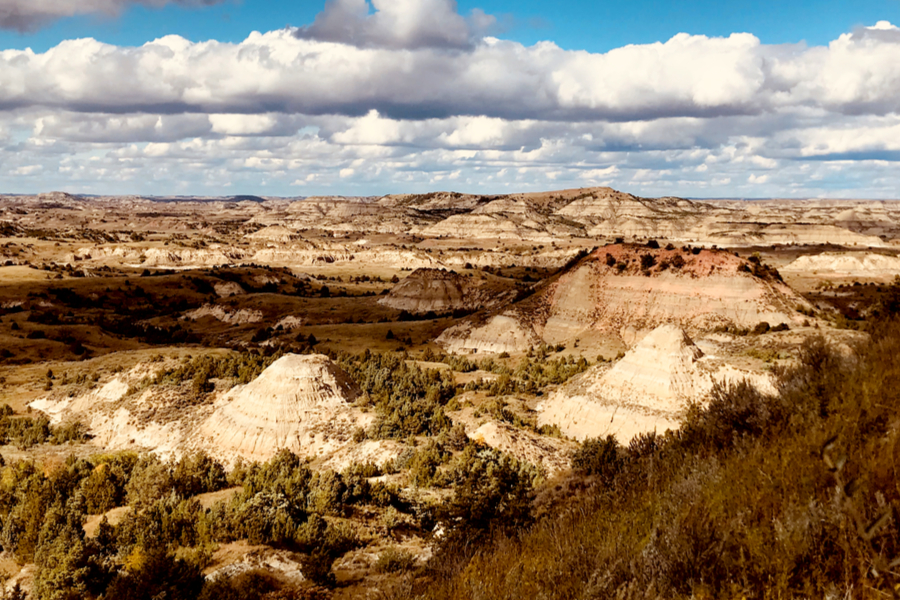 After that steep hike up to the top, we sat on a bench to catch our breath and were amazed at the stunning landscape before us.
It was extremely peaceful as we were the only two hikers in sight! Therefore, we took a few extra minutes and sat in silence to appreciate the beauty among us.
A Salute To Theodore Roosevelt in Medora
Medora, North Dakota is known for it's Musical performance. Every year from May to September, they produce an outdoor musical that is proclaimed as the Greatest Show in the West.
The amphitheater holds almost 3,000 seats and the entertaining performance is an ode to patriotism and Theodore Roosevelt.
Unfortunately, we weren't able to attend this event, or the pitchfork steak fondue dinner, as we arrived in Medora in the off-season.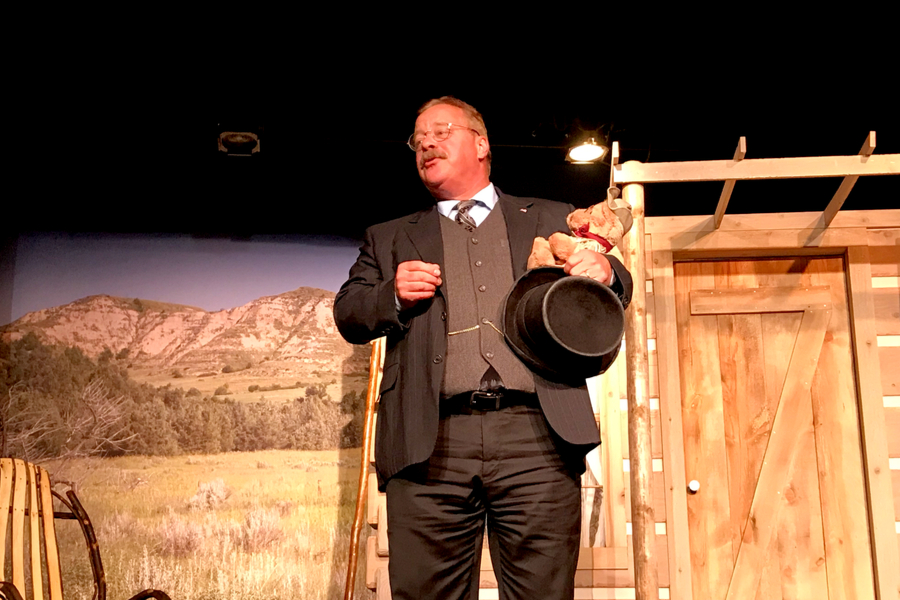 However, we were lucky enough to be here just in time to attend one of the last performances of the year of the Teddy Roosevelt Salute To Medora.
We ate a quick dinner at an Old Western Saloon, where we again met some amazing people from all over the country.
We walked across the street to the Old Town Hall Theater not knowing what to expect from this one man performance.
And we couldn't haven been more shocked and amazed! What we got to experience was the world's best Theodore Roosevelt Repriser, Joe Wiegand, who provided us with an amazing and entertaining account in the life of our former president.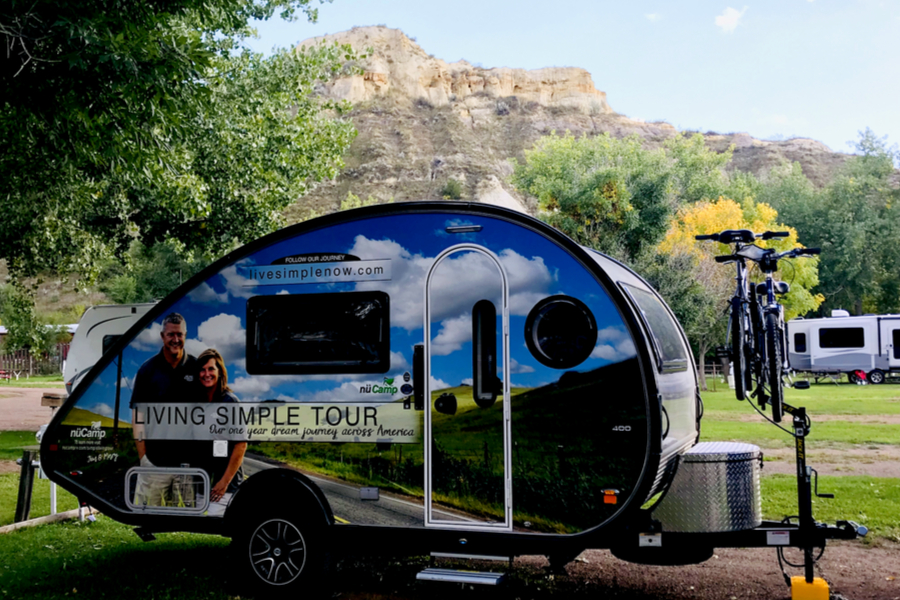 From how the Teddy Bear got it's name, his hunting experiences, political encounters, to how life was in the White House while raising 6 rambunctious children we got to hear it all from a man that embraced his performance as Teddy Roosevelt.
At the end of the show, we both were amazed at his knowledge, memory, and quick witted responses as he interacted with the audience.
Not only did we learn a lot of information about the conservation efforts of Theodore Roosevelt, but we were also thoroughly entertained as well.
You never know who you might run into while traveling!
Happy Traveling! Jim and Mary
CURRENT TRIP STATS
Day 19 of 365
States Visited 3 / 50
National Parks / Monuments Visited : 4
Stayed In : Medora, North Dakota
Miles Driven : 63
Total Trip Miles To Date : 2964
Total Gallons Used : 219.56
Biking Miles : 0
Biking Miles To Date : 71.3
Hiking Miles : 1.6
Hiking Miles To Date : 42.05
On September 9th, 2019, we set out in our NuCamp T@B 400 Teardrop Camper to travel to every state. You can check out all of our dates here : Dates for the States
Follow along by signing up for our twice weekly email updates at the bottom of the page. You can also follow us on Facebook : Live Simple Tour Facebook and Instagram : Live Simple Now Instagram Page.