Today we attended the largest Scandinavian festival in North America. But we only knew of this event thanks to an email that we received just a couple of days ago.
As we were sitting in our teardrop camper earlier this week we decided to dedicate some time to answering comments and emails on our website.
We love reading the suggestions on places to see and experience while we travel across the country.
In fact, we have a page dedicated to a map of the states where our readers can leave recommendations based on their hometown, or states that they have lived or visited in the past. We even have had offers to stay in the driveway or homes from various followers throughout the country.
And today, we followed one of those tips. We had the pleasure to experience the largest Scandinavian festival in not only the country, but in North America. All because of an email that we received earlier in the week.
After we posted our Day 14 day update on eating Knoephla soup, the famous North Dakota dish, Caryl sent us an email.
She asked us if we were going to attend the Norsk Hostfest in Minot, ND later in the week.
Because we were already in North Dakota, our first step was to investigate where Minot was located.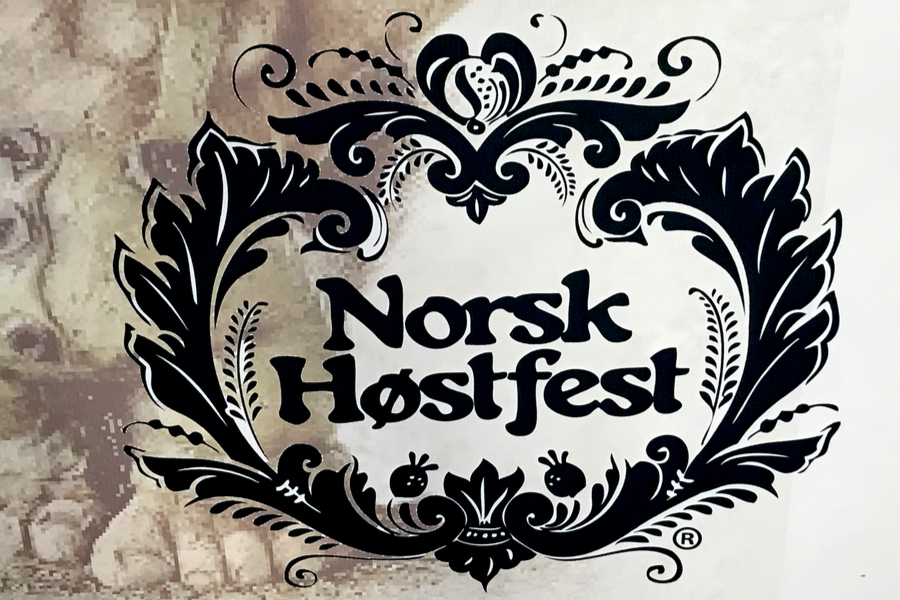 After we looked it up the location we realized that we were less than 2 hours from there.
Then the next step was to find out what the Norsk Hostfest was all about.
The Norsk Hostfest Festival – The Largest Scandinavian Festival in North America
When we googled Norsk Hostfest we quickly realized that this was a HUGE event.
In fact, it was the largest Scandinavian festival in North America. Therefore, we decided to investigate a little bit further.
The 4 day event is dedicated to everything Scandinavian. In fact, they call it Pure Scandimonium!!!
Within the facilities of the North Dakota State Fairgrounds, the halls are transformed to represent the history, culture, and art of the 5 Scandinavian countries.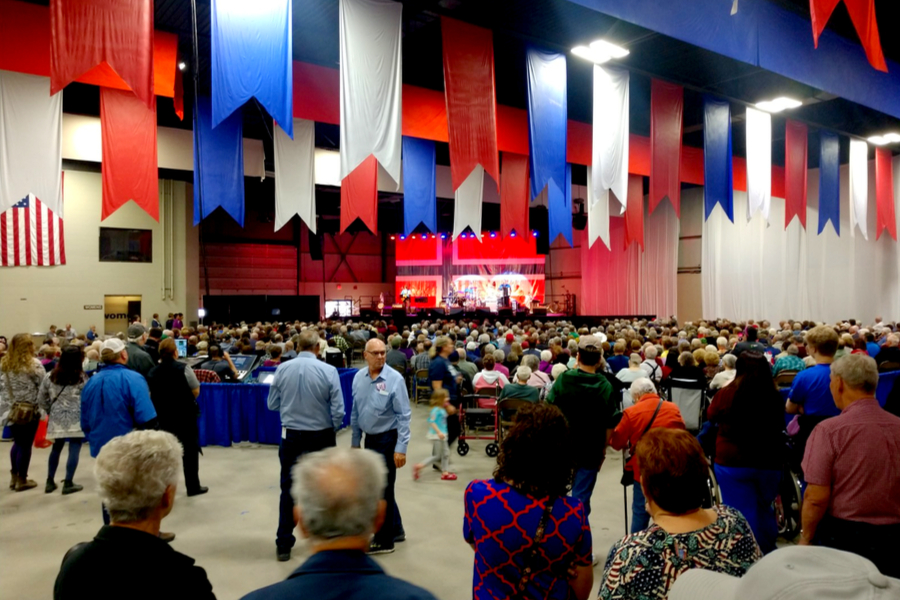 Although the Scandinavian countries include Norway, Sweden and Denmark, the nations of Finland and Iceland are also included in the broader definition.
Therefore, each country is greatly represented in this historic tradition.
In fact, each country has a huge exhibit hall that is named for each country's capital.
The Food of the Scandinavian Festival
Of course, whenever we think of festival, we think of food. Although we had already had the pleasure to experience Knoephla, both of our minds wondered what authentic cuisine that we would experience while we were in Minot.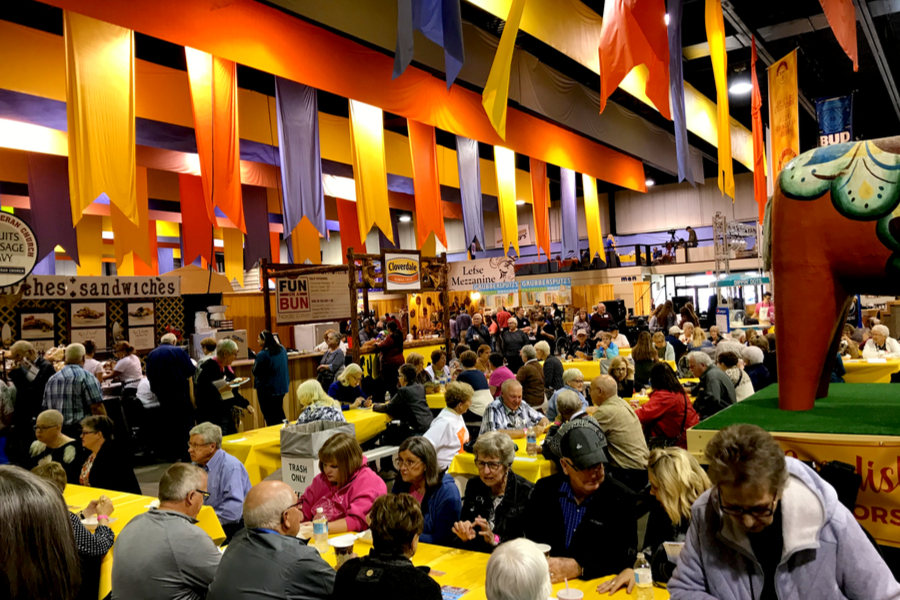 So as we walked into the entrance to the North Dakota State Fairgrounds, we immediately let our nose guide the way.
Our first stop was in Stockholm Hall. And immediately we came across food booths.
It was so hard decide what to eat. The room was filled with not only food vendors, but also patrons and performers who were singing.
The tables were filled with tthose who were eating, so we slowly walked through to see what the food looked like.
After about 5 minutes, we decided on a Viking on a Stick. It was a large meatball that was breaded and deep-fried. With one bite in, we knew that we had made the right decision.
Although we decided to try the native cuisine, we made a pact to split each dish so that we could try a variety of things throughout the day.
So we continued to walk the halls and ended up trying beef stew and bread and Knoephla as well.
After that, we were full and there was no way that we could try anything else. Although the bread pudding and potato dumplings looked delicious too!
The Viking Village
So we continued to walk around the halls and found ourselves strolling outside to the Viking Village.
Here you could experience what life would be like during the Viking period. There was a cooking demonstration over a fire with foods that were often made during this time.
And no, beyond popular belief, most of them didn't include meat. However, when they were able to hunt in the fall, the cuisine would change from porridge and roasted turnips to beef and poultry dishes.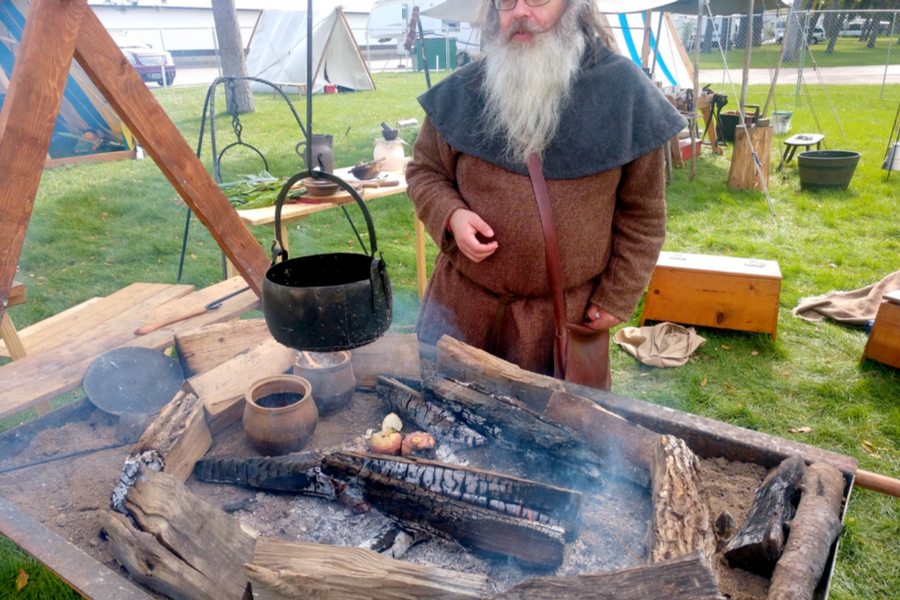 Then there were demonstrations of weapon making and archery skills that were simply amazing.
The Viking Games
But the most fun activity that we witnessed today was the Telge Glima. This was where we had the pleasure to witness the Viking Games of strength and endurance.
Although it was more of an entertainment show, we both enjoyed the demonstration of games that the Vikings might have experienced many years ago.
The games were those of strength. Some that we could imagine being done at our family reunion, and some that definitely could not.
Regardless, we had a great time watching the games that required no more than a rope as a finish line or a wooden stick that signified the winner.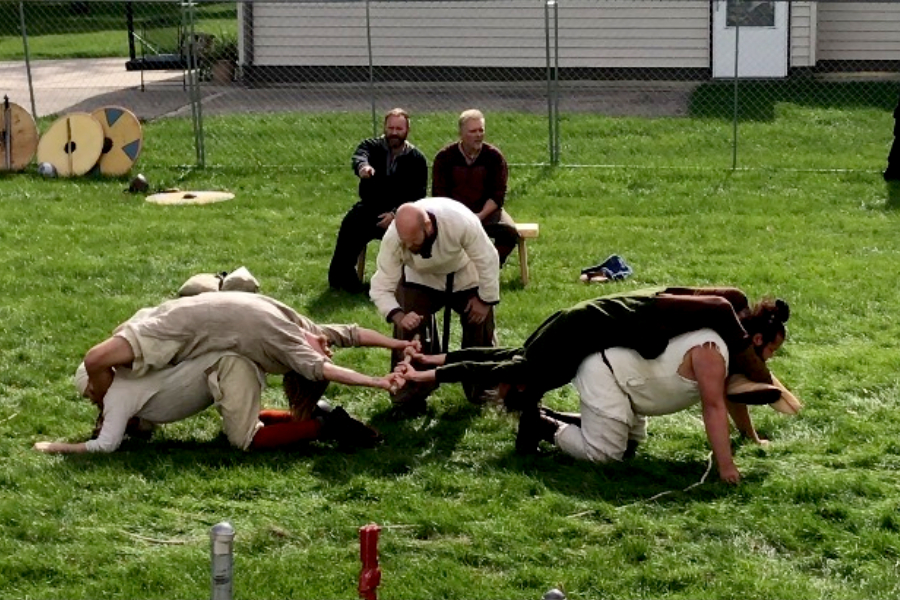 It brought us back to a time that reminded us of our childhood when a simple game of Kick the Can could last for hours.
So thank you Caryl for the suggestion! We had a blast!!
If you have any suggestions of what we should do or experience while we are visiting your area, please feel free to send us a comment on your state via: State by State Tour Map.
Happy Traveling – Jim and Mary
CURRENT TRIP STATS
Day 17 of 365
States Visited 3 / 50
Stayed In : Minot, North Dakota
Miles Driven : 238
Total Trip Miles To Date : 2779
Total Gallons Used : 205.85
Biking Miles : 0
Biking Miles To Date : 71.3
Hiking Miles : 2.5
Hiking Miles To Date : 38.25
On September 9th, 2019, we set out in our NuCamp T@B 400 Teardrop Camper to travel to every state. You can check out all of our dates here : Dates for the States

You can follow along by signing up for our twice weekly email updates at the bottom of the page. You can also follow us on Facebook : Live Simple Tour Facebook and Instagram : Live Simple Now Instagram Page.