After a relaxing morning of doing laundry and getting caught up on some writing for our websites, we decided it would be the perfect day for biking along the Missouri river.
The sun was shining and there wasn't a cloud in sight. And the temperatures were headed to 80 degrees. Something that isn't typical for a late September day in North Dakota.
So we headed to Keelboat Park where we knew there were walking and biking trails along the Missouri River.
But before we could unload our bikes, we had one obligation. We were set up to be interviewed by the local CBS affiliate KX News.
KX News Interview
In the parking lot of Keelboat park we met Nicci Johnson, the digital media reporter for KX News.
And within minutes we were talking about our trip around the country while traveling with a NuCamp RV T@B 400.
Sometimes we forget how unique our little camper is until we see the expressions of those who have never seen one.
And today was no different. Nicci was mesmerized at not only the size and shape of the teardrop camper. But she also was shocked at how many amenities that it held inside.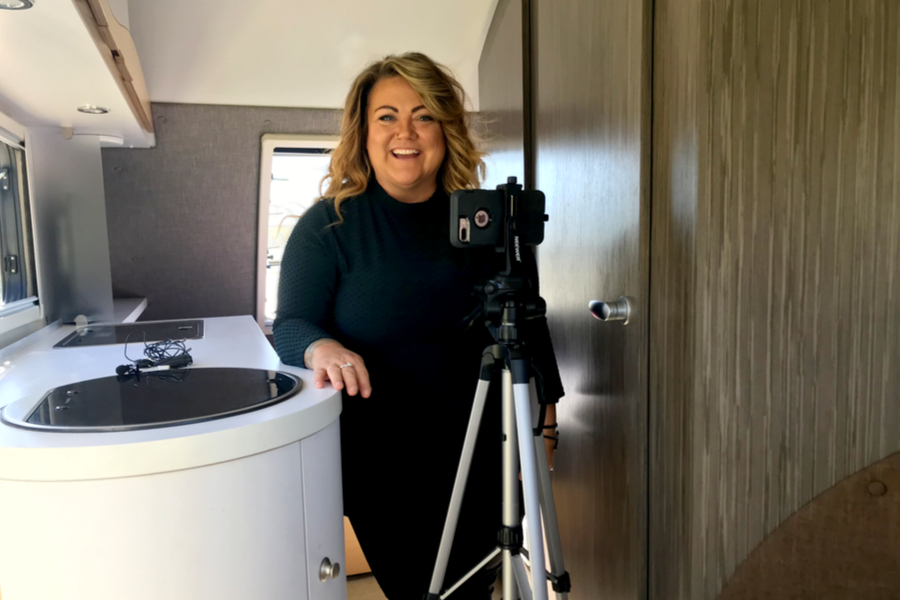 So after a quick tour of the camper, she set up her camera and we completed the interview. You can see Nicci's interview here : Touring The Country
However, it wasn't just an interview. Just like when we meet other people across the states that we have traveled, Nicci went from a stranger to a friend in minutes.
Although we love to share our story of downsizing and living a simple, yet meaningful life, it was just as amazing to hear her story.
After a rough start to adulthood, she started her career later than the typical news broadcaster. And her focus now is on promoting the positive stories of life. She does this both through her own experiences and those of others.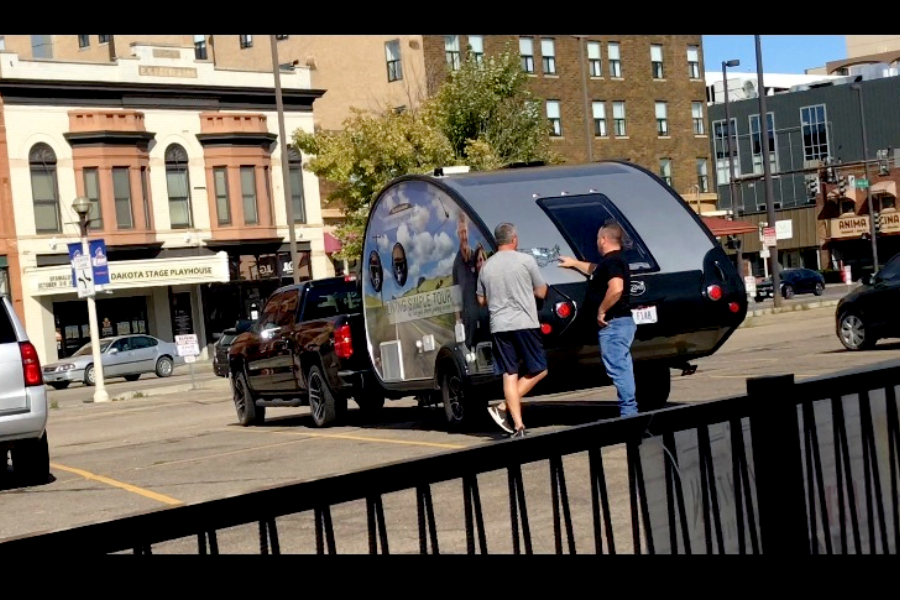 Her stories are a true breath of fresh air as compared to the typical news stories of tragedy that we are used to viewing.
So after we wrapped up the interview, it was time for us to get in some exercise by biking the trail along the Missouri River.
Biking Along The Missouri River in Bismarck, ND
We started out biking along the Bismarck Trails from the parking lot of Keelboat park.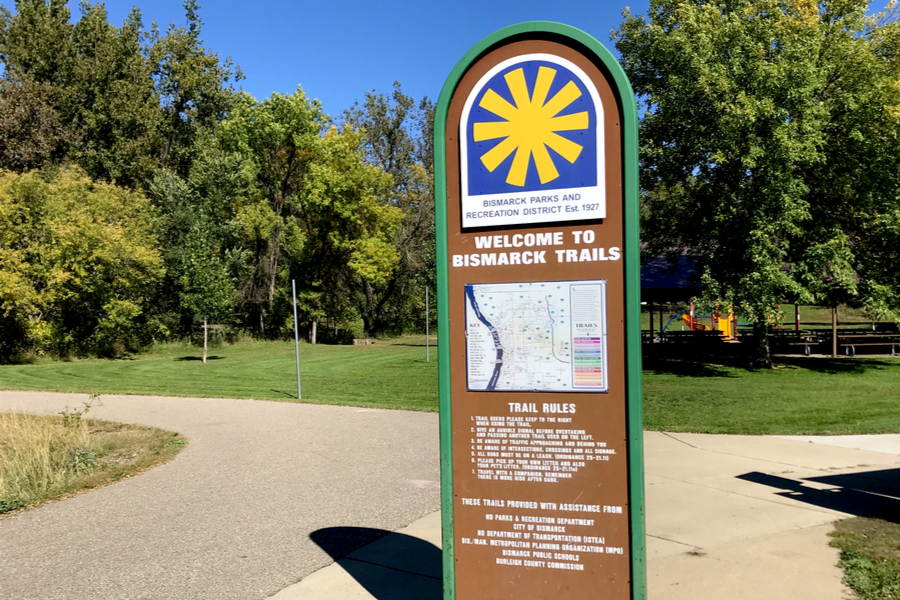 Although the river water was higher than normal due to the massive amounts of rain that has fallen in September, the views were spectacular.
The river flowed gently and the trees canopied the bike trail beautifully.
As we rode towards the community ballparks, we were amazed at the shape and condition of the extensive bike trail.
The paved path was smooth and free of any cracks and debris. And the parks that we rode through were kept in immaculate shape.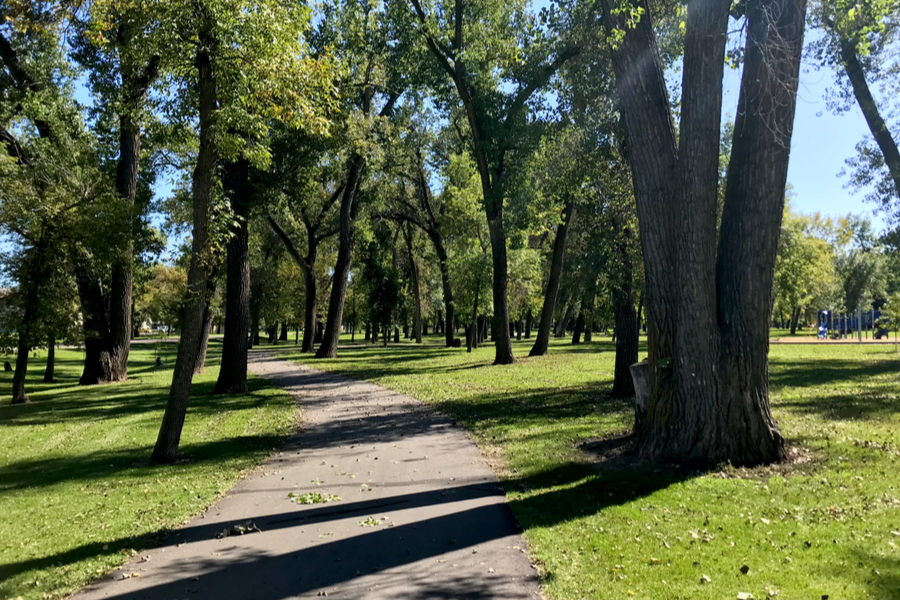 The grass between the tall cottonwood trees was bright green and mowed perfectly.
As we continued our ride around the Dakota Zoo path, we could see the employees of the Parks and Recreation department working to put up a fence in yet another park area. This time it looked like they were working around newly developed, sand volleyball courts.
As we stopped to take a water break, we talked about how much Bismarck has to offer their community. And it doesn't end with their miles upon miles of walking and biking trails along the Missouri River.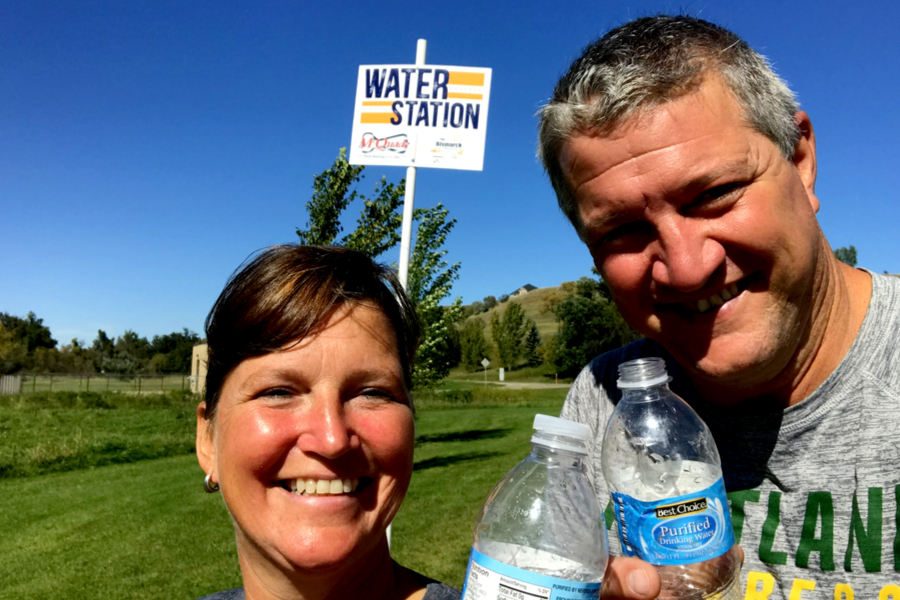 Along the way we also passed several well maintained playgrounds for the kids to enjoy. And some were 100% handicapped accessible.
Not to mention the tennis courts, basketball courts, and baseball fields that we came across. And we even saw a community garden along the way as well!
We both agreed that Bismarck would be a wonderful place to live, at least in the summer!
Happy Traveling – Jim and Mary
CURRENT TRIP STATS
Day 15 of 365
States Visited 3 / 50
Stayed In : Mandan, North Dakota
Miles Driven : 68
Total Trip Miles To Date : 2510
Total Gallons Used : 185.92
Biking Miles : 16.2
Biking Miles To Date : 71.3
Hiking Miles : 1
Hiking Miles To Date : 33.25
About Our Living Simple Tour
On September 9th, 2019, we set out in our NuCamp T@B 400 Teardrop Camper to travel to every state. You can check out all of our dates here : Dates for the States
Follow along by signing up for our twice weekly email updates at the bottom of the page. You can also follow us on Facebook : Live Simple Tour Facebook and Instagram : Live Simple Now Instagram Page.