Today was all about driving and hiking in the Badlands National Park of South Dakota.
And to say the least, it did not disappoint!
Neither of us had been to, or really knew much about the Badlands area. In fact, as we sat outside last night talking about heading there today, we both wondered why they were actually called the Badlands.
We figured the answer was quite obvious, but we didn't want to speculate. But now we know that we were correct in our assumption.
We learned that the Lakota people were the first to call this place "mako sica" or "land bad." Extreme temperatures, lack of water, and the exposed rugged terrain led to this name.
And today, we got to experience it all!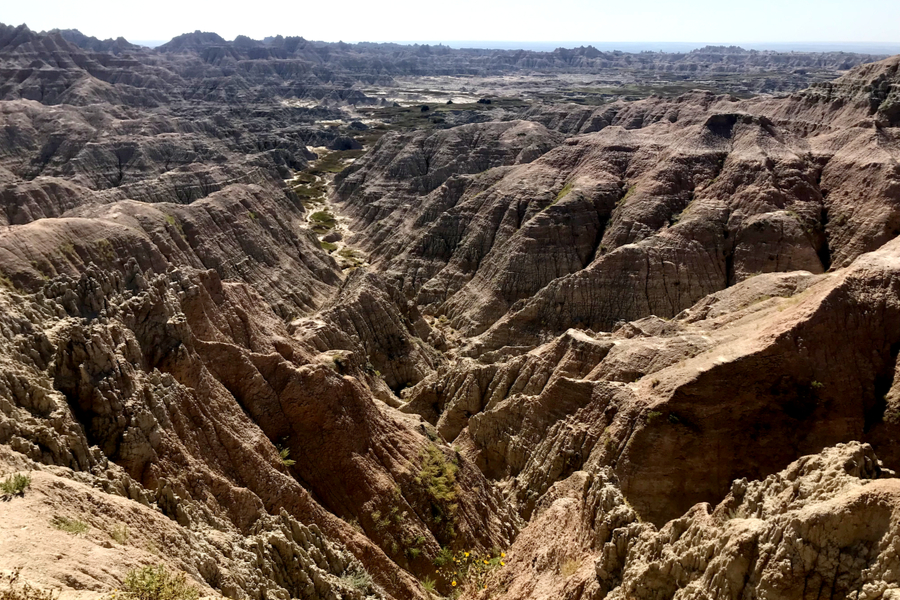 The Badlands Temperature
When we woke up this morning, it was quite chilly. Both of us put on sweatshirts and pants as we made our morning coffee.
But this hasn't been unusual for us. We have noticed a significant swing in temperatures throughout our stay in South Dakota.
The days have been warm, and as soon as the sun fades, the temperatures cool off significantly.
And by 10 a.m. today, we ditched the sweatshirts and pants. It was time to put on our hiking shorts and a dry wick t-shirt as the temperature began to sore.
Arriving at the Badlands National Park
We had a short, 15 minute drive from our campground to the entrance of the Badlands National Park
We pulled up to a small booth where a Parks Ranger was there collecting the entry fee.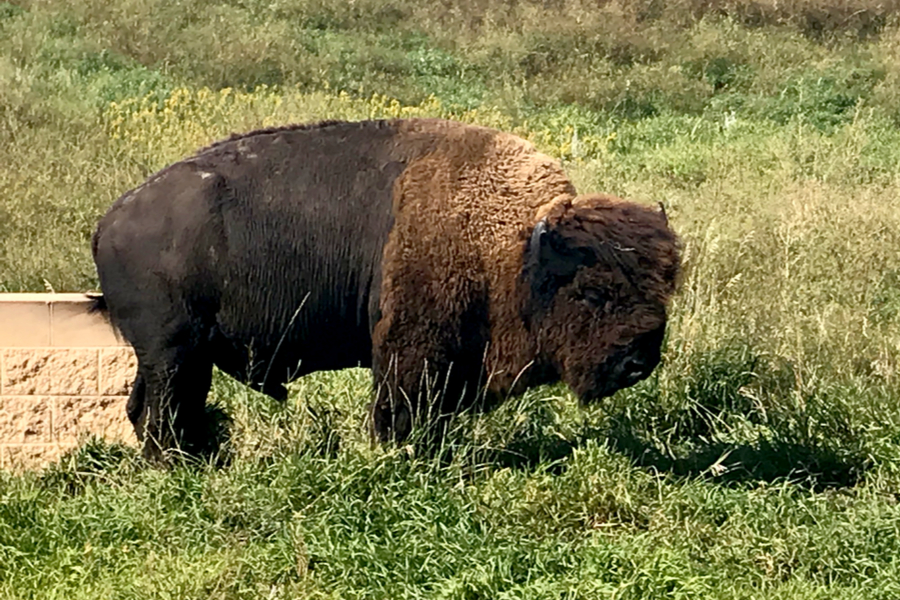 It was at that time we decided that we would finally purchase our National Parks Membership for the year. After all, we are going to be visiting several of these parks, forests, and monuments along our journey across the states.
As we were looking at the Ranger through the driver's side window, we saw her gently smile, and said that we had a welcoming committee there for us.
Being a pretty isolated area, I wasn't sure what she meant. However, I turned to look outside the passenger window and was nearly face to face with a large bison.
I quickly grabbed my cell phone to take a picture. By the time that I was able to pull up my camera, he was about 10 feet away from the car door.
He looked so majestic, yet so gentle. Although I know they are wild animals, it was almost as though you could reach out your hand and ruffle the fur on his head.
Of course, I didn't do that, but the imaginary thought crossed my mind!
Driving and Hiking In The Badlands
As we drove off, the excitement of what we had already witnessed had us both on high alert.
We wondered what else we would encounter on our journey, both driving and hiking in the Badlands.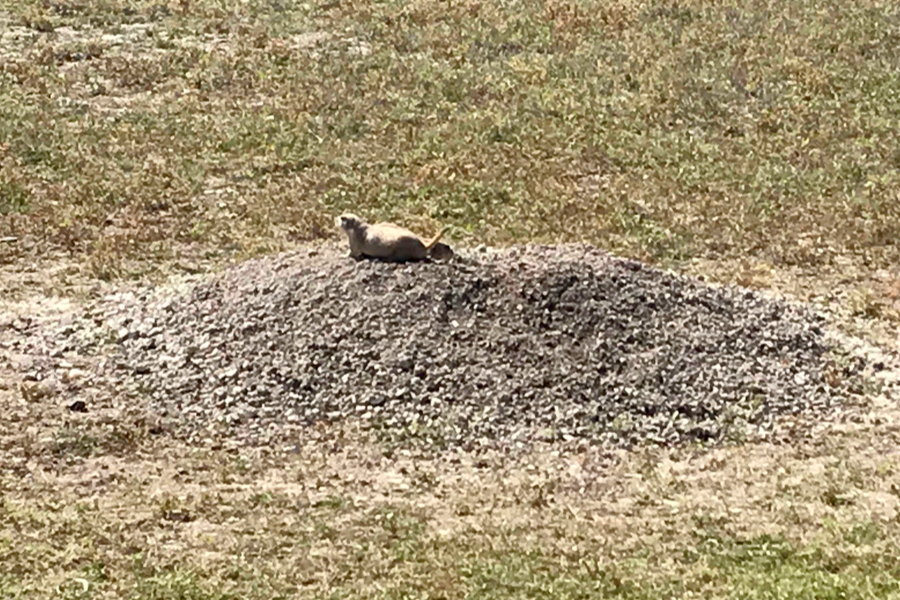 Within minutes of our drive there were both rock formations and prairies that surrounded us.
I think we stopped about 10 times in the first mile to take scenic pictures.
After getting over the shock of the beauty of the formations among us, we began to settle into our drive to view the scenery.
However, that didn't last long. Within minutes, we were among thousands of prairie dogs. The majority of them were propped upright outside of their holes.
Now that we knew what were looking for, we could see prairie dog holes for miles.
Then as we drove a little further down the path, we could see ahead of us a bunch of cars pulled over.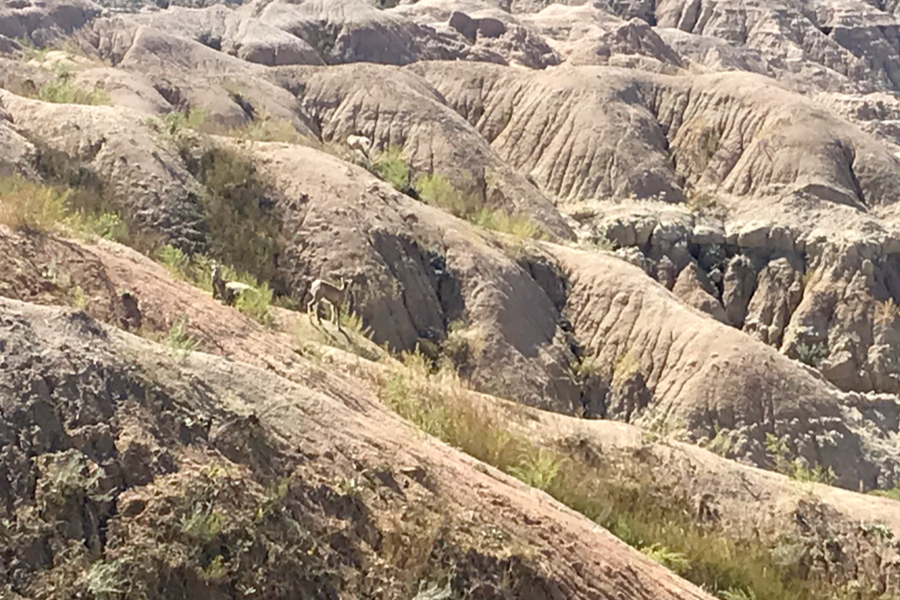 Doing what most tourists do, we parked along the road as well to see what the fuss was all about.
In the distance you could see Bighorn Sheep perched on the peaks of the rocks throughout the landscape. At first they were difficult to see, but as soon as your eyes got adjusted to what you were looking for, you could see dozens of them.
And when they stood up and showed their horns, they were absolutely beautiful.
Hiking The Badlands
Once we got about half way through the scenic byway around the Badlands, we finally arrived to our parking destination.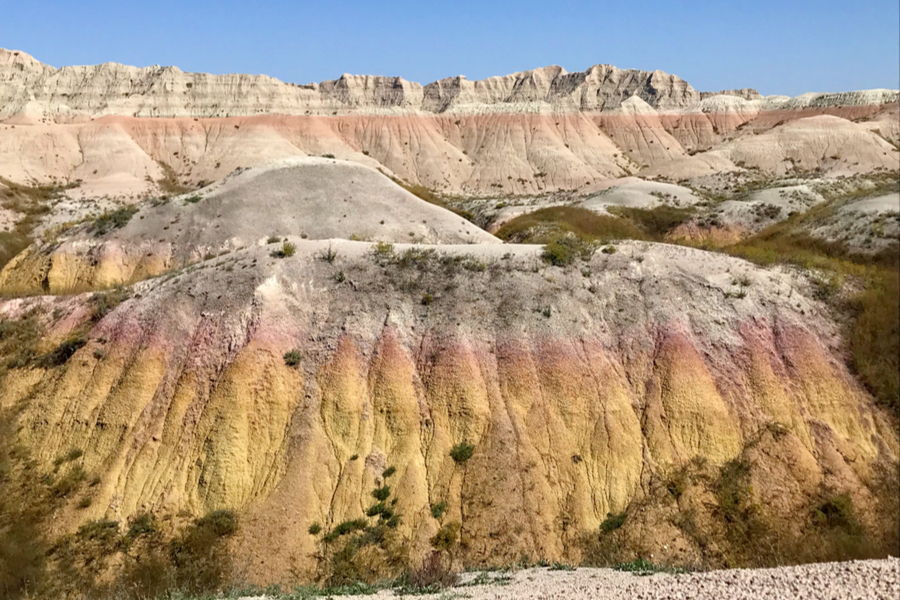 We both researched hiking in the Badlands and we decided that the Castle Trail would be best for us.
Castle Trail
With the path extending for 10 miles, it is the longest trail for hiking in the Badlands. Although it is fairly level, it is still rated a moderate hiking trail due to the length of the trail and the various terrain that is situated in the wide open sun.
However, we both knew that this trail would take awhile so we prepared by having lots of water and a few snacks in our hiking backpack.
Unfortunately, the sunscreen and hats did not make the trip with us for hiking in the Badlands.
But we were on a mission, so we started on the path that began with wide open spaces along the top of the rock formations.
We were initially on a wide sandstone path, but it quickly became a narrow 12 inch walking path.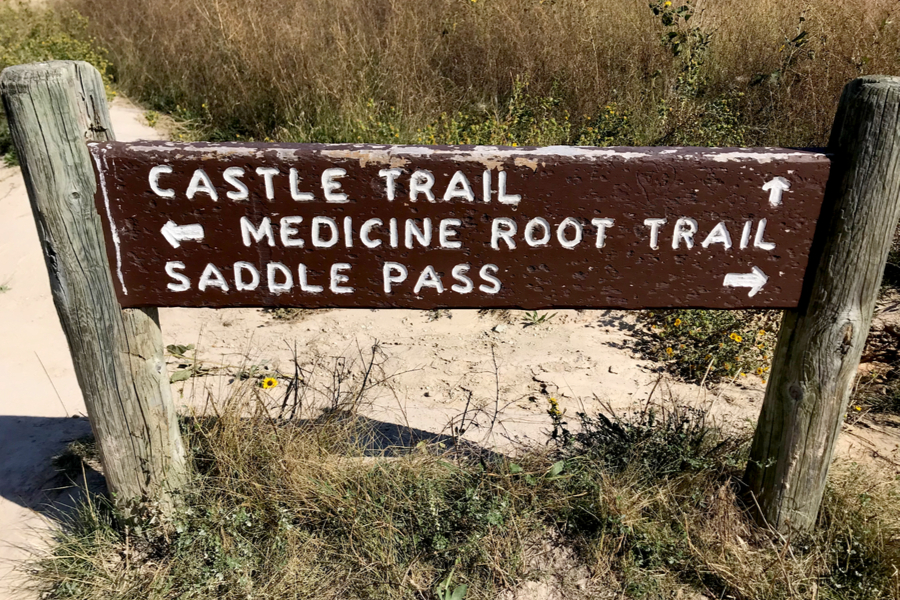 As we were walking the prairies brush was leaning towards the center of the path. We had to walk in single file with quite a distance between us to prevent the brush from swatting the person behind.
Although this terrain lasted for only bout 1/4 of the path, it seemed like much longer.
Then we came across a rocky area that allowed us to walk side by side.
However, this hike wasn't as easy as it seemed. There were large crevices that we had to jump over to remain on the path.
It was a little easier for Jim, who is 6'4″ tall with a large leg span, but it took me a while to find the perfect spot to jump over.
In the end, we both made it without incident. Well, that was until a little creature decided to cross our path.
The Rattlesnake
Although there are warnings posted at each entrance while hiking the Badlands that there are rattlesnakes in the area, you never imagine that you will run into one if you remain on the path.
Well that thought changed today. We had been cautiously looking through the grassy prairie areas as we were hiking in the Badlands for snakes that could be hiding in the brush.
But that shouldn't have been our only focus. About half way through our hike, we both paused at the same time.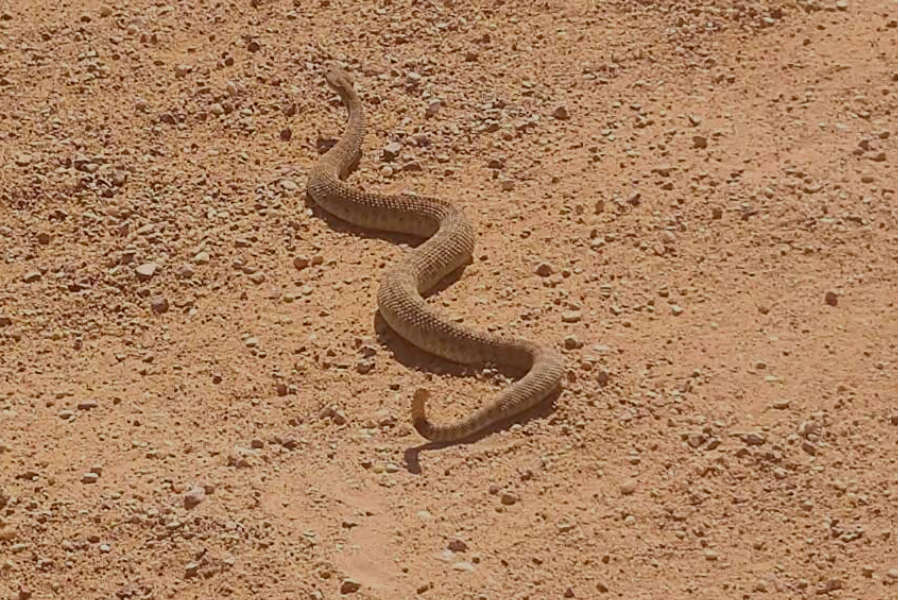 You see, we were in a very isolated area. During the whole trail, we had only seen 6 people along the way.
And we didn't expect to see any movement on the ground in a wide open space.
But that is where we were wrong. As we were admiring the beauty around us, there was a movement across the ground that caught our eye.
Once we took our eyes off of the views of the landscape, we noticed there was a rattlesnake just a few feet away from us.
We both quickly stopped in our tracks and slowly backed up. Reaching for my phone with my eyes glued on the ground, I captured a photo of him as he moved onward.
That is when we were reminded that we were a guest here, not only to the National Forest Staff, but to the residents of the Badlands as well.
I have to say, today was an amazing day with lots of memorable sights!
Happy Traveling – Jim and Mary
CURRENT TRIP STATS
Day 11 of 365
States Visited 2 / 50
Stayed In : Wall, South Dakota
Miles Driven : 87
Total Trip Miles To Date : 2132
Total Gallons Used : 157.93
Biking Miles : 0
Biking Miles To Date : 37
Hiking Miles : 11.0
Hiking Miles To Date : 27.0
On September 9th, 2019, we set out in our NuCamp T@B 400 Teardrop Camper to travel to every state. You can check out all of our dates here : Dates for the States
Follow along by signing up for our twice weekly email updates at the bottom of the page. You can also follow us on Facebook : Live Simple Tour Facebook and Instagram : Live Simple Now Instagram Page.