And just like that – we are heading to Nebraska.
As if on cue, our very first day on the road turned out to be the perfect example of what our trip around the states is all about.
And I meant the perfect example!
There are incredible places, people and stories in every nook and cranny of this amazing country. And all are just waiting to be discovered and enjoyed.
You just have to be willing to take the time to slow down and take it all in.
And did we ever get the chance to do that today in the two small towns of New Florence and Hermann, Missouri.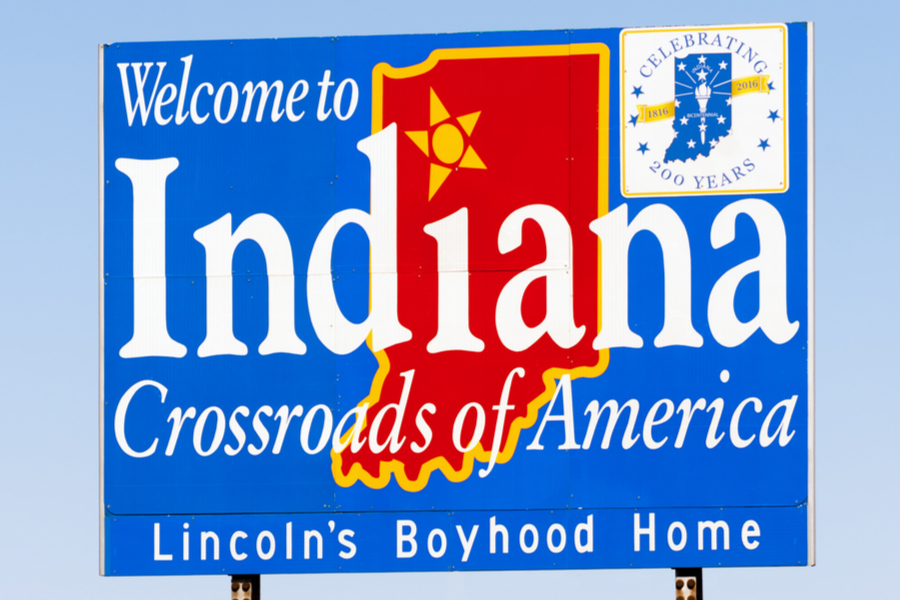 Too many times we are all guilty of driving from point A to B. And while doing so, thinking there is nothing in between.
Well, there is ALWAYS something in between. Small towns, special places, interesting people, and great stories.
You just have to be willing to seek it out, and then take time to enjoy it. And that is exactly what happened today.
Heading to Nebraska – Via Missouri
Although our "official"state by state tour kicks off in Nebraska, we first needed to drive there from our little Ohio farm.
Knowing it would be close to a 13 hour drive, we decided to stay the first evening just past the halfway point, in the little town of New Florence, Missouri.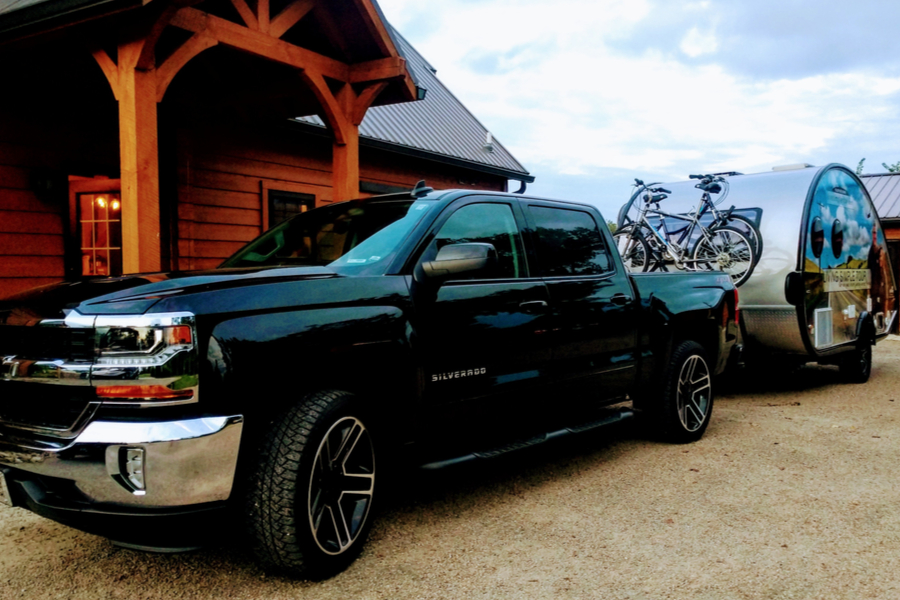 And we were rewarded with the opportunity to meet some amazing people, and see some pretty neat places.
Wood Hat Spirits
For most nights on the trip, we will be staying at Harvest Host locations.
For a small annual membership fee, the Harvest Host program lets us park and camp for free at local wineries, parks, museums, golf courses and breweries that are part of their network of locations all across the country.
All they ask is that if at all possible, you support the business is some fashion. It really is a neat win-win for both the camper and the locations. See : Low Cost Camping – An Amazing Way To Camp On A Budget
And it just so happened that our home for the first night was the parking lot of Wood Hat Spirits, a little distillery situated just off of Interstate 70 in New Florence, Missouri.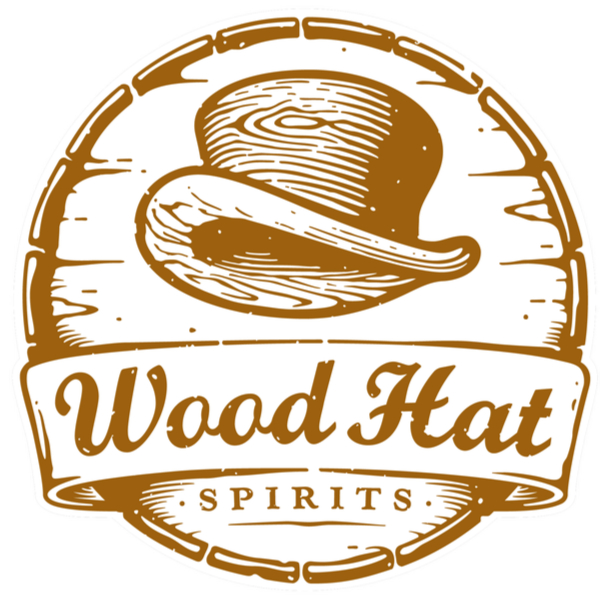 Wood Hat Spirits cooks, ferments, & distills some pretty special homemade and homegrown bourbons, whiskeys & liqueurs. And they do it all on-site.
How local? Well, they actually grow just under 50 acres of their own special corn in nearby fields to make their products.
In fact, there is even a few acres of corn planted right behind the distillery! Making the story better, they even pick it all with an old single-row combine that sits on the property.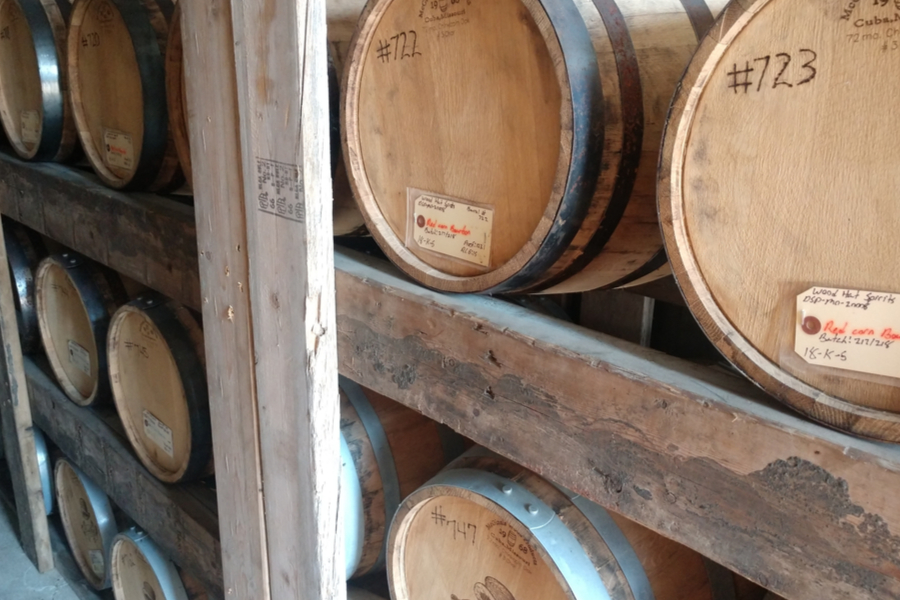 The Joy Of Meeting Great People
But what made our day special was the opportunity to meet and spend some time with the owners of Wood Hat, Gary and Katy Hinegardner, and Ryan Bort, who helps them run the entire operation.
Talk about amazing people, with special talents, a wonderful story, and a great product!
While there, Ryan treated us to a complete tour of the entire facility, along with a tasting of their hard work.
And we capped that off with a few hours of great conversation with all 3, which even included a tour of our little camper.
It could not have been any more perfect. Meeting great people. Sharing great stories, and making great memories. It is what living is all about!
So why the name Wood Hat?
Well, it's the story behind the story. Gary also just happens to be a pretty incredible craftsman, turning and carving out beautiful wood hats from blocks of wood.
And as you can see, we even got to try a few on with him! All that was left was to find a place to enjoy a relaxing dinner before heading on to Nebraska in the morning.
And the folks at Wood Hat helped us out with that too.
Heading To Nebraska – An Evening In Hermann, Missouri
We learned a long time ago that the best way to find local treasures is to ask a local. People love sharing their town's local treasures with visitors.
And when the folks at Wood Hat told us to check out the nearby town of Hermann, Missouri for dinner, they led to a great evening in a quaint river town with a lot of history.
The little town of Hermann sits on the banks of the Missouri River. As we walked through the downtown, the sun was slowly setting over the river. And we were instantly struck with the beauty of a historic town that we had never even heard of before today.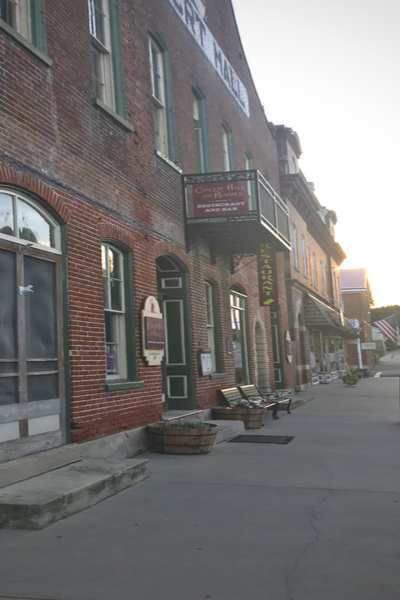 Capping it all off was a great dinner at Concert Hall and Barrel Tavern, which just happens to be the oldest continually running tavern west of the Mississippi.
All in all, a pretty amazing day meeting some pretty incredible people, and seeing some pretty neat places.
Day 1 is in the books. Up next…Omaha, Nebraska!
About Our Living Simple Tour
On September 9th, 2019, we set out in our NuCamp T@B 400 Teardrop Camper to travel to every state. You can check out all of our dates here : Dates for the States

You can follow along by signing up for our twice weekly email updates at the bottom of the page. You can also follow us on Facebook : Live Simple Tour Facebook and Instagram : Live Simple Now Instagram Page.